Most women with fair skin would think that tanner or warmer skin is better and would go more splendidly with a lot of different hairstyles and hair colors. In this article, we'll prove you wrong by providing a list of the most beautiful and best hairstyles and hair colors for fair skin.
If you have fair skin tone, these unique and gorgeous hairstyles await you:
Light Ash Brown Hair Color for Fair Skin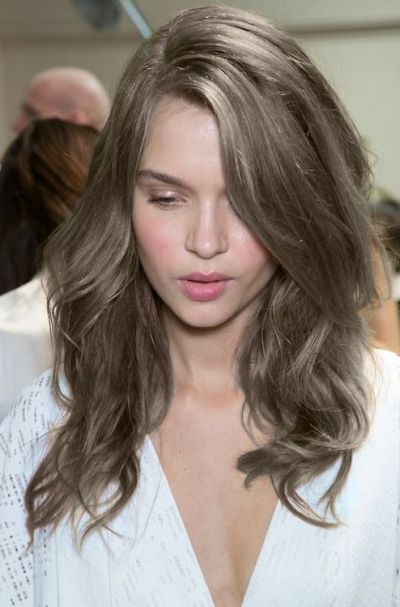 For fair skin, a light shade of hair color will work wonders as it doesn't clash too much with your skin tone. In this style inspiration, you can see a light and ashy brown hues.
Mahogany-toned Brunette Shade for Fair Skin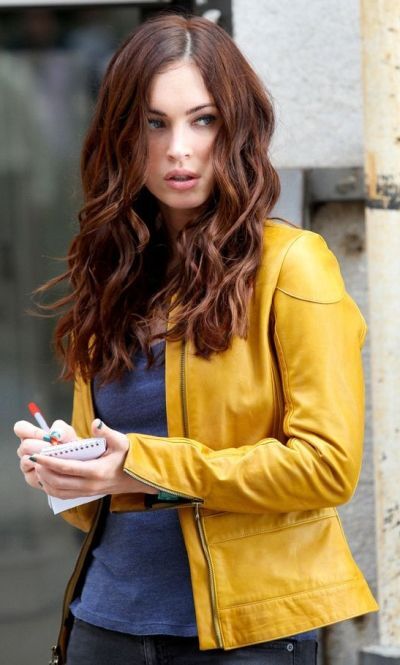 Get all the benefits of this brunette shade with mahogany undertones, namely, a stylish way to bring life to your dark hair and a great way to bring out the best in your eyes and skin tone.
Naturally Sunkissed Bronde Highlights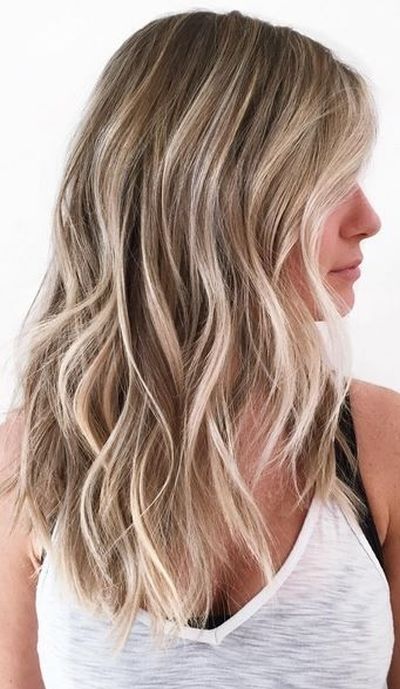 In this hairstyle, we see shades of brown and blonde clashing together in a beautiful balayage.
Cool Neon Balayage Blonde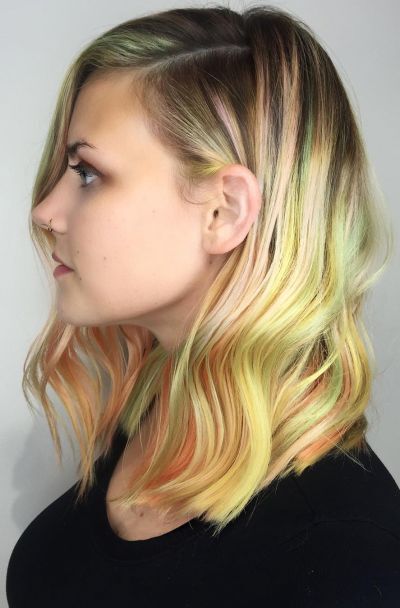 For a more creative and edgy look, have a balayage consisting of neon orange, yellow, and green.
Cute Purple Hair Color for Fair Skin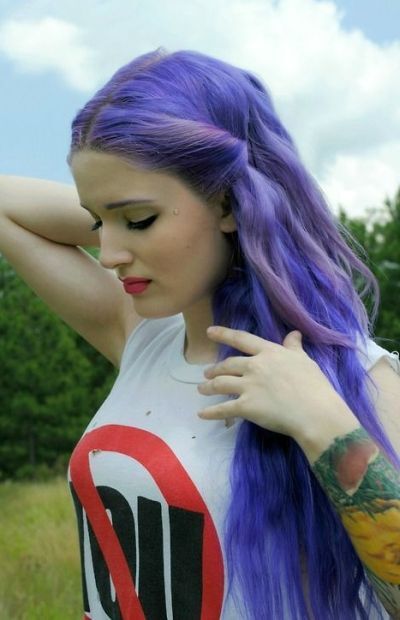 If you want your hair looking as bright and unique as it can be, grow it out into long wavy locks before dying into a magnificent shade of dark purple.
Green Hair Color for Fair Skin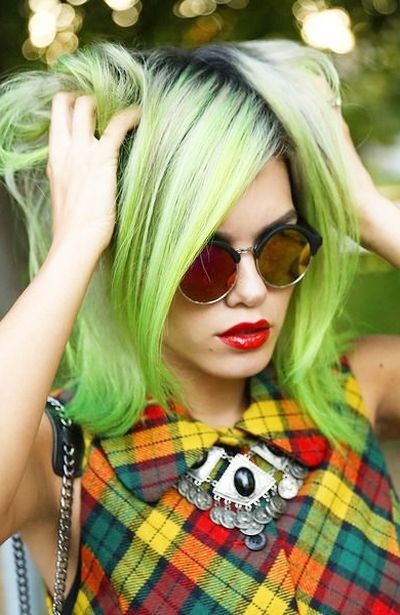 For this Joker-inspired hue, a shade of yellow-green is used to add vibrancy to dark hair.
Lovely Bronde Hair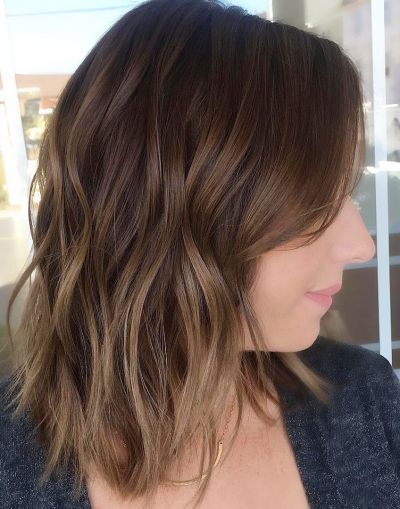 In this version of the blonde hairstyle, the brown overtakes the blonde shades—but in a stylishly good way.
Creative Blonde Braids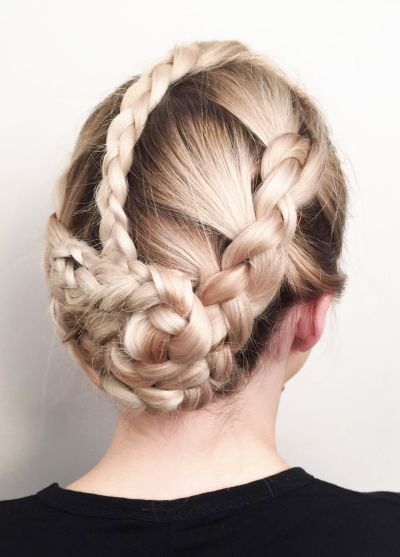 Updos don't need to be boring. In this version, braids are creatively bundled into a braid bun for a unique updo look.
Cute Rainbow Updo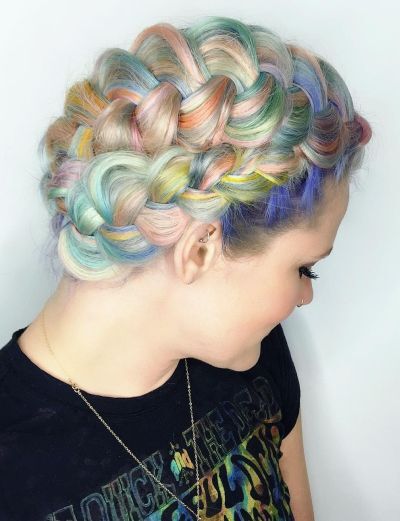 If have rainbow colored hair, try braiding it into an updo as such to make the colors blend together.
Pure Black Hair on Pale Skin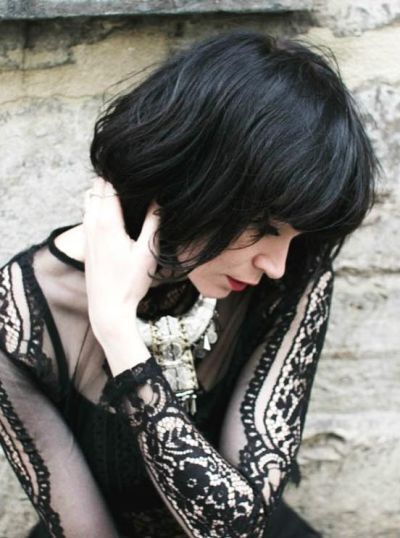 Keeping things simple in this short bob haircut is a great way to contrast against pale skin. In this particular style, a natural black hair color is featured.
Cute Hair Color Ideas for Fair Skin and Green Eyes
Beach Blonde Hair Color on Big, Voluminous Waves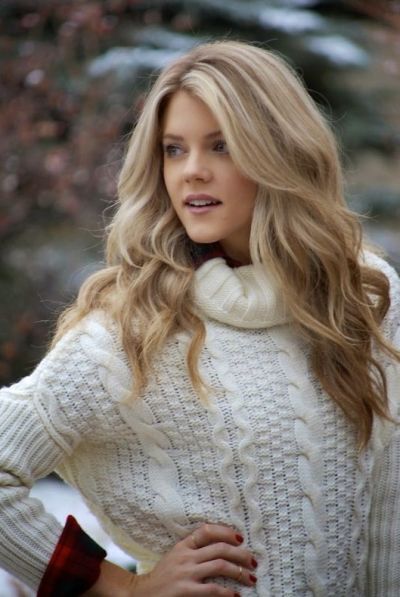 Complement the fairness of your skin and brightness of your green eyes with a light shade of blonde.
Golden Blonde Hair Color on Side-Swept Bob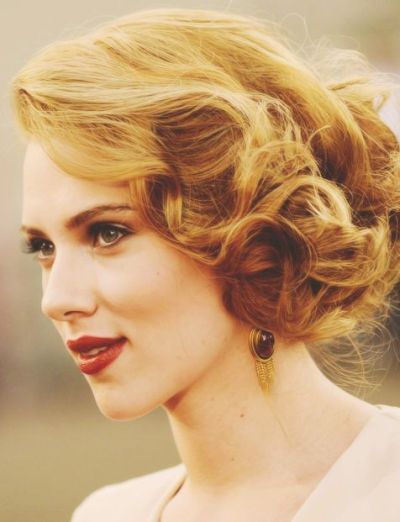 Nab Scarlett's red carpet look with a side-swept bob that is colored with a gorgeous shade of golden blonde—a beautiful contrast to your fair skin.
Reddish Auburn Hair Color for Fair Skin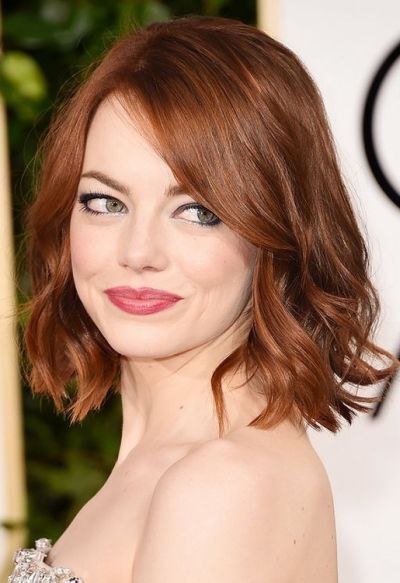 A vibrant shade of hair color against fair skin can make your skin tone glow even brighter. In this example, you can see a stunning shade of reddish brown hair that fits well with a simple, curly and short bob.
Dark Brunette Center-Part Hairstyle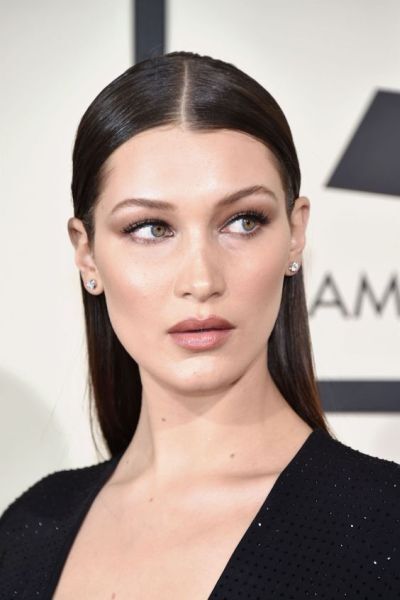 Be clean and pristine with this center-part and neatly combed hairstyle.
Big Fishtail Braid and Brownish Black Hair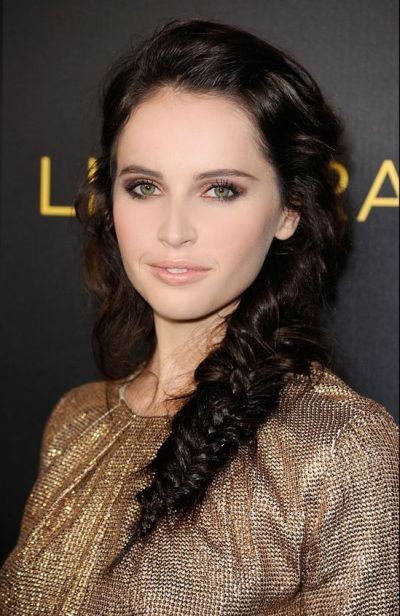 If you have naturally curly hair, try braiding it into a beautiful fishtail braid as in this one. Fair skin and green eyes can also benefit from the contrast that this dark brunette shade provides.
Chocolate Brown Hair Color for Fair Skin and Green Eyes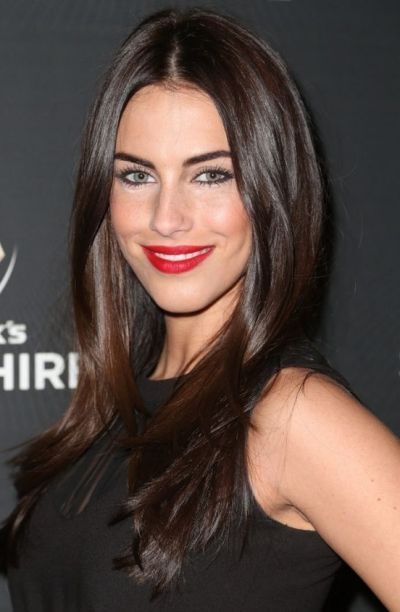 A simple and pretty option for women with fair skin. In this hairstyle, there is a layering at the bottom of the hair paired with a great shade of chocolate brown.
Dark Mocha Brown with Auburn Highlights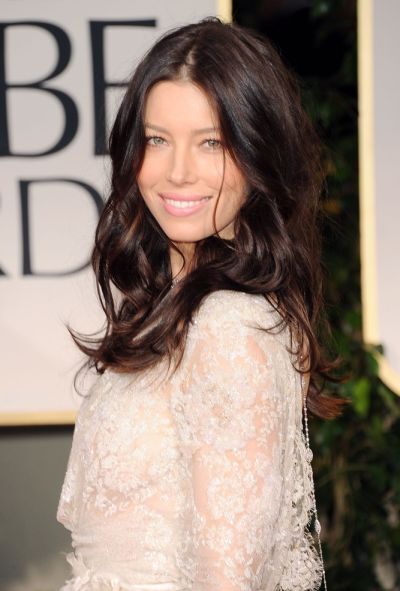 Give your wavy curls a hair color makeover with a dark chocolate brown base and apply auburn highlights to give your mane just a little bit of flare.
Stunning Strawberry Blonde Balayage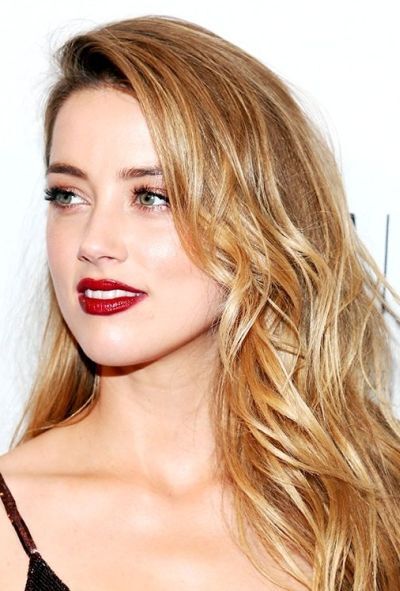 A definitely classic shade of blonde that you can try is strawberry blonde. This shade is particularly fantastic complement to your green eyes and fair skin.
Best Hair Color for Fair Skin and Blue Eyes
Pastel Rainbow Highlights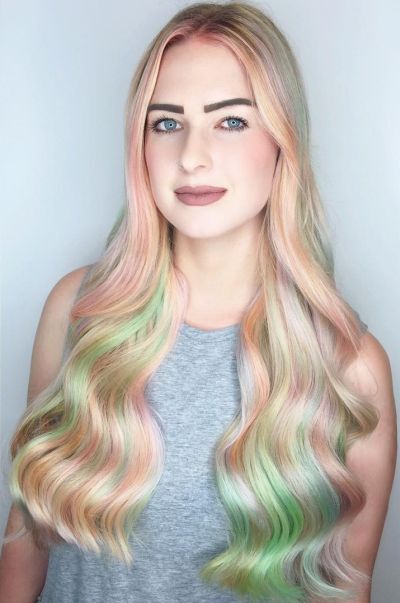 It's a bit difficult and tedious to achieve, but when done right, this pastel rainbow hairstyle can make you look like a princess. In this particular style, you can see shades of pink, orange, yellow, and green—all in one pastel heaven.
Natural Blonde Highlights with Topknot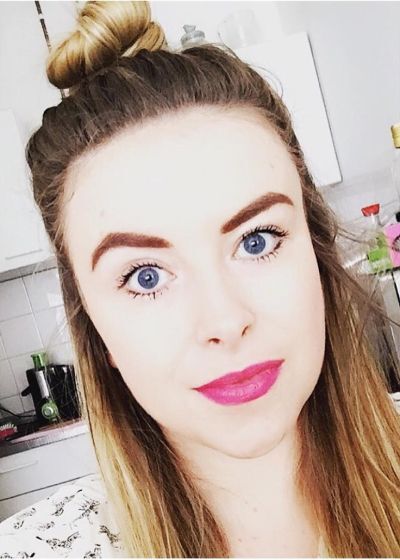 Add more personality to your brown hair by applying a shade of "natural" blonde to bring out the color of your blue eyes.
Bleach Blonde Hairstyle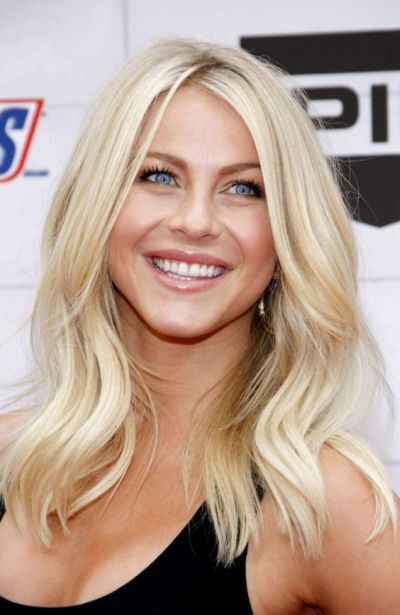 This very light shade of blonde will make you look like a classic American dream, especially when paired with baby blue eyes and fair skin.
Strawberry Blonde and Ashy Blonde Combo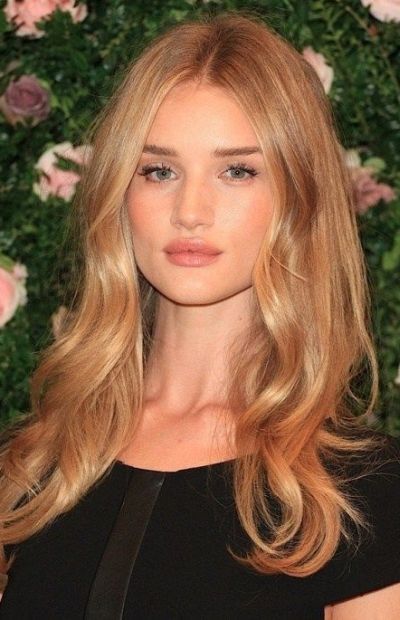 In this hairstyle, we can see a bit of ashy blonde at the top and strawberry blonde at the bottom of the hair. An unusual combination, but subtle enough to not clash with each other.
Dark Smokey Gray Hair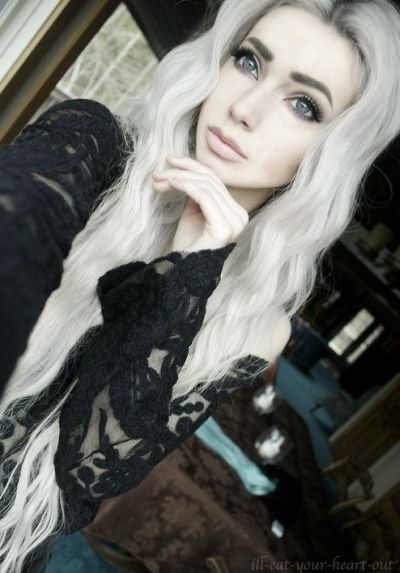 Achieve a Snow White-like appearance with a shade of smokey grey hair. Your blue eyes will surely look wonderful when contrasting with this very light shade of hair color.
Cute Lavender Highlights with a Short Choppy Bob for Fair Skin and Blue Eyes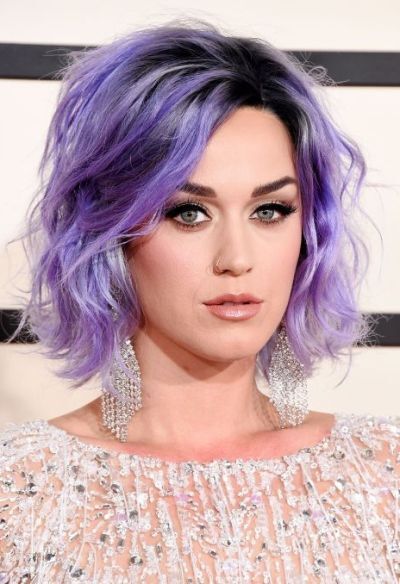 Make your hair look artistic and fun with a lovely shade of bright lavender.
Light Brown Hair Color with Highlights and Lowlights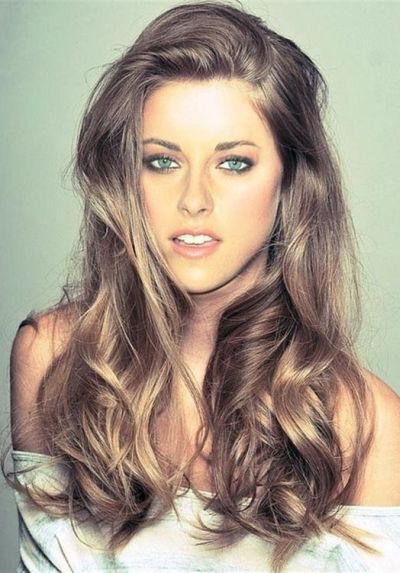 Your hair is your canvas, and you can try mixing shades of light brown, medium brown, and blonde to arrive at this result.
Neon Yellow-Green Ombre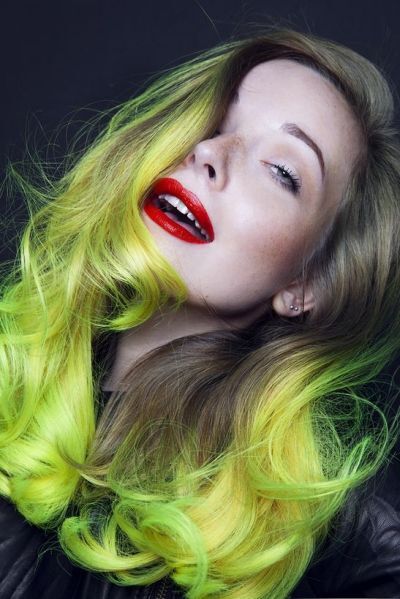 Add more personality to your hair with a unique shade of neon yellow and green to the ends of your hair (that is, if don't want to go all the way)
Pastel Blue Hair for Fair Skin and Blue Eyes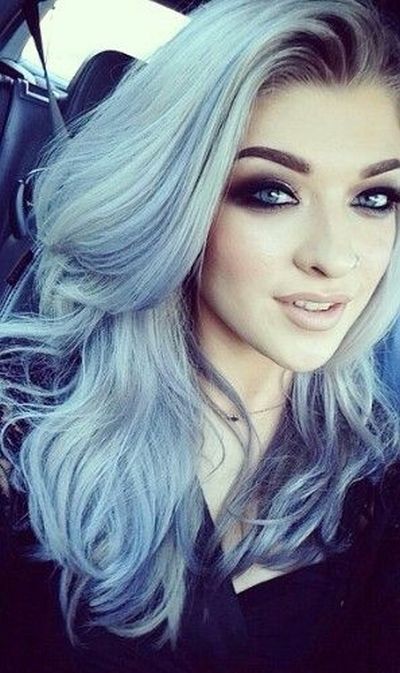 It's not doubt that pastel hues look amazing on pale skin like in this example. A shade of light pastel blue can match your blue eyes beautifully.
Pink Blue Neon Green Pastel Rainbow Hair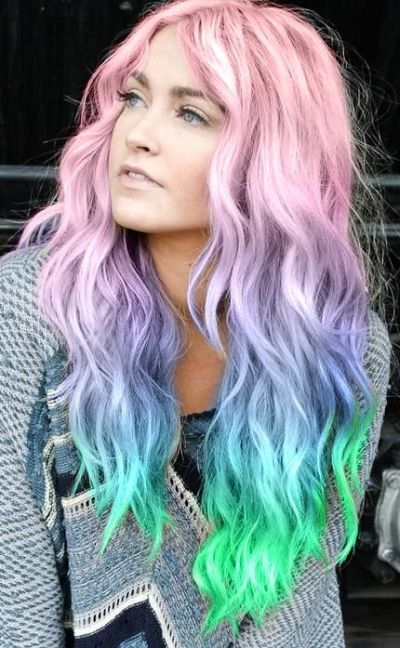 Another complicated-to-do hairstyle, but amazing, nonetheless. Find a talented stylist and have your curly waves colored in pink, blue, green, and lilac to create a layered rainbow effect.
Pink Hair with Blue Bangs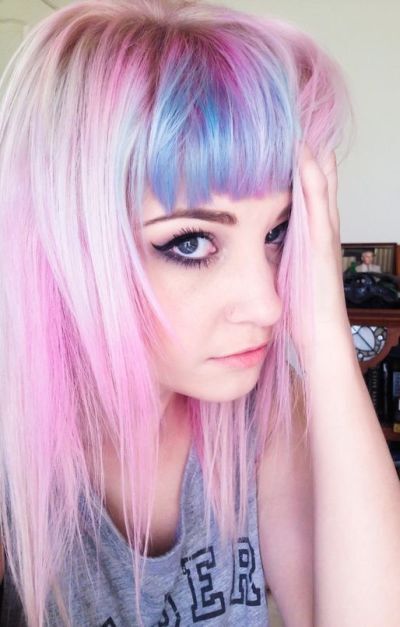 Another pastel masterpiece in this list! If you want to be extra playful, add blue color to your bangs with a cotton candy pink base.
Cool Hair Color Ideas for Fair Skin and Dark Brown Eyes
Ashy Blonde Balayage for Fair Skin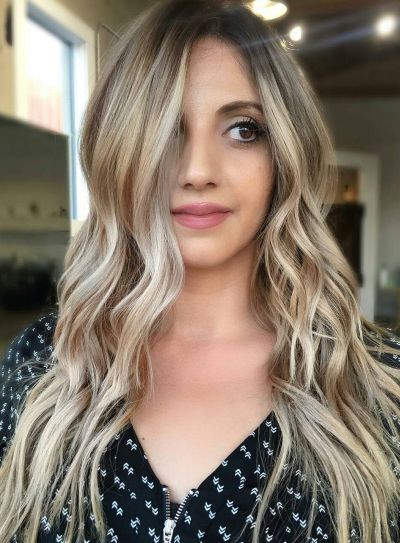 You can also add depth to your wavy curls with a combination of ashen blonde, medium brown, and dark brown.
Grayish Hair Color with Lilac Undertones
Gray hair is pretty interesting. But with a very subtle, lilac undertone, you can create more playfulness to your look.
Cotton Candy Pink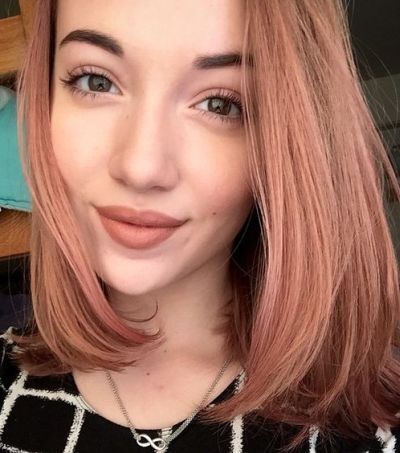 This shade is a great option for women with fair skin and brown eyes, as it complements their colors with a dark shade of pink.
Natural Balayage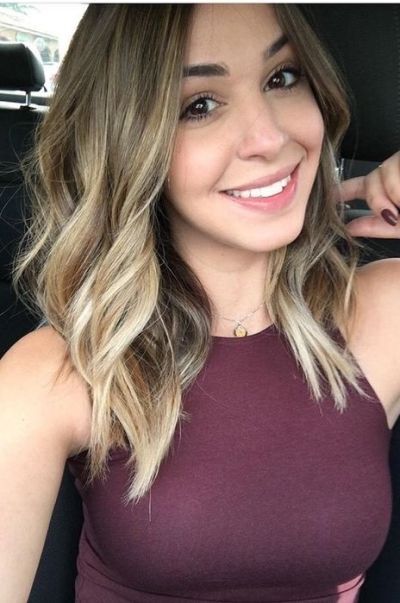 You can try matching the color of your eyes to your hair. In this hairstyle for dark brown eyes, a balayage consisting of light blondes and dark browns can be seen combining into beautiful blends.
Cute Orange to Pink Colored Hair for Women with Fair Skin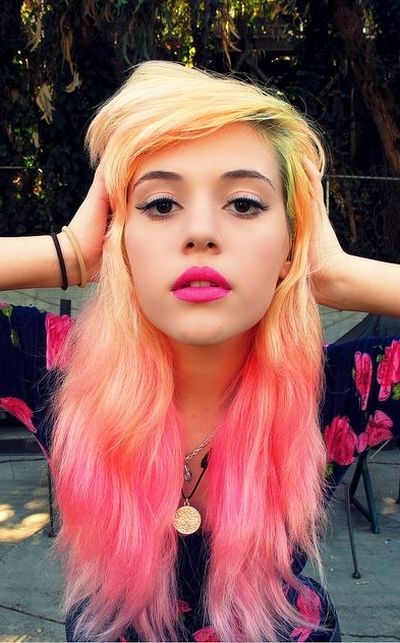 If you want to draw all attention to your hair, you can try neon shades of orange and pink to combine them into a neon rainbow mane like this.
Ginger Hairstyle for Fair Skin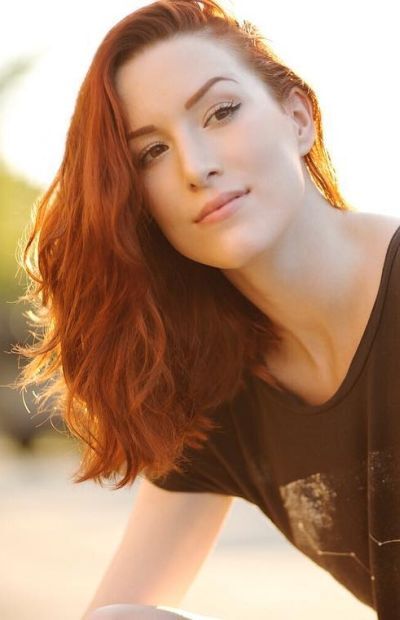 If you don't have naturally occurring ginger hair color, you can try getting a faux shade of ginger red to combine with your pale skin.
Classy Dark Brown Hairstyle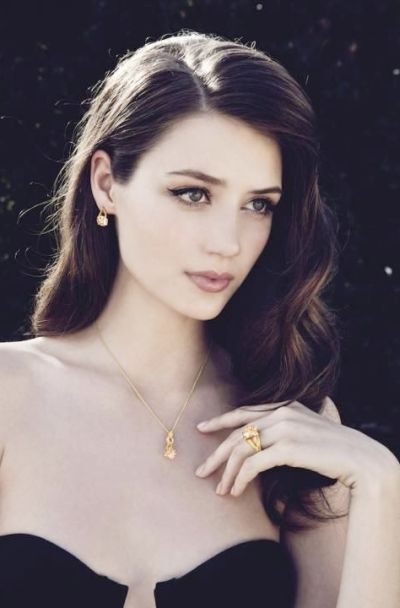 In this example, you can see a dark brunette base with a little bit of medium blonde highlights. A subtle but pretty effect.
Golden Brown Hair Color for Fair Skin and Brown Eyes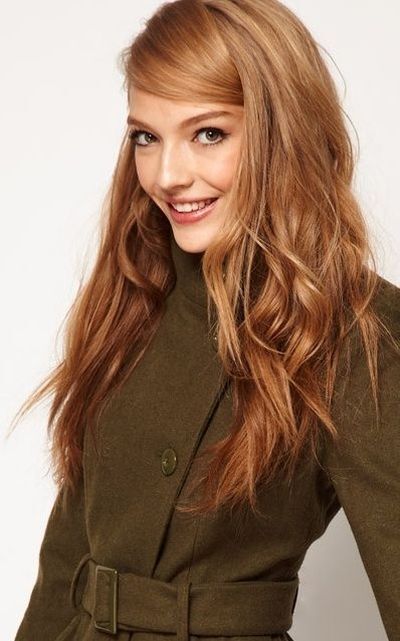 You can see a mix of blonde and brown hues in this hairstyle, and you can try this stunning shade out if you don't want to go totally blonde or brown.
Hair Color for Fair Skin and Hazel eyes
Blonde and Blue Ombre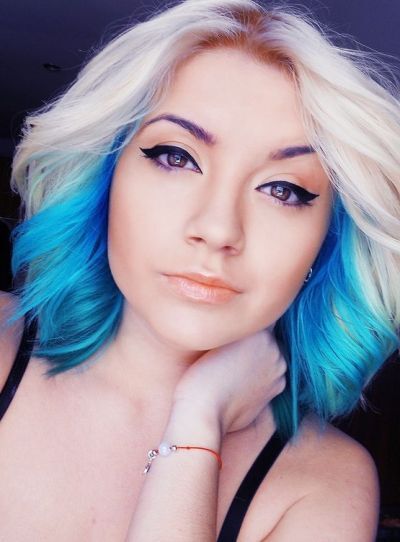 This idea is a pretty creative take on the ombre style. With this particular style, we see a combination of bleached blonde and very bright blue contrasting with each other.
Cute Hair Colors for Fair Skin and Grayish Eyes
Dark Coffee Tones on Black Hair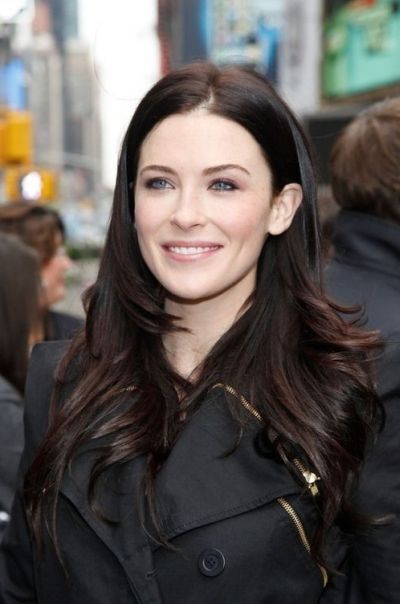 Natural black hair can be upped into a new level by adding coffee tones to your hairstyle, which will surely provide a beautiful clash against your gray eyes.
Icy Blonde Hair Color & Long Bob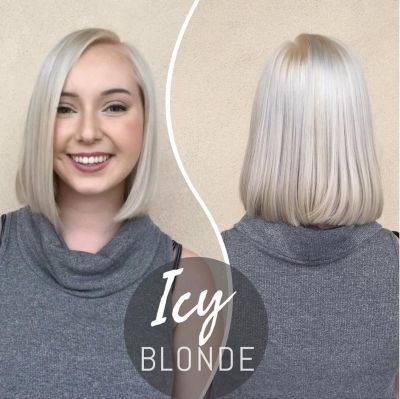 Match the color of your steely gray eyes with an icy blonde hair color, paired great with a long and stylish bob.
Light Blonde and Ashy Dark Blonde Hair Color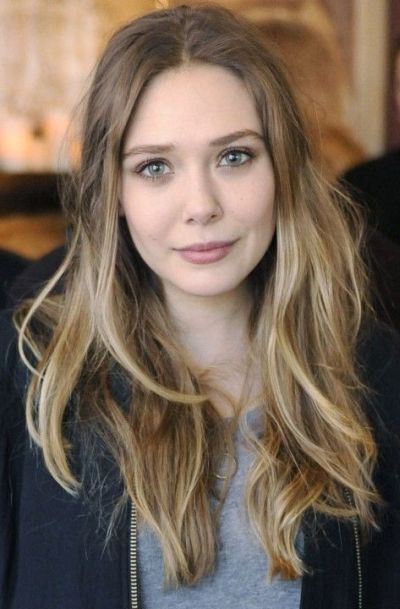 Achieve a natural-looking hair color for your wavy curls by adding a dark blonde ombre to your brown hair.
Orange and Yellow Ombre Dip Dyed Hair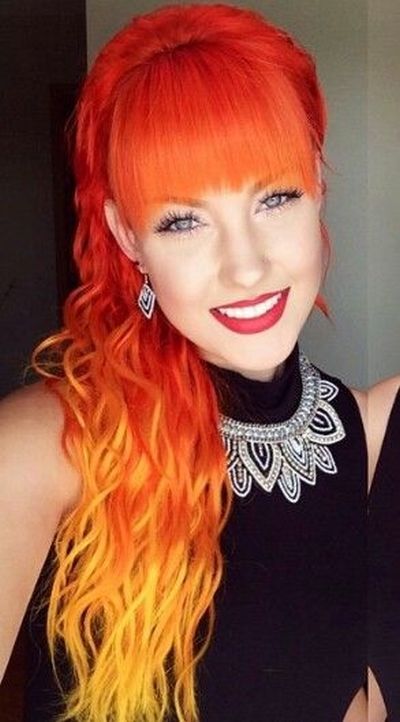 Be the center of attention everywhere you go with this super bright hairstyle consisting of neon orange hair color with a dip dyed yellowish-orange hue at the bottom. A great option if you want to take a break from natural shades.
Pink Hair Color for Fair Skin and Grayish Eyes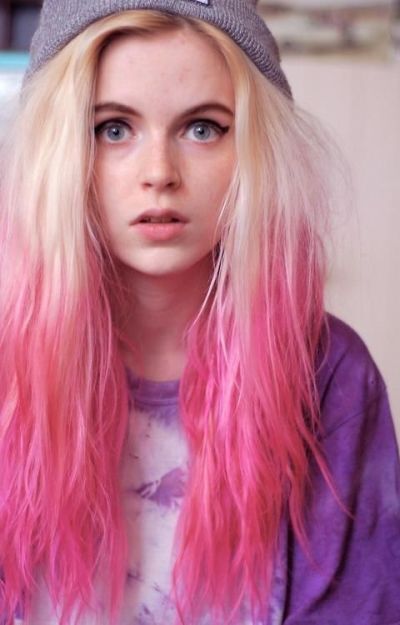 Consider dip dying your hair in a shade of bright, cotton candy pink if you have light blonde hair colors. For your gray eyes, it will surely be a breather from cool, steely colors.
Rainbow Ombre Hair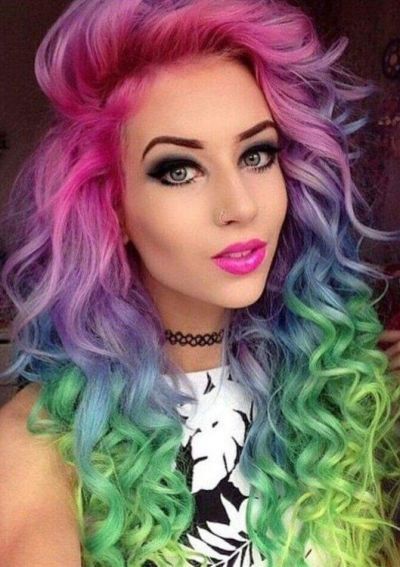 Go all the way into a creative hairstyle with a rainbow ombre color consisting of bright hues of pink, purple, green, and yellow green.
Short Curled Silver Gray Hair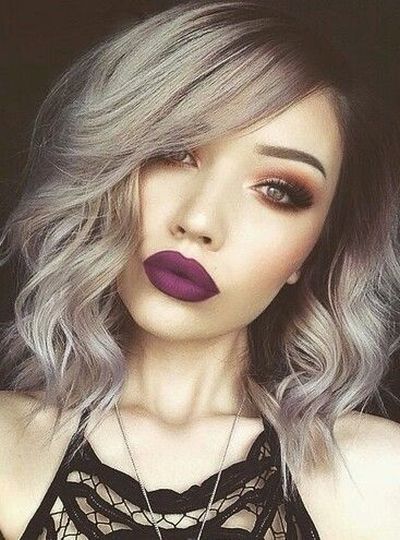 Be the ice queen you always wanted to be with a pair of steel grey eyes matched with a silvery dark grey hair color.
Strawberry Blonde Hair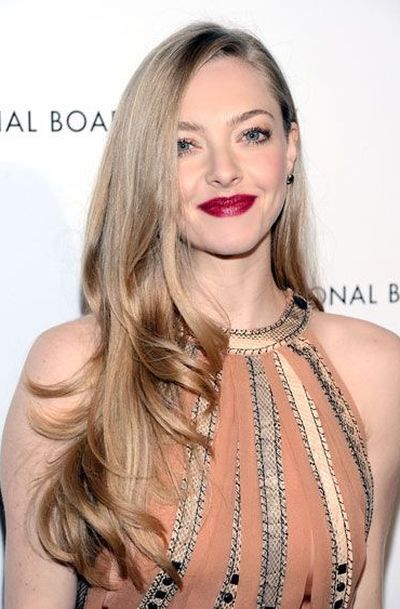 This shade of blonde on fair skin and gray eyes is a trio to die for. Try this shade out with an equally as beautiful long and wavy hairstyle.
Rose Gold Brown Hair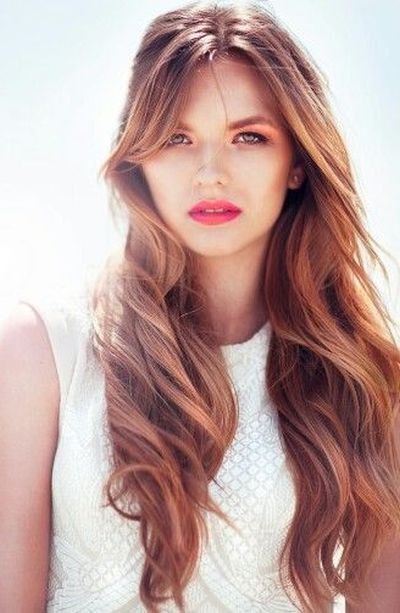 If you want your hair to be in between the shades of blonde and brown, you can try a unique shade of rose gold like in this photo.