These days women choose eyebrow restoration to permanently achieve fullness in their thinning brows whether it is natural for them or comes with ageing. It is mainly because thin is no longer in trend, everyone loves to wear darker brows like Kim Kardashian or gorgeous wispy eyebrows of Brooke Shield. Some women go for eyebrow restoration surgery because they have been plucking or waxing their eyebrows for years and now their hair refuse to grow back to gain a fuller shape.
Some of you may not familiar with the process; it is a surgical attempt to permanently customize the look of one's eyebrows.
Eyebrow Restoration Surgery Before and After: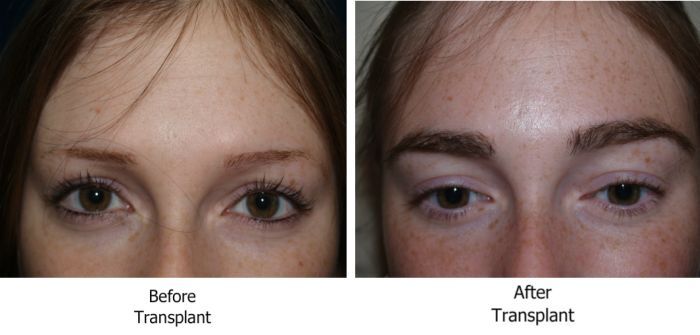 The eyebrow restoration procedure evolved as an attempt to help burn victims or those suffering from such an ailment that stops hair growth in the eyebrows; but it gradually developed into a cosmetic transplant surgery supported by a lot of people who love to change their features permanently through a surgical procedure.
There are people, especially women who fill the sparse areas of their eyebrows with pencils or powders in the hope to achieve a better appearance. Some of them take it so seriously that they say their self-esteem is hurt with the bald spots in their eyebrows. Most eyebrow transplant surgeons harvest hair from one's nape of the neck, legs, or arms.
Doctor Umar working in the Derm Hair Clinic in Los Angeles and Redondo Beach, Calif. Says that when we take hair from these areas, it turns the results of our surgery to be more natural as legs, arms, and nape hair resemble a person's eyebrows more than hair on his or her head. Doctor Umar also told that the procedure is a bit painstaking because we have to implant every single hair separately and the procedure of eyebrow restoration can take up to 2 hours.
Eyebrow Transplant by Dr. Shelly Friedman:
Overall, the procedure is fairly simple but it requires the surgeons to be very professional and experienced to get precise and accurate results. It involves administering local anesthesia to the patient and requires no lengthy stay in the clinic. Anesthesia is administered to the patients to keep them unaware of what is being done to their eyebrows and to save them from any discomfort. The accuracy of the procedure is ensured when the patient is made to feel relaxed.
Every single implanted hair has to lie flat against the skin and should be placed in the same direction and very close to each other. The right positioning and direction of the implanted hair actually determines the success of the procedure. Most of the patients report that their eyebrows look larger and darker and they feel happy about the end results. Even when we visit clinics offering services of eyebrow restoration for men, we find a lot of people saying that their confidence is boosted and they can now actively participate in their social circle.
But eyebrow restoration cost is a point of pain for most patients because the procedure is not cheap and it will cost between $3,000 to $6,000 and the final cost can vary based on how much hair you want to be implanted. It is completely an outpatient procedure so you don't have to be admitted to a hospital in order to get the procedure done. The cost of eyebrow restoration surgery will also vary according to the surgeon's fee, facility charges, and anesthesia cost.
Typically, this kind of transplant is considered cosmetic surgery and the local health insurance plans don't cover it. In some cases, when eyebrow transplant is being performed as part of the treatment to an ailment or injury, then your health insurance plan may cover it; but again it is not necessary so you should first discuss it with your insurance company.
The transplanted hair almost take 8-12 months to regrow and become thicker and if a patient is not satisfied with the appearance of her eyebrows, she may return to the surgeon to get extra hair grafts embedded into her eyebrows. In such cases, the patient has to pay the revision costs that are a fraction of the original cost of the procedure.
The revision cost also depends on the number of follicular units planned to be implanted into the brows. Usually one follicular unit will cost you $5-$8 when you repeat your eyebrow restoration procedure. Risks for an eyebrow restoration surgery include numbness, blemishing, frustration and discontent with the results.