Green: the color of nature. The color of all things alive, natural, and ever-present. It is no wonder that we gawk at green eyes, with all shades such as emerald, olive green, dark green, equally beautiful. In this article, I'll be giving green-eyed beauties the best hairstyles and hair color for green eyes. Essentially, styles and colors that would highlight your best asset: your eye color.
Best Hair Styles and Hair Colors for Green Eyes and Fair Skin
Dirty Blonde Bob for Curly Hair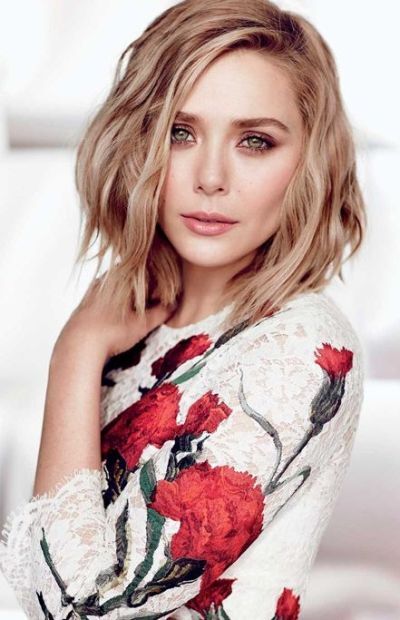 Elizabeth Olsen boasts fair skin tone with charismatic olive green eyes that is flattered with a short, choppy bob, which also frames her face. If you have similar features and a thin face, you may want to make your hair look bigger and voluminous like this hairstyle, with a hint of light blonde highlights to match your skin tone.
Classic Blonde Clean Cut Hairstyle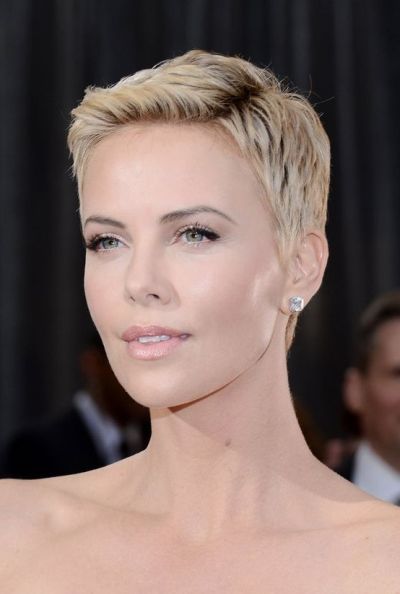 Award-winning actress Charlize Theron is another green-eyed beauty inspiration for our list. If you have a similar shade of olive eyes and fair skin, you may want to try a short, cropped hairstyle to focus all attention on your face and eyes. Moreover, a classic golden blonde hair color to that short crop may just do the trick.
Wavy Pushed Back Bob with Coffee Brown Hair Color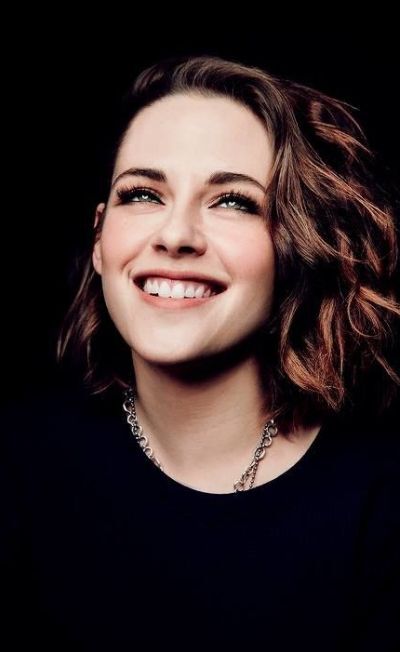 This simple yet classic look puts all attention on your green eyes. If you have similar tastes, why not snag a classic wavy bob like this one? Top this elegant hairstyle off with an equally beautiful shade of chocolate brown to really make your eyes pop.
Creamy Brown Color for Wavy Long Hair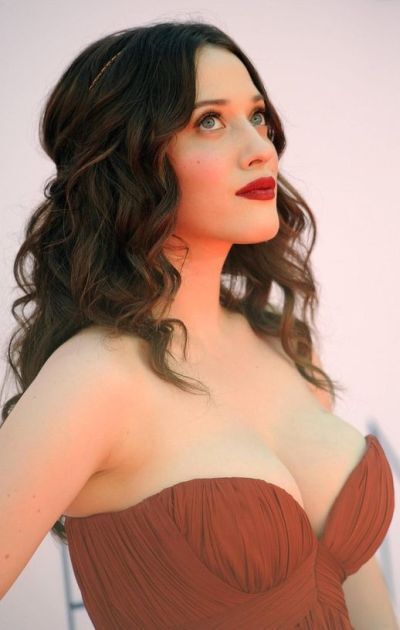 Bluish green eyes are indeed beautiful, just like in this example with actress Dennings. If you want your eyes to be the center of attention, have your hair remain a simple shade of dark chocolate with a simple curly hairstyle.
Slicked Back Topknot with Hair Rings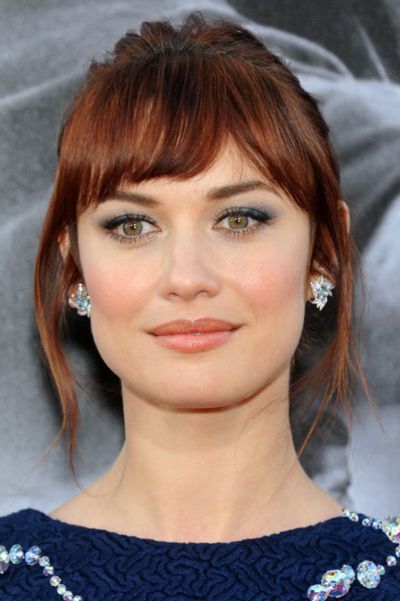 This inspiration's pale blue-green eyes are a great contrast to her swept up, dark oak brown bun. If you want the same effect for your green orbs, you can try this hair color over other options first.
Light Golden Blonde Hairstyle with Pink Highlights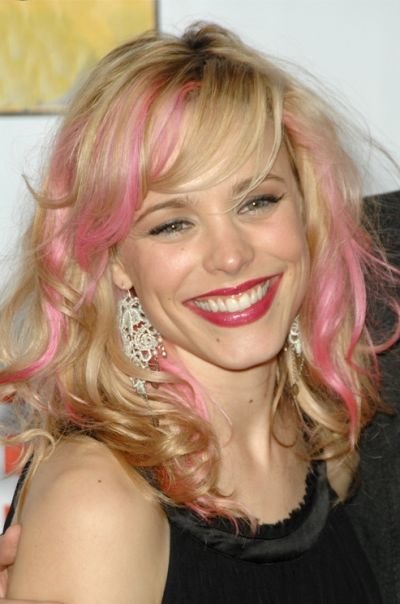 Want to go for a cute look to complement your green eyes? Why not go for style inspiration Rachel McAdam's blonde and cotton candy pink hairstyle? In this ringlet hairstyle, you combine a classic strawberry blonde color with playful pink highlights.
Sweet Summer Blonde Babydoll Hairstyle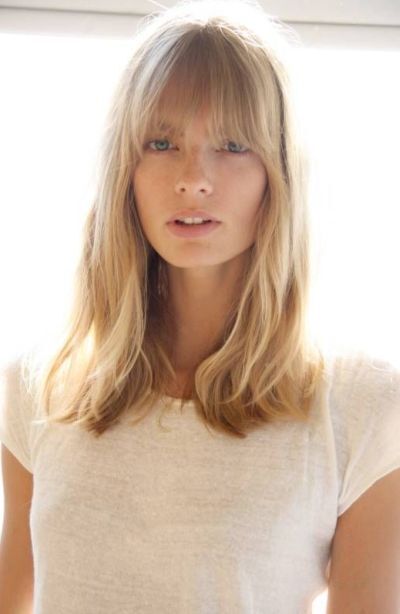 Green eyes and blonde are truly a great combination. In this hairstyle, a sweetheart medium-length hairstyle with full bangs can exhibit innocent and simplicity, a great look if you want your green eyes to pop.
Dark Coffee Brown Hairstyle for Fair Skin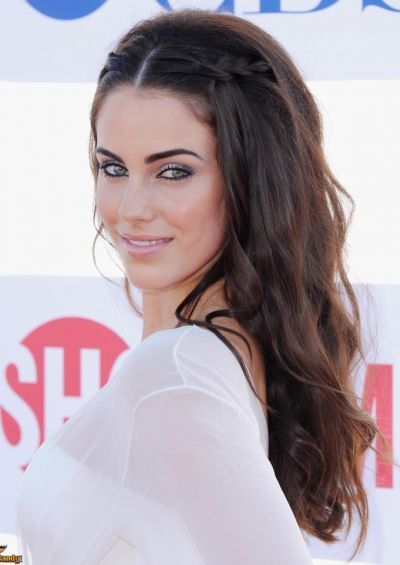 A pale ivory hue to the skin can always go well with a dark brown hairstyle, as such. Especially if you have green eyes to brag, your long dark hair will set the stage for your green orbs.
Classy Blonde Crown Braid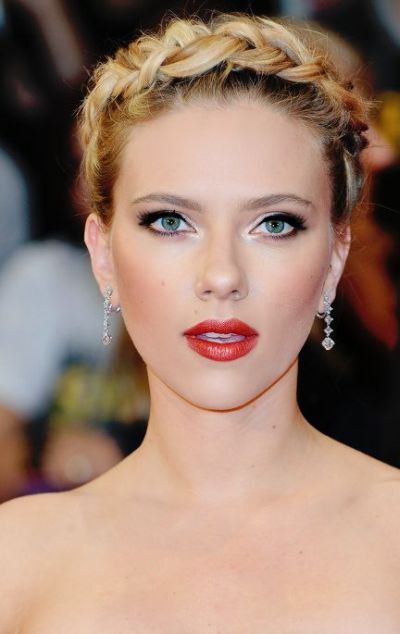 The skin tone like Scarlett Johansson's creamy fair skin is a great partner for medium blonde hair. If you want to go for more classic colors and styles to bring out the best in your green eyes, I suggest having this simple yet elegant hairstyle to start.
Simple Brown Updo for Fair Skin and Green Eyes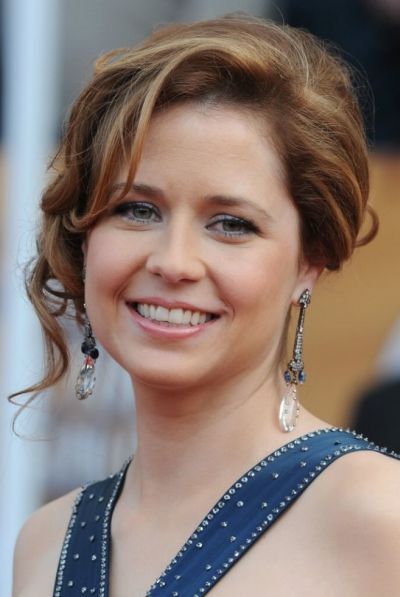 If you have pale green eyes, make them look a bit brighter with a honey tone shade of blonde.
Creamy Blonde Hair Color and Wavy Hairstyle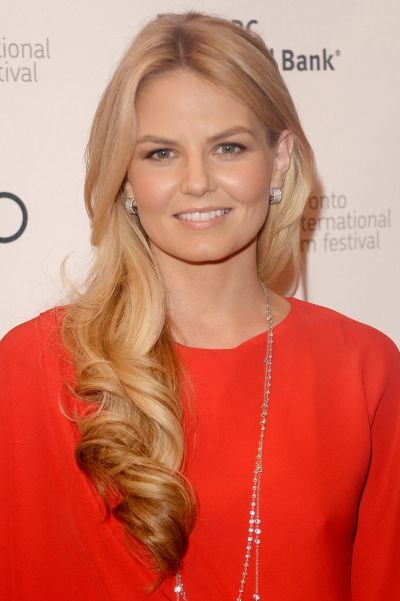 A classic color of babydoll blonde will always look stunning, especially when paired with olive eyes, fair skin tone, and a long curly hairstyle. If you're looking to try something high-class and simple, try this hairstyle instead.
Double Fishtail Braid with Light Blonde Hue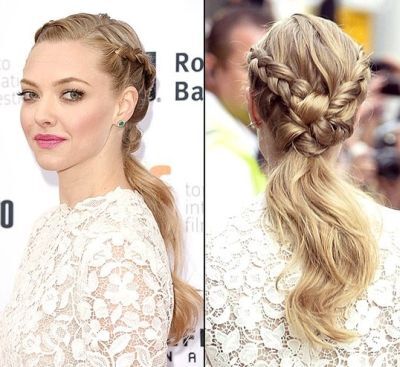 Amanda Seyfried's fishtail braid is looking classy especially in a classic golden blonde color. Another possessor of olive green eyes, her hairstyle and hair color go hand in hand with her eyes' hue to give you a combination of classical beauty.
Best Hair Color Ideas for Green Eyes and Pale Skin
Vibrant Violet Hair Color for Pale Skin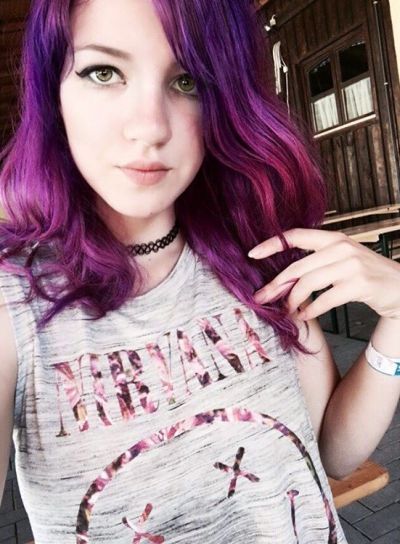 Green eyes paired with pale skin is a common feature of most Caucasians. Therefore, if you have the same features, you can make yourself stand out a little bit more with a bold hair color like this one: a vibrant hue of violet, the color of royalty.
Coppery Brown Hairstyle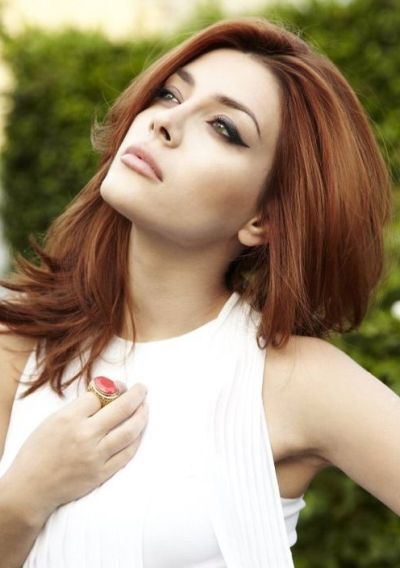 Paler skin can be an asset. For instance, you can create a beautiful contrast to your skin and hair as in this beauty inspiration. Elena Satine exhibits her pale skin and olive green eyes that are a great contrast to a lovely shade of cherry oak brown hair. The paler the skin, the better it will look with warmer hair colors.
Classic Dark Brunette Waves for Pale Skin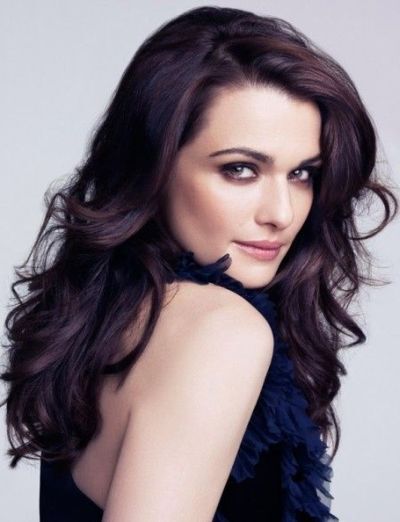 To prove my point further: darker hair shades will make your skin look brighter and your green eyes stand out more. In this wavy long hairstyle, dark brown hair touched with a tint of dark wood brown is astonishing against pale skin—another shade you can try.
Messy Brown Hairstyle with Blonde Tint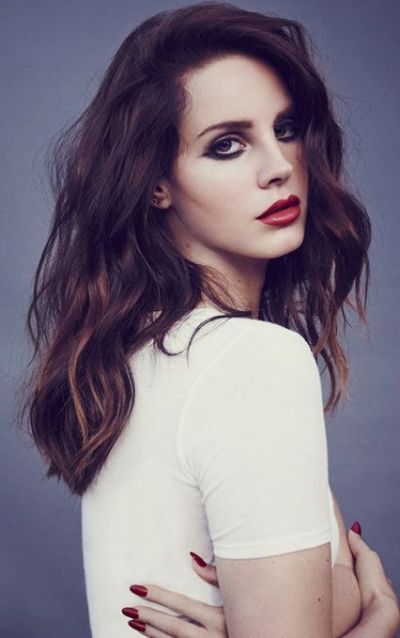 A simpler approach to contrasting pale skin is a rich, dark brown color hinted with a touch of golden blonde at the ends; just the slightest bit of character, but proven effective.
Vintage Style Dark Brown Curls
Snag this old-fashioned but beautiful look to make your green eyes look brighter than it already is. Moreover, you can make your pale skin the highlight of your features with a very rich chocolate brown shade.
Natural Raven Black Ponytail for Pale Skin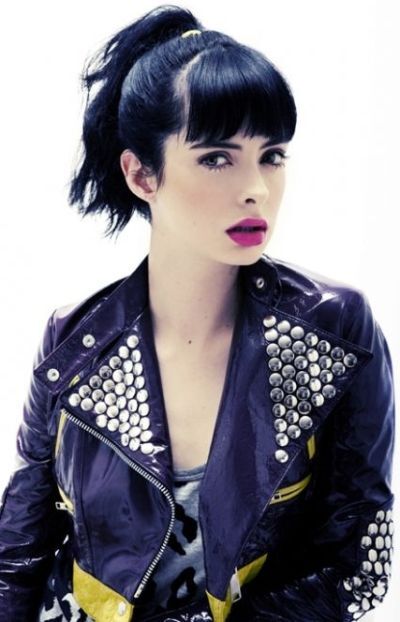 Jessica Jones star has one classic look going for her: dark hair, green eyes, and pale skin. If you have the same characteristics as this beauty inspiration, you can try having your hair dyed black (if it isn't black already) and pulled up into a classic high ponytail. With this look, you can make your eyes stand out.
Slicked Back Curly Bob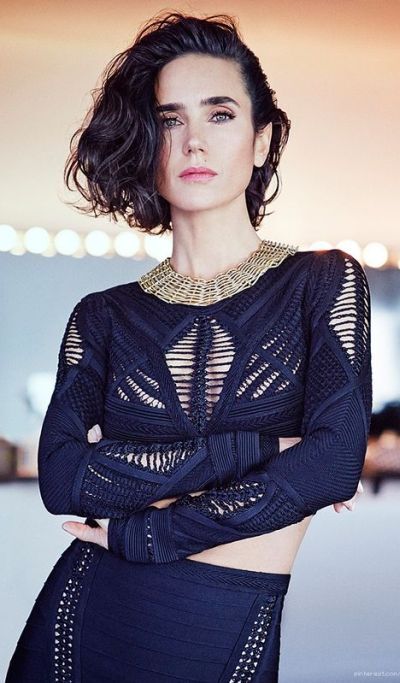 If you have very pale skin, why not match it with very dark hair? A low-maintenance yet elegant-looking cut that can complement your green eyes is a short, wavy bob that you can part to one side, as in this hairstyle.
Perfect Pastel Lilac Hair Color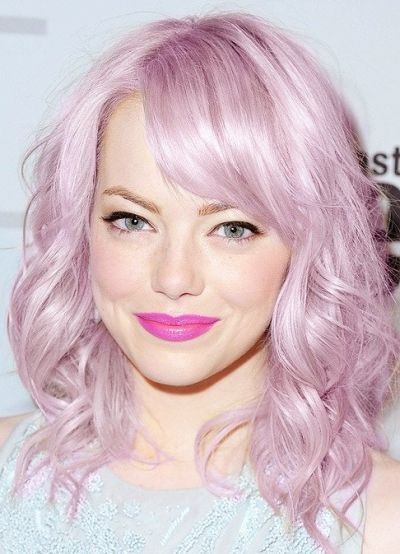 Another option for pale skin is pastel colors. As you can see in Emma Stone's look, it can create quite a playful and innocent look if colors are chosen right. Moreover, your green eyes will stand out magnificently from the light pastel hue.
Natural Coffee Brown in a Messy Updo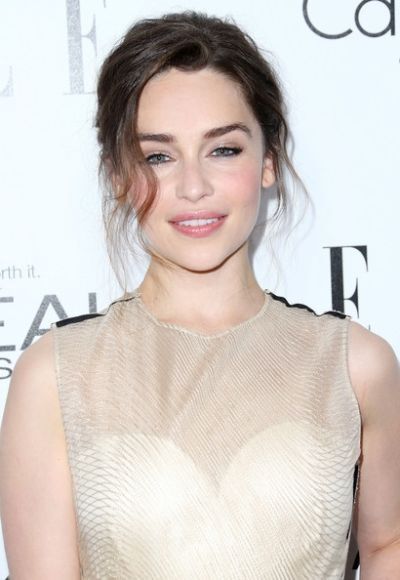 Game of Thrones star is known for her porcelain-like pale skin. Off the GOT stage, she also rocks a dark brown hair color that not only makes her skin look whiter and more porcelain-esque, but also makes her blue-green eyes a sight for stars.
Cute Hair Colors for Green Eyes and Tan or Dark Skin
(Note: For this, we could not find appropriate images to match the skin color. For time being, please only refer the hair color and we would edit the images as soon as we get perfect images. We are sorry for the issue though.)
Medium Brown with Honey Blonde Tones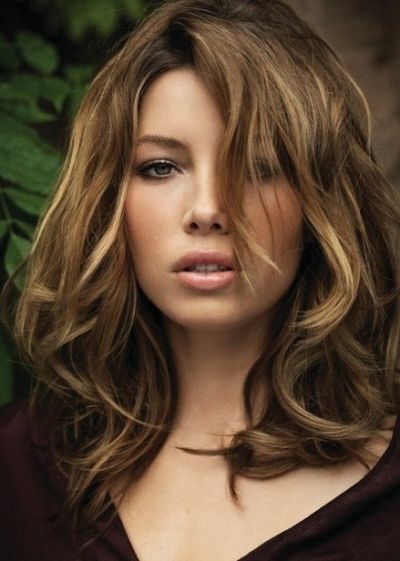 Tan skin and green eyes like Jessica Biel can give off an exotic babe vibe. Embracing this look can make you look natural and effortless like in this beauty inspiration: a nice, shoulder-length hairstyle with light blonde baby highlights to a coffee-brown base.
Creamy Coffee Brown Shade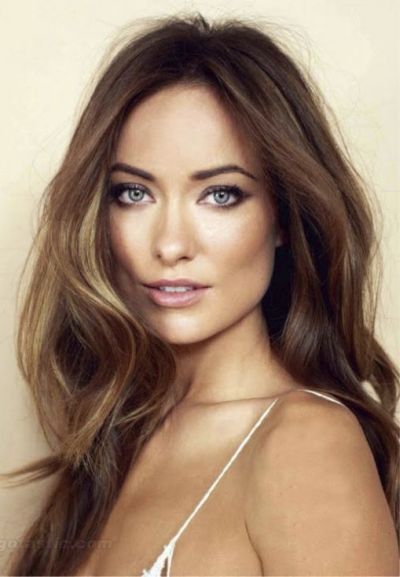 Ask any hairstylist and they'll tell you that tan skin will always look great with brown hair. Not much contrast, but the blending can be beautiful and enhance your skin tone more. If you have a similar shade of skin, why not try a chocolate brown base with golden blonde highlights?
Reddish Brown Hair Color for Tan Skin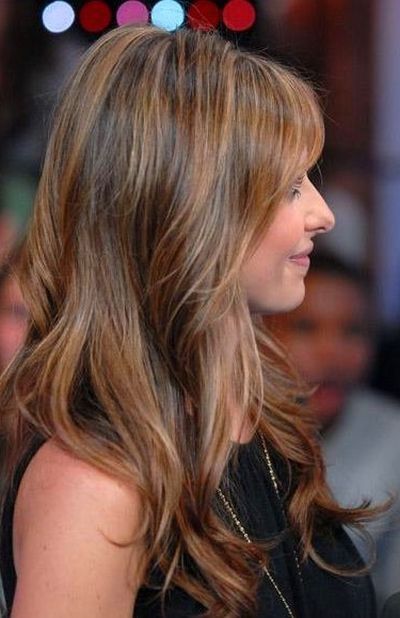 If you have naturally dark hair and tan skin, you can try making your skin tone blend with your hair by adding bright caramel brown highlights to it. In this way, you can also make contrast with your green eyes and make them pop even more.
Curly Brown Layers for Green Eyes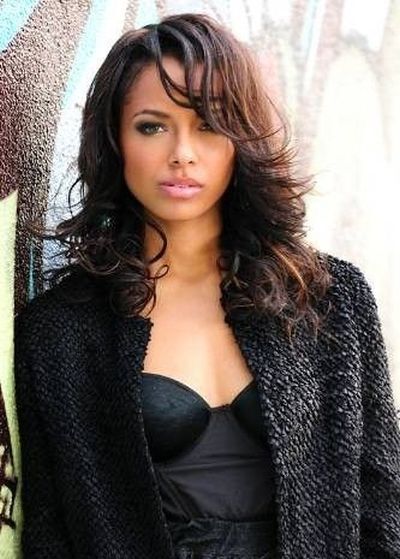 Get Kat Graham's classic Latina-esque look with a choppy layered hairstyle partnered with a black-brown hair color. If you have green eyes, this kind of hairstyle can make you look fiercer and make your eyes look a little bolder.
Silver Metallic Hair Color
If you have slightly tan or dark skin, an unusual hair color like silver metallic gray can do the trick. Another advantage is that it can truly make your green eyes the center of attention, especially that it contrasts very well to your gray hair.
Summer Blonde Double Fishtail Hairstyle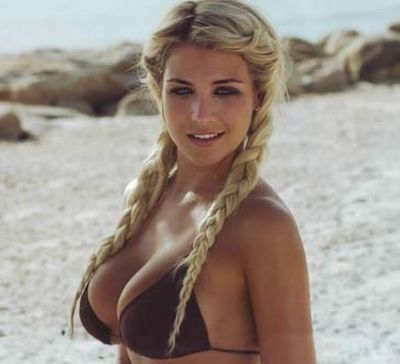 Beach blonde Rapunzel hair and green eyes? A perfect combination if you want to go for sexy and classy both at the same time.
Deep Brown Hair Color with Full Bangs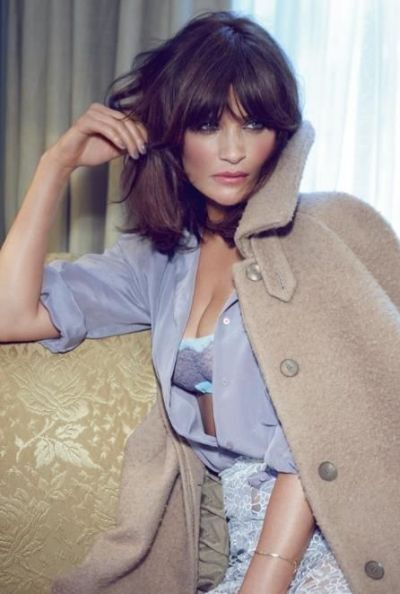 Snag the hot Bond Girl look with a mid-length bob with full bangs, colored a simple shade of dark chocolate brown. This shade is a great complement to your tan skin, and also a good contrast for your green eyes.
Chestnut Blonde Hair Color for Wavy Hair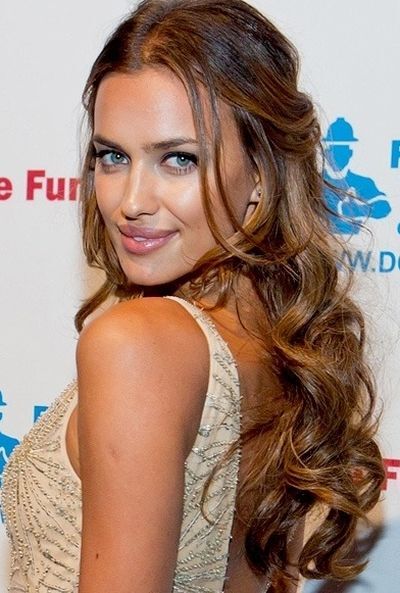 Want more attention given to your beautiful eye color? Have the shade of your hair a far color from your eyes, for example, Shayk's curly caramel brown hairstyle. A classy, girly look for all occasions.
Blonde Highlights on Medium Brown Hair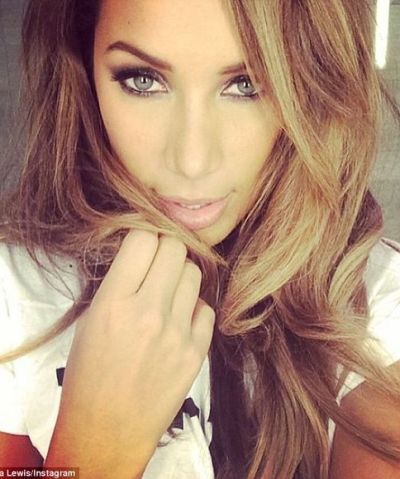 Leona Lewis' golden brown skin is already a sight by itself. Paired with green eyes, her look is that of an exotic goddess. If you have the same features, a long, wavy hairstyle with a brown to blonde balayage?
Cool Hair Colors for Green Eyes and Light Skin Tone
Dark Brunette Bob for Light Skin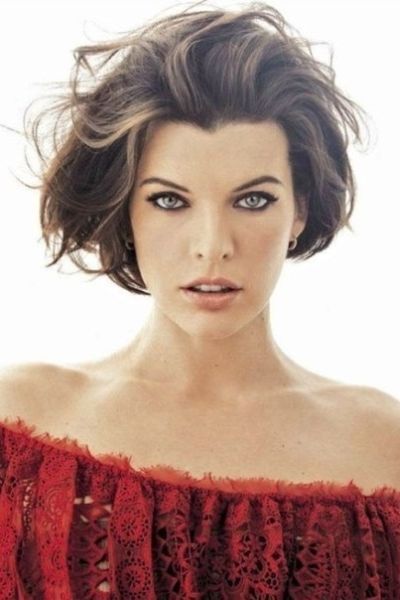 Creamy light skin and icy green eyes like this actress can go amazingly great with a short, voluminous bob with very subtle brown highlights. With this hairstyle and hair color, you will have easy to maintain hair and look elegant with minimal effort.
Simple Updo for Green Eyes and Light Skin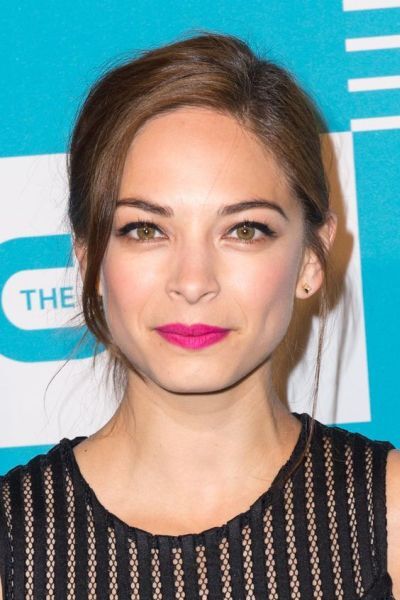 Kreuk's God-given orbs are a mixture of hazel and green hues. If you have a similar shade in your eyes, a simple brown hairstyle may either complement or blend with your eyes.
Black Blonde Updo Hairstyle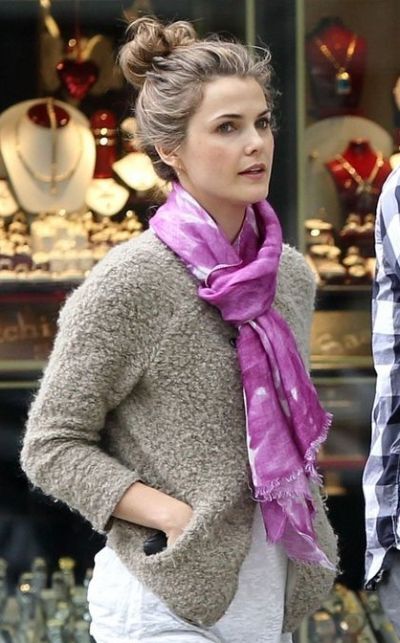 Are you a busy person but still want to look chic? This one style inspiration is Keri's blonde high bun that is both effortless and stylish.
Edgy Honey Blonde Layers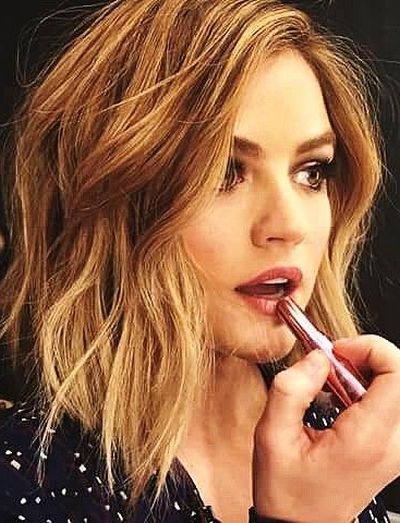 An edgy, choppy cut paired with a golden blonde dye can have your green eyes looking stunning without much additional styling in the morning. If you want an effortless yet edgy look, go for this hairstyle instead.
Copper Brown Hair Color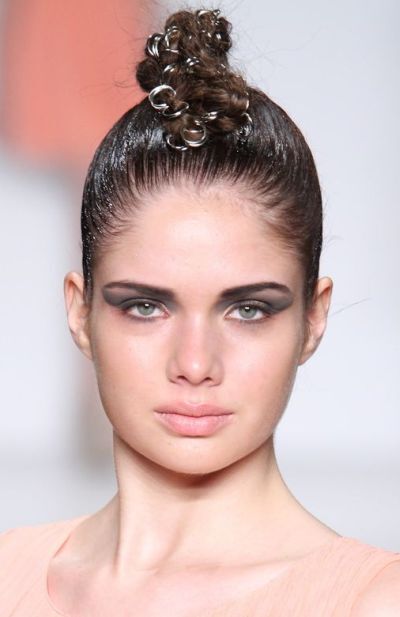 A combination of hazel and green in your eyes can be a great blessing. Furthermore, you can complement this beautiful shade with a mildly vibrant hue of copper brown paired with a simple ponytail hairstyle.
Medium Brown to Light Blonde Ombre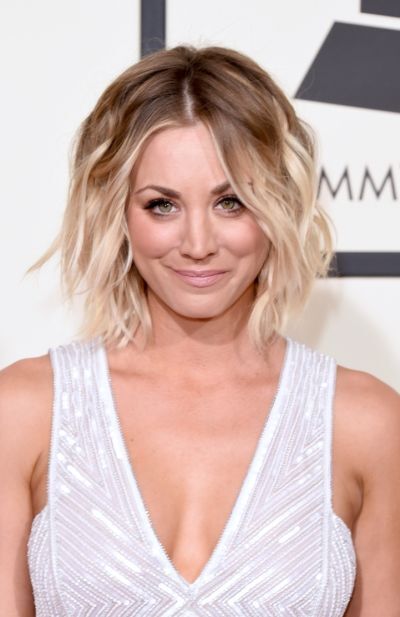 Spice things up with a brown to blonde ombre, a super trendy look with a bit of an added edge if you have your mane cut short and curly. Green eyes will look more vibrant and bright with this look for sure.
Choppy Brunette Hairstyle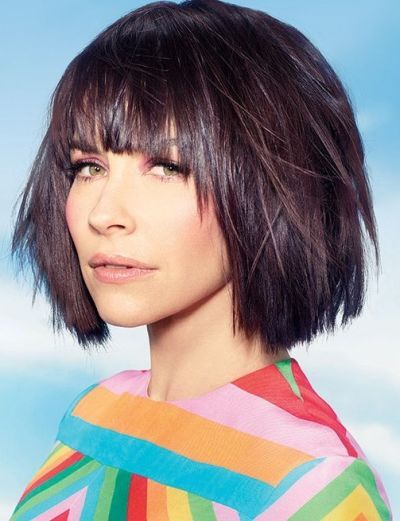 For angular faces, a short choppy bob can add more sharpness to your look. For olive green eyes, you may want to pair this hairstyle with a rich dark brown color.
Neat and Classy Honey Blonde Updo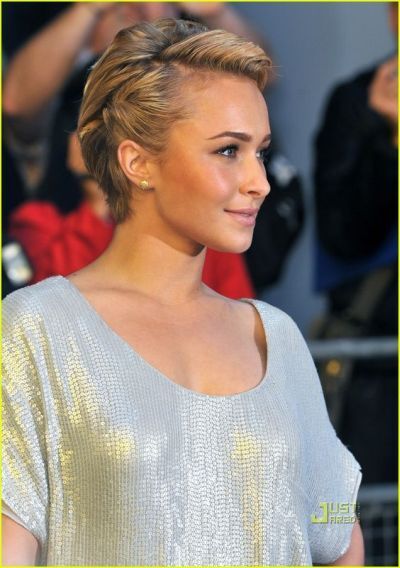 Be of Hollywood red carpet material with a neat, classy updo like Hayden Panettiere's. Top this hairstyle off with slight golden highlights that can clash beautifully with your green eyes' shade.
Dirty Blond Hair Color for Green Eyes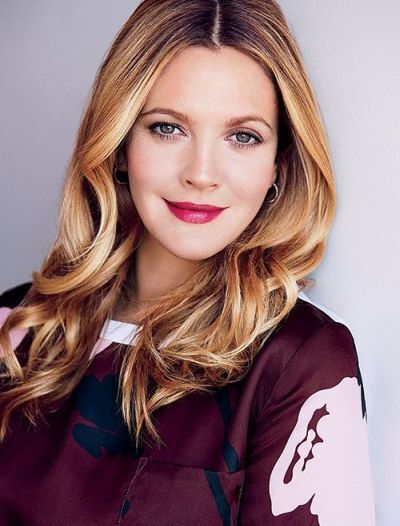 Light skin matched with perfectly green eyes? Try a shade of honey blonde color to emphasize the hue of your eyes. To add, a simple wavy hairstyle can add a lot more character.
Simple Mid-length Bob with Babylights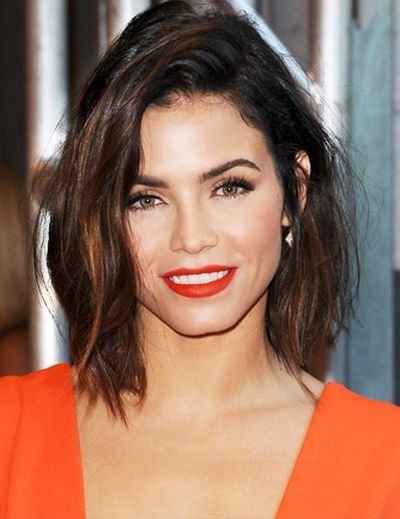 Baby highlights are always in and a subtle option for those who don't want to take too big of a leap with their hairstyle/color. For light skin and hazel-green eyes, try a shade of medium brown added to your natural hair as baby highlights.
Bronze Creamy Blonde Hair Color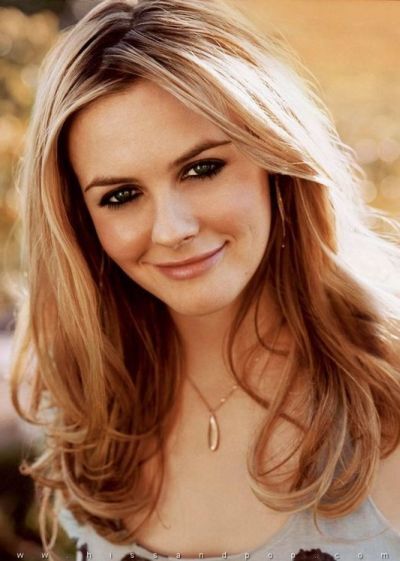 One of the famous blondes of movie history is one of our green-eyed beauty inspirations for this article. Snag Silverstone's look with a caramel blonde shade to make your emerald eyes stand out, especially when paired with dark makeup.
Natural Honey Blonde Hair Color for Green Eyes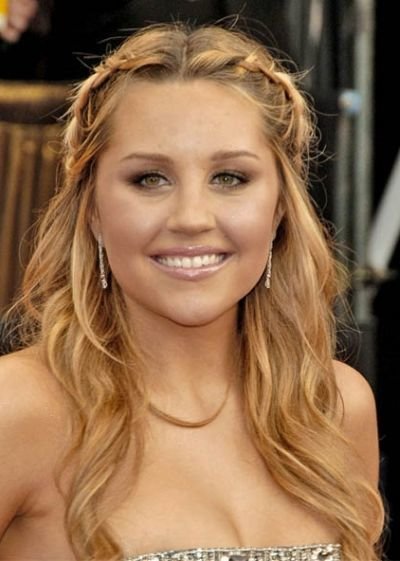 This shade of blonde is between strawberry blonde and golden blonde, so you get the best of both worlds. For green eyes tinted with a hint of golden brown, you can also have your hair color complement it.
Reddish Brown Hue for Light Skin Tones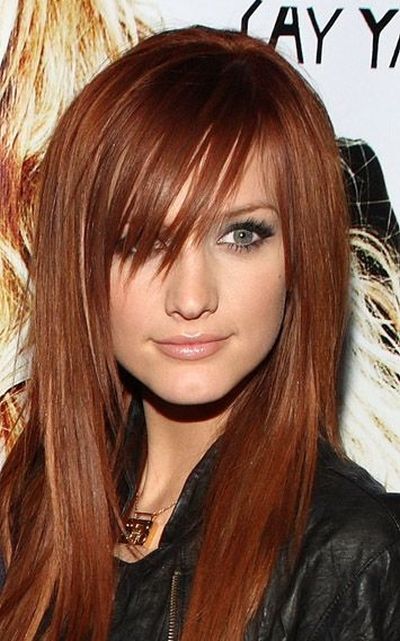 Go the extra mile and knock out your contenders with a vibrant copper red hair color, paired with long straight hairstyle that goes way back early 2000s. If you have similarly dark green eyes, you can make them a little bit livelier with this hair color.
Black and Gold Hairstyle for Short Hair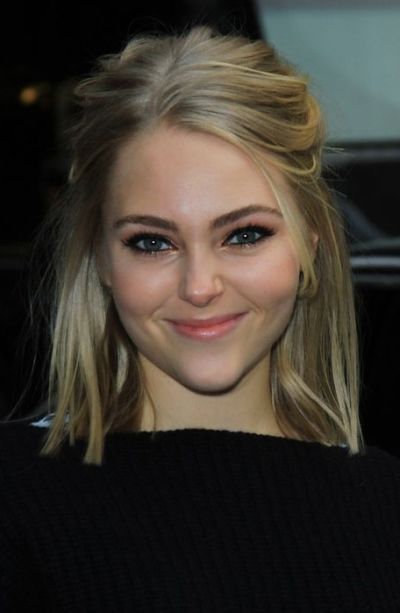 Green blue eyes can match well with a shade of light ashen blonde, just as seen in this example. Make the color more stunning with a straight shoulder-length bob. A simple, yet red carpet-material look.