51 Amazing Hairstyles for Curly Hair That You Can Do Yourself
Girls with curly hair face a lot of problems in managing and styling their hair because frizziness is one of the most common stressors of curly hair and it makes most women pick up the straightener as the only solution. For those who are living in humid weather conditions, it becomes even more difficult to manage the frizz of their curls. This post consists of some really feminine and easy hairstyles for curly hair mostly for medium and long hair.
One thing that most women with curly hair don't know is that their hair can be set when they are wet and they can get amazing results if they know how to do it right. You can Google for the solutions to curly hair problems and you'll find a lot of curly hair tips to remove frizz and define curls. There are several products available in the market that help manage curly hair and when you use those products on regular basis you'll find your way to live with your frizzy curls without the use of heat and styling.
1)    Tucked in Coil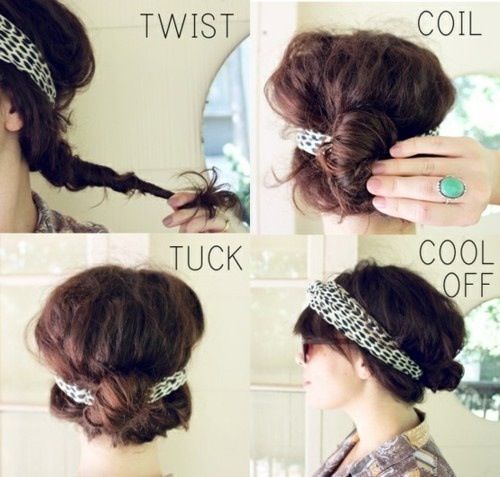 Wear a stitch band and twist your hair, then tuck the twisted hair inside your stich band like a coil.
2)    Romantic Up Do
First define your natural curls with a curling iron and then create a classic up do with a normal elastic band as illustrated in step 3. Then you'll add a modern twist on the forehead towards one side by taking off a section of your curls with the comb.
3)    Soxy Bun

Soxy bun is one of the fun hairstyles for curly hair. Tie your hair in a soxy bun for a super cute look. Make a high ponytail and roll your hair into the soxy starting from the top and tuck them inside it as you come towards your roots. You should use a soxy that matches your hair color, although the girl in the picture has used white one to better explain the method.
4)    Braided Chignon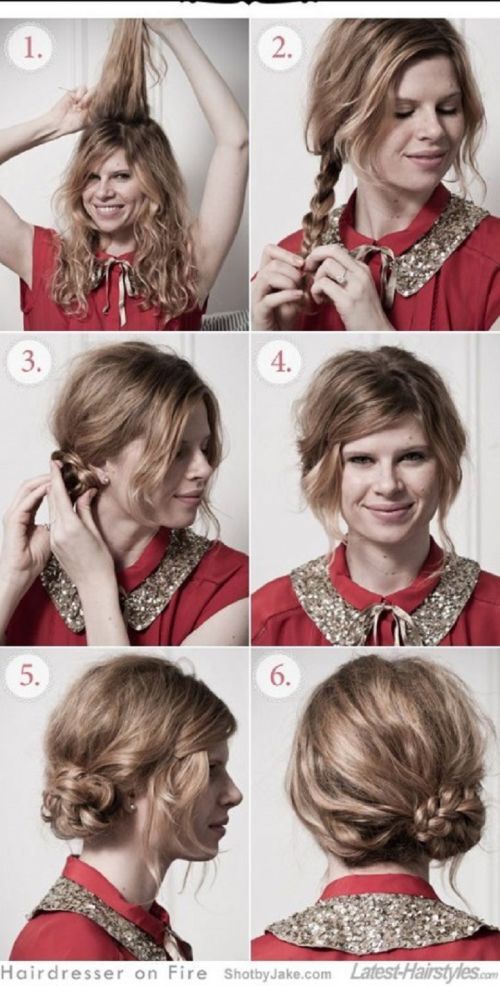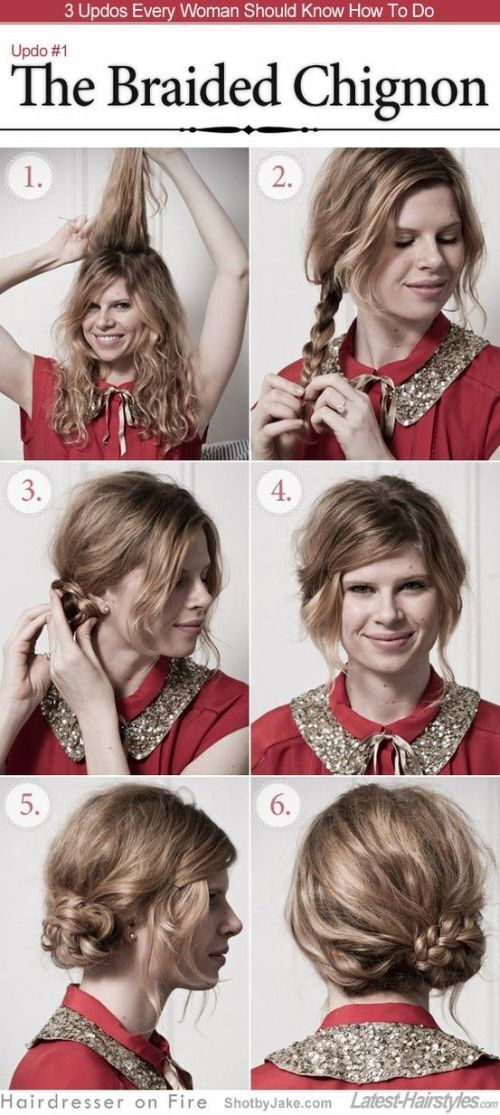 Side part your hair and tease them on the top and make a side braid leaving a few strands on both sides. Now coil the braid like a chignon and secure it with bobby pins.
5)    Braided Half Up Do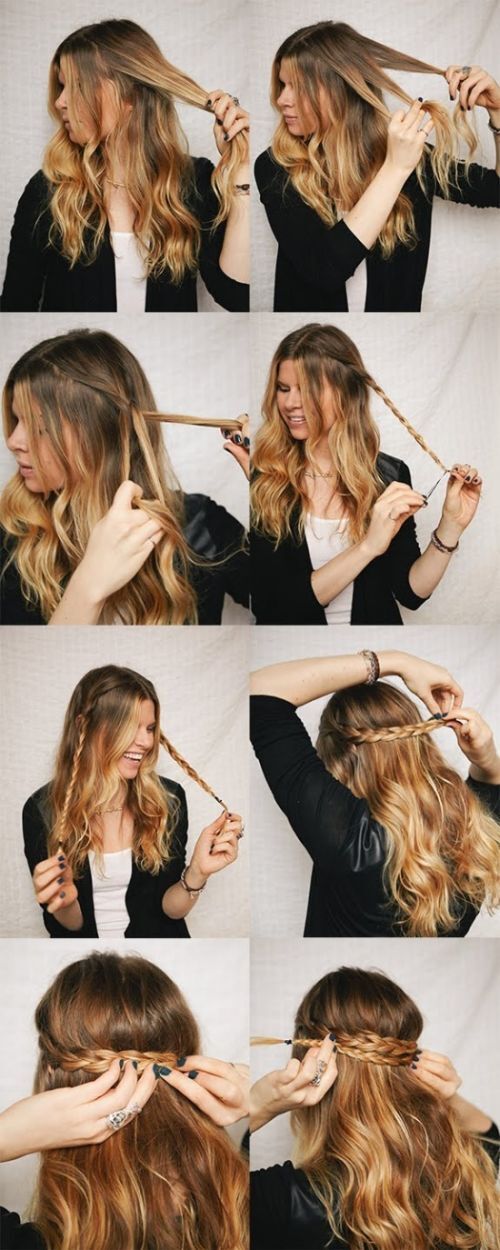 Comb your hair, center part, and make a few sections on each side. Now make braids with each section and then tuck each braid in one another and secure with bobby pins.
6)    Twist and Pin Up Do

It's really easy and simple but there is a technique to it. You should use very good quality pins and the key is not to overload pins with hair like if you tuck in too much hair in a single pin, the pin will be likely to reverse and fall out of your hair. Catch only a few strands of hair with each pin so it will connect the twists with one another turning the hairstyle look gorgeous.
7)    Boho Braid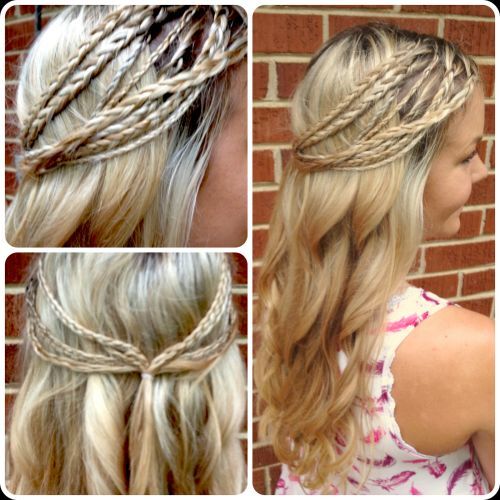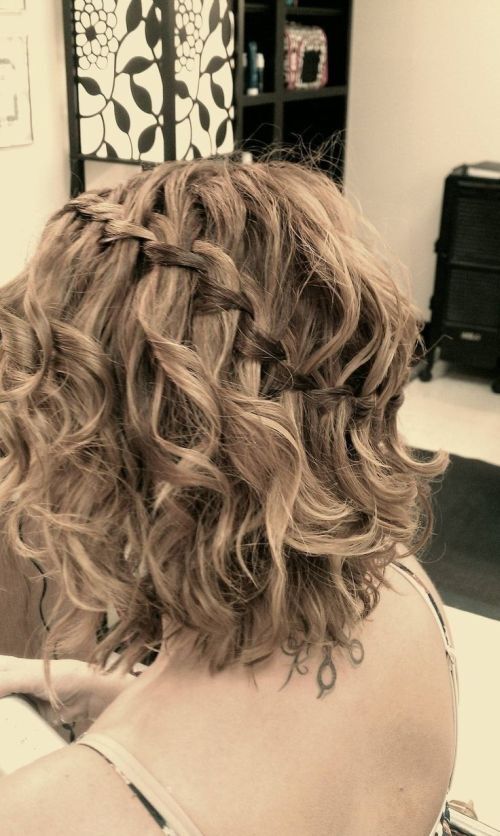 Center part your hair till the nape of your neck. Now start braiding your hair along the temples and join the braids when you reach the hairline on the back of neck. Secure it with an elastic band and you're done. Braided hairstyles for curly hair have to be done tidily.
8)    Beaded Headband Up Do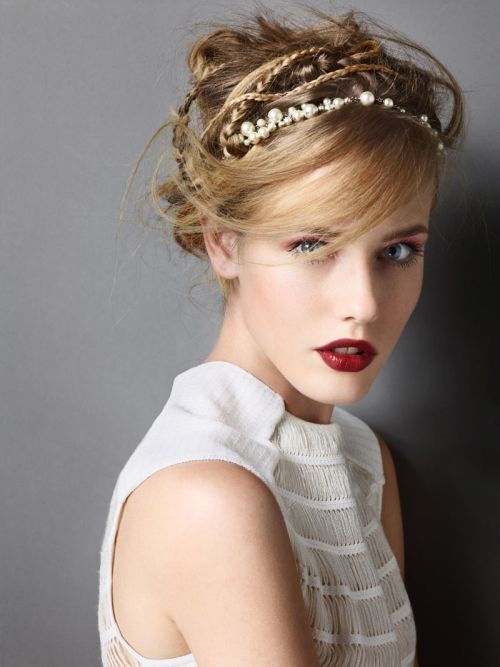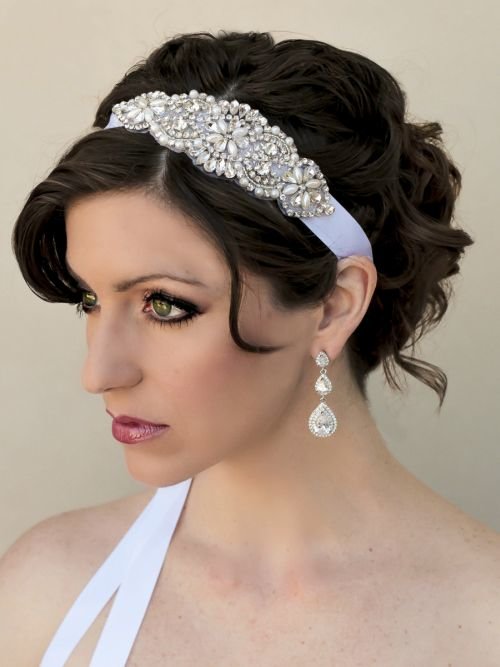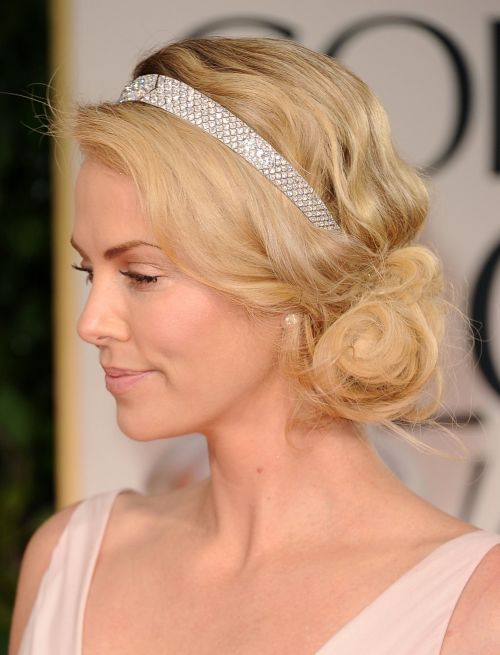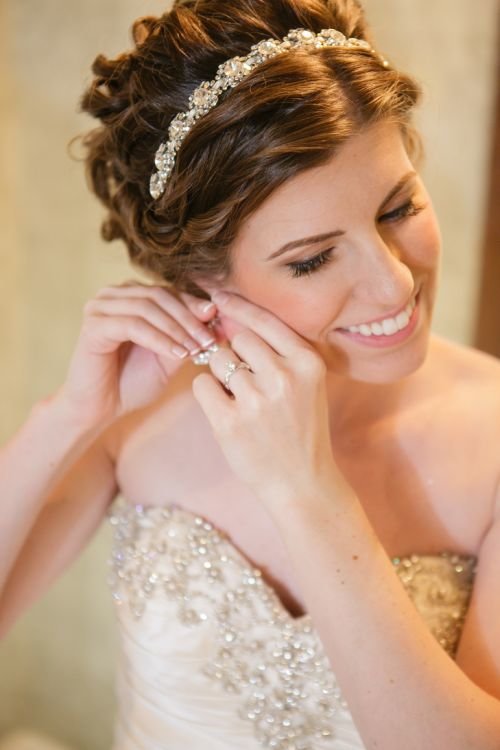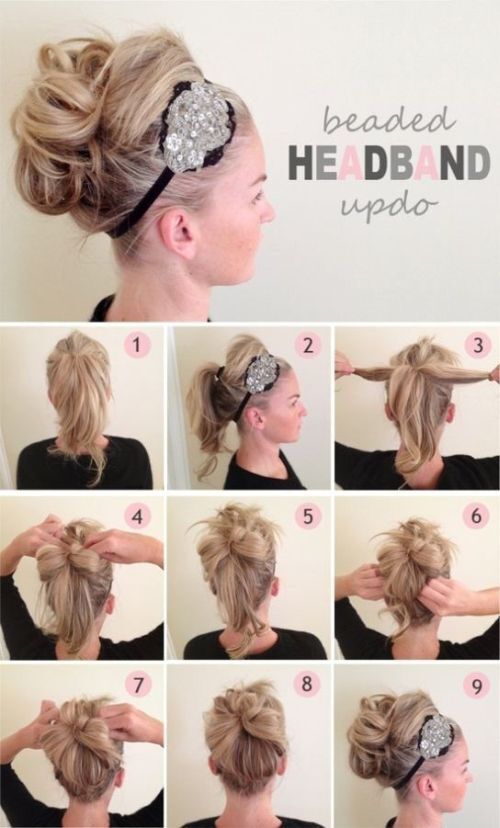 Catch your hair like a high ponytail and then wear a fancy headband. Now taking portions of hair from your ponytail pin back hair into the base of the ponytail just like we make flower like bun. Your up do should look like messy so don't worry for fly-aways at the back.
9)    10 Second Top Knot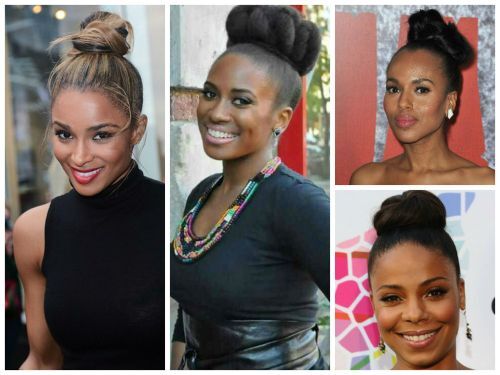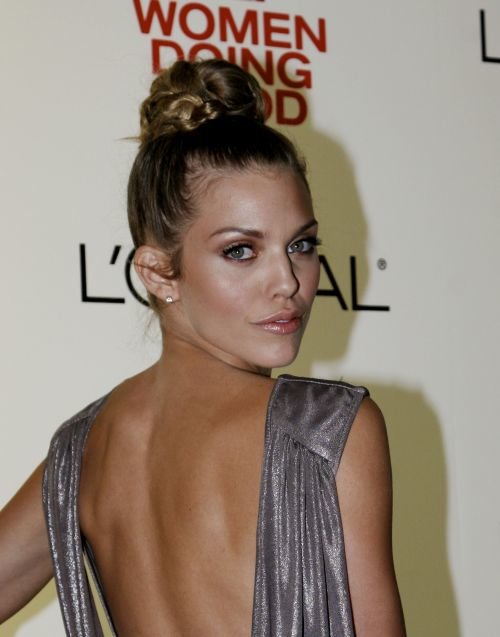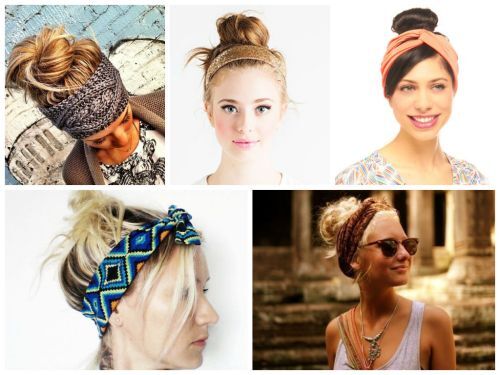 Make a high ponytail and then twist and coil it like you make a normal bun. Now secure the bun with an elastic band that matches your hair color. You need a holding spray for the finished look.
10)     Braid and ponytail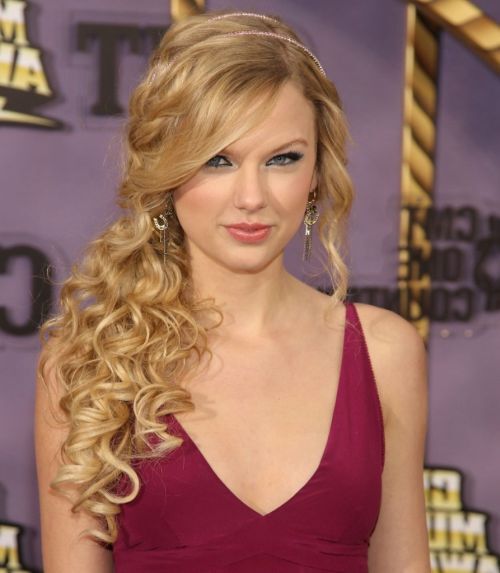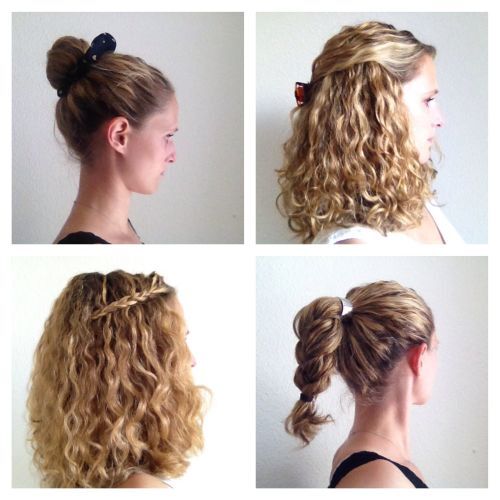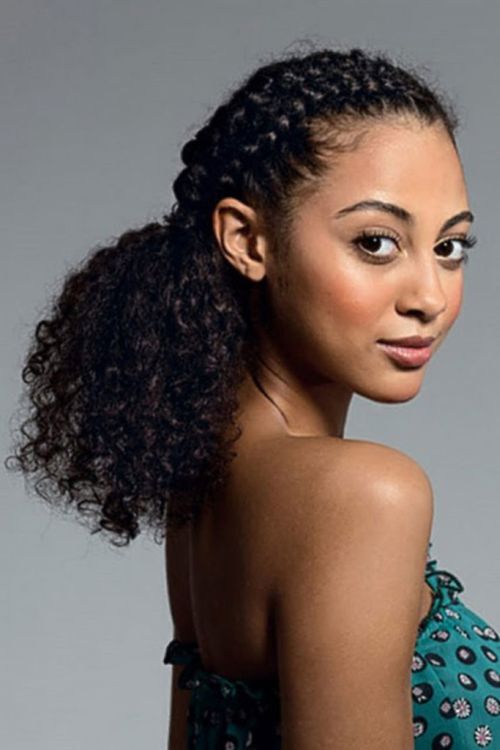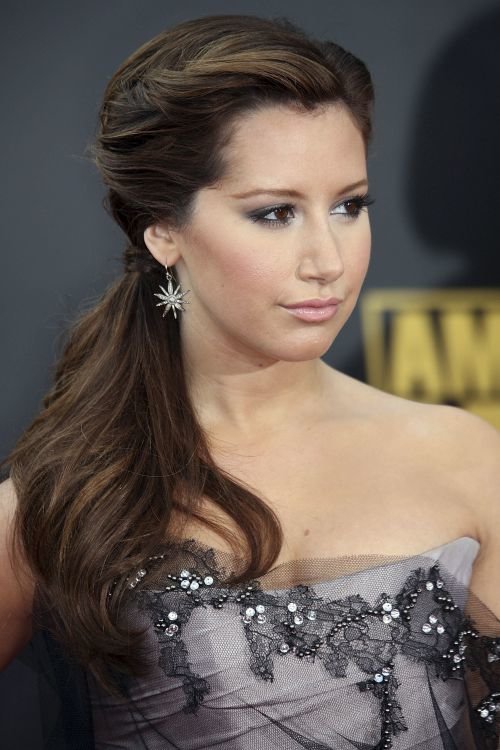 Making this hairstyle is very easy for someone who knows how to create waterfall braid. You'll first create a high ponytail with leaving 30% of your hair (make a section from one ear to the other). And then make a braid on the top of the crown by taking smaller sections of your hair from the front hairline.
11)    Crown Braid Chignon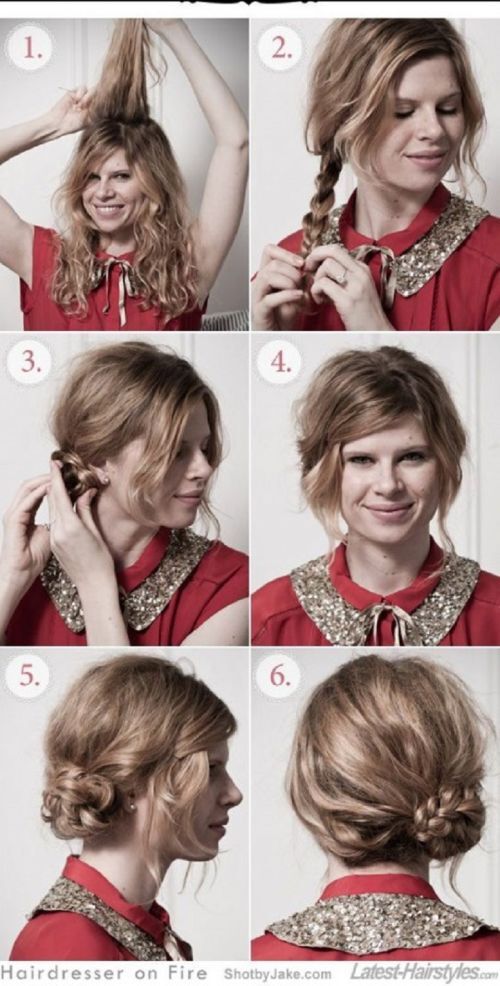 You can easily recreate this hairstyle at home. This is a nice braided hairstyle for curly hair and you can wear it on a wedding also. This is an ideal up do for thick and curly hair because you'll have to braid and twist your hair to create this chignon.