9 Latest Pakistani Mehndi Designs And Their Symbolic Meaning
The word Mehndi has an Indian origin and it is the name of a plant called 'henna'. In general, this word (Mehndi) is used to denote all kinds of paintings made with the extract of henna plant. Besides painting, it has also been used for the purpose of hair conditioning and celebratory rituals. India, Pakistan, North Africa, and other Middle East countries use Mehndi in their wedding celebrations. The extract of the plant is also used in a number of cosmological cosmetics.
Some people also use Mehndi to communicate with God and they use it in their religious rituals. However, in this post we will limit our discussion of Mehndi to the beautiful designs women make on their hands.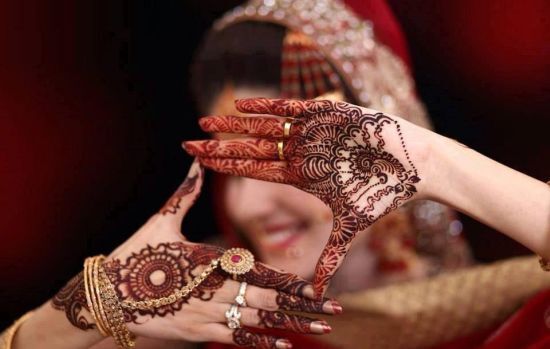 Mehndi designs come from a multiplicity of origins i.e. India, Arab, Africa, and Pakistan. Each country has its own traditions and culture and Mehndi designs represent the respective cultures.
Paksitani Mehndi designs are temporary and fade over time, but they are so elegant that you wish they were not.
The stunning Pakistani temporary Mehndi tattoos are drawn freehand by the Mehndi artists. They design the hands and feet of women with henna paste and the paste when left for some time leaves a color on skin for almost two weeks. Below are some easy Mehndi designs that you can do yourself.
1. Floral Design for Wrist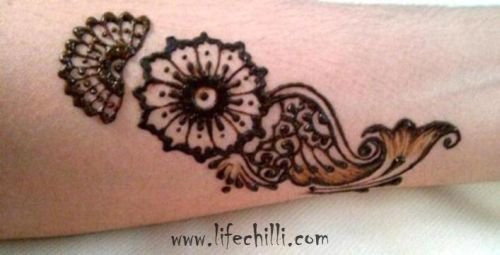 This is a simple floral mehndi design that you can draw on your wrist. Although it is very basic but it looks very appealing.
2. Circle Pattern for Hands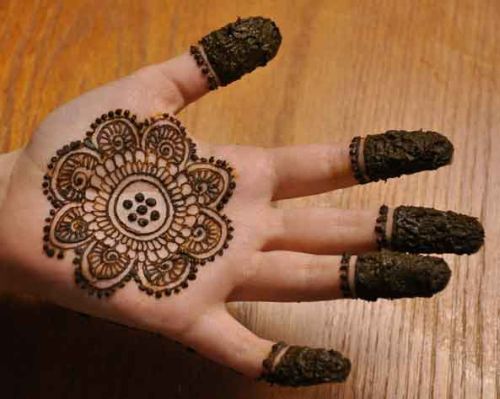 Fingers are filled with the paint and in the center of the palm, you'll see a big round flower outlined by dots. This pattern is suitable for teenage girls.
3. Paisleys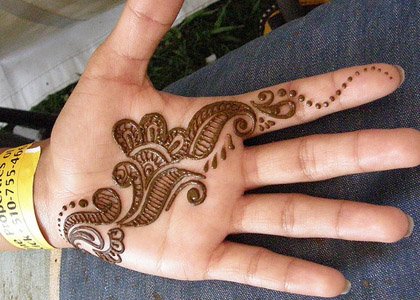 This is a stylish angular pattern that can be drawn both inside and outside of your palm.
4. Teeny Tiny Flowers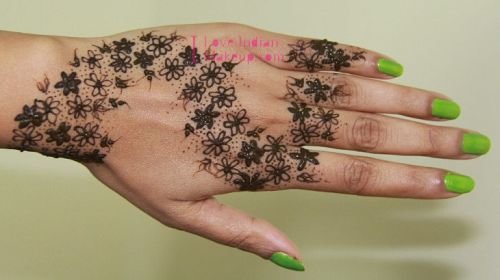 You can draw this pattern with a very thin henna paste that is squeezed through a pin like hole. It best suits on the outside of hands.
5. Corner Design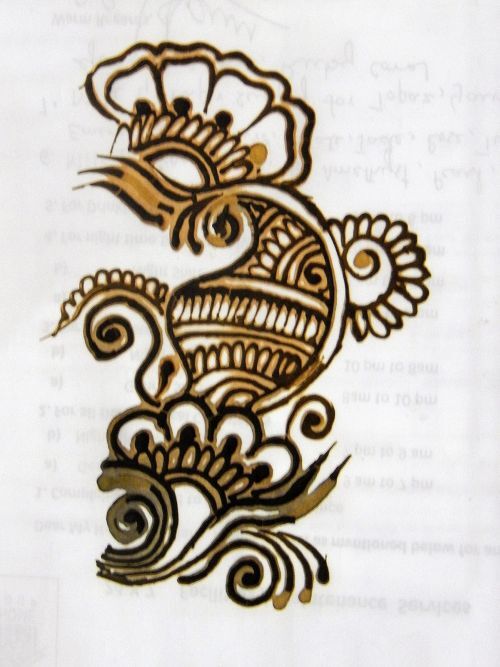 it's not necessary to by heart the corner designs because you'll have to change it according to the size of your palm.
6. Basic Flower for Kids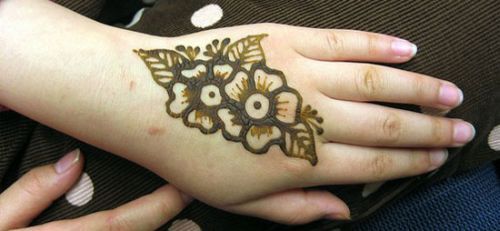 This kind of floral mehndi tattoos are the most suitable option for little girls because they have smaller hands.
7. Stylish Tattoo for Backhand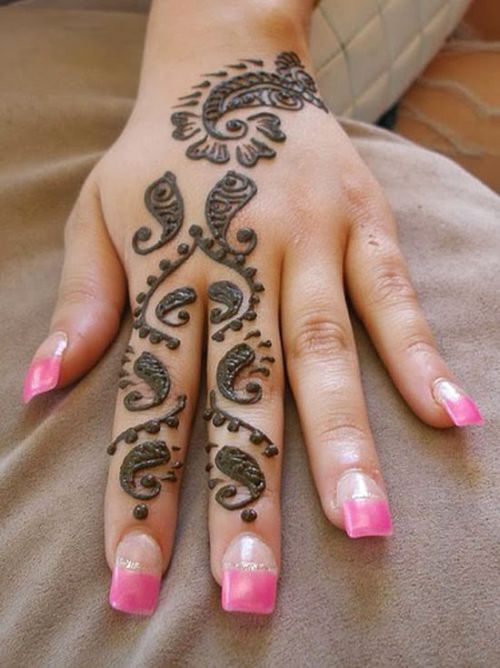 A very feminine and chic pattern that will enhance the delicacy of your hands.
8. Bracelet Pattern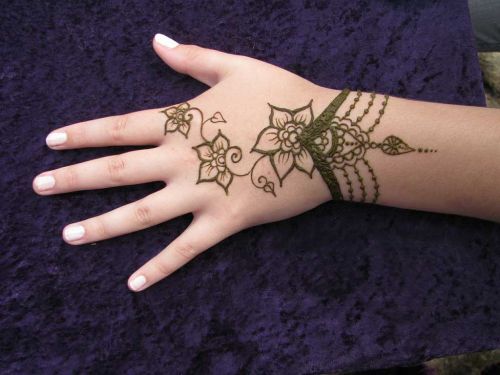 You can wear this mehndi design when you plan to wear fake painted jewelry. It not only looks elegant but is also fun to do for teenage girls.
9. Half Arm Vertical Pattern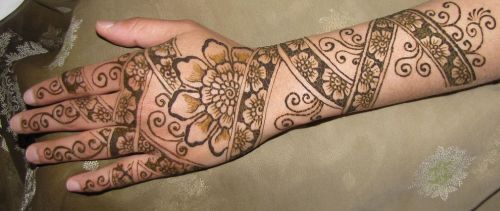 The difficulty level of this design is medium and you can extend it to full arm if you plan to wear it for a special event.
Besides Pakistani Mehndi designs, you'll find a lot of amazing patterns when you search for other countries. Since every country has its own customs and ethnicity, so its particular designs also symbolize its culture. Below is a background to Mehndi designs that originated from Pakistan over decades.
Let's see what specific Mehndi designs meanings are and why women fall for them.
1. Butterflies: When someone draws a butterfly or a pair of butterflies, it means transformation and revolution.
2. Flowers: Flowers symbolize ecstasy and pleasure and it is their universal meaning so flowers are made to express a sense of happiness and subjective well-being.
3. Leaves: Leaves are a pure expression of longevity, strength, and commitment. So you can paint leaves to celebrate national holidays when there is the time to show energy and dedication.
4. Lotus Blossom: Lotus signifies many things like purity, sensuality, and femininity. On the other hand, it also represents creativity and growth of human soul.
5. Paisleys: Paisley motifs are many people's favorites and they mean fertility and good fortune so you can draw them on any occasion because they are another name of a blessed life.
6. Buds: Buds obviously portray new beginnings and new life that is pure bliss and is full of joy and new happenings. Considering their meaning, buds must include in the bridal mehndi designs.
7. Zig Zag: It depicts rain and an abundance of favors from God and a sense of feeling blessed.
8. Ripples: They evidently relate to water and anything water is clearly a sign of life. So ripples in turn mean human evolution and new life.
9. Square: Squares symbolize protection and they have a magical property and considered a source of healing for the sick.
There is much more to Pakistani mehndi designs that we can't capture into a single post. So if you are interested in knowing more about the beautiful tradition of mehndi, then read another post bridal mehndi designs on this website.