13 Perfect Movie Husband Every Woman Wishes For
No matter how old we get or how mature we claim to be, there will always be a little teenage girl inside all of us that still fantasizes about Sharukh Khan from Dilwale Dulhania Le Jayenge because who doesn't want to be reunited with their one true love in the middle of a sarso ka khet? Or the dark, brooding desi version of the conflicted hero with a tortured past and absolve him of his sins like Siddhart Malhotra in Ek Villain?
Admit it, you have, at least once wished that whenever someone talked about your shaadi or has said something remotely resembling "Tere liye ek rishta aya hai", you've hoped against hope that it is one of the many attractive Bollywood movie characters walking through the door. But then again, wishful thinking can only get you so far.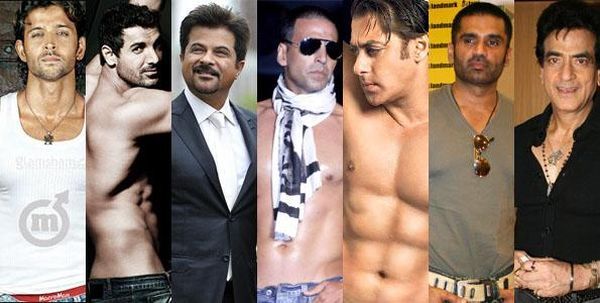 So how about you take a look below at this list of the perfect husband material that every woman wishes for, as provided to us, so generally by Bollywood:
1. Ajay Devgan – Hum Dil De Chuke Sanam
So what if his love was unrequited? We cannot possibly not adore someone as understanding and kind as this man. Bitchy family aside, this character was one hell of a catch. Move over Aishwarya!
2. Amitabh Bachchan – Baghban
This couple was the ideal picture of a love that has lasted for decades. Who would not like to go on romantic dates with a wonderful hubby after years and years of marriage?
3. Anil Kapoor – Judaai
He is a humble man of humble origins with a humble job. His love costs nothing and he has a big enough heart to forgive all of his wife's sins.
4. Akshay Kumar – Dhadkan
His was an enduring love that sustained even after knowing that his wife loved someone else. Fighting both for and with his family, in the end, he had a loving relationship with everyone.
5. Shahrukh Khan – Rab Ne Banadi Jodi
To show the extent of his love, he disguises himself, goes out of his comfort zone and dances with his wife.
6. Amir Khan – Maan
A man whose love transcends time, money, crippling accidents and broken engagements. How can someone not want this character?
7. Arvind Swamy – Bombay
This man forgoes his religion for the sake of love and it his love for his family that instigates him to try to stop the religious riots in Bombay.
8. Chandrachur Singh – Kya Kehna
He is the kind of best friend that every woman would love to have as her husband. Kind, caring and humble, what's not to love?
9. Akshay Kumar – Aitraaz
Alright, he may not be absolutely perfect but you have to give him brownie point for his fidelity to his wife which remains constant throughout the movie.
10. Salman Khan – Chori Chori Chupke Chupke
This man is so amazing that not one but two women fall head over heels in love with him. In the end, he influences one woman to try to pursue a better life.
11. Sunny Deol – Gadar
Sunny Deol's character is the shy truck driver who fights hundreds of obstacles just to get his wife home to her family across the religious barrier in India.
12. Aamir Khan – Dil
Raja goes from an arrogant, amir baap ka bigra beta to a loving and kind hearted man due to the love of his life. Isn't that sweet?
13. Siddharth Malhotra – Ek Villain
Not only did this guy turn his life over for the girl he loves, but he also rescued a little child from a possible traumatic future.
Do you agree with our list? According to you, who is the best husband? Let us know through commenting :-) Or perhaps, you might want to add more to our list.