Shruti is the Daughter of a Roadside Chaiwalla But What She Did Inspired Us All
In a country such as India, there are many parents who believe that no matter how poor they are, no matter what their circumstances are, they absolutely need to provide their children with a good education so that their own lives can be better than the ones their parents have led.
There is yet another group of parents who believes that there is no point striving for a better life through education. This is that group of parents who are disillusioned in the meritocracy system of the country, and who believe that the only way in which it is possible to get a good job in the country is not through merit and educational background but rather through good connections and the ability to bribe – which is impossible for someone living in poverty.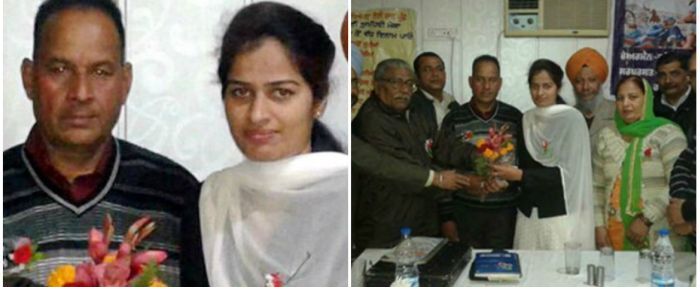 Shruti's parents thought differently – and proved that this line of thought has no basis in reality. Shruti belongs to a small town known as Nakodar Located in Punjab and has now been appointed a judge in the same court where her father has been serving tea to the big shots for years!
Shruti passed the Organize Exam for the judicial post of Punjab Civil Services and was appointed as a judge. She passed her matriculation from State public school, studying Law from GNDU Jalandhar and completed the degree of L.L.M. from Punjab University, Patiala.
She is the daughter of Surender Kumar who owns a tea shop just outside the Jalandhar court where his daughter works as a judge. Needless to say, he is extremely proud of what his daughter has managed to achieve. He said that he had high hopes of his daughter and was firmly convinced that she would earn a name for herself – but he had never imagined that she would one day become a judge. According to Surender Kumar, Shurti's uncle Teerth Ram had had a huge hand in her studies, always motivating her to study hard and would help her with her studies.
Shruti passed the Punjab Civil Services (Judicial) examination with flying colors in only her first attempt, after which she will train at the judicial academy for a year before she takes on her position as a judge. Kumar said that he could not wish for anything more in his life.
By clearing such a difficult exam and bagging such a coveted post, Shruti has proved herself to be a big motivation for those who are stuck in a cycle of poverty, proving that it indeed is possible to break out of this cycle with education, dedication and hard work. The position she has achieved has shown that poverty and lack of contacts and not having the ability to bribe people are no barriers when you really want to achieve all your goals in life.
In an interview with the Deccan Herald, Shruti said that she had always wanted to be a lawyer and wanted to work in the legal profession. Her life's ambition has always been to become a judge, and finally she said she had achieved it. She sat for the examination, had firm faith in her abilities, and gave it her best – and it paid off. She wanted nothing more than to make her family, especially her father, proud of her, and now that she has done that, she feels that she has achieved her goal in life.
Shruti also feels that being a woman should never stand in the way of achieving your goals. She adds that there were many other women along with herself who had qualified in the judicial examination, and who were now working in various capacities in the legal profession.
According to Shruti, women were actually doing much better than men at professional examinations and were regularly breaking barriers. She thinks that attitudes towards women in the workplace were gradually changing and men who were previously averse to taking dictation from women are now changing their line of thought.