Semi or Easy Eyebrow Tattoo – Cost And Before After Photos
Semi permanent eyebrow tattoos began following the influence of body art tattoos. Adapting the same method to permanently put makeup on their faces, women considered it as a way out to reapplying makeup on a daily basis. With the passage of time, cosmetic tattoos also known as permanent makeup became challenging as it appeared unnatural because some inks tend to change their color to a bluish grey, hence women were trapped with the looks they didn't like.
So like everything else, eyebrow tattoo pros and cons were also there. Over the years, it was realized that the techniques used to create tattoos on the body were not suitable for face since our face has sensitive skin.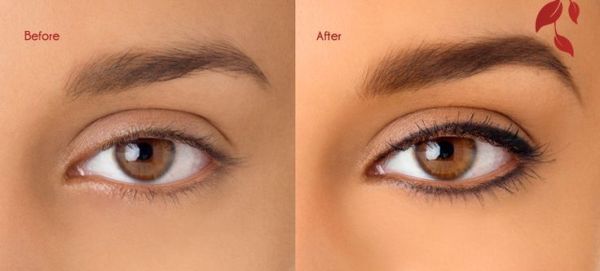 So advanced techniques were adapted to create semi eyebrow tattoo that was more natural and less likely to fade over time. The latest methods of eyebrow tattooing have been quite sophisticated with the needle delivering a softer and lighter feel.
Before the procedure, the targeted area is numbed; although the person still feels stingy in the brow area as the doctor inserts the needle. Even with the advancements in the field, there are still downsides to consider, especially when your doctor is not experienced. An experienced therapist mostly uses paper templates, draws the intended shape and ensures that his client is happy with the shape.
He also discusses the thickness and length of your brows with respect to your face shape. In case, your therapist doesn't perform these practices before the procedure, he may end up getting you droopy and uneven temporary eyebrow tattoo.
Before visiting a salon to get your tattoo done, you should know that semi eyebrow tattoo cost can range somewhere $800 to $1000 but costs vary depending on the type of treatment (shaping and colors) you receive. Where you need only filling in your patchy eyebrows or want them to be more defined or correct their missing tails; you can have it done for £300-£350. Women having sparse, over plucked, or unflattering natural shape of brows will be able to receive this treatment for £400-£450.
Semi eyebrow tattoo before and after photos usually confuse people that the immediately resulting color is likely to be the same forever; but actually it only stays that way for a few days to come. There are cases, when a client has requested for a darker color or when a specialist is inexperienced. There is logic for the color being dark for a week or so, during the tattooing procedure the blood is brought up into the brow region as a pigment so its color is mixed with the tattoo making it darker in appearance.
Some specialists smear a tiny dot of genuine tattoo color next to their brow line and clients are shown the difference under bright light. This helps them regain their confidence and they are ensured that the dark color with not remain the same. Some of the color pigments also shed when the tattoo is healed. During the tattooing process, a needle is inserted and pigment falls into the hole, and transpires into a color tube. The pigments that don't dissolve deeply into the holes fade and shed during healing.
Semi Permanent Eyebrow Tattoo Before After Photos:
Check these pictures taken from some semi-permanent eyebrows and medical tattooing clinics: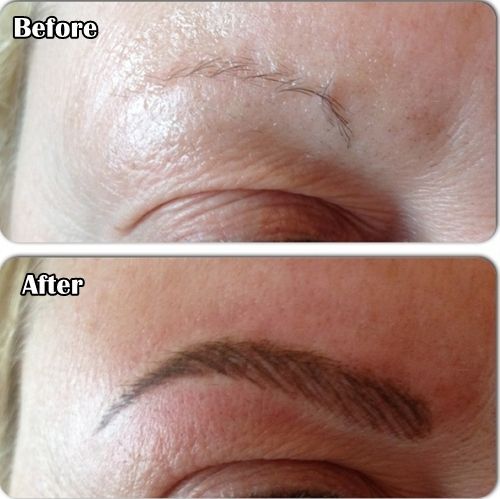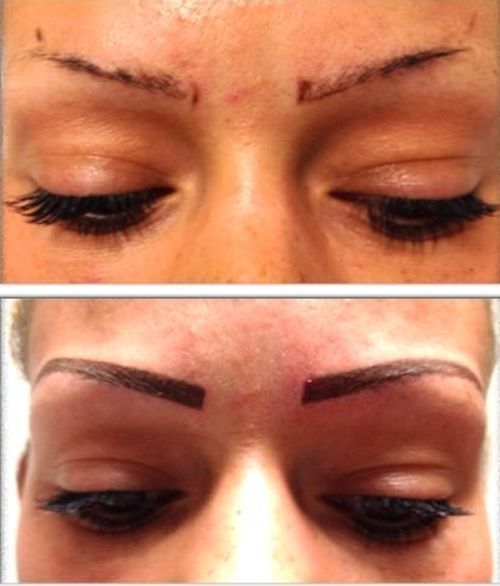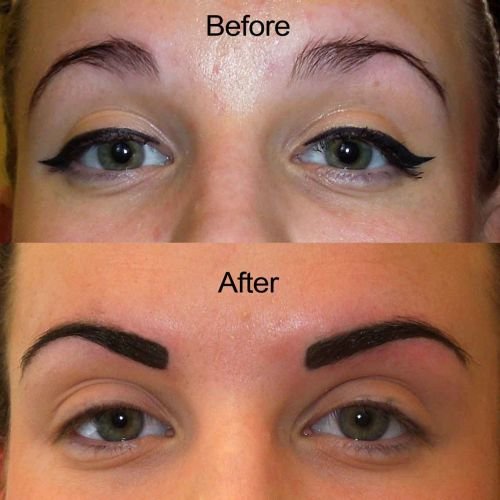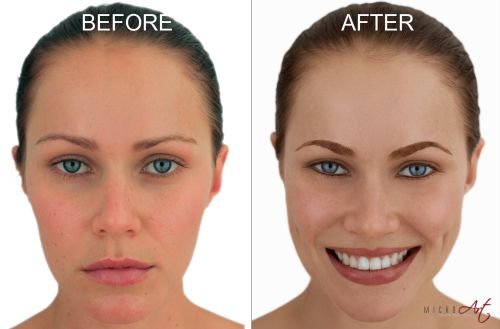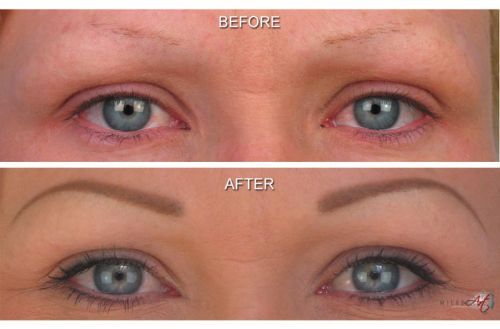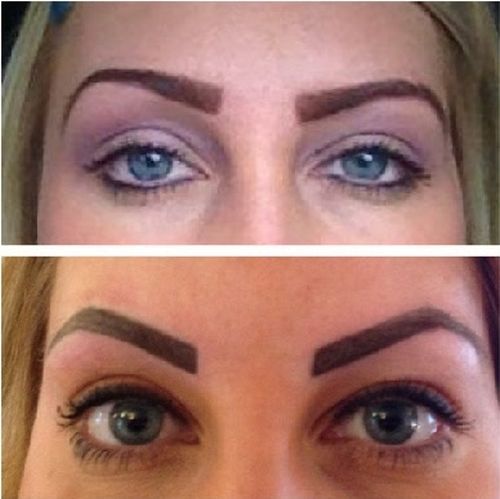 A salon has to cover three basic components when it offers semi eyebrow tattoo services. These include color, shape, and necessary equipment. The quality of the color is quite important as this color will be inserted directly into your skin so make sure that your therapist is using high quality products. You should be aware of the manufacturing details of the color being used. Also note that your semi-permanent ink is MRI safe and there are no metallic elements in it as most other tattoos use metals.
Most people consider that the tattoos being made with handmade tools prove to be very safe for your skin but when we talk about semi-permanent eyebrow tattoo, the case will be different. The equipment used by therapist should be dermatologically tested. As already explained, the shape of the eyebrow tattoo has to be decided in line with the consent of the patient. The aim of semi-permanent eyebrow makeup is to select a pattern that suits well to the natural features of the client.