How To Get Thicker Eyebrows Naturally & Fast: DIY Serums, Home Remedies & Eyebrow Growth Products
Eyebrows can MAKE or BREAK your face. Although it may sound weird but it is true and perhaps, it made you to search about how to how to get thicker eyebrows naturally and fast.
Eyebrows have never been so important until 2017 came around. In this day and age, people pay careful attention to their eye brows more than anything. Hand in hand with the booming make-up industry, shaping and growing brows has become the ultimate trend for both men and women.
Now, if you have naturally thin eyebrows or little to no eyebrows at all—keeping up with the trend can be tedious (putting on brow liner every single day!). In this article, we'll be showing you how to get thicker eyebrows without the make-up!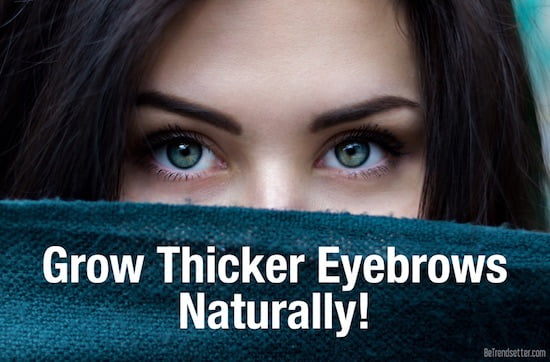 In growing a pair of thick, full arches, we can go either natural or we can use growth products that are available in the market. The efficiency of the method will vary from person to person, but a combination of 2-3 of the tips and methods here can get your brows looking full and natural without the help of liner.
How to Grow Thicker Eyebrows with Home Remedies: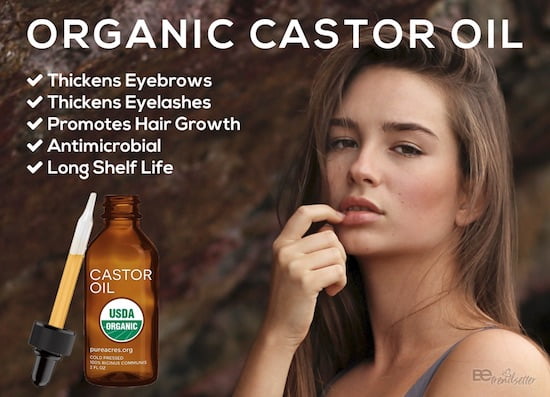 Castor oil
Castor oil is our best natural way to thicken eyebrows.  It has been shown to have many benefits for eyebrows, eyelashes, hair, and skin. For eyebrows, castor oil stops brow hair loss, and aids in the growth of more brow hair. For purity, shop for an organic, cold pressed, colorless castor oil, and remember to check the more than 500 great reviews.

Apply castor oil on your eyebrows.
Massage gently for about 2-3 minutes, rub in circular motions.
Leave for 30 minutes or overnight, then rinse well with warm water and a mild cleanser.
Use this method once a day for a few weeks.
If you do not notice improvement on the 3rd or 4th week, consider trying another method.

Coconut oil

Apply warm coconut oil on your eyebrows
Massage gently in circular motion for 4-5 minutes
Leave on overnight, then rinse after
Repeat daily for 1-2 months

Olive oil

Apply warm olive oil on your eyebrows
Massage for 5 minutes
Leave on overnight, then rinse after
Repeat once a day

Egg yolk

Beat an egg yolk into a thick consistency
Apply the yolk onto your eyebrows
Leave for 15-20 minutes, then rinse
Repeat 1-2 times a week

Almond oil

Apply almond oil onto your eyebrows
Massage gently in circular motion for 4-5 minutes
Leave on overnight, then rinse after
Repeat daily for 1-2 months

Aloe vera

Extract the gel from aloe vera leaf
Apply gel onto your eyebrows
Massage gently until gel is absorbed
Repeat several times a day

Vitamin E

Open a Vitamin E capsule
Apply the gel onto your eyebrows
Massage gently for a few minutes
Leave overnight, then rinse after
Repeat daily for a few weeks

Milk

Dip a cotton ball in a small amount of whole milk
Rub onto your eyebrows
Allow to dry, then rinse after
Repeat daily

Curry leaves

Soak crushed curry leaves in warm water for a few hours
Apply soak to your eyebrows
Leave on overnight, then rinse
Repeat 3-4 times a week

Sesame oil

Apply a small amount of sesame oil onto your eyebrows
Leave on overnight, then rinse after
Repeat daily
DIY Eyebrow Growth Serums to Get Thicker Eyebrows Naturally
Creating your own eyebrow growth serum is not a complicated task. All it takes is the combination of 2-3 eyebrow thickening ingredients, and voila! Your own eyebrow growth serum that can help you thicken your brows into perfection. In this section, we'll be highlighting the most popular serums from other DIY-ers:
Again, remember that every person is different and one serum that worked for someone else may not work for you. Do not be discouraged, especially your first try. There are a lot of other options you can consider!
IMPORTANT: Do not use any ingredients on your skin if you are allergic to them. If you detect irritation, stop the treatment immediately.
Serum # 1 (via sheknows.com)
What you'll need: coconut oil, castor oil, Vitamin E oil, any applicator, and a clean container.
To create your oil-based growth serum, mix ½ teaspoon coconut oil, 1/8 teaspoon of Vitamin E oil, and 1 teaspoon of castor oil. Apply to your brows with an applicator (cotton swab or clean mascara brush) Leave on overnight and repeat the procedure for about 2 weeks.
Serum # 2 (via jenniraincloud.com)
What you'll need: rosemary essential oil, castor oil, any applicator, and a clean container.
Both of these oils are widely known for their hair-growing capabilities, and all you need to do is mix these oils together in a 1:5 ratio, and apply it on your brows. You can use this serum 1-2 times a day for maximum growth.
Serum # 3 (via wellnessmama.com)
What you'll need: castor oil, emu oil, coconut oil, Vitamin E, any applicator, clean container
This serum has more ingredients than the previous ones, so you can expect fast growth with this one. For this serum, mix 1 teaspoon castor oil, 1 teaspoon emu oil, ½ teaspoon coconut oil, 2 capsules Vitamin E oil. Use one drop of serum onto each of your brows. Leave on overnight and rinse off in the morning. Tip: this serum can be used to elongate lashes, too!
Serum # 4 (via allnaturalaspirations.com)
What you'll need: castor oil, agar oil, any applicator, clean container
Another simple serum. Again, mix the two ingredients in a 1:1 ratio in a container. Rub a little bit into your brows and leave on overnight; don't forget to rinse in the morning. Do this for about 4 weeks and you may start seeing improvement.
Serum # 5 (via theindianspot.com)
What you'll need: castor oil, Vaseline, any applicator, clean container
Vaseline can promote the growth and health of your brows. So, mix equal amounts of Vaseline and castor oil in a container, apply on your brows (and lashes, too, if you wish), and leave on overnight. You can start seeing results after 3-4 weeks.
Best Eyebrow Growth Products to Get Thicker Eyebrows
If you aren't satisfied with the rate of growth that natural remedies can give you, opt for commercially available eyebrow growth products. The only downside is: they can cost a little more than DIY serums. Nevertheless, they have been shown to be effective.
Here is a list of the best eyebrow growth products that you can buy:
1. Organyc Lash and Brow Growth Serum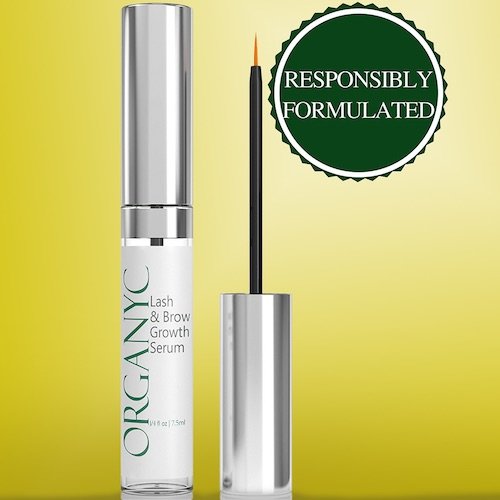 Our best eyebrow serum, Organyc promises to grow thicker brows in 60 days. It enhances and conditions hair to boost regrowth while preventing thinning, breaking, or fall out. It works on eyelashes as well.
Organyc eco-friendly products are made in the USA from all natural ingredients. It contains botanically derived amino acids which act on the keratin genes that control size and length of hair. As a bonus, this serum works on eyelashes as well as eyebrows.
It comes with a full no-risk, money-back guarantee, and is the best eyebrow serum with over 1200 excellent reviews to read and research.  You've got nothing to lose, and only thicker brows to gain. It takes a while to see results, so get started on this  best eyebrow growth serum today!
2. RapidBrow Eyebrow Growth Serum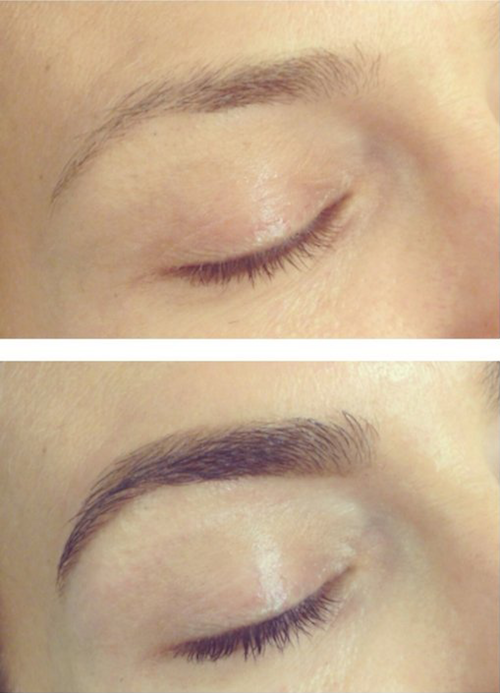 Here's an example result from Organyc Lash and Brow Growth Serum. Your results may vary.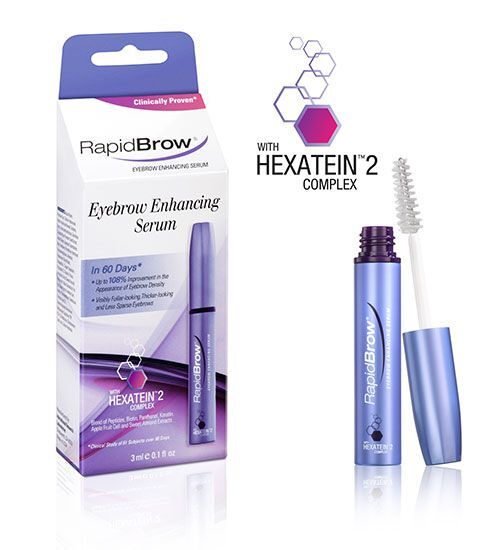 This nifty product contains brow-enhancing ingredients that are specifically designed to grow and thicken your eyebrows. It contains polypeptides, biotin, panthenol, keratin, apple fruit cell extract, and sweet almond extract—all functioning to make your brows healthy and thick.
This product is also fragrance-free and safe for contact lens wearers. Over 150 great reviews.
3. Body Merry Lash & Brow Elixir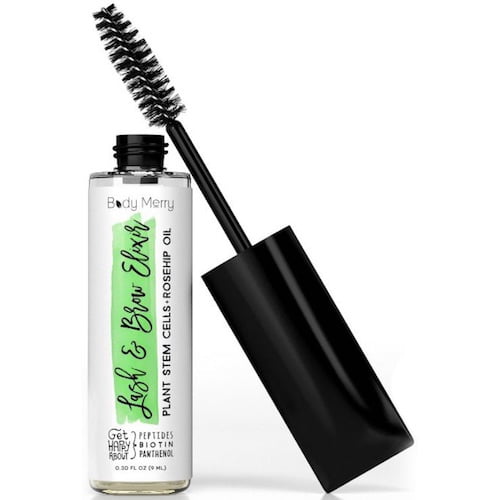 Unlike many other brow enhancing serums, Body Merry Lash & Brow Elixir contains both Biotin and Peptides. These are ingredients that have been proven effective in stimulating brow growth. It includes a soft mascara brush. Over 800 positive reviews.
4. Hairgenics Lavish Lash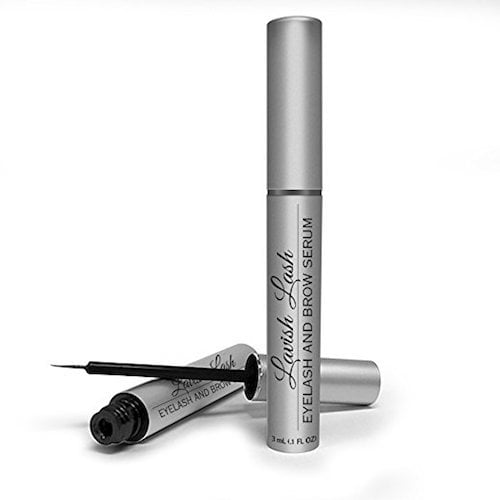 A newer, up and coming eyebrow serum, Hairgenics Lavish Lash has been getting rave reviews. It's a botanical serum that boosts the length and thickness of brows in 60 days. If you like to try new products, this might be for you. Otherwise, you may want to wait until more positive reviews roll in.
5. Joey Healy's Brow Rejuvenation Serum
If you're looking to regrow your abused brows, this serum is the best for you. Joey Hely's serum contains pentapeptides, hyaluronic acid, and hydrolyzed wheat protein combined not only to grow your brows, but also to moisturize and promote health.
This product also contains several vitamins such as Vitamin A, B5, C, and E that can condition and strengthen your brows. With this product, you can expect results in 2-3 weeks. Because it is branded by a celebrity stylist, it sells for $125, so we'd suggest trying  one of the other products first.
6. Talika Eyebrow Lipocils Expert
This beauty company has been making lash and brow-enhancing products for the past 60 years. With decades of experience, they have formulated a thickening and darkening serum with a mix of peptides, plant extracts, and forkoshlii (for pigmentation) that can show results in 3-4 weeks.
Other Good Habits to Getting Thicker Eyebrows Naturally & Fast:
1. Allow Your Eyebrows to Grow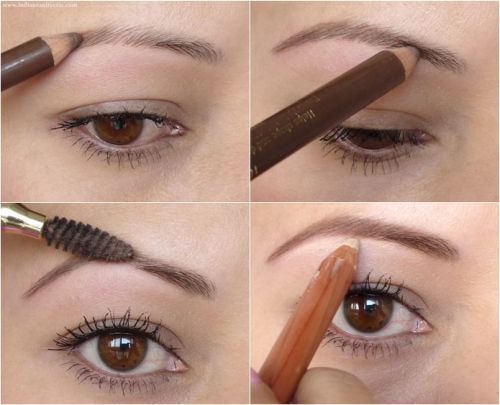 If you've been plucking or shaving your eyebrows to the point of abuse, the number one remedy to try is to let your brows grow back. Patience is key. Eyebrows will need 6-8 weeks of recovery before going back to their original thickness and shape. So put down the tweezers and wait!
You can also use brow brushes, gels, and pencils to define your lines and concealers to hide any unnecessary hairlines.
2. Exfoliate your eyebrows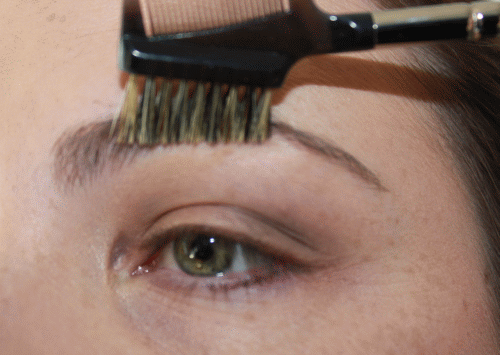 Another method you can try is using an exfoliating brush or a soft-bristled toothbrush to rub your eyebrows. This method can stimulate hair growth and oil secretion that can make the hairs healthy, as well as remove dead skin cells on your brows. We recommend using this method along with one or two other methods to get maximum results.
3. Lay off the make-up
The chemicals in your make-up products, especially the ones used on brows (brow liner, powder, eyeliner, etc.), can hinder the steady and full growth of your eyebrows. If you are a heavy user of make-up, consider leaving out the make-up for your brows and see if this improves their growth.
4. Take Your Daily Dose of Vitamins and Minerals
Vitamins and minerals perform a multitude of functions in our body, and that includes the nourishment and growth of our hair. One multivitamin tablet a day can not only improve your overall health, it can also help grow your hair, eyelashes and eyebrows.
These methods have worked for many people with the same plight as you. Try one method at first, or a combination of two methods, and determine which treatment is right for your brows. Remember: do not be discouraged when you see no results. Sometimes, it takes more than a month for positive results to become visible.

Now that we have answered the question 'how to get thicker eyebrows', share this article for your friends who might be wanting to know the same thing. Leave a comment and tell us what you think, or even share a few experiences of your own. Thanks for reading!