Plastic Surgery Gone Wrong – 31 Worst Celebrity Surgery Before After Photos
Celebrity plastic surgery gone wrong is a disaster for people who make their living in the limelight. Check out the 26 worst celebrity plastic surgery results.
You asked us, so here is our article about celebrity plastic surgery disasters gone wrong with before after photos. Most of the celebrities were absolutely perfect in every way, but failed plastic surgeries shattered their stunning appearances, making them unrecognizable in some cases.
Vanity can be a dangerous thing, especially for people who live their lives in the spotlight. In the midst of society's obsession with beauty and perfection, celebrities are under relentless pressure to look picture-perfect. However, the quest to look like the Photoshopped versions of themselves sometimes doesn't turn out exactly as planned, sometimes it turns our far worse than imagined.
Keep in mind however, that plastic surgery isn't always a bad thing. Although most of us may cringe when the words 'celebrity' and 'plastic surgery' are put together in the same sentence, it can be a good thing. Plastic surgery can work wonders for accident victims, burn victims, people with birth defects, and injured war veterans. Sometimes though, people abuse the power of this amazing medical procedure. For some, it has become an obsession and addiction. They keep going under the knife in trying to attain perfection in their minds.
Celebrity Plastic Surgery Gone Wrong
Most addictions have negative effects, and plastic surgery is no different. Sure, some celebrities, like Jennifer Aniston, get away with a little nip-tuck here and there, but for others the results can be disastrous.
Take a look at this list of 31 plastic surgeries that have gone terribly wrong, and the before and after pictures to prove them!
Jere Burns Plastic Surgery Disaster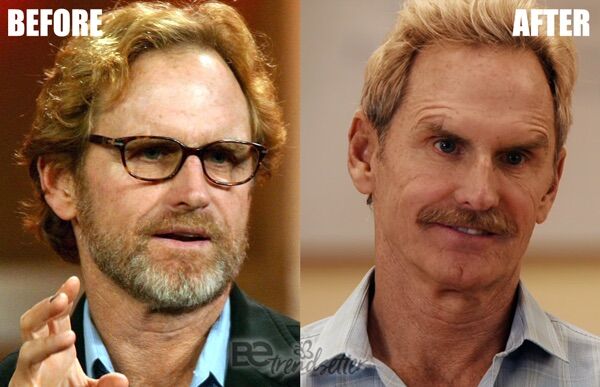 Jere Burns, an American actor who has been in such shows as Justified, Good Morning Miami, Angie Tribeca, and Surviving Suburbia shows us what happens when botox is applied too aggressively. You can see in the after photo that there is zero muscle movement in the center of his forehead. On the sides above his eyes however, are more normal looking wrinkles that go with raising the eyebrows. There is so much botox that he can't raise the inside half of his eyebrows – they're paralyzed.
It looks like he could be an alien on Star Trek. He might consider getting botox in those wrinkles in the sides of his forehead. At least that way his face would be consistent, even though he wouldn't be able to make too many facial expressions until the botox wore off. But this could be the reason he hasn't done this. As an actor he must be able to show emotions!
Let's all hope that his botox wears off soon so he doesn't have to deal with this disastrous look!
Kenny Rogers Plastic Surgery Disaster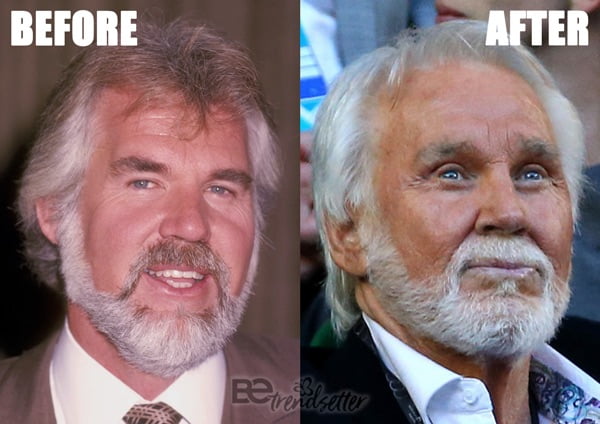 Famed singer and songwriter Kenny Rogers has entertained us over the past decades with his masculine voice. Unfortunately, Kenny didn't listen to his own advice and gambled too much on excess plastic surgery. Thanks to an aggressive eyelid cosmetic surgery, Kenny looks far to feminine and downright frightening sometimes.
Kenny has also gotten a facelift which was too tight, though thankfully his skin has loosened over the recent years.
Sylvester Stallone Plastic Surgery Disaster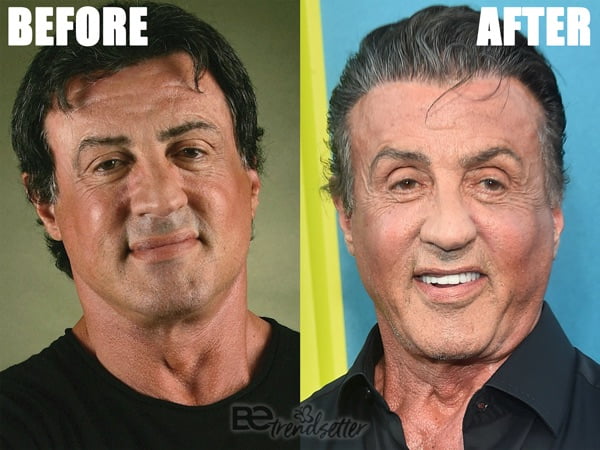 Sylvester Stallone rose to fame by writing and starring in his own film, Rocky. His rough, down to Earth portrayals have made him millions of fans and dollars along the way. Can you blame him for trying to stay relevant and youthful with plastic surgery?
Of course not, but there is a limit. Sylvester's face lift and neck lift have given him a plastic looking face. Who knows though, with his business sense, he'll probably reinvent himself as an alien in an upcoming movie.
Ray Liotta Plastic Surgery Disaster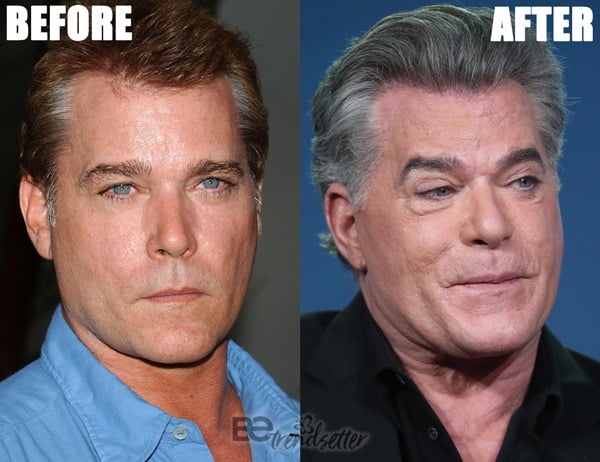 Actor Ray Liotta typical portrays intense, psychopathic characters in his movies. His face did much to carry him over the years.
But alas time has caught up with the famed actor.
Ray had to choose between wrinkly old man characters or try to roll the dice with plastic surgery. He sadly chose the latter. Ray has transformed from the mentally and physically tough persona to an old, unnatural one. Thankfully he's got the Hollywood make up crew to help Ray's face get back to reality for his movie roles.
Tara Jayne Plastic Surgery Botched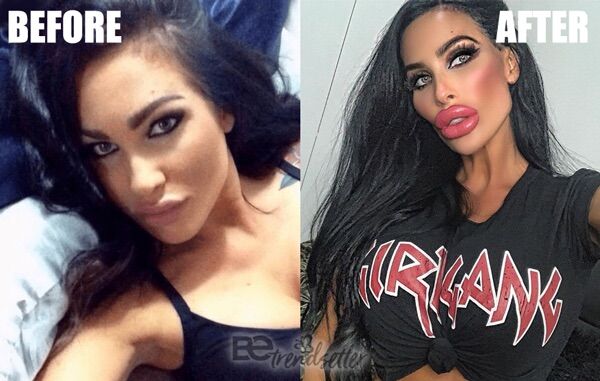 An Australian nurse from Melbourne, Tara Jayne McConachy spent $100,000 to transform herself into a limited edition Barbie doll. This include five breast implants, buttocks implants, a nose job, and obviously lip fillers. She claims she is addicted to plastic surgery and has many more procedures on the wish list. She is wanting get even bigger breasts, and possibly rib removals for a skinnier waist.
Tara Jayne has an OnlyFans account under tarajayn3 where fans can buy access to her adult-oriented content. Go ahead and subscribe and help fund her plastic surgery dreams. We'll be standing by, ready to update her photos.
Jocelyn Wildenstein Plastic Surgery Disaster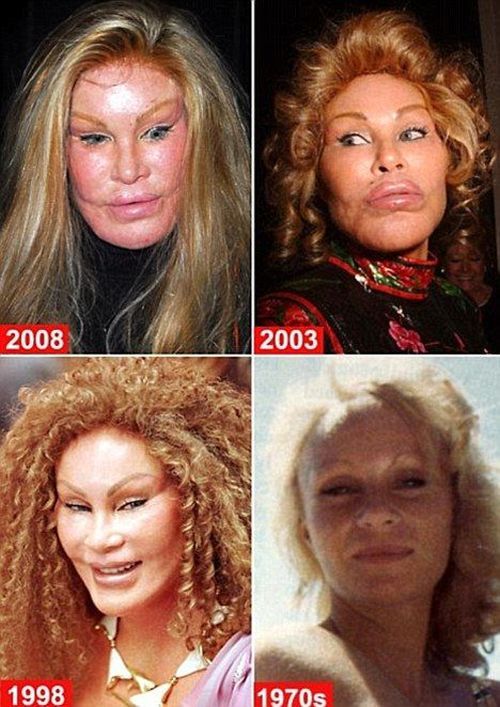 Jocelyn Wildenstein is a New York City billionaire socialite that has gained infamy through her divorce with Alec Wildenstein in 1999, where she gained 2.5 billion dollars in settlement, as well as her botched plastic surgeries.
Rumor has it that these surgeries were made to get her husband back, but proved to be unsuccessful. Jocelyn Wildenstein had procedures done on her whole face to achieve a "feline" look. However, the freakish outcome leads us to believe that she is better off without any surgery at all. Couldn't she be happy with just the 2.5 billion dollars?
Jackie Stallone Plastic Surgery Gone Wrong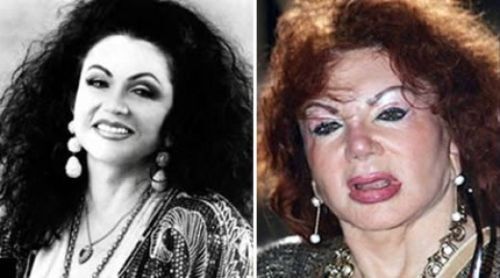 Another rich person perpetually unsatisfied with their looks in this list is Jackie Stallone, 94-year-old mother of Rambo star Sylvester Stallone, and also an astrologer and former dancer. It's sad that the Stallone family has had such bad luck with plastic surgeries.
Her addiction to plastic surgery that has started around the early 80's has made her face saggy and unnaturally lumpy, with her eyes, lips, and brows also misshapen. Her pictures after plastic surgery show that you can't run away from aging forever!
Amanda Lepore Plastic Surgery Gone Wrong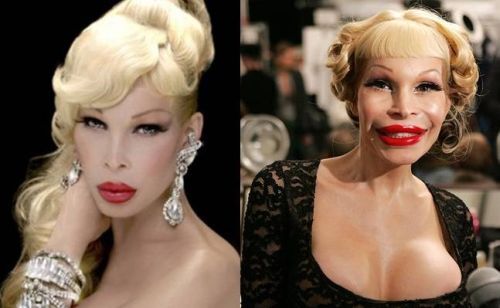 Amanda Lepore is one of the most influential transgenders in America. She is known for modeling, singing, and performance arts—quite a notable public figure because of her fearlessness in these projects.
Her list of surgeries include rhinoplasty, silicone injections, eye lifts, and breast implants, among many others—all intended to make her akin to female icon Marilyn Monroe and sexy cartoon character Jessica Rabbit. Although, it's obvious that things got quite out of hand.
Pete Burns Plastic Surgery Gone Wrong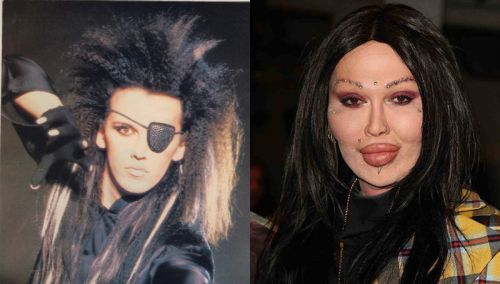 Pete Burns rose to fame playing the lead vocalist in 80's band Dead Alive and later on maintained fame with his participation in Celebrity Big Brother UK and a solo music career.
The musician's addiction to plastic surgery, involving lip injections, rhinoplasty, cheek implants, and reconstructive surgery to repair a botched plastic surgery procedure, has spiraled down an unrecognizable, deformed wax-like face. Another handsome face ruined by bad plastic surgery.
Michaela Romanini Plastic Surgery Gone Wrong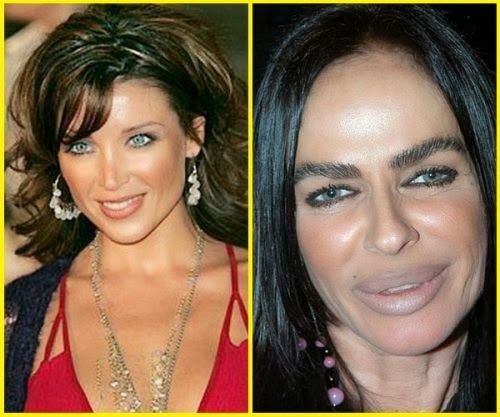 In her prime, this Italian socialite was one of the most beautiful women in the scene. Her experimentation on plastic surgery spiraled down to a downright addiction.
After numerous procedures, mostly being Botox and lip collagen injections, Romanini became a face incomparable to the one she possessed in her youth. Her story goes to show just how celebrity's addiction to plastic surgery can yield shocking plastic surgery disasters.
Priscilla Presley Plastic Surgery Gone Wrong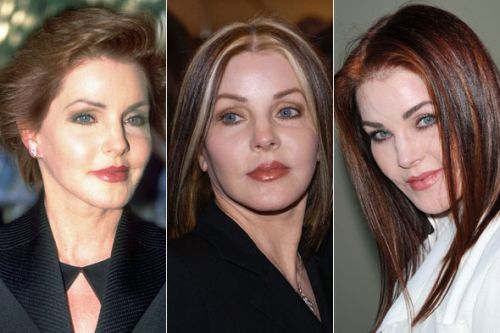 Priscilla Presley is an American actress and the widow of late music icon Elvis Presley. Due to her aspiration of maintaining her youthful look, Presley turned her beautiful, natural face into a plastic surgery nightmare—misshapen lips, lumpy and bloated face, uneven eyes and distorted eyebrows. This was caused by numerous lip injections, Botox, face lifts, cheek implants, brow lift, and chemical peels.
If you look at her pictures from the past, we think she may have aged gracefully and beautifully, if she had not done surgery. What a waste.
Bruce Jenner, Caitlyn Jenner Plastic Surgery Gone Wrong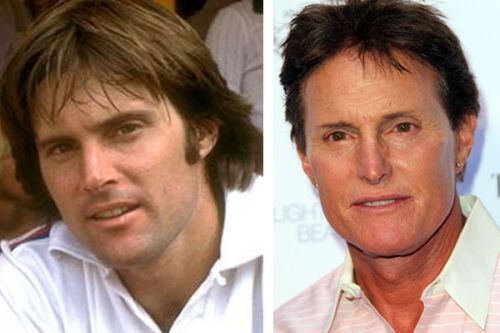 Although notable for her courage to come out as a woman, this Olympic medalist did not make good choices when it came to altering her appearance before she came out as Caitlyn.
Years of plastic surgery caused Jenner's appearance to deteriorate more and more, ending with an unnaturally stiff face, too-thin lips, heavily altered nose, and sunken eyes that were made worse with too-thin eyebrows, ultimately transforming the handsome Bruce Jenner into an unrecognizable old man.
Carrot Top Plastic Surgery Gone Wrong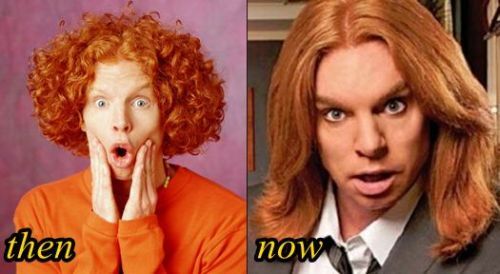 Carrot Top (also known as: Scott Thompson) is a comedy icon known for his signature mess of bright orange, curly afro. Although Carrot Top doesn't admit to having plastic surgery on either face or body, his heavily altered facial appearance says otherwise.
His buff body can be the result of working out (or steroids / testosterone), but the comedian's face is a cause for rumors. Botox? Facelifts? Nose and lip augmentations? Who knows? But no one ages like that: Carrot Top is definitely not surgery-free.
Axl Rose Plastic Surgery Gone Bad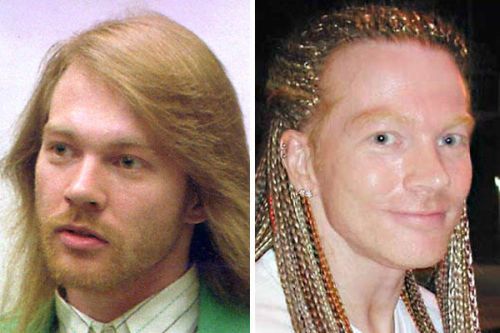 Axl Rose, frontman of the band Guns N' Roses, is a definite icon in the world of rock and roll, and like most rockstars, Rose is the subject of many controversies. One of the most prominent issues is about his worst plastic surgery.
Although, it just seems like the rockstar has just aged and gained weight—the most that he could've done is some Botox injections, but other than that, Axl Rose doesn't look that far from his younger self.
Daryl Hannah Plastic Surgery Gone Wrong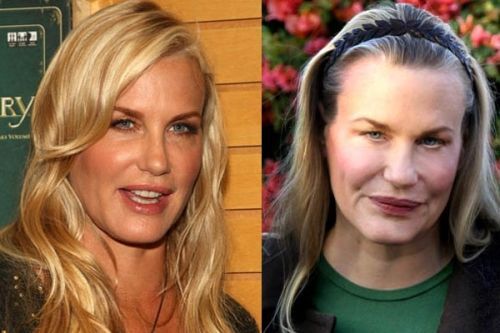 When we talk about Daryl Hannah, the first thing that comes to some people's minds is "botched plastic surgery". This American actress went from "blonde beauty" to a "victim of a bad plastic surgeon."
She used to look amazing in her movies: Splash, Blade Runner, and Kill Bill with her feisty, tight-lipped look. Yet, a few sessions of possible lip augmentation and cheek implants led her to age quite ungracefully.
Heidi Montag Plastic Surgery Gone Wrong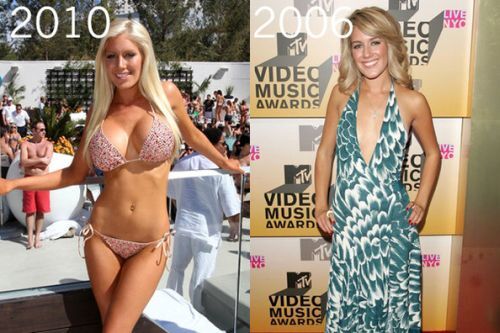 This young American actress admits to having plastic surgery and also admits to regretting having done them. Although it doesn't quite show on her face, fortunately, Heidi Montag has had several procedures done; such as a chin reduction, brow lift, ear augmentation, lipo, and an excessive breast augmentation that gave her size F breasts.
Consequently, Heidi Montag had them removed because of "back pain and discomfort" and has luckily put a stop to her nip-tuck addiction.
Janice Dickinson Plastic Surgery Gone Wrong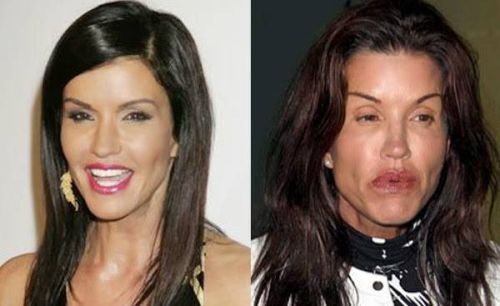 Janice Dickinson used to be on the covers of Vogue magazine. She was America's self-proclaimed "first supermodel" in her youth, but numerous boob jobs, tummy tucks, facelifts, liposuctions, and Botox injections made her turn into a woman who lost the battle with aging with battle scars to prove it!
Jennifer Grey Plastic Surgery Gone Wrong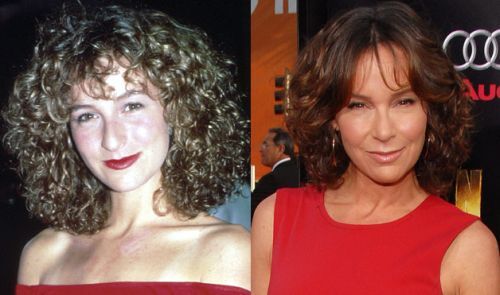 The 80's star who played iconic roles in crowd favorites such as Ferris Bueller's Day Off and Dirty Dancing took away her defining feature with an unnecessary rhinoplasty procedure.
Jennifer Grey nose was one of her outstanding features, and she blames the end of her movie career with this nip-tuck mistake. Nevertheless, she proved victorious in Dancing with the Stars in 2010.
Joan Rivers Plastic Surgery Gone Wrong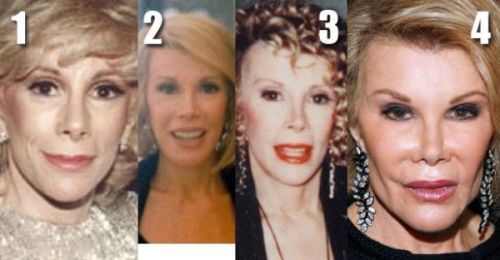 Joan Rivers was known for her acting, comedy, and hosting careers. She died in 2014 due to cardiac arrest, but before she passed, Rivers also belonged to the list of celebrities with bad plastic surgery.
Her partaking in facelifts, neck lifts, eyelid augmentation, nose jobs, breast augmentations, and many more procedures ended up with her looking downright unnatural, but she was too obsessed with staying young and beautiful.
Katie Price Plastic Surgery Gone Wrong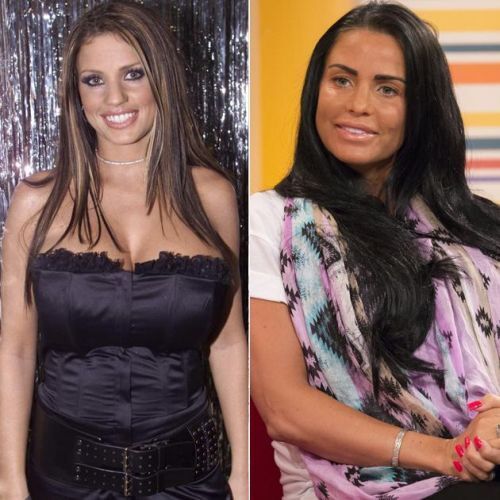 Twenty years of boob jobs may sound like a bad idea but to Katie Price, English TV personality and glamour model, it was part of life. In addition to that, Price also went under the knife for a rhinoplasty, lip injections, and constant Botox injections.
Now in her 40's, Katie Price has an unnaturally stiff and smooth face, too-plump lips, and breasts the size of watermelons.
Lil Kim Plastic Surgery Disaster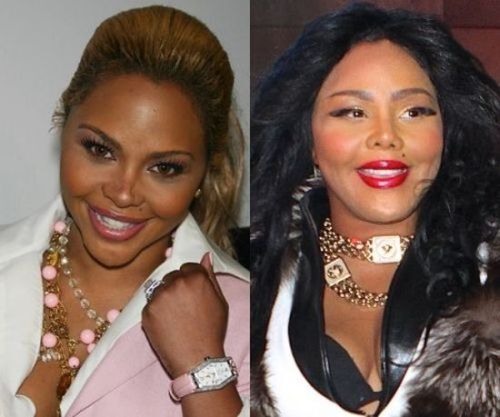 Lil Kim, or Kimberly Denise Jones, rose to fame with her talent for rap, and she has made numerous hit songs along the way. Now in her 40's, Lil Kim is completely unrecognizable from her debut look.
The most prominent change in her appearance is the excessive whitening of her whole body, completely different from her natural dark skin that she used to have. Along with that also came cheek implants, eye surgery, nose job, and breast implants. The transformation, she said, is mostly due to depression and low self-esteem.
20. Lisa Rinna Plastic Surgery Gone Wrong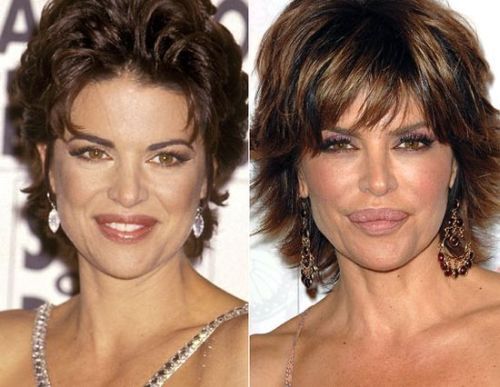 Lisa Rinna is known for her role in Billie Reed and Days of Our Lives. She is an admitted fan of plastic surgery and has undergone excessive work on her lips. In fact, it was so bad that she had to undergo an additional surgery to fix her ruined lips.
Although she looks very different from her past self, Lisa Rinna doesn't look that bad, does she?
Burt Reynolds Plastic Surgery Nightmare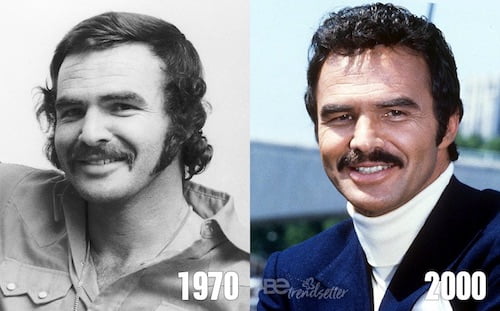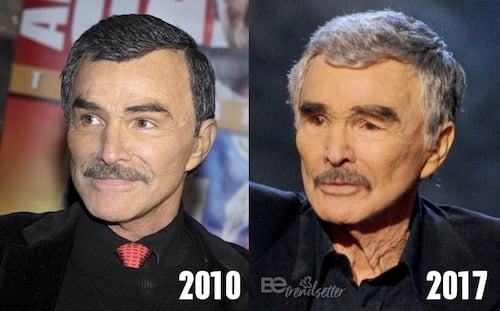 Hollywood actor, Burt Reynolds, claimed he inherited his smooth skin from his father. Funny how the Smokey and the Bandit star got older but ended up with less wrinkles and tighter skin than before.
Burt Reynolds plastic surgery gone wrong shows signs of a face lift, eye lift, and a nose job. His nose shape got thinner and looked ok for some years, but as he got older, it started deforming.
Mickey Rourke Plastic Surgery Gone Wrong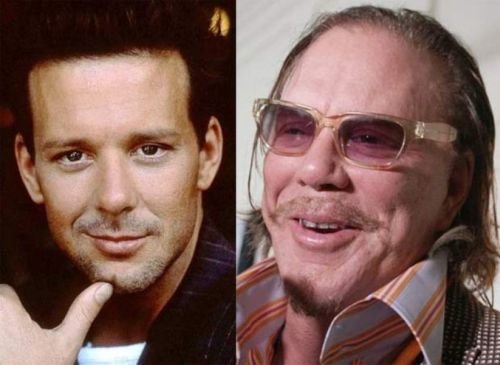 Handsome Mickey Rourke is an American actor and retired boxer. Unfortunately, he took away his dashing good looks and exchanged it for a face of "plastic surgery nightmare" with a series of excessive procedures that altered his look completely.
Rumor has it that he's done a facelift, upper eyelid lift, lip jobs, and hair transplants, among others. But wait! In 2014, an article shows Rourke looking normal again after reconstructive surgery to correct his past surgeries.
Barry Manilow Plastic Surgery Gone Wrong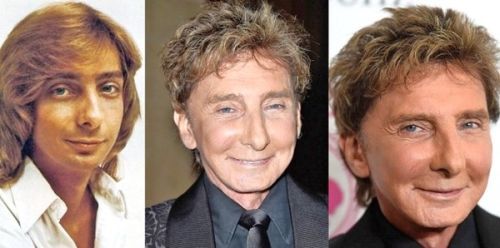 Barry Manilow used to be a household name in the 80s. He is a talented musician, singer, and songwriter responsible for many hits such as Mandy, Can't Smile Without You, and Copacabana. Although not excessively altered, Barry Manilow's face just screams 'Botox' with the absence of wrinkles despite being in his 70s. Maybe a few facelifts, too? Not too bad.
Wayne Newton Plastic Surgery Gone Wrong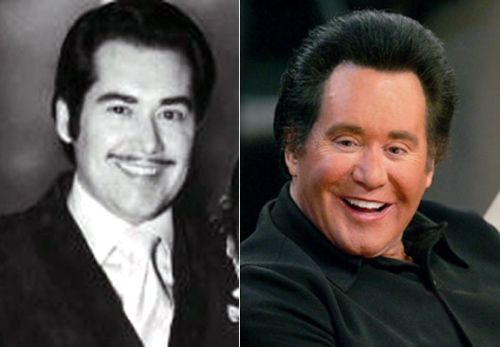 The renowned singer-entertainer Wayne Newton rose to fame as The Midnight Idol, Mr. Las Vegas, and Mr. Entertainment. He may have gone just a little bit overboard with the procedures (eyelid surgery, facelift, Botox) to make himself look younger.
Instead, he is given an unnatural-looking face that is too smooth for a 70-year old, plus uneven eyes that makes him look far from his younger self. Wrong call.
Nikki Cox Plastic Surgery Gone Wrong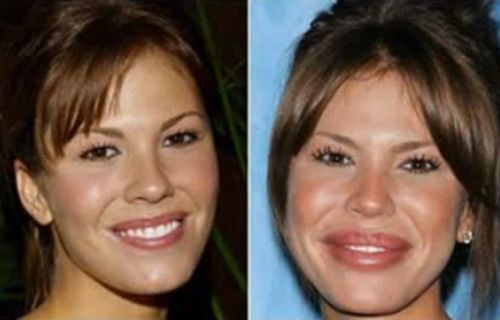 You've seen Nikki Cox in old-school TV shows such as Unhappily Ever After, Las Vegas, and Nikki. This American actress was once a total hottie with lots of potential. However, one wrong move to change her lips destroyed her career completely and took her out of the limelight in an instant.
Other than the lip job, Cox also underwent less destructive procedures such as breast augmentation and Botox injections. In the long run, Nikki Cox' worst plastic surgery story is one of the most heartbreaking to date.
Coming up Tara Reid Plastic Surgery Disaster!