Hair Color for Olive Skin – 36 Cool Hair Color Ideas to Look Trendy
Olive skin tone is known to be on the tan and warm side when it comes to shades of skin. And like any other skin tone, some hair colors go better with olive skin tone than others. In this article, we'll be showing you just that set of perfect hairstyles and hair color for olive skin.
1. Hair Color for Olive Skin Tone and Blue Eyes
1.1 Double Fishtail Braids with Bleached Blonde Hair Color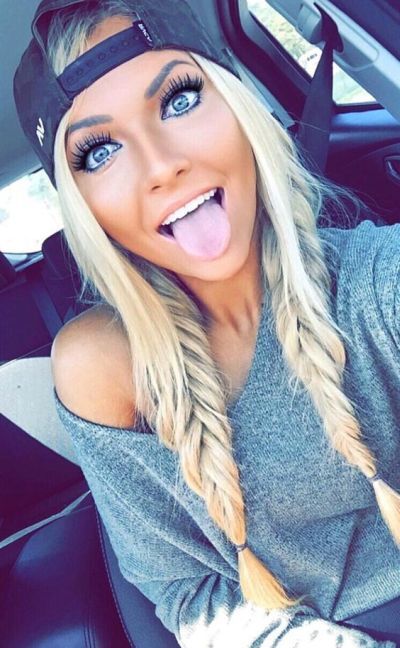 See in this example the beautiful contrast of olive skin tone and peroxide blonde hair, with the hair being of lighter shade than the skin. In this hairstyle, double fishtail braids can give you a hip, young aura, while the bleached blonde hair color can provide a striking contrast with your tan skin.
1.2 Mocha Brown Curls for Olive Skin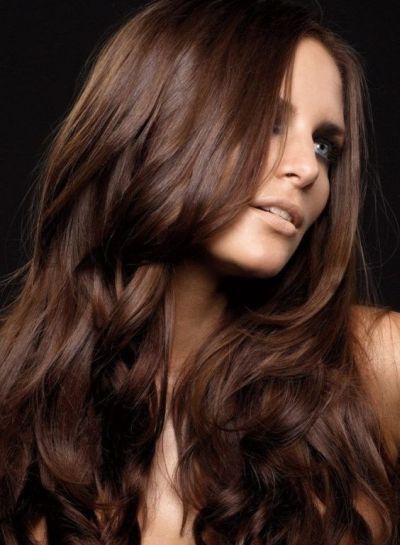 For blue eyes and olive skin tone, a rich and chocolate-y shade of brown can work wonders. This shade is most recommended for women who want to make their light blue eyes have contrast against the shade of your hair. In this case, it's a dark chocolate shade of brown.
1.3 Blonde Hair with Brown Highlights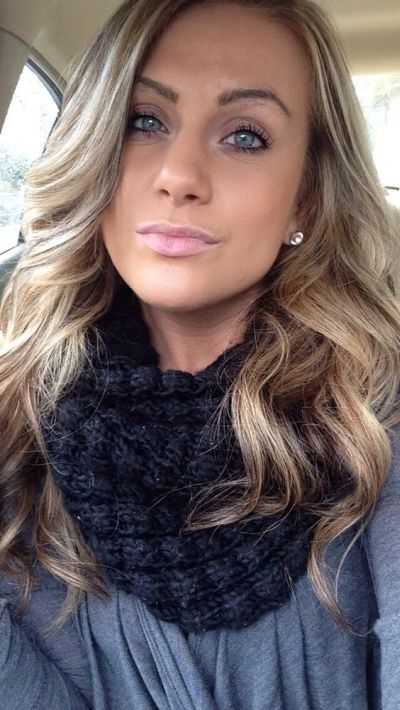 If you have light blue eyes like in this example, you can opt on having a light shade of hair color to complement your look. For this hairstyle, it's a simple curly mid-length cut with a blonde base and brownish tints.
1.4 Light Ash Blonde Hair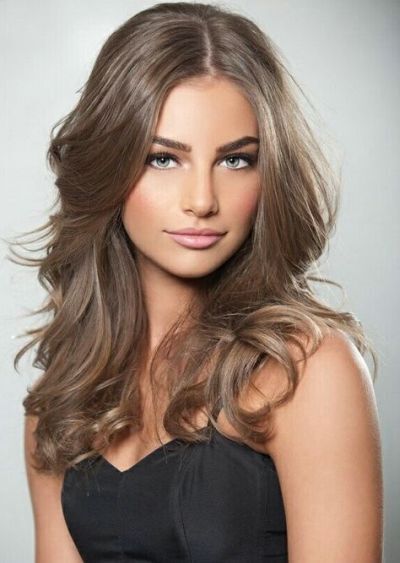 For grayish blue eyes, you can try this particular hairstyle for olive skin tone. In this example, you can see big layered curls paired with a light ashy blonde hair color.
1.5 Caramel Blonde Hair Color for Olive Skin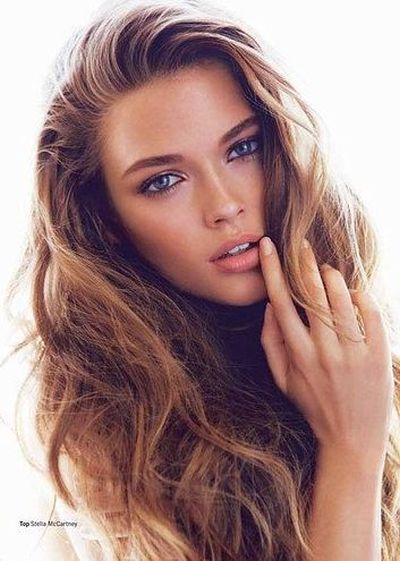 Have your hairstyle always looking summer-ready all year round with a caramel blonde hair color. In this hair color, you can see medium blonde shades with hints of light brown, giving it a caramel-like color.
2. Hair Color Ideas for Olive Skin and Green Eyes
2.1 Dark Coffee Brown on Long, Ringlet Curls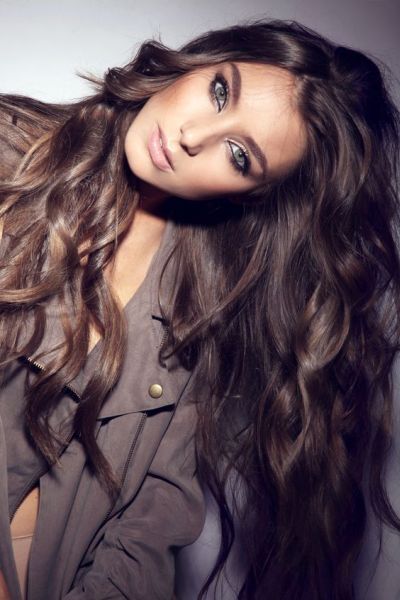 Green eyes and an olive tone of skin both set you for an exotic type of look. Thus, a dark color of hair can contrast with the greenish hue of your eyes. Take this hairstyle for example; a rich, coffee brown color truly brings out the brightness of the eyes.
2.2 Dark Ash Blond Hair for Olive Skin Tone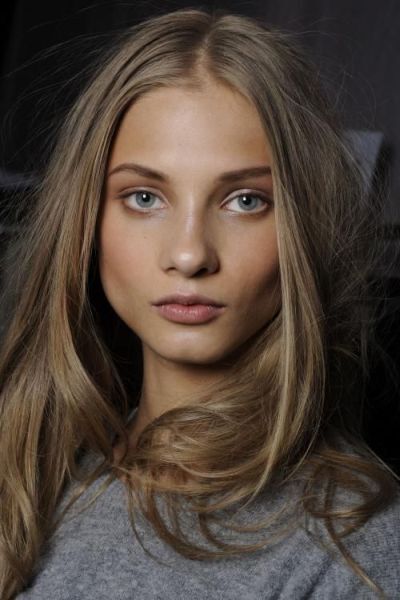 These eyes are on the grayish side of green hues. With this type of light and pale eye color, paired with a slight olive skin tone, you can expect an ashy blonde shade to complement both your skin and your eyes.
2.3 Dark Brown Hair with Lighter Brown Highlights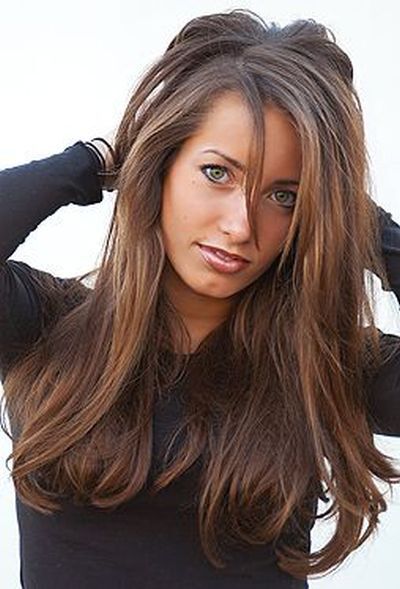 This is another option for women with green eyes and tannish olive skin tone. In this hairstyle, a medium brown base color is applied to the entirety of the hair, and then light brown highlights are added to complement the warmth of your skin tone.
3. Cool Hair Color Ideas for Olive Skin and Dark Brown Eyes
3.1 Burgundy Hair Color on Natural Hair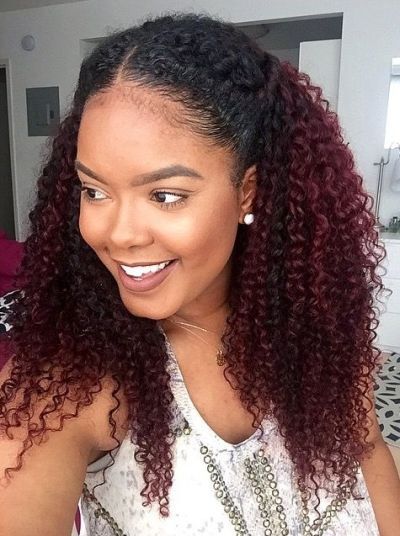 Embrace your natural curls and add a little bit of color to your do with a vibrant and playful shade of burgundy. It's a warm shade that'll not only complement your skin tone, but your dark brown eyes as well.
3.2 Electric Blue Hair Color for Olive Skin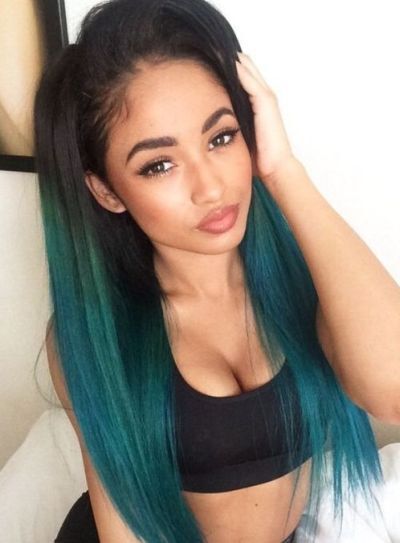 When it comes to making a unique statement with your hair color, a nice shade of electric blue-green can do the trick. Of course there are other options you can try, but this shade of blue can go so well with olive skin and dark brown eyes.
3.3 Classy Bob with Ringlets and a Golden Blonde Hair Color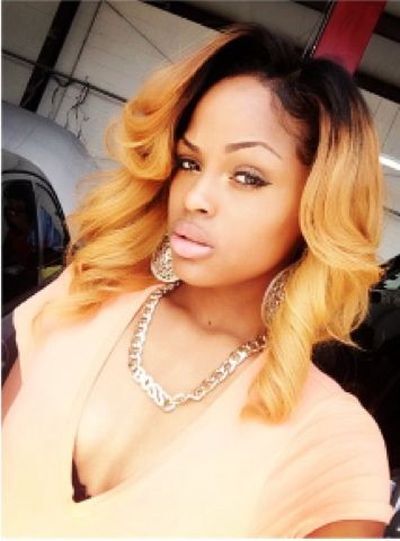 If you want to go for a classier look, try out this vintage-looking curled hairstyle for a change. In addition, give your hair a vibrant color with a golden blonde shade that goes between blonde and ginger.
3.4 Cherry Wine Hair Color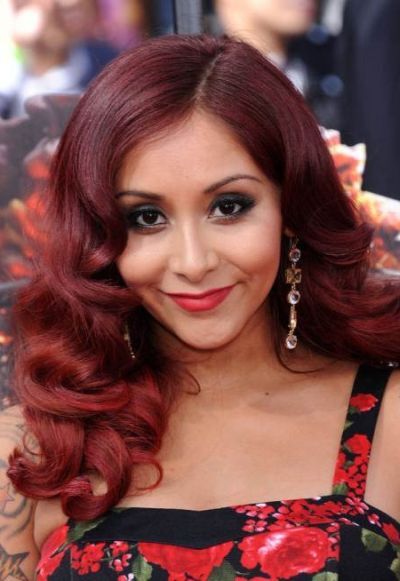 Dark eye colors can go splendidly well with an equally dark hair color. In this case, it's a vibrant shade of cherry red added to a simple curly hairstyle.
3.5 Ashy Blonde Highlights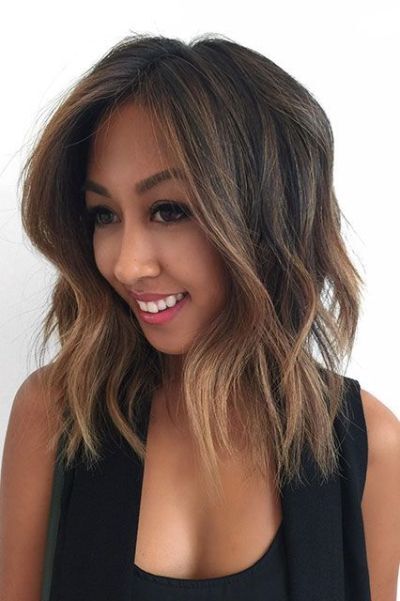 If you want a simple, natural-looking color for your hair, try out a shade of dark ashy blonde or medium brown as in this picture.
3.6 Ginger Blonde Hair Color on Big Waves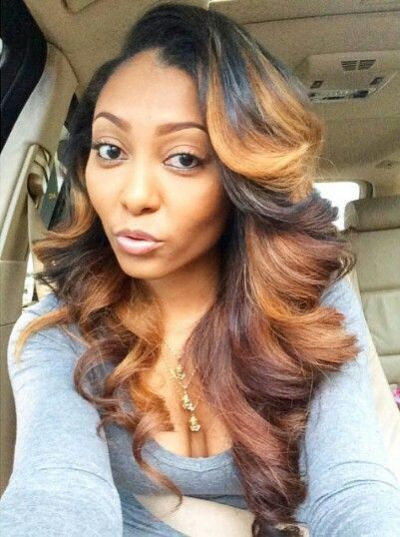 A tanner shade of olive skin tone can be even made more exciting with a hair color that does not go against the shade of your skin. This hair color in particular features a ginger and brown highlights that will definitely add character to your hair.
4. Best Hair Color Ideas for Olive Skin and Black Eyes
4.1 Medium Brown Hair Color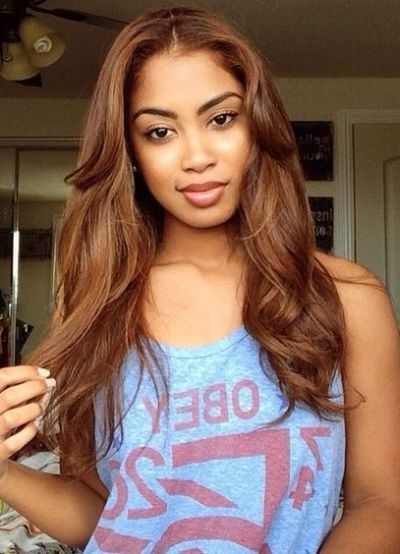 Get the shade that Beyonce always pulls off with a medium brown hair color. This particular shade goes exceptionally well with olive skin and black eyes, as well as a subtle wavy hairstyle as this one.
4.2 Electric Blue Hair Color on a Long Bob Hairstyle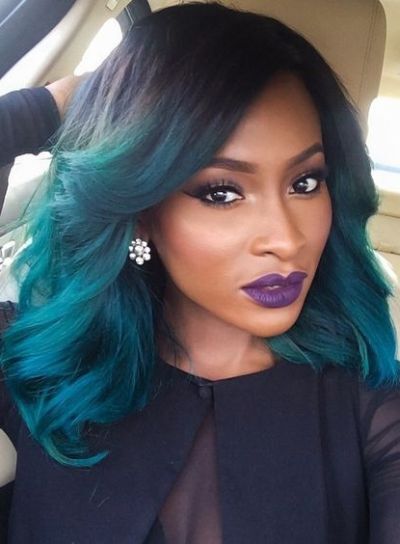 Darker skin tone can blend with "cool" colors such as blue, green, and violet. In this case, it's a shade of electric blue on a wavy bob hairstyle that comes down to the chest.
4.3 Burgundy Hair Color on a Simple, Straight Bob Hairstyle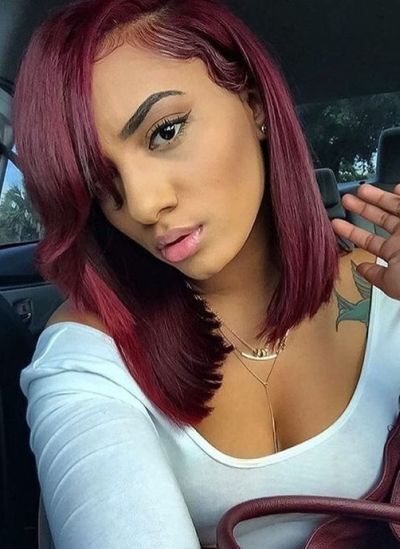 Keep things short and sweet with this shoulder-length bob hairstyle. For black eyes and olive skin tone, a good shade of burgundy that resembles cherry wine can do you good.
4.4 Beige Blonde Ombre on a Choppy, Layered Cut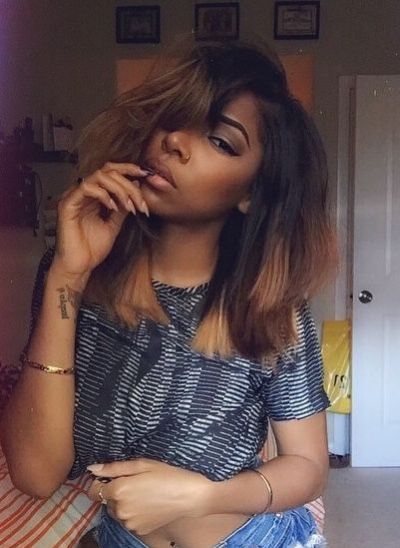 This hairstyle for black eyes features choppy layers brightened by a beige blonde ombre.
4.5 Granny Gray Hair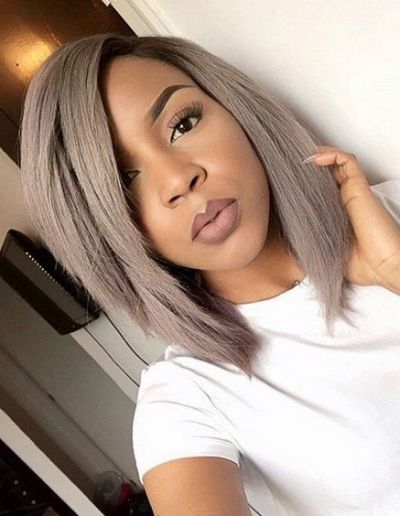 With a stylish fringe and a shade of granny gray, you can rock this look with black eyes and a dark olive skin tone.
4.6 Orange Highlights on Long Black Hair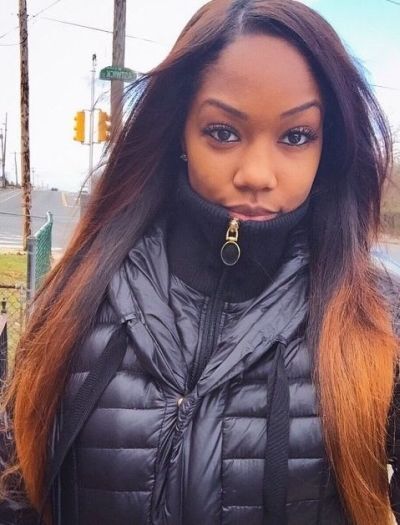 Do you have natural black hair? If so, you can make your dark locks look brighter and livelier with orange highlights that can blend well with your olive skin tone, while providing contrast with the darkness of your black eyes.
4.7 Natural Black Hair Color on a Wavy, Long Hairstyle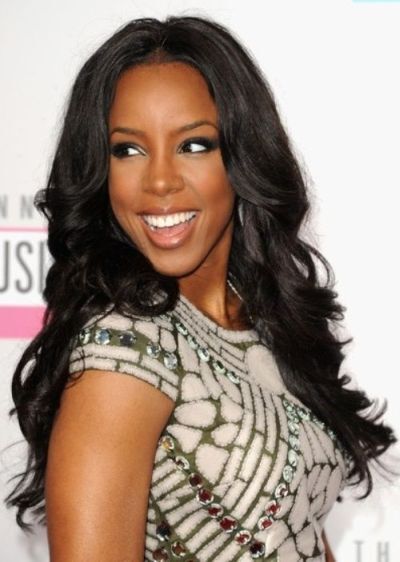 Have the color of the night in your hair color with a natural black shade. If you don't have black hair, have a shade of raven black or solid black applied to your hairstyle. Hint: works great with dark-colored eyes and dark olive skin tone.
4.8 Caramel Blonde Highlights on Black Hair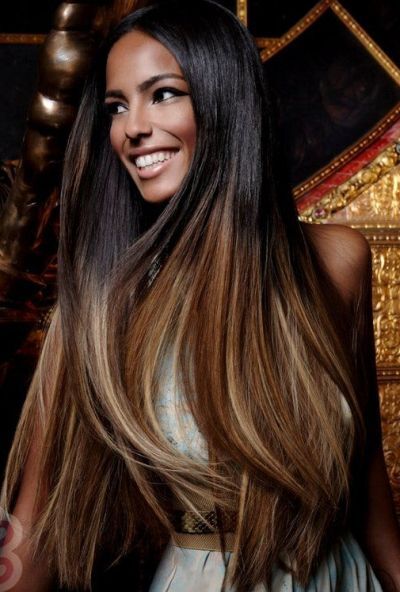 This bit is another hair color that goes great with natural black hair. In this particular style, caramel blonde highlights are added to the ends of the hair to create sort of a sombre hairstyle.
4.9 Caramel Brown Ombre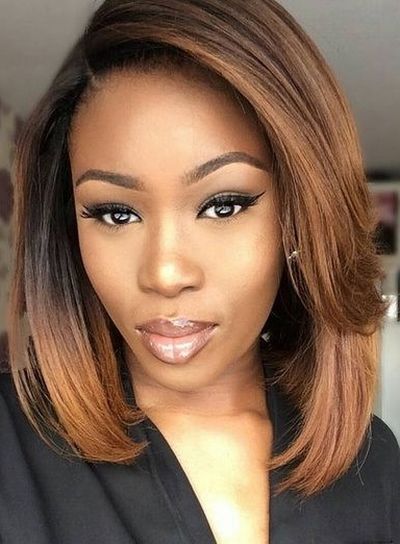 For black eyes and dark-skinned women, this hair color seems to be the most popular. In this hairstyle, you can try a bit of a caramel brown color to brighten up your dark hair.
5. Hair Color for Olive Skin and Hazel Eyes
5.1 Vibrant Burgundy Hair Color on a High Ponytail Hairstyle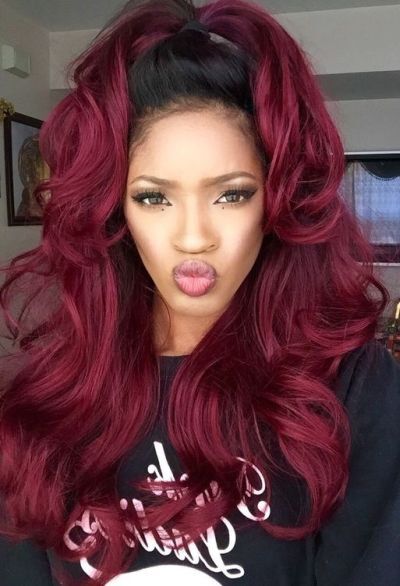 If you have skin that tends to be bright and shiny, you can try leveling your hair color with your skin tone. In this example, you can see how a bright burgundy color blends well with the olive skin tone. You can also make your hair appear voluminous and big with a high ponytail.
5.2 Orange Highlights on Natural Curls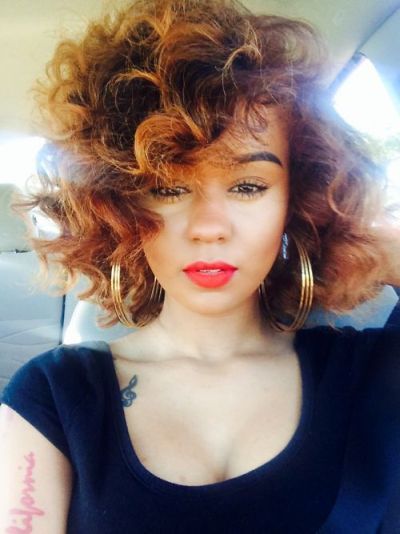 If you have naturally curly hair as in this example, add character to your fro with a bit of ginger or orange color. This shade will also complement your hazel eyes as they are not farm apart in the spectrum.
5.3 Very Dark Brunette Hair Color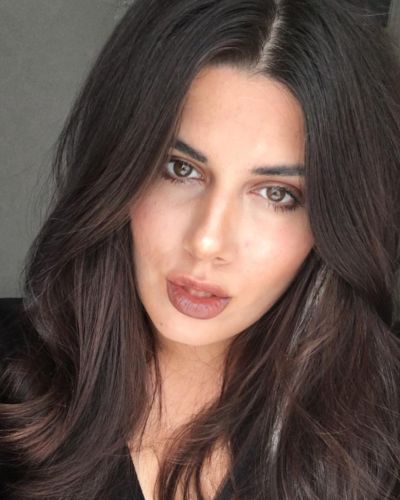 This hair color is not entirely black, but it doesn't come far from it—almost a dark gray shade. If you want to keep things simple, try this shade out.
5.4 Latte-brown Hair Color on Long, Curly Hairstyle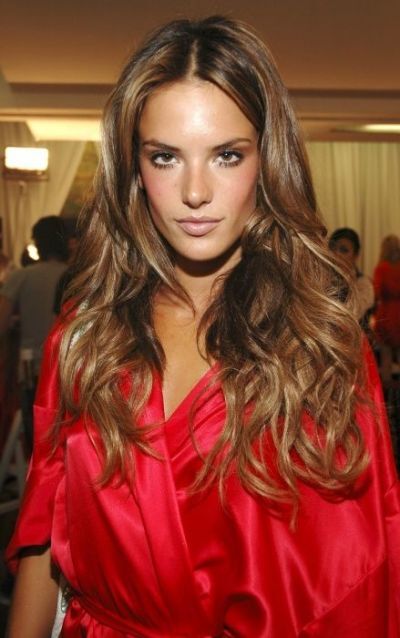 If you have hazel eyes and olive skin tone, you can try matching your hair color to both your eye and skin color. In this particular color, you can have a blend of medium brown and dark brown base.
6. Cool Hair Color Ideas for Olive Skin and Amber Eyes
6.1 Dark Wood Hair Color with Light Brown Highlights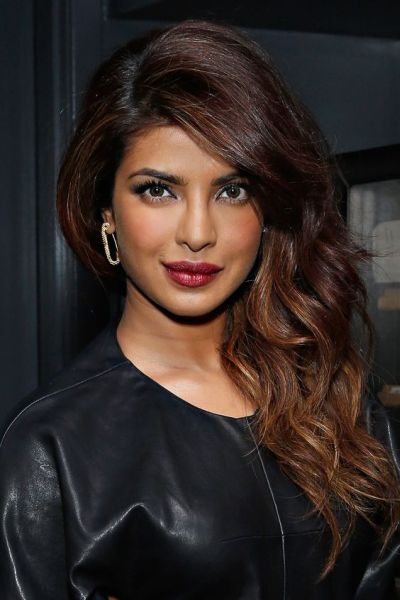 Amber eyes are bright, and you can level out the colors in your look by choosing a dark wood base for your hair color, made more vibrant with a touch of golden brown.
6.2 Cherry Wine Red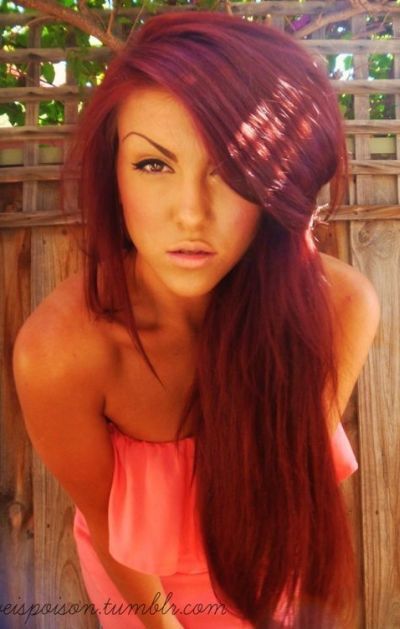 For olive skin tones and amber eyes, a hair color akin to the red-purple hue of cherry wine can add playfulness and uniqueness to your look.
6.3 Golds and coppers with warm highlighting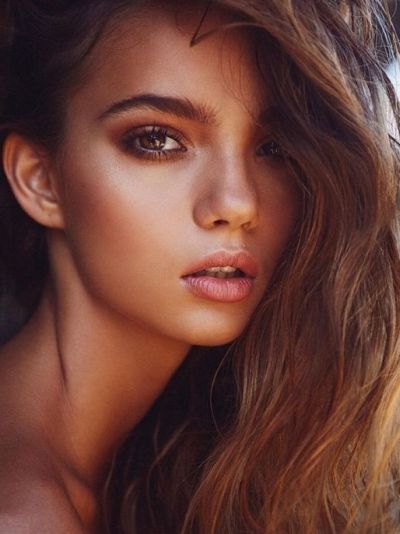 The combination of amber eyes and olive skin tone is truly stunning. If you want to add warmth and glow to your look, choose a dark blonde hair color; a combination of gold and copper with dark brown undertones.
6.4 Subtle red hair color with high ponytail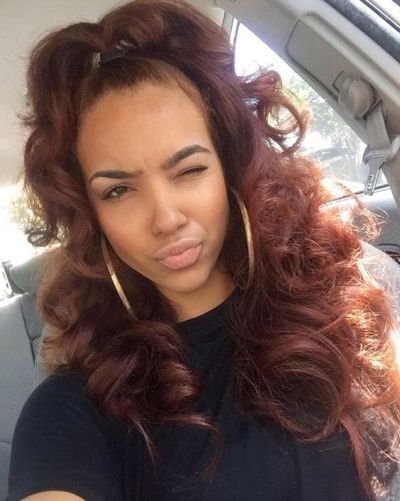 Amber eyes can also go exceptionally well with a shade that goes in between dark brown and red.
7. Hair Color for Medium Olive Skin
7.1 Dark Red Hair Color for Medium Olive Skin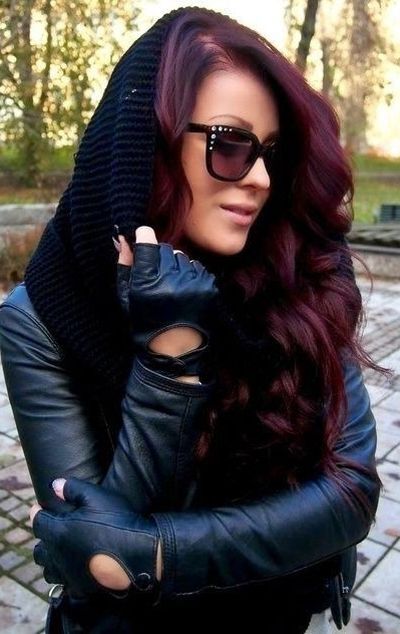 If you have medium olive skin, you can complement your style and look with a shade of dark red; not too subtle, not too outstanding either. With this color, you can match it with almost any type of clothing.
7.2 Dark Brown Wavy Hairstyle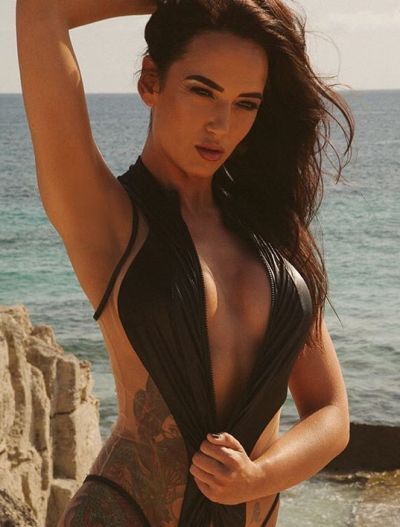 Embrace the warmth and glow of your skin with a natural-looking dark brown hair color. What's great about this color is that it can go superbly well with any hairstyle.
7.3 Long Mermaid Locks with Natural Brown Hue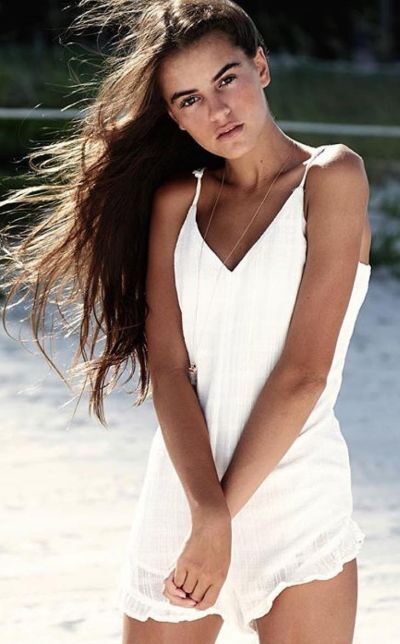 If you want to look natural and exude a care-free look, consider growing your hair out into long wavy locks and dying it with a natural shade of brown.
7.4 Clean, Classy Bob with Subtle Violet Dye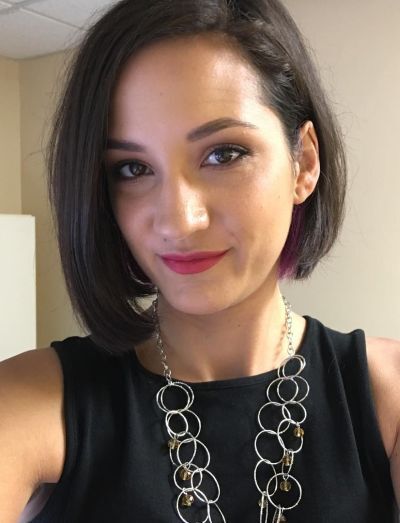 It's a very, very subtle style, but cute nonetheless. In this hairstyle, you can see a clean and classy bob cut and violet shades dyed on the lower layers of the hair. A cute idea if you want to be subtle about your colors.
7.5 Slicked Back Hairstyle with Raven Black Color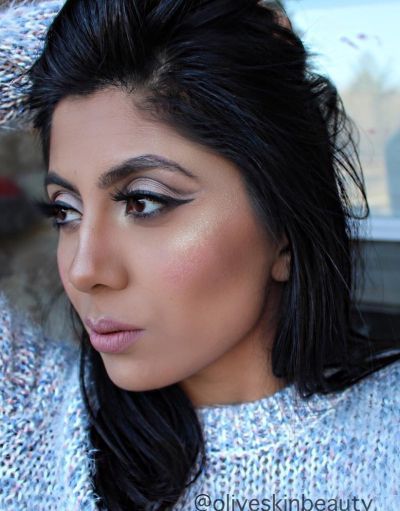 A formal event can use a slicked back ponytail hairstyle that goes in between classy and semi-formal, so you can look stylish without being overdone. Pair this hairstyle with a raven black hair color that is sure to complement your medium olive skin tone.