83 Shaved Hairstyles for Women That Turn Heads Everywhere
83 Best Shaved Hairstyles for Women to Try
Whoever thought that shaved hairstyles for women would be so big this year? Well in this article, you'll see just how popular shaved haircuts are for girls, and women. You'll also notice the great versatility of this haircut and various hairstyles.
We've got a ton of photos of different shaved hairstyles for women. There are short shaved haircuts for ladies with short shaved hairstyles, and styles that feature a shaved nape, or shaved sides. We have ladies cuts in pixie, bob, and long styles.
Ready to be bold? Here are some badass shaved hairstyle ideas for females that you can use to take the plunge.
Shaved Pixie Hairstyles for Women
Shaved Undercut Pink Pixie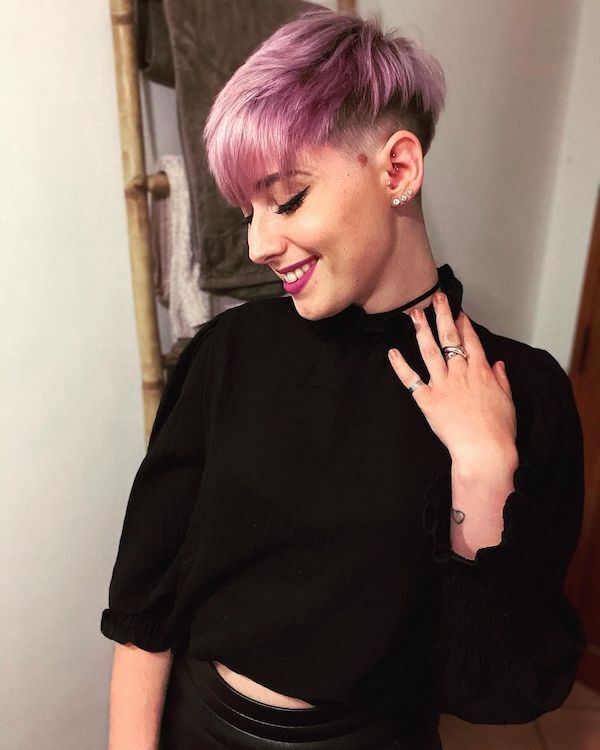 Keep your pixie trendworthy and light with a shaved undercut. Long bangs retain your feminine aura with this short hairstyle. Yes, short hair can be sexy.
Shaved Frosted Tip Pixie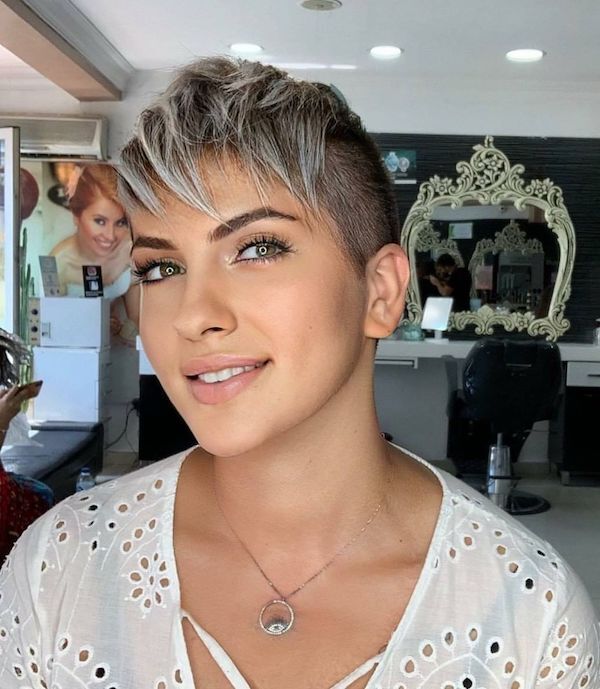 Spice up your frosted pixie with shaved sides. The added drama brings a modern updated to the traditional pixie haircut.
Pixie Haircut with Shaved Sides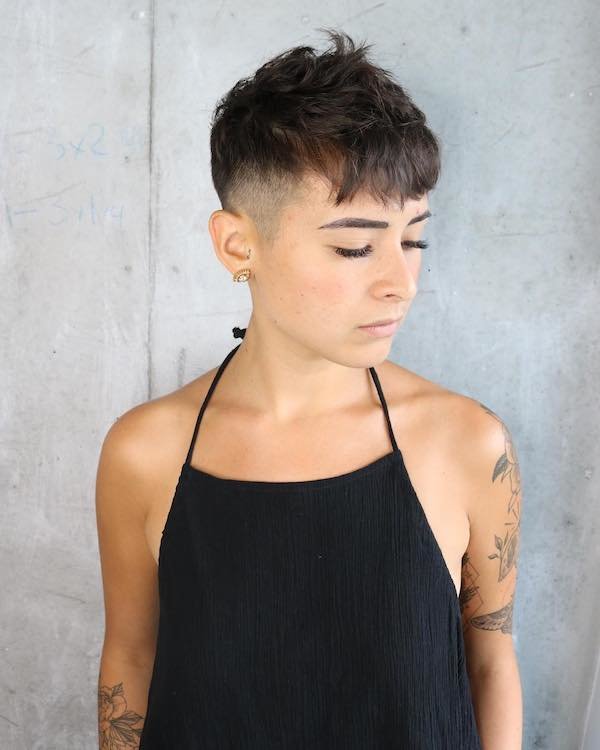 Shaved Lilac Undercut Pixie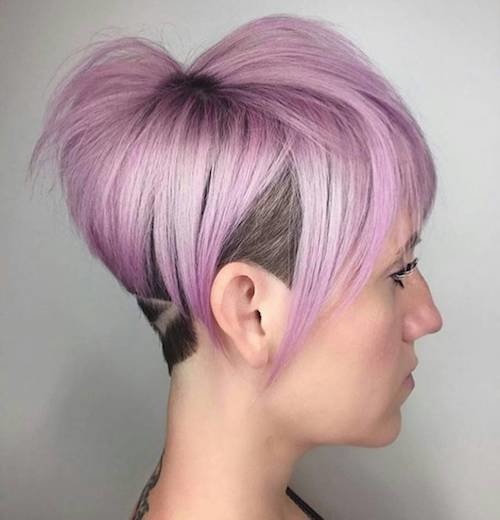 A shaved undercut pixie with long pastel purple pink hair atop a dark brown base. It'a a beautiful color choice, and it pops due to the dark undercut. This shaved nape pixie features a geometric design cut into the back.
Side Shaved Platinum Pixie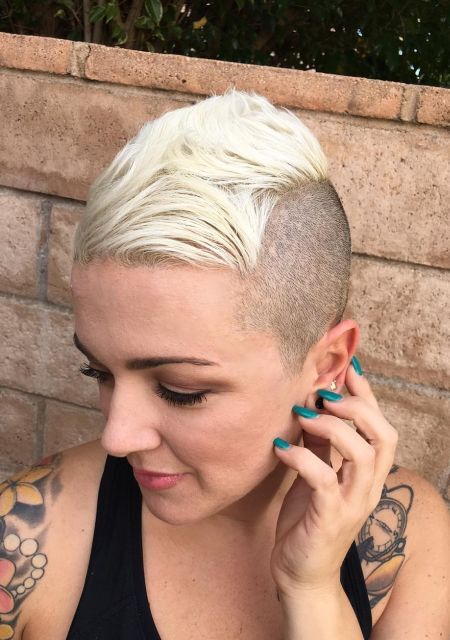 Platinum blonde on a pixie cut? Talk about a great idea. What's better is to have your look more pronounced with a close side shave.
Undercut Pixie for Fine Hair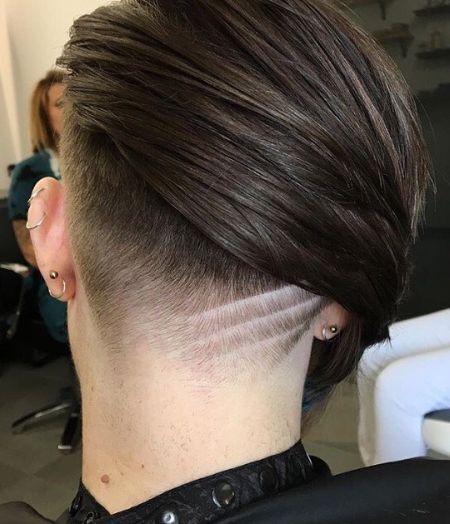 Who says fine hair can't handle an undercut style? In this hairstyle, you can embrace the thinness of your hair by having a close undercut. Not only does it look neat, this hairstyle is very stylish as well. It's a great choice for girls with fine, thin hair who want to have a shaved hair style.
Edgy Shaved Pixie Haircut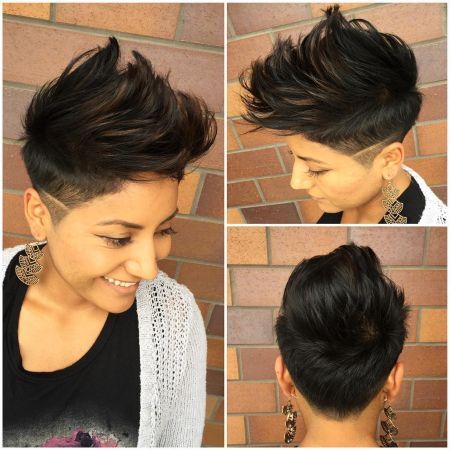 This shaved pixie hairstyle is particularly a favorite of the guys, but girls can pull it off, too! Be edgy and cute at the same time with a shaved undercut and long Mohawk, as you can see from the photo example.
Side Shaved Bob Hairstyle for Women
Shaved Side Blonde Bob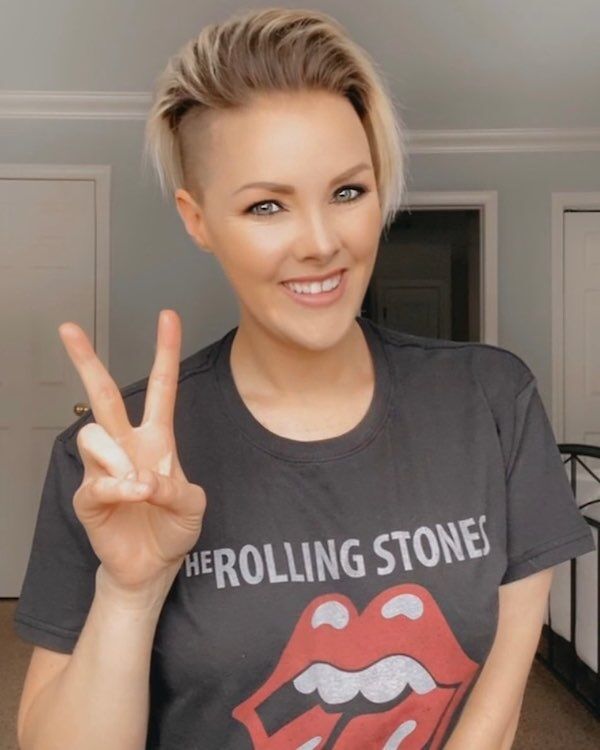 Shaved Side Ash Bob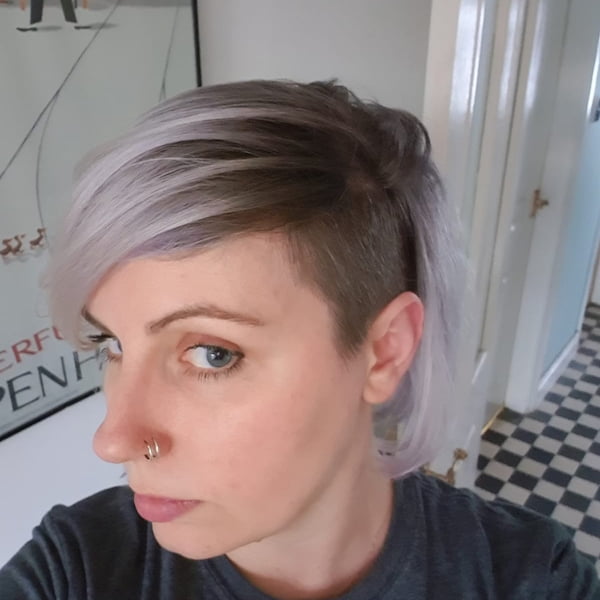 Shaved Side Dark Brown Bob Hairstyle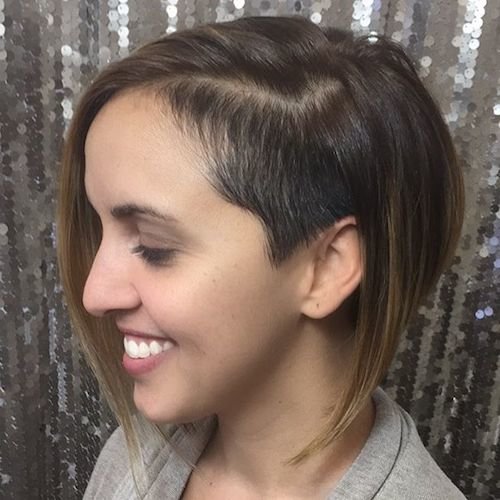 Long Blonde Bob with Shaved Side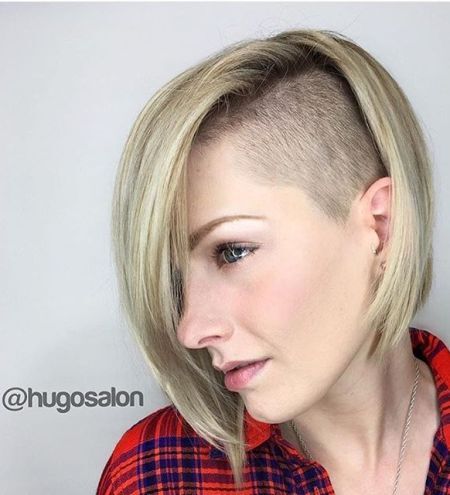 Getting bored with your regular old bob hairstyle? You can try adding a bit more spice to your look by getting a side shaved bob.
Buzzcut Hairstyles for Women
Shaved Blonde Buzzcut for Women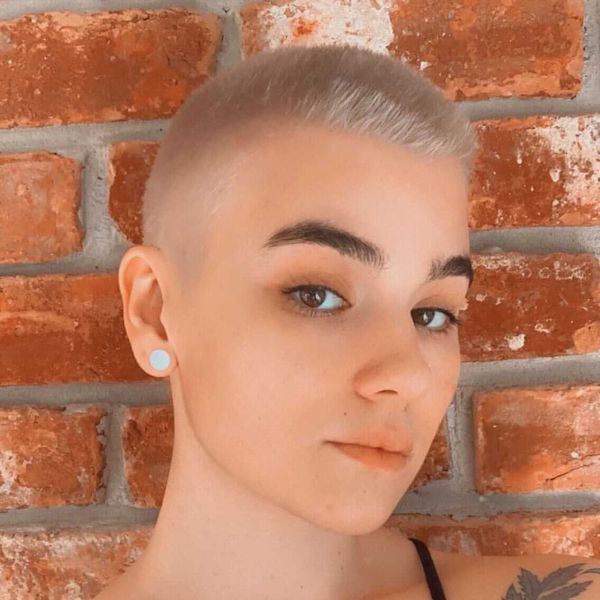 Full Buzz Haircut for Women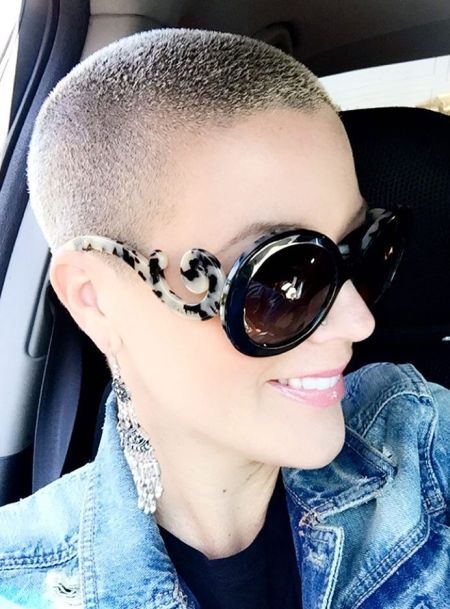 Not much of a long hair person? A full buzz haircut can make your dreams of a tangle-free and treatment-less life come true. Yes, it is a big step especially if you're coming from long hair, but a full buzz haircut has its perks: it can emphasize your natural beauty, especially your face.
Low Fade Haircut for Women
Low Fade Blonde with Shaved Sides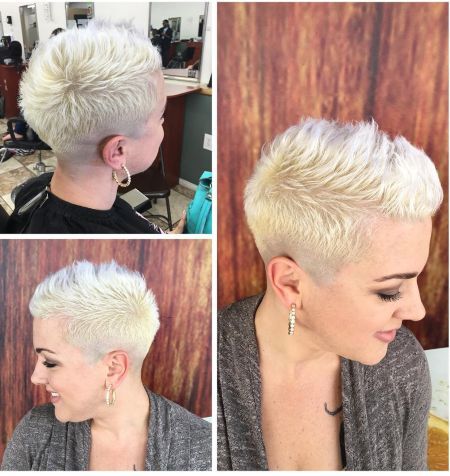 This type of shaved haircut is very low-maintenance and doesn't take a super great stylist to achieve. Nevertheless, the results can be gorgeous, especially when paired with a great hair color.
Shaved Hair With Braids For Women
Undercut Blonde with Braids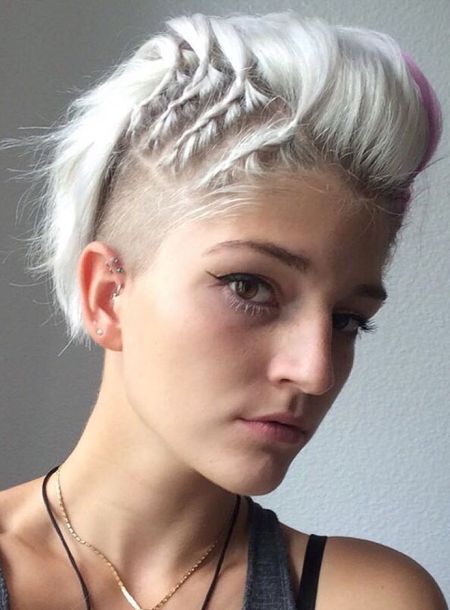 There's a lot going on in this hairstyle; a platinum blonde hair color, braids, and a 360 undercut. When you combine them all in one style, as seen in this photo, the results are stunning and definitely unique.
Beautiful Side Shaved Pixie Haircut and Braids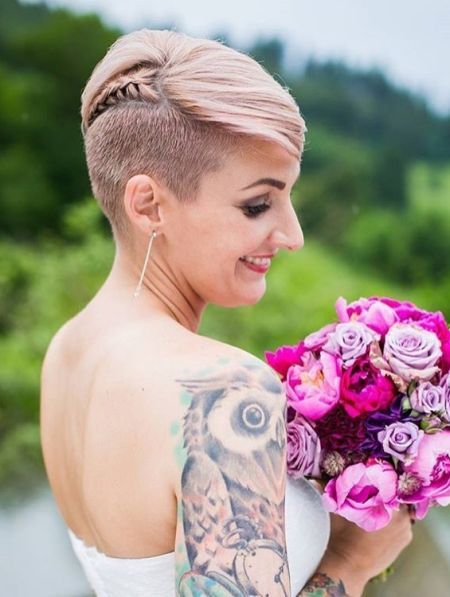 This hairstyle combines the elements of a spunky undercut and a classic, elegant pixie cut; a good combination, might I add. If you want to look classy and edgy at the same time, I'd suggest having this hairstyle done.
Braid and Buzz Haircut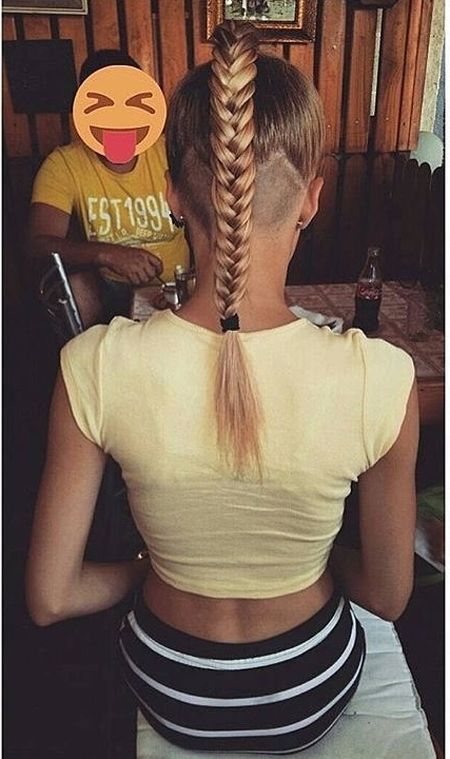 This cut is another great undercut hairstyle for long hair. Have your long locks braided into a beautiful French braid and make your style a little different with a slight undercut. Cute and unique at the same time!
Shaved Updo Hairstyle for Women
Shaved Sides with Burgundy Updo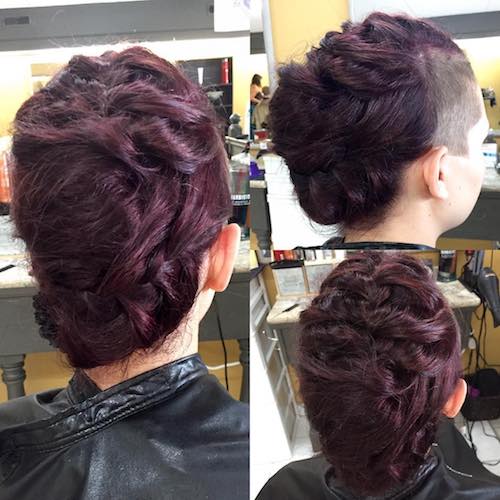 Pink Braided Updo with Fish Scale Undercut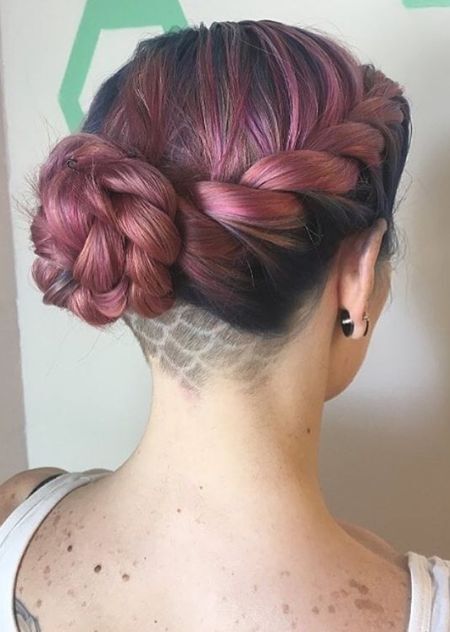 Going to a formal event has never been this chic. An updo hairstyle in itself is gorgeous, obviously, but you can make your style more appealing with a slight undercut, designed to have a fish scale pattern.
Related: Pink Hair Color Ideas
6. Textured Bowl Blonde Hairstyle for Women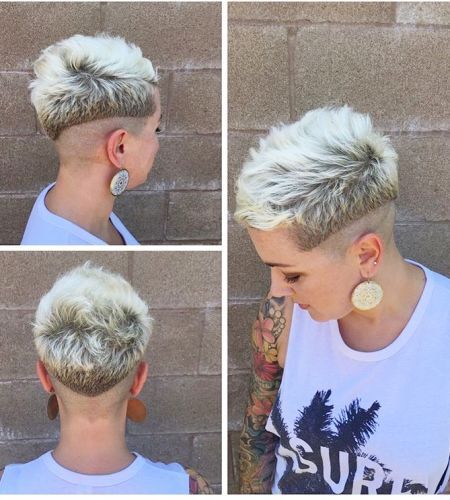 This type of blonde pixie cut is not new. But what you can do to make it more different is to have your stylist shave your undercut high and sharp as such, so that you will look clean, edgy, and stylish.
7. Thick Braid Hair Rings and Undercut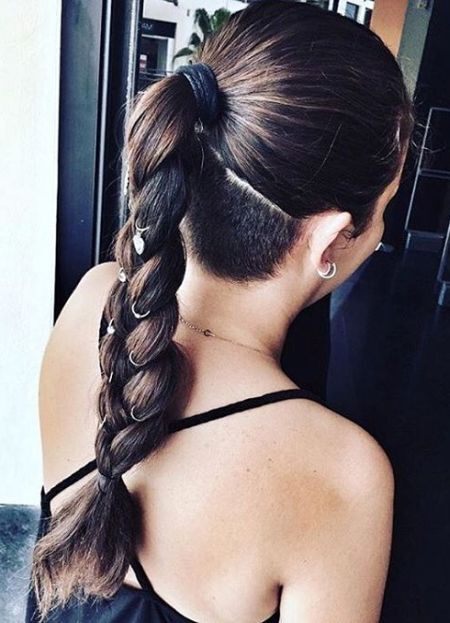 Do you have very thick hair? Well, an undercut won't be as obvious but it can be a changing factor to your look. Just like in this hairstyle, you can make your thick, long braid a headturner with braid rings and a slight undercut.
8. Top Bun and Cool Nape Design Shaved Hairstyle for Ladies
Shaved Nape Under Medium Blonde Hair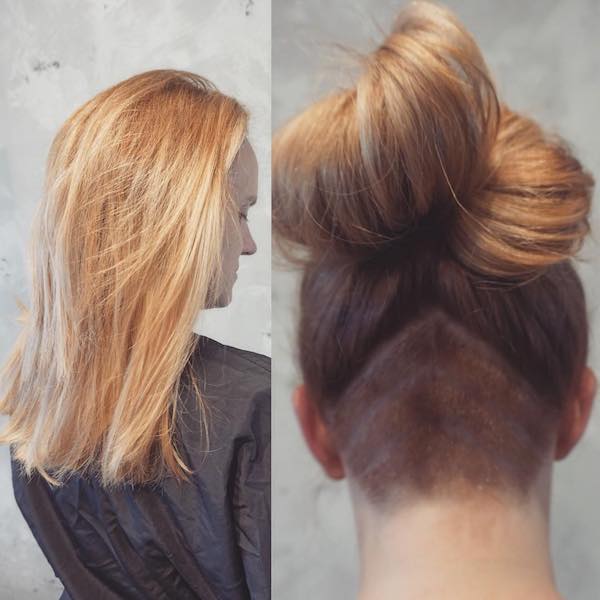 Top Bun with Shaved Nape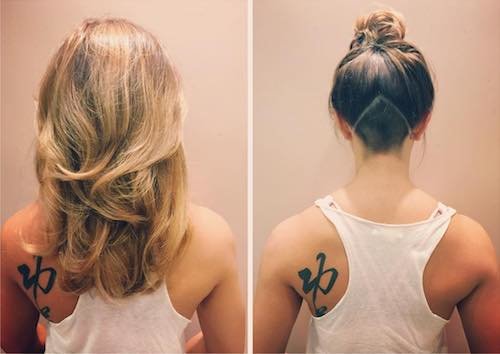 Here's a cool look that only reveals itself when the hair is pulled up into a bun. That gives you two looks, a conservative one for business, and a bolder one for the weekends.
Braided Messy Bun with Shaved Nape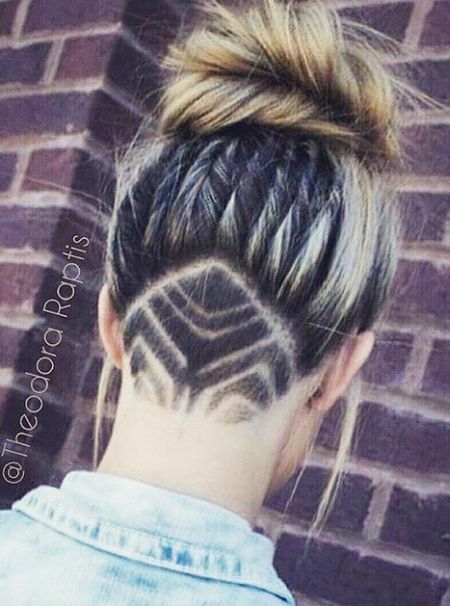 The messy bun is always chic and girly. Make your look more popular with a uniquely designed undercut as in the photo above.
10. Bald Fade Pixie Haircut with Surgical Line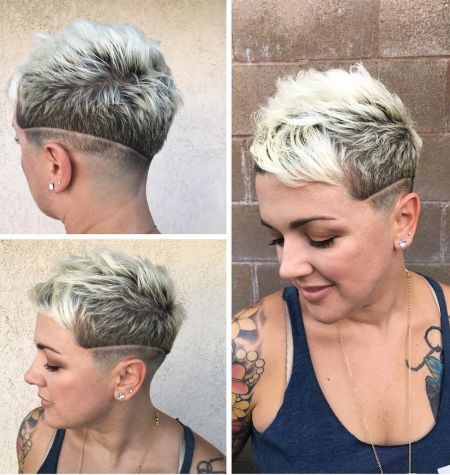 Want a low-maintenance cut while remaining edgy and cute? Have your stylist give you a short pixie and make it a little more different with a surgical line above your ear. To top this hairstyle off, you can always add a nice color to your pixie.
11. 360 Undercut & Braided Buns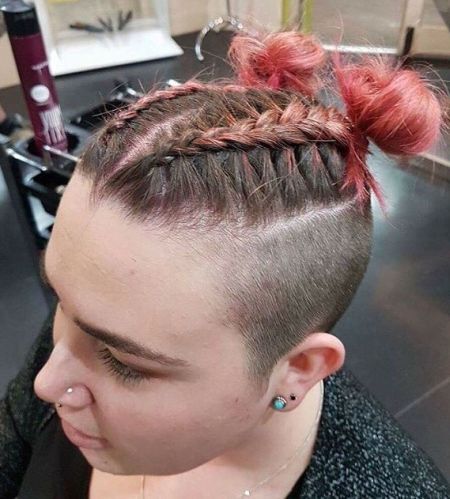 A completely unique take to the feminine undercut is this braided hairstyle. Instead of just an undercut, make your hair more fun and distinctive with two tight braids that come up into two cute buns.
12. Artistic Buzz Haircut for Women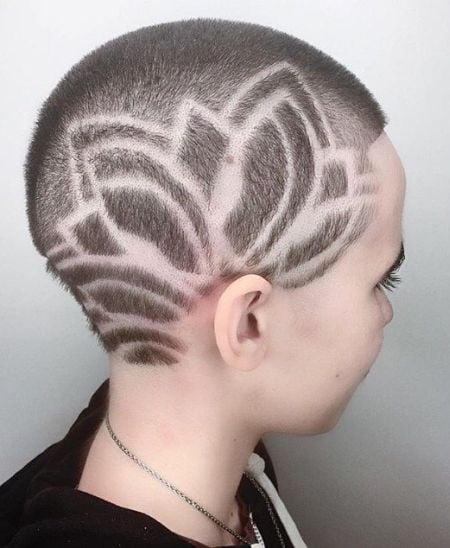 Albeit a little bit difficult to achieve, a talented stylist can give you this flawlessly shaved look of a uniquely shaved design on a buzz cut. Moreover, this can be a good shaved hairstyle for round faces.
13. Awesome Faded Zig Zags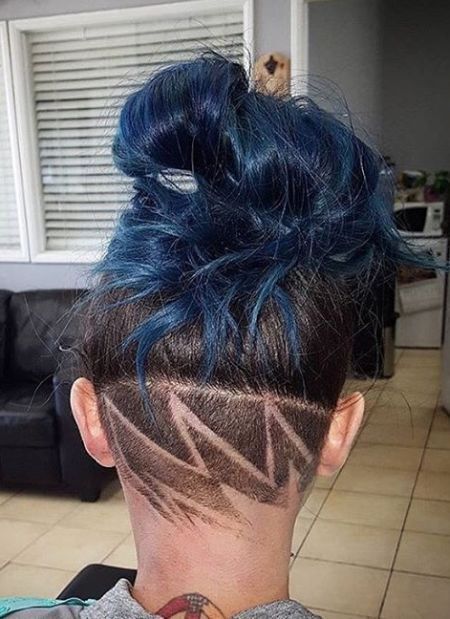 This one is a popular shaved hairstyle for long hair, especially when you don't want to commit to a visible undercut. Nevertheless, this 2016 shaved hairstyle is intricately designed in its own way.
Bold Baldie Haircut
Shaved Hair for Dark Skin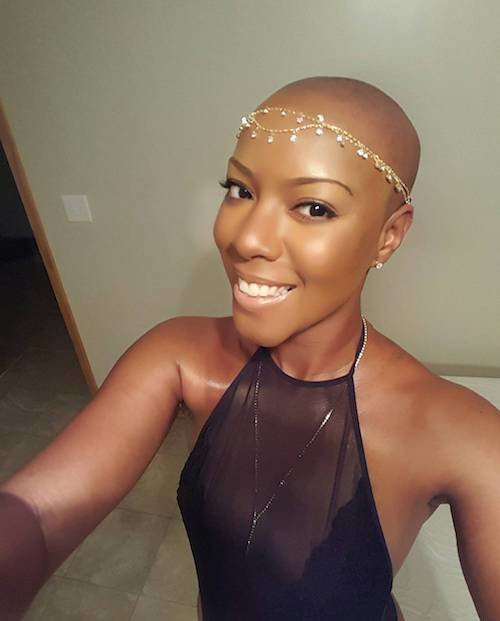 One type of shaved head hairstyle, is to go bold, and to go bald. It's the cleanest look of all. It needs to be maintained every day, so some women opt for a close, baldie cut instead. Alternatively, consider best haircolor for dark skin.
Shaved Haircut for Pale Skin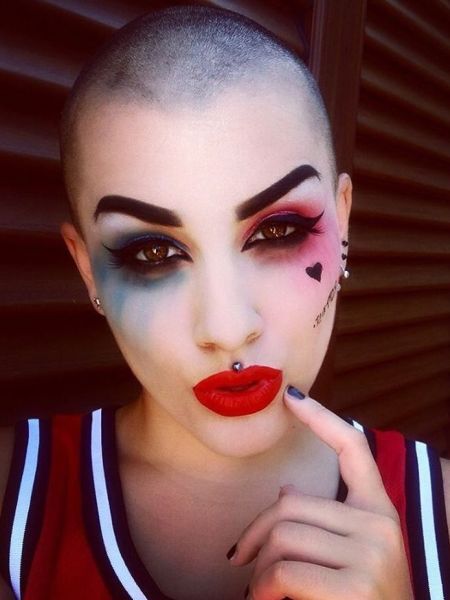 Going completely bald can be more beautiful than you think. Just like in the pic above, you can focus the attention on your face and clothes when your head is shaved close to the scalp. A big step; but can prove to be stylish afterwards.
16. Bright Green Unicorn Hair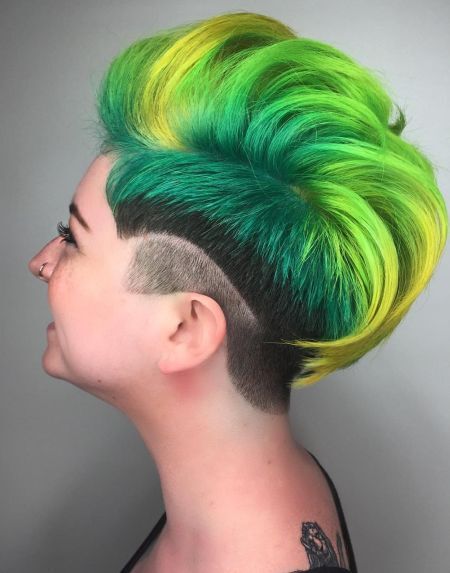 A Mohawk is a great way to experiment with hair colors, as seen in this photo. Have your hair a specially designed myriad of greens with this hairstyle, and add more to the unique design with an undercut and surgical line.
17. Chick Shaved Pompadour Hairstyle for Women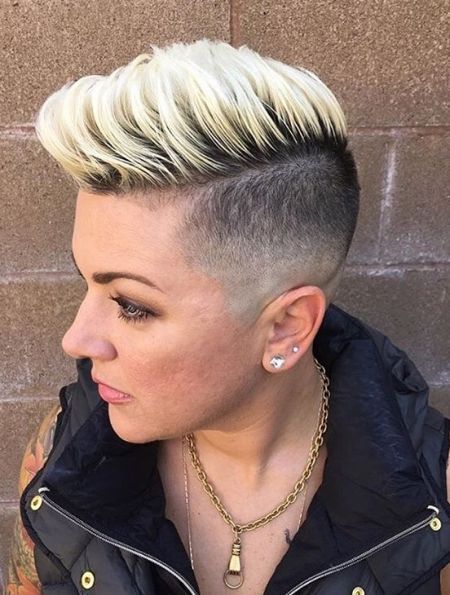 Reflect your tough and spunky personality with this undercut hairstyle for short hair with a shaved sides haircut for females. Easy to achieve and easy to maintain; this shaved hairstyle is very classically chic and easy to have at the same time.
18. Clipper Cut for Women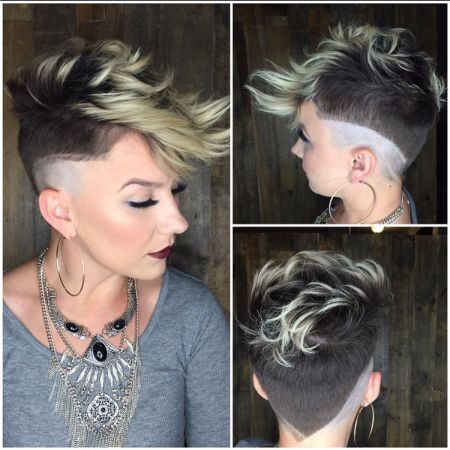 A classy variant to the traditional Mohawk cut is the clipper cut hairstyle. Have your Mohawk grow out as such so you can style it into beautiful curls. Furthermore, you can make your Mohawk even more pronounced with a high fade.
19. Lady Hawk Hairstyle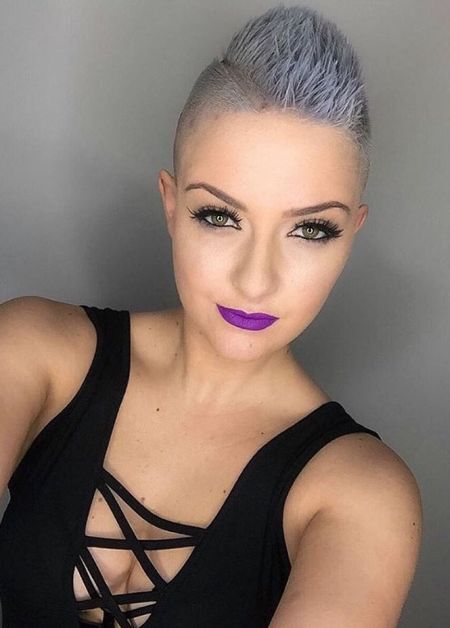 Short mohawks don't only work for men, as you can see—it works great for women, too! Be easily punk and beautiful with a short Mohawk with high undercut, and top the style off with a nice gray hair color.
20. Reverse Fade Undercut Hairstyle with Side Burn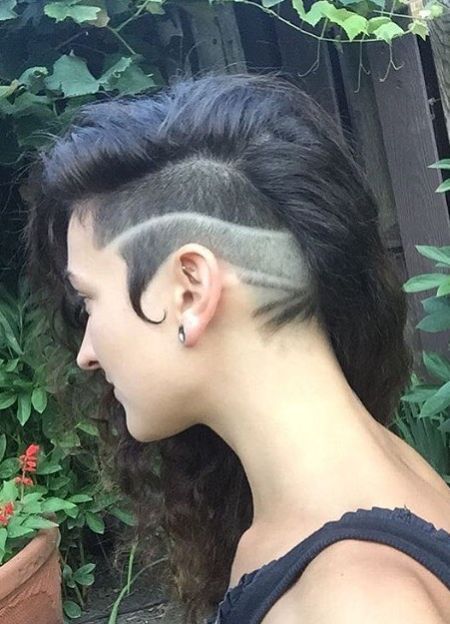 Normal on one side, and a completely different story on the other. This hairstyle will allow you to portray two sides of your personality at the same time. To achieve it, get one side of your hair shaved with lines, and leave a little bit of your sideburn for a cute effect.
Shaved Undercut Hairstyles for Women
Star Undercut with Blonde Hair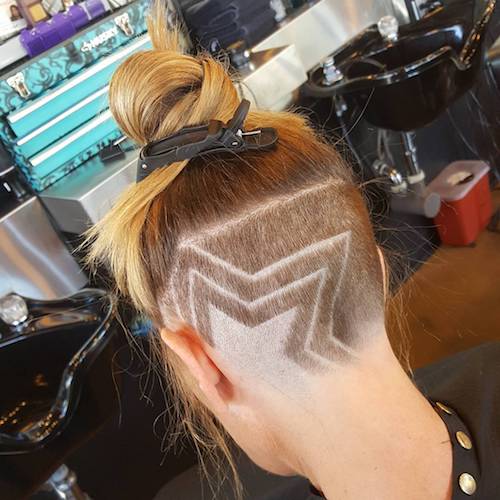 Dark Brown Hair with Star Undercut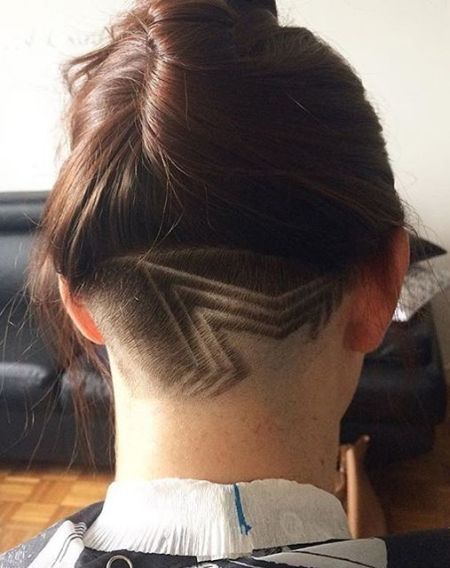 Another great thing about undercut hairstyles for long hair is that you can reveal your creative undercuts by just putting up your hair. In this variant of the undercut hairstyle, you can see a creative star design, achieved only by a talented stylist.
Lotus Undercut Pink Ombre Hairstyle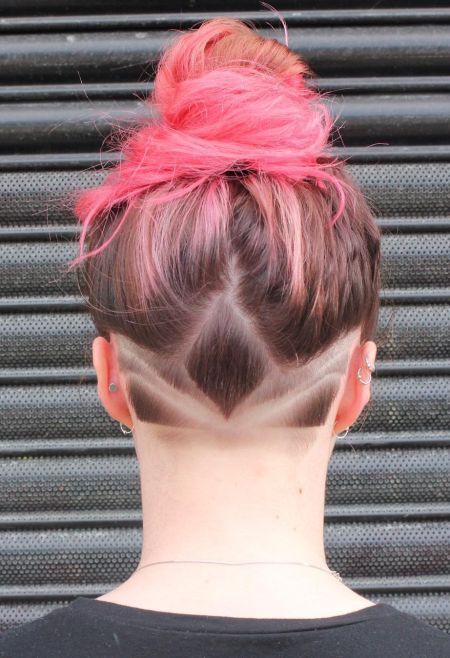 Again, an undercut with a design can get you a long way and is fun to have. But what can make it more creative is a pink ombre that transitions from natural dark hair into a bright pink hue at the bottom.
Dark Undercut Bob Haircut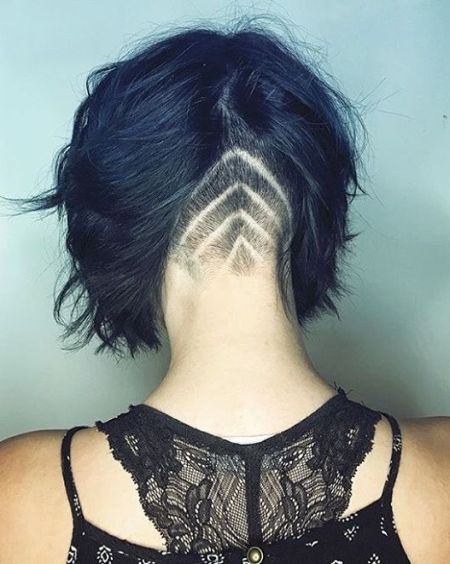 Make your regular bob hairstyle a little bit different with a creative undercut in the middle of the back of your head. With this shaved hairstyle, you can switch from being formal and regular into edgy and unique by just parting your hair.
25. Emerald Green Hair with Undercut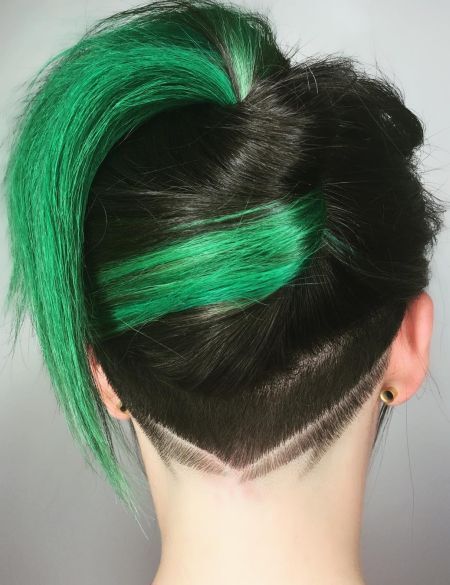 Want only a slight undercut? This type of hairstyle can allow you the slight change but with great results nevertheless. A good option for first-timers for this kind of hairstyle.
26. Flower Undercut Hairstyle for Ladies
Flower Undercut for Medium Hair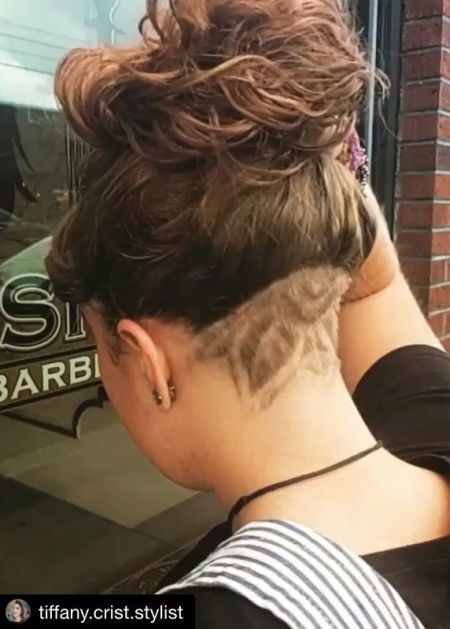 Who says undercuts can't be cute and girly? With this variant of the undercut hairstyle, you can have a flower design on your undercut to complement your long hair.
28. Geometric Purple Pixie Haircut for girls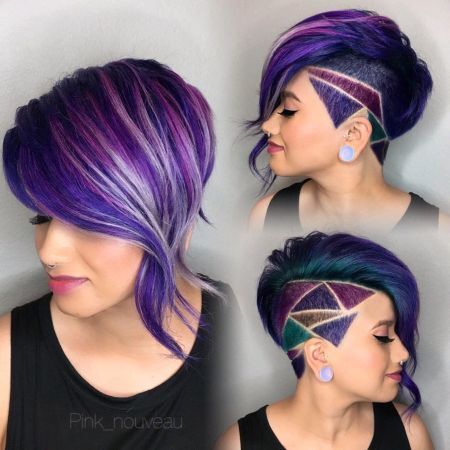 A purple-colored pixie cut is fun and unique by itself, but why not make your hairstyle more special by adding geometric design on your undercut? Furthermore, these geometric designs can be used to add more colors to make your hair more colorful.
29. Gorgeous Subtle Undercut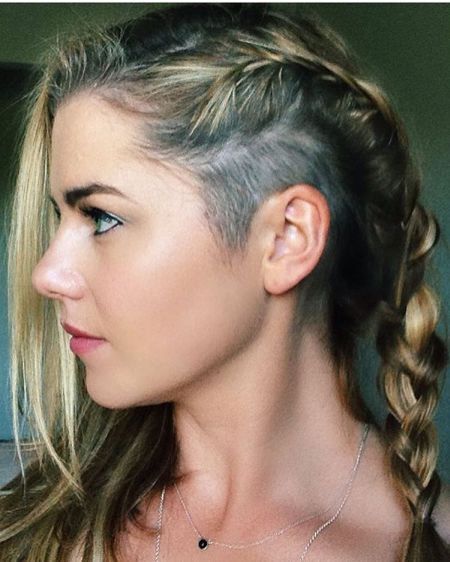 Another slight shaved hairstyle for long hair. Can't commit to a bigger undercut? This subtle shave will allow you to test things out first. Nevertheless, it already adds a lot more spunk to your look, don't you think?
30. Gorgeous Sunflower Side Cut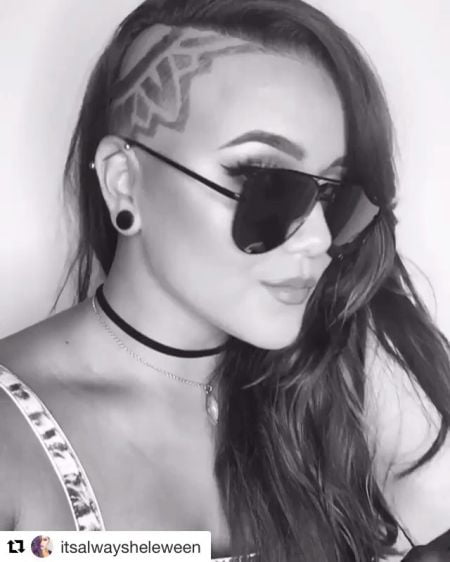 A great option for shaved hairstyle for long hair in the summer! Reflect your inner flower child with a side shave, specially designed into a beautiful sunflower shape.
31. Ice Queen Undercut Bob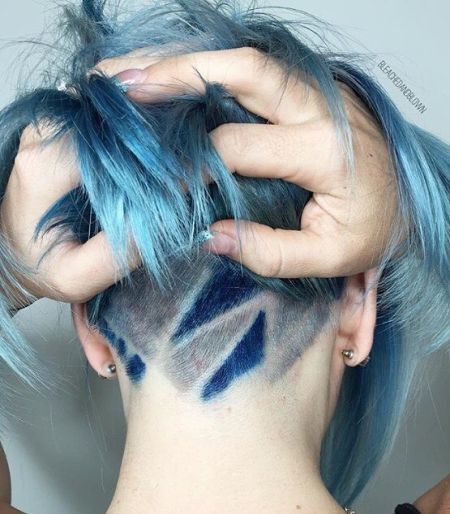 Emphasize the beauty and individuality of your electric blue hair with a geometric undercut and a darker dye for these shapes. Unleash your inner ice queen with this hairstyle!
32. Long Braids and Shorn Nape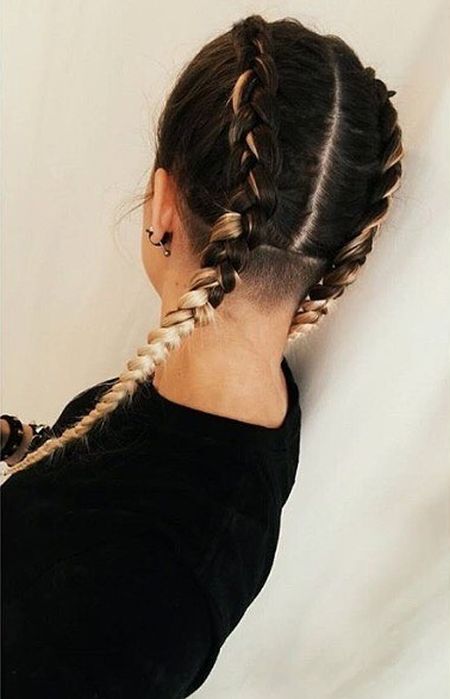 To achieve this hairstyle, have your hair kept into two long braids at the sides of your head. Make your hairstyle edgier with a slight shave to your nape, a slight but spunky change to your hairstyle.
33. Long Pixie Undercut Hairstyle for Women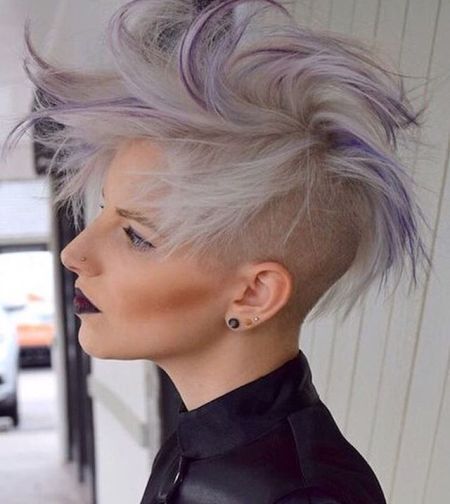 This type of pixie hairstyle emphasizes a longer Mohawk at the top, creating the image of voluminous and wild hair. This shaved hairstyle is made a little bit gutsier with a 360 undercut including shaved sides and back.
34. Long Side Braid and Side Haircut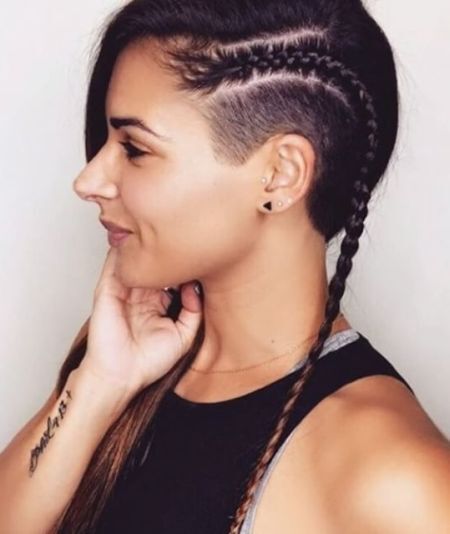 Combine a girly and tough look with one hairstyle. Have your girly side come out with a long, tight braid, and match it with a tough-looking side undercut with shaved sides to balance things out into a stunning look.
35. Lotus Cut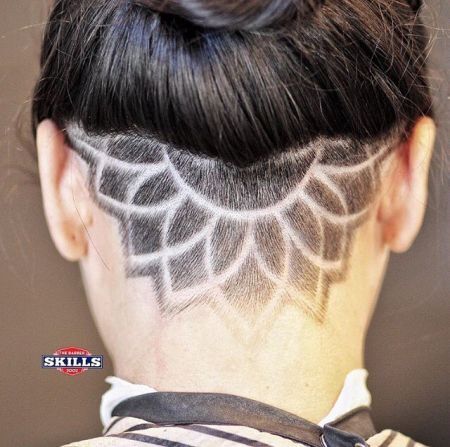 If you can find a very skilled stylist, have them do the shaved lotus design on your undercut. As you can see, the results are stunning.
36. Medium Curly Hair and Undercut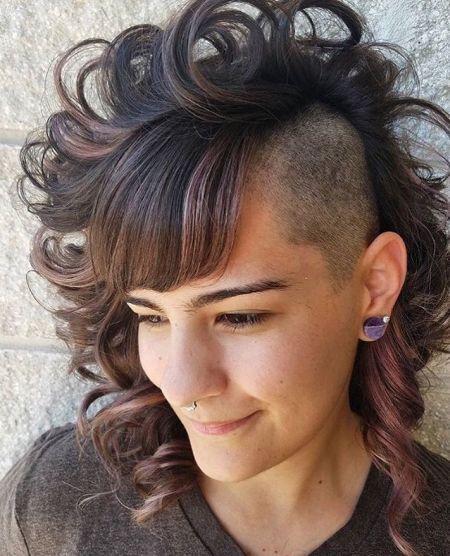 For medium hairstyles, a shaved haircut can also work well. For this particular example, a shaved hairstyle can create a great contrast with natural curly locks, combing feminine and masculine elements into one hairstyle.
37. Metallic Blue Lady Hawk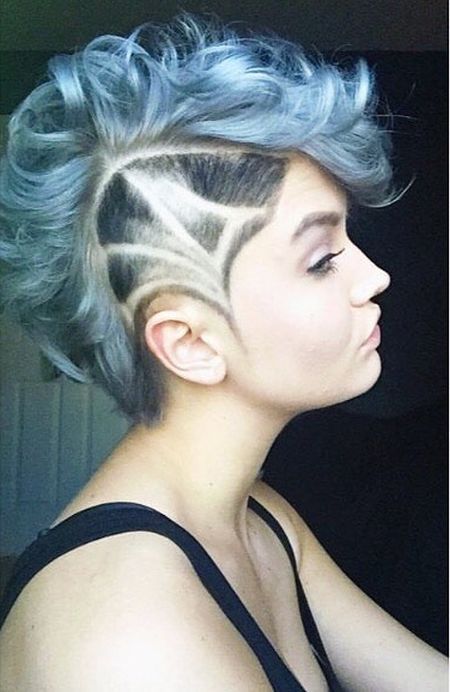 Want your Mohawk to be the center of attention? You can not only color your hair into a magnificent shade of metallic blue, but you can also have the shaved side of your head styled into a creative design as such.
38. Modern Layered Undercut Pixie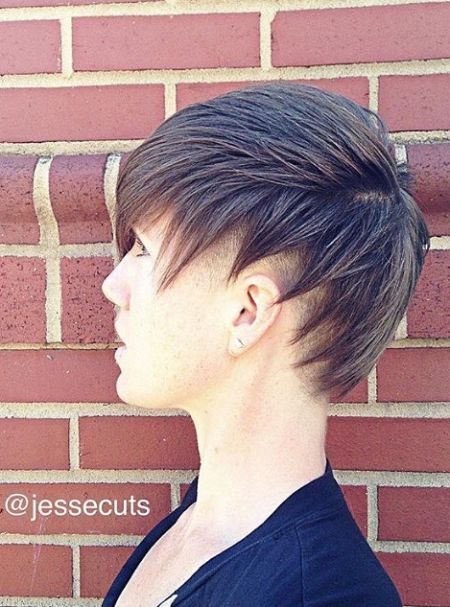 If you want your undercut to be slight or subtle, you can opt for this hairstyle. Have your undercut be concealed with your top layers to create a slightly edgy hairstyle.
39. Natural Hair Taper Haircut for Women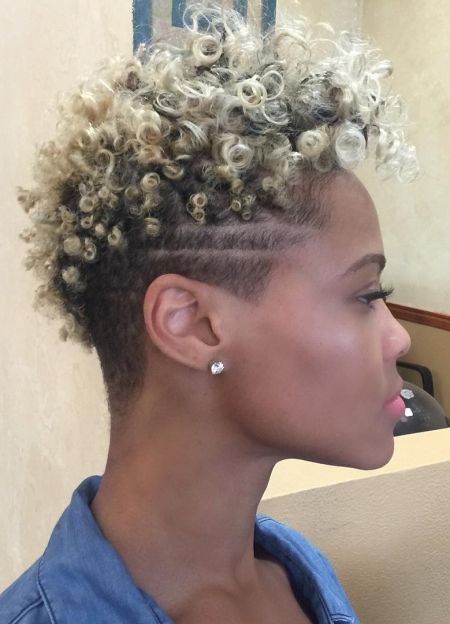 This shaved hairstyle for female in particular is a great option for shaved hairstyle for black women. If you have naturally curly hair as such, you can make your style deviate from the normal curls with a tapered fade.
40. Only Corner Fade and Long Hairstyle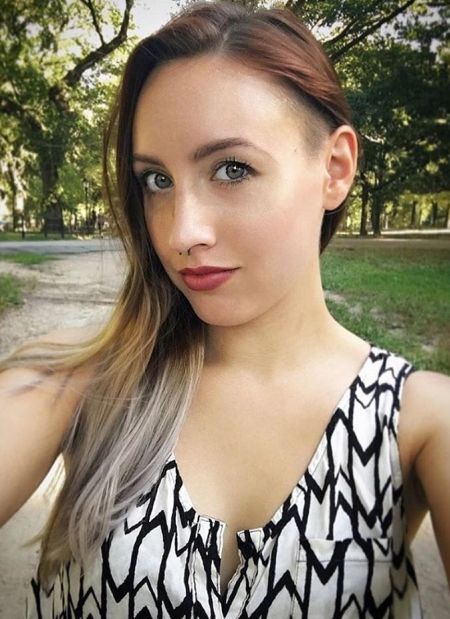 This is another very subtle hairstyle for long hair. As you can see, only the corner of the hair is shaved, creating a slight albeit unique look for longer hair.
41. Peachy Long Hair and Side Cut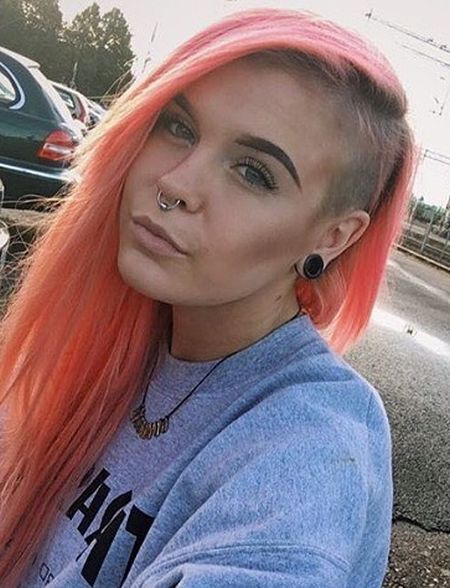 A peachy pink hair color can be very pretty. But if you're looking to make your style a little more punk rock, have the side of your head shaved as in the photo.
42. Pigtails and Nap Cut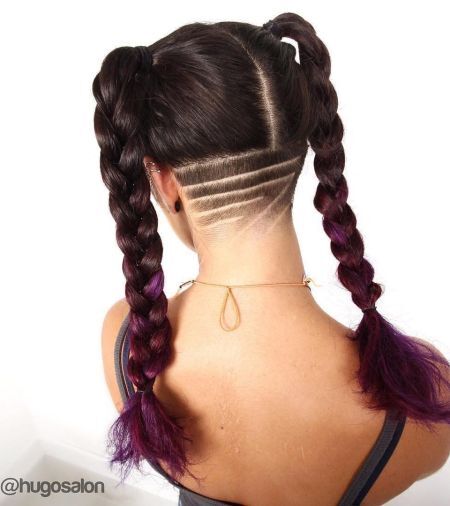 Once again, in this hairstyle, you can combine sweet and spunky both at the same time. To achieve this blend, have an undercut that is styled into straight lines, and pull your hair into big, long braids.
43. Pixie Hawk Hairstyle for Women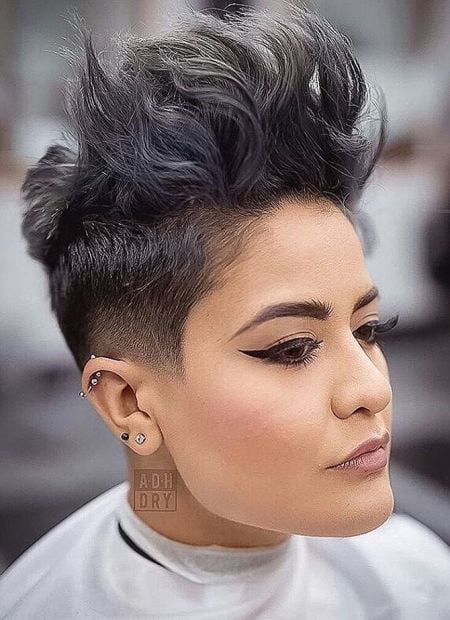 A very long Mohawk can make an undercut look more feminine, while making you look tougher and more stylish.
44. Pretty Purple Undercut Hairstyle for Long Hair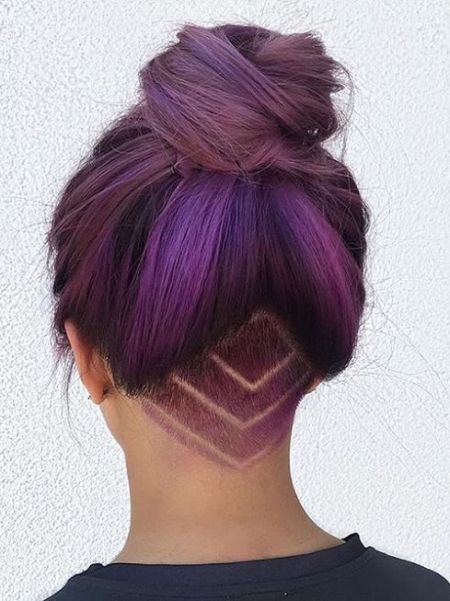 If you want your undercut to be optional, have it hidden under your long hair wherein you can pull it up to reveal the undercut only when you feel like it. In this hairstyle, purple hair is made more gorgeous with a V-shape design undercut.
45. Rainbow Undercut Hairstyle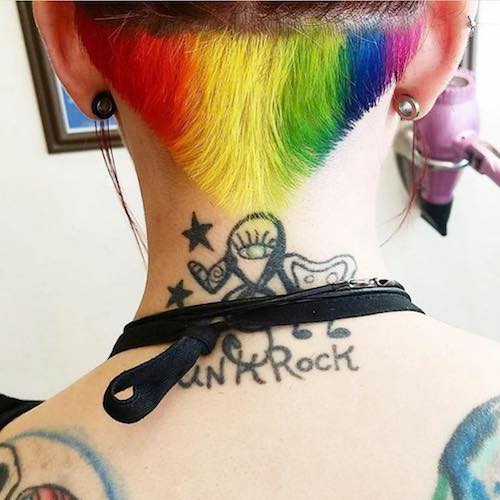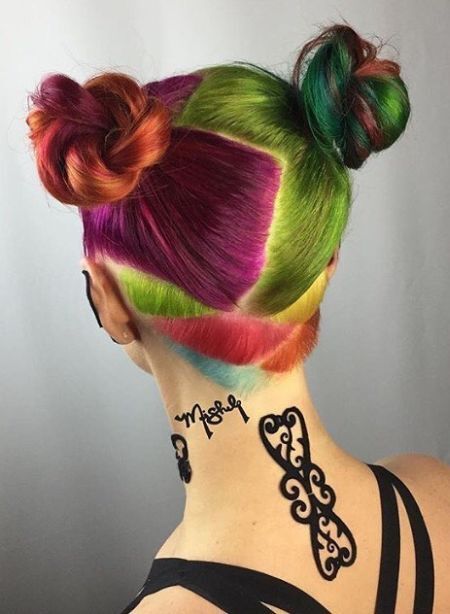 This rainbow hairstyle is a bit complicated to achieve, but when you do, the results are definitely head-turning. To achieve this style, it will need a talented stylist to part, style, shave, and color your hair as such.
46. Shattered Glass Design Haircut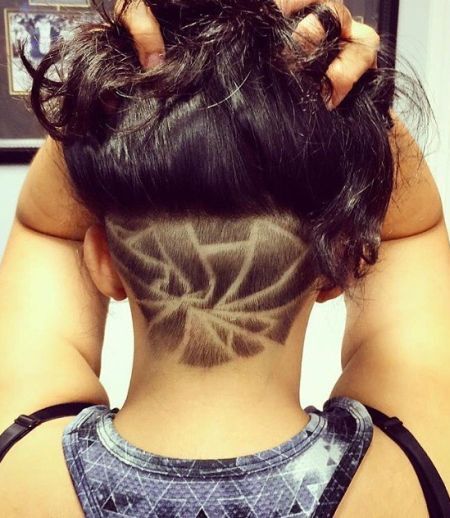 It seems that more and more designs for undercuts are emerging. And in this particular shaved hairstyle, the design resembles a shattered mirror; a great option for long hair.
47. Shaved Hairstyle with High Ponytail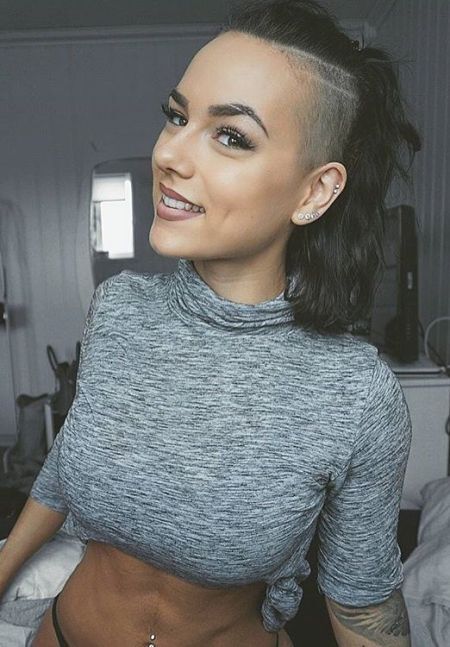 This hairstyle is another gorgeous option for mid-length hair. Have the side of your head shaved close to the scalp, then finish off the style with a high ponytail. A chic and spunky look at the same time.
48. Shaved Nape Haircut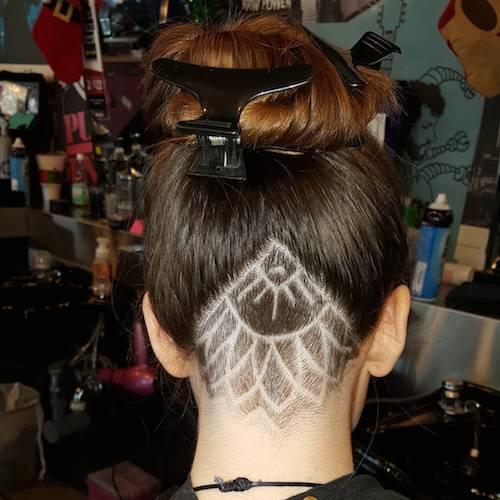 The shaved nape haircut is another option for undercut designs. In this particular one, you can have a flower petal-esque design on your undercut.
49. Shaved Nape with Black to Blonde Ombre Hairstyle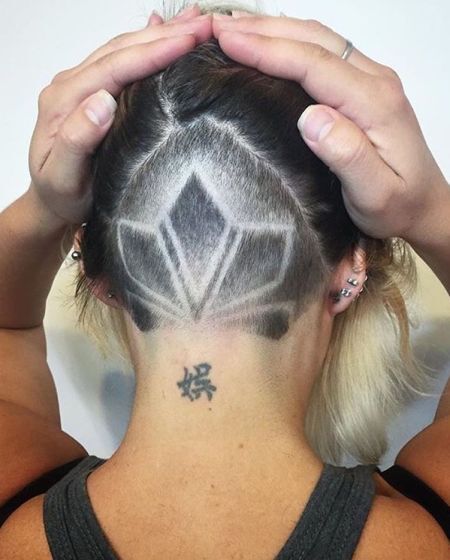 This type of undercut design takes it a little bit further and ascends a bit up to the middle of the back of the head. As always, results are stunning.
50. Shaved Nape and Loose Bun Hairstyles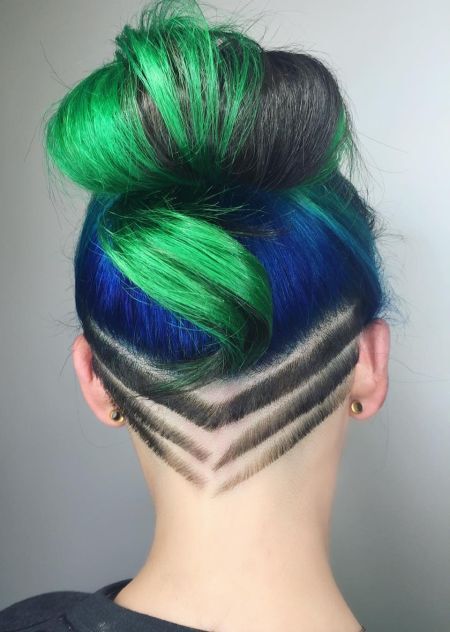 A hairstyle with bold green and blue colors can't do with just any old loose bun; you can add more personality to your hairstyle with a carefully cut line design on the undercut.
51. Shaved Side Cut and Tattooed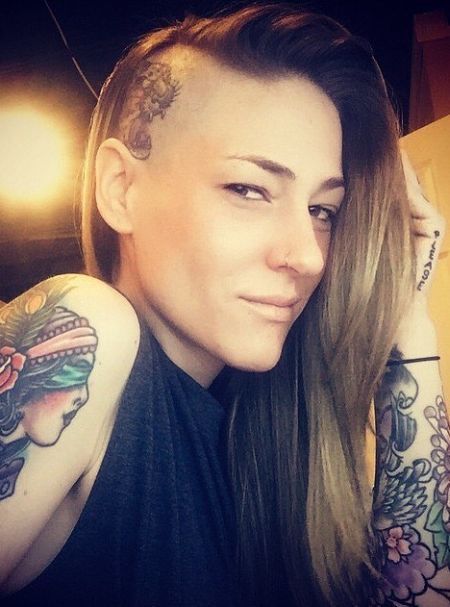 This type of hairstyle for long hair will take a little more commitment than others. Aside from shaving the side of your head, you can also opt to use the exposed skin for a beautiful tattoo. Very punk rock if you ask me.
52. Silver and Brown Hair with Undercut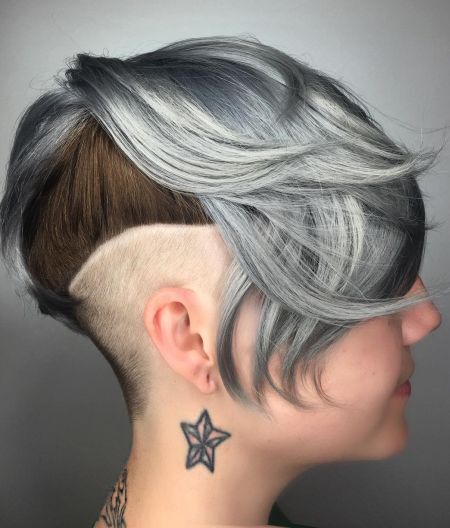 Combine elements of creative coloring and a sharp undercut in this hairstyle. With a high fade, you can emphasize the contrast of color on your hairstyle more effectively.
53. Silver Hair with Undercut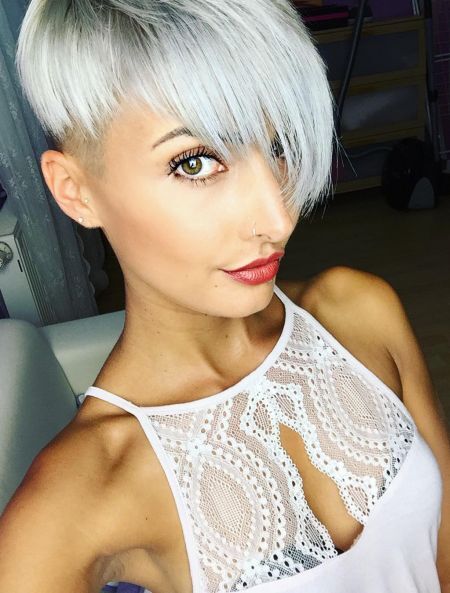 Silver hair for short hairstyles is not news; it's especially trendy for girls. But why not make it more of your own style by having a slight undercut done to your hair?
54. Stunner Flower 360 Undercut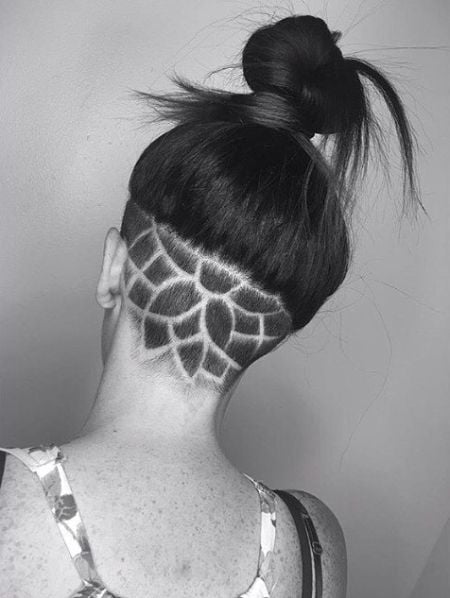 Take the extra step in shaved undercut designs and have it go around your head 360 degrees, creating a unique design for everyone to see. It's a short hairstyle with shaved sides and back.
55. Shaved Textured Pixie Haircut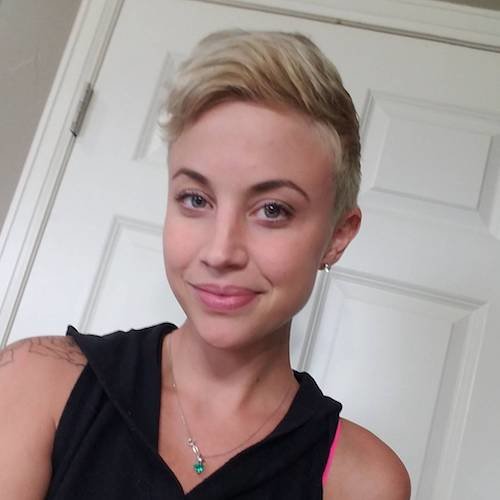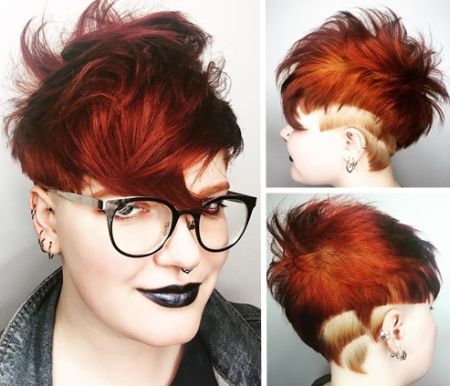 There is beauty in chaos, as you can see in this picture. Another option for the pixie haircut is to have your undercuts textured into an irregular pattern, something that can make your style more unique to yourself.
56. Twin Hair Buns and Zig Zags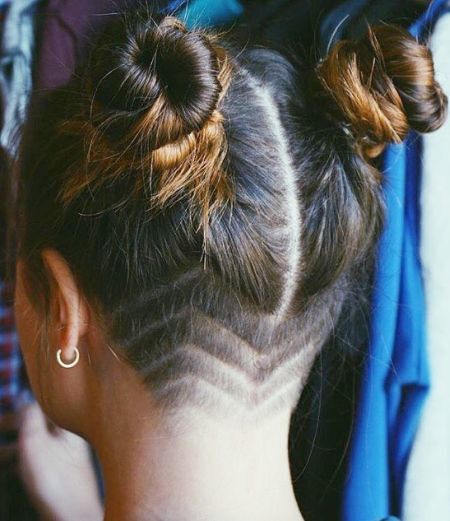 A Chinese-inspired look, you can put your hair into twin hair buns and add your own twist to the hairstyle with a zig zag undercut.
57. Undercut Rainbow Pixie with Top Braids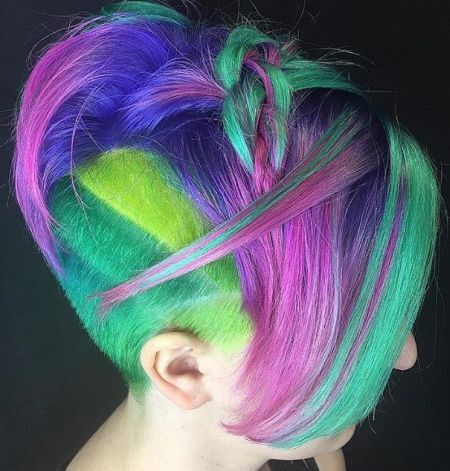 If you want to be the center of attention everywhere you go, why not try out this rainbow hairstyle? A bit complicated to achieve as you need a lot of colors.
58. Shaved undercut and Bangs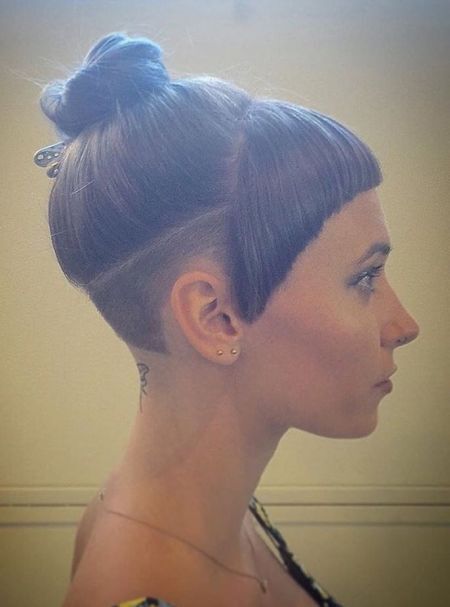 This shaved haircut with bangs is very unique in itself, but if you have the right confidence and face for it, you can pull it off for sure. This shaved hairstyle combines a very high undercut at the back, and a mid-forehead bangs, both very unique looks specific to angled faces.
59. Undercut and Braided Bun Hairstyle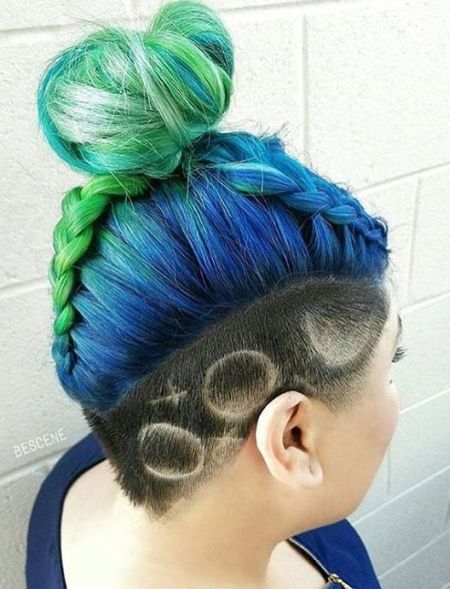 This is just one of the things you can do with long hair and shaved side undercuts. Have your long hair braided as such and topped off with a big bun, to achieve not only a different look, but a playful one as well.
60. Undercut and Green Waves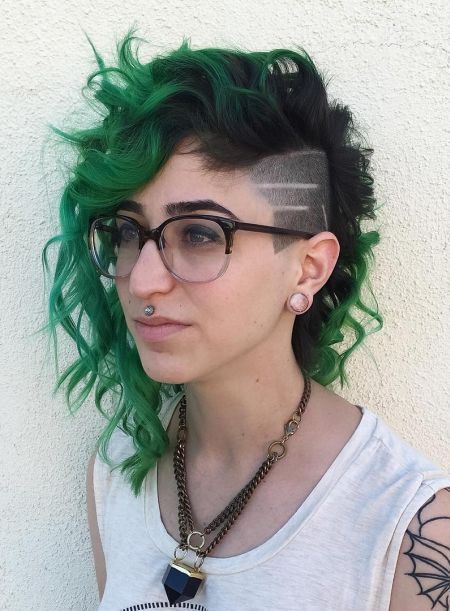 Your Joker-green wavy hair can do a little bit of leveling up with a stylish undercut.
62. Twist or Alien Buns with Undercut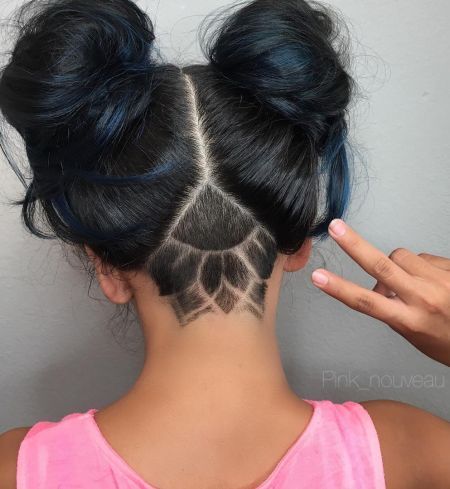 Another cool shaved hairstyle for girls with thick and long hair. To achieve it, have your hair pulled up into two big buns and design your undercut into a flower-esque pattern.
63. Undercut with a Top Knot for Females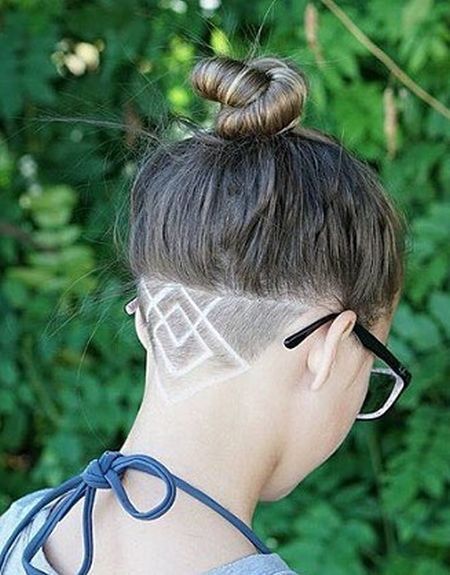 If you have thin hair, you can try out this shaved hairstyle for yourself. An undercut design combined with a cute top knot will have you look chic and unique at the same time.
64. Updo Mohawk Side Cut & Long Crimped Hairstyle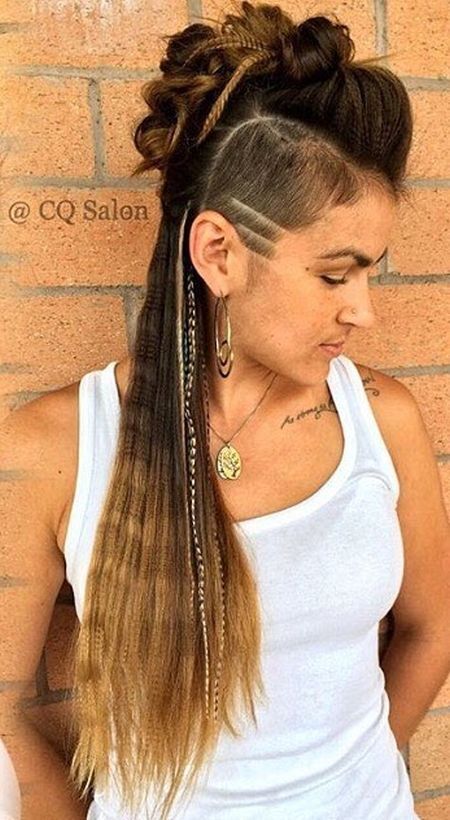 This hairstyle can take you back to the 70s, but with a more modern look. combine elements of Mohawk, updo, braids, crimping, and a side cut into this complicated but beautiful look.
65. Yellow Shaved Rapunzel with Tattoo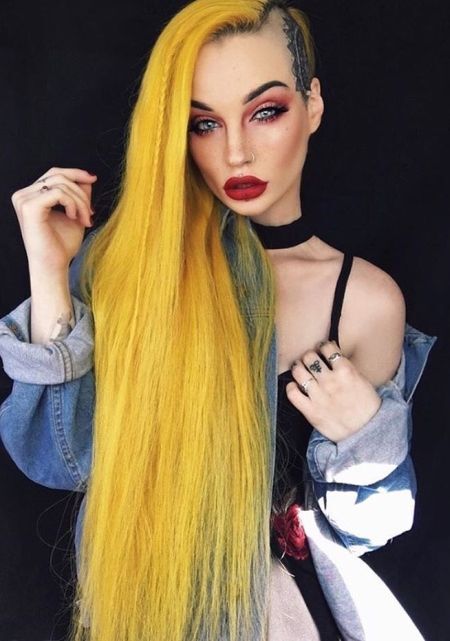 Another great option if you want to commit into getting a tattoo on your head. With long hair one side, have the other shaved and tattooed with a cool circular design like in this example.
Pro: if you don't want the tattoo anymore, you can always grow out your hair to conceal it.
66. Shaved Side Comb Over for Women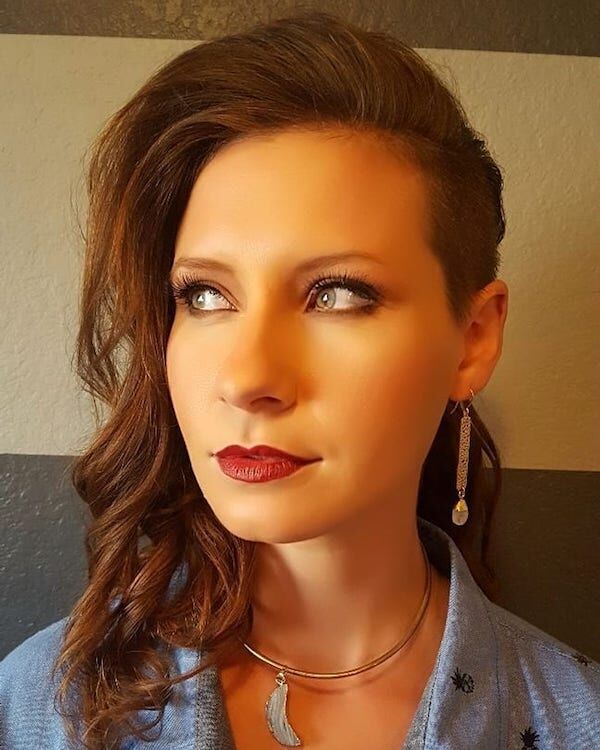 The shaved side comb over shows two different looks depending on which side you are approaching from. On one, classic medium length curled hair, and on the other, an edgy shave.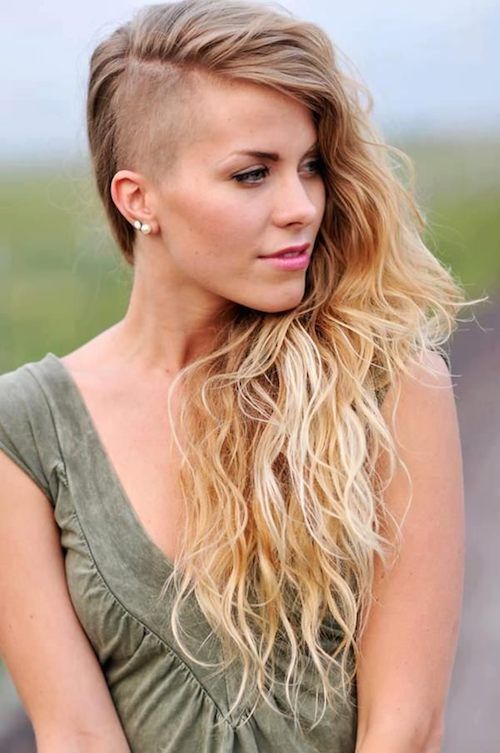 This shaved sides long top hairstyle for women looks amazing with the long blonde feathered waves.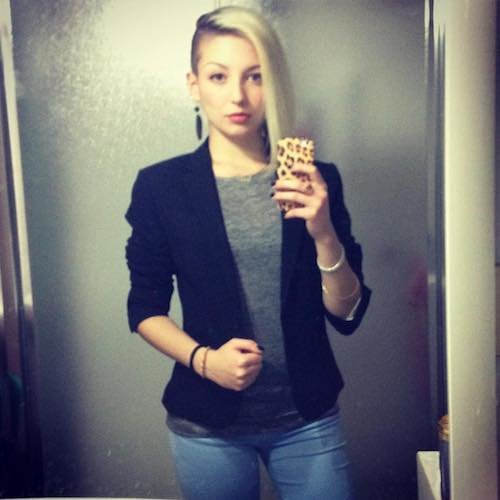 A shaved side adds an edgy look to a traditional side part.
Thank you for checking out our shaved hairstyles for women. We hope you have found at least one style to inspire you to join the shaved haircut trend. Let us know what you think in the comment section below.

If you've made it this far, check out these hair-raising widow's peak hairstyles or best hairstyles for green eyes !