While there are no wrong hair color answers, the best hair color for dark skin are ones that set off the rest of your features and complement your personality.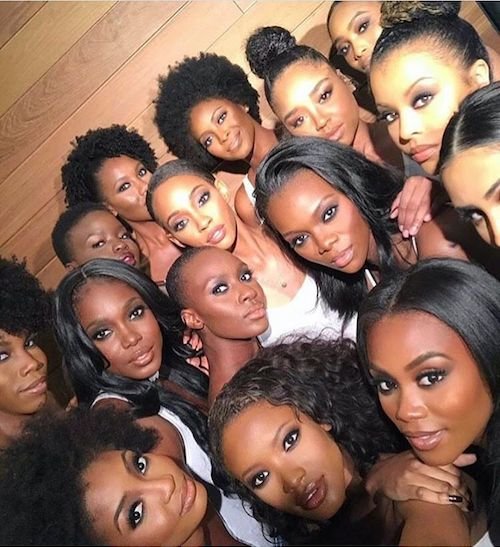 For both light and dark skin, there are corresponding hair color shades that work better than others. Whether you are black, African American, Latin American, East Indian, moreno, or just have brown skin or a darker skin tone, we are here to help you decide. In this article, we'll highlight the best hair color ideas for dark skin to help you choose the best hair color for your dark skin tone.
So, what is the best hair color for dark skin? Over the years, the hair color trend for dark-skinned women has rapidly changed. Black, blonde, brown, white, red, yellow, green—the rest of the colors in the rainbow and more. Dark women have been trying all sorts of hues on their hair to make themselves stand out. Of course, each type of shade has its advantages and disadvantages, so we'll tackle them all here.
Related: Wedding Hairstyles for Black Women
NOTE: since our skin tones are very diverse and vary across every woman in the world, we will categorize skin color to light brown, medium brown, and dark brown skin tones. We hope you'll find your favorite shade in one of the pictures below.
43 Best Hair Color for Dark Skin that Black Women Want 2018
1. Best Hair Color for Light Brown Skin Tone
For a light brown skin tone, going with a complementary shade of brown is always a safe bet. Going with a light natural brown to light golden brown tone highlights and brightens the face. Large, gentle waves add elegance to the look.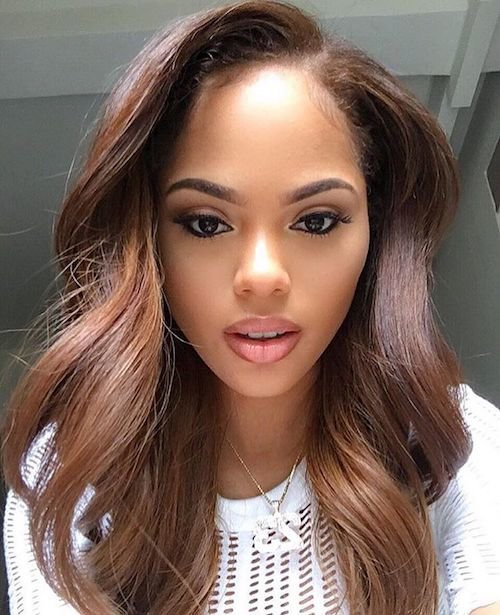 Going with an lighter bleached blonde to caramel blonde creates a casual and fun appearance. If you're wanting to look younger, this hair color could help do the trick.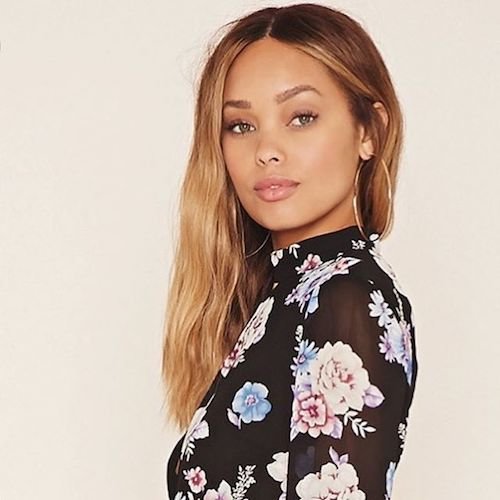 A light brown ombre in dreadlocks makes an elegant presentation for light brown skin tones.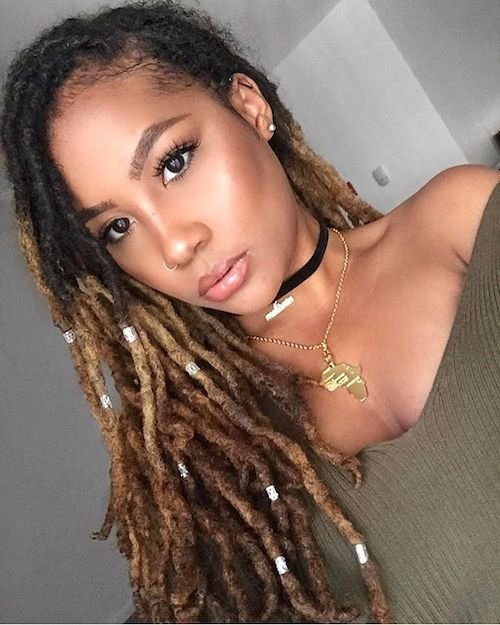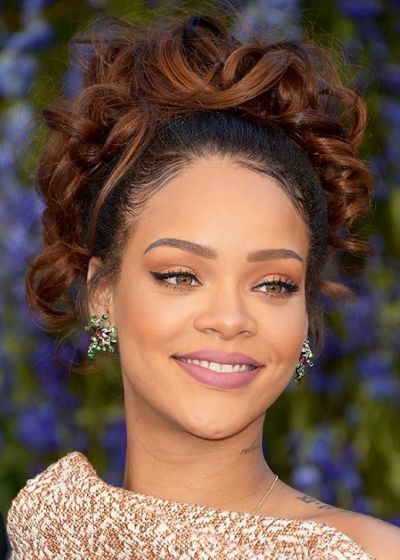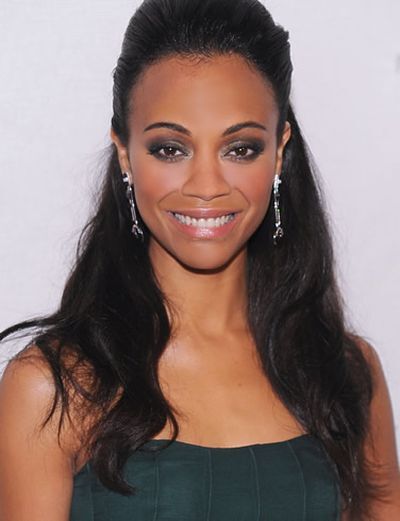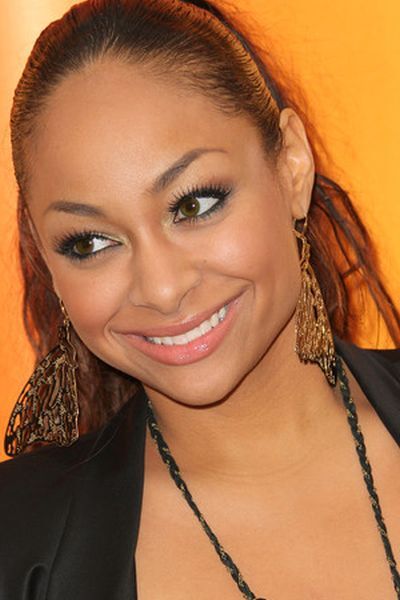 2. Best Hair Color for Medium Brown Skin Tone
For medium brown skin, going with a darker hair color helps bring out your facial features by providing a contrasting background. Sometimes less is more. One case in point is burgundy hair color highlights with a short pixie haircut for black women. It's a contemporary way to add a splash of color without going overboard. Perfect when you want to show off your professional style.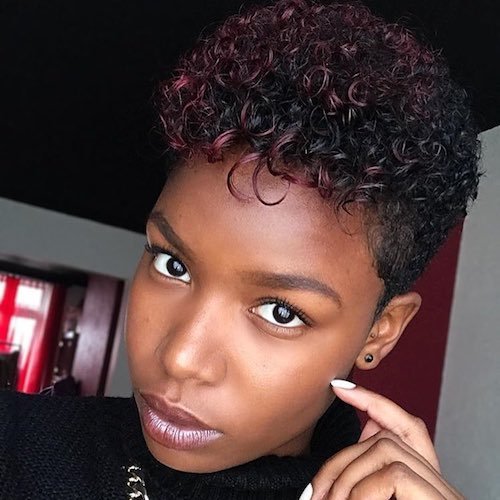 A copper hair color for brown skin can create a somewhat washed-out appearance, more so if the dye is of the same tone as the skin. This is a good look for those seeking a more relaxed and fun look. If that's you, let your hair down and give this copper shade a try.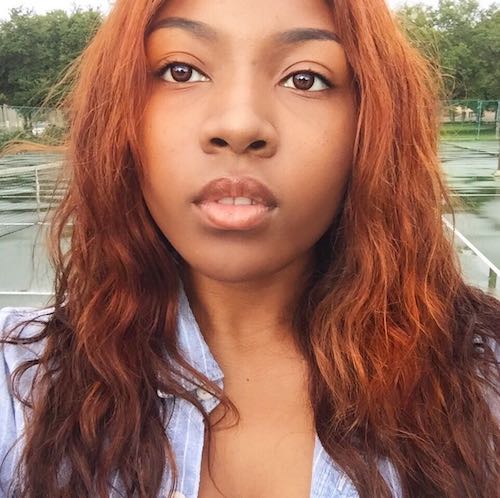 Adding a chestnut brown hair color atop a straightened black hair base brings casual fun to your hairstyle. This combination makes lighter brown eyes pop and is sure to turn heads.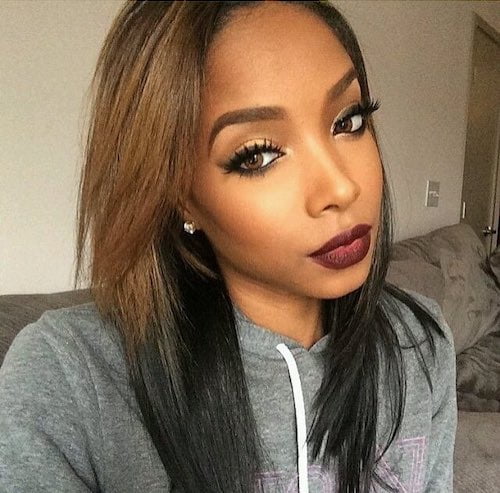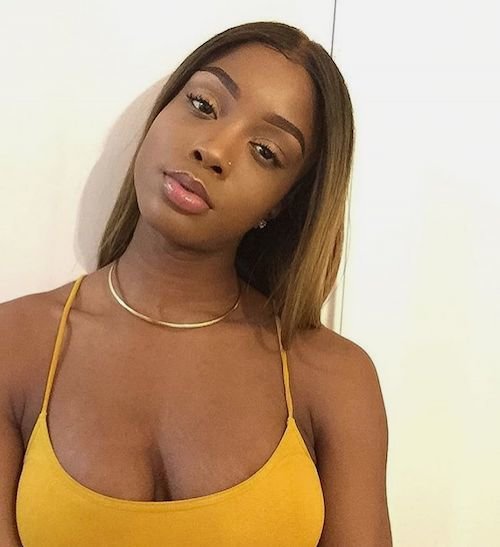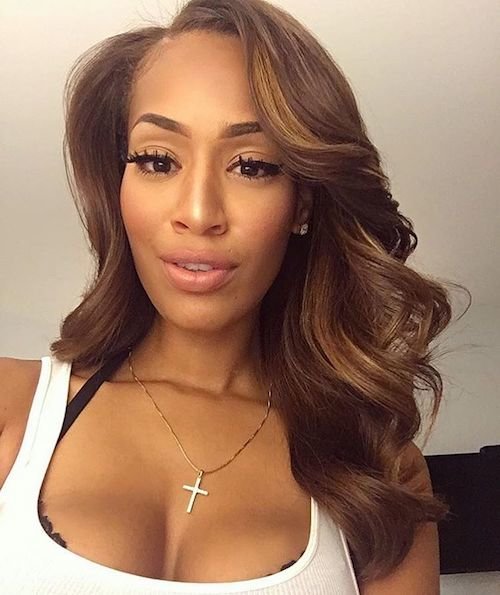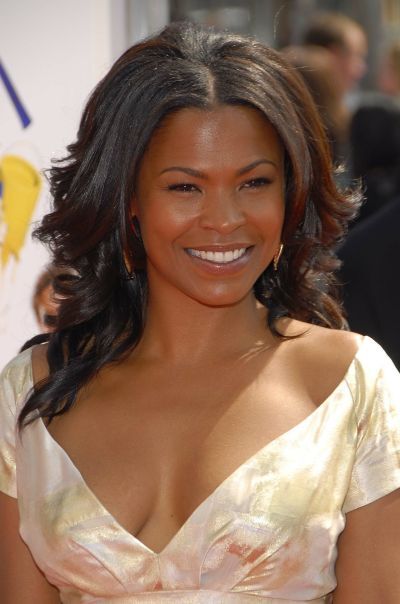 3. Best Hair Color for Dark Brown Skin Tone
If you're seeking a sexy yet subtle hair color for a dark brown skin tone, check into purple hair paint. The dark brown to black base keeps your hairstyle grounded so you won't stick out like a sore thumb. But, by adding a touch of purple color, it accents your look and lets your face shine. Be the rockstar of your office with these purple highlights.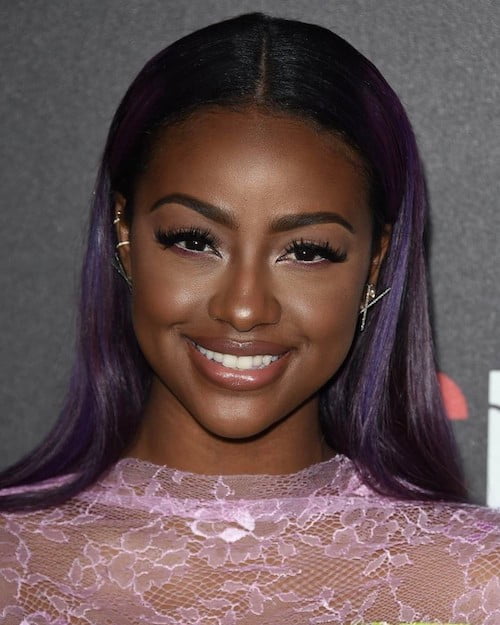 Having dark hair with a dark brown skin tone can make you fade into the background. A silver color ombre brightens the look of women with dark skin while adding needed contrast. If you work in a corporate job, the silver hair color is a good choice if to add style while keeping with a conservative overall appearance.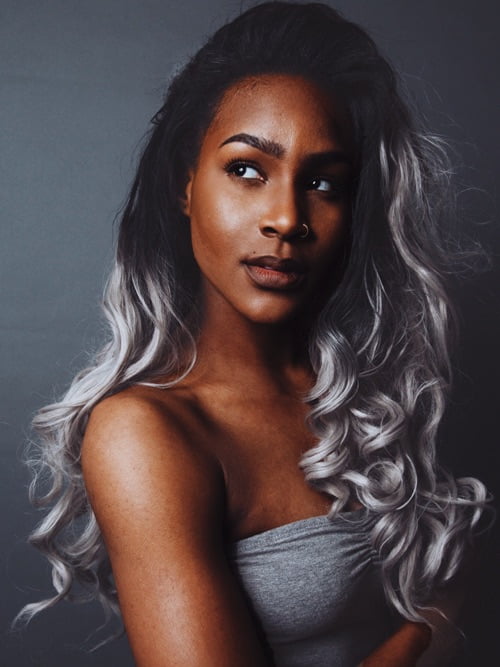 Another option for women with dark skin is to go with a soft dusty pink hair color. Blending the pink hair color while keeping the tones muted creates a near-natural look. Tight curls further blend the color tones and add shimmering movement. Complete the package with complementary lipstick shade. Pink hair is a popular choice for black women.
Related: Pink Hair on Dark Skin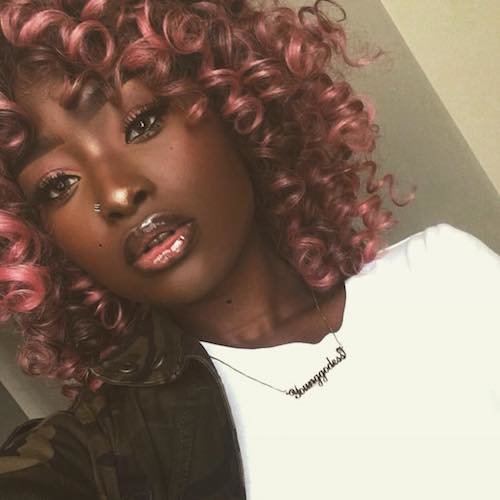 If you want a more conservative look but desire a little flare, go with subtle highlights. Here's an example of denim blue highlights for dark skin.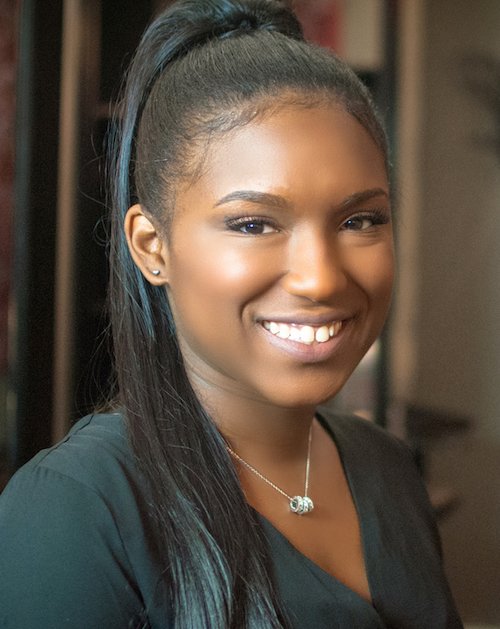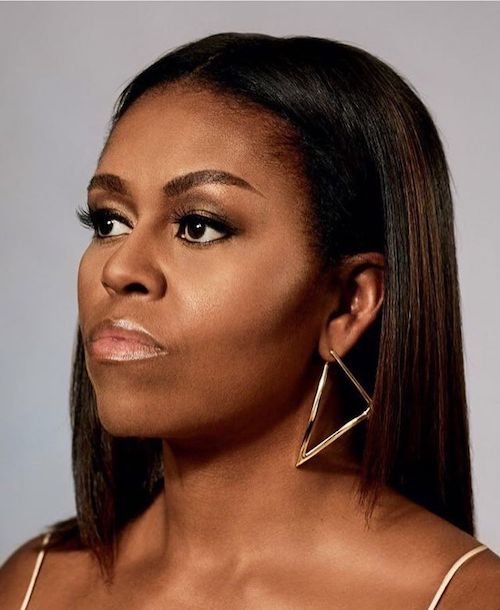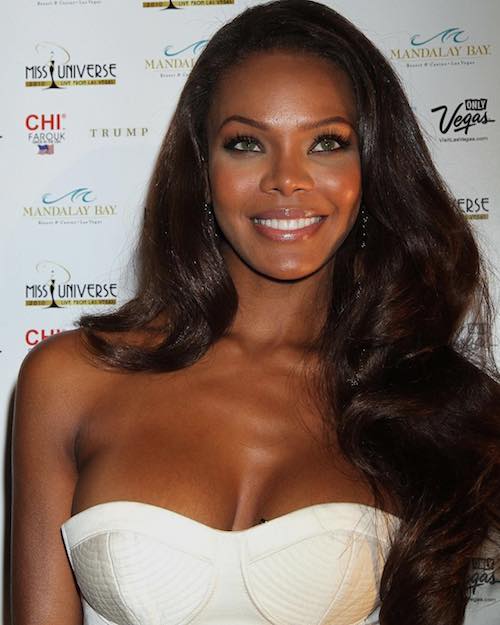 A subtle dark red, dark purple color looks good on dark brown skin. It has just the right amount of pop to look modern and contemporary.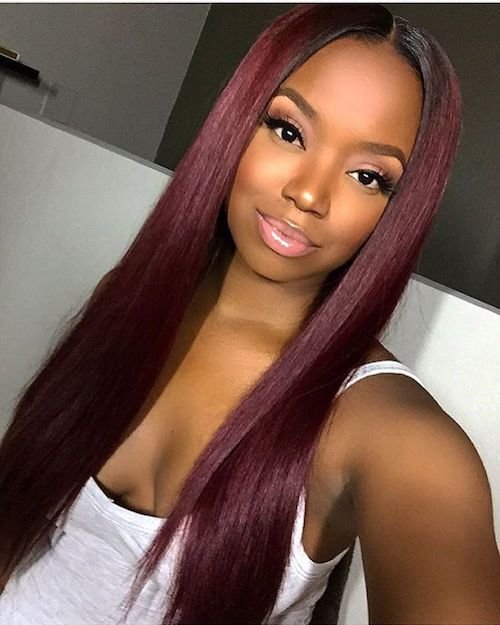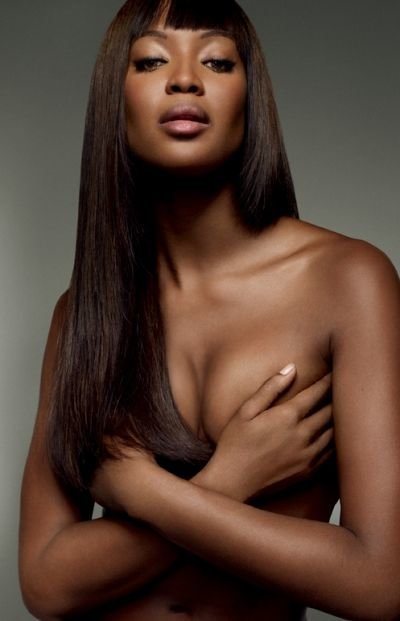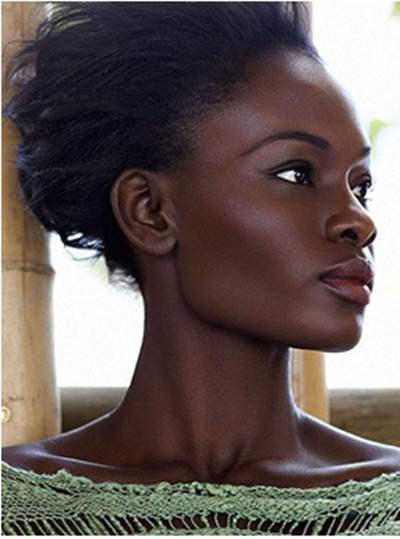 Let's look at more examples:
1. Dark Brown Hair Color for Dark Skin
Nowadays, the most popular hair shade for dark-skinned women is dark brown. It is relatively the "safest" color because it doesn't stand out too much from the color of your skin, but unlike natural black hair, it can complement the glow of your brown skin in a subtle but flattering way.
For light, medium, and dark brown skin categories, dark brown hair will always go well with your skin color. Hair dye shades such as chocolate brown, deep brown, espresso brown, and coffee brown are simple hues that can make your hair blend with your natural skin color.
Beyonce with Chocolate Brown Hair: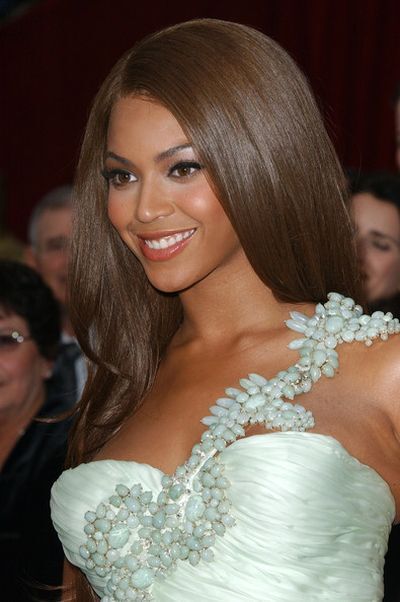 Another advantage of dying your hair dark brown is it requires much lesser treatment compared to other shades, since natural black hair can be dyed the ideal dark brown shade in only 1-2 treatments. Consider this shade if you're thinking of dying your hair for the first time.
2. Medium to Light Brown Hair Color for Dark Skin
This shade is a notch higher than dark brown, encompassing tones such as honey, caramel brown, milk-chocolate brown, and latte brown, among others. For all dark skin colors, medium to light brown hair is a good recommendation since it suits everyone and is easy to match with almost any fashion.
Caramel Hair Color on Dark Brown Skin Tone:
When you have to stay conservative, but can't stand to be ordinary, look for a hairstyle that sticks to natural color tones. A two-toned hairstyle with a dark brown base and caramel brown tops is a great example. Keeping the hair colors layered and neat adds a level of sophistication to your look. Feel confident at your next outing with this luxurious statement.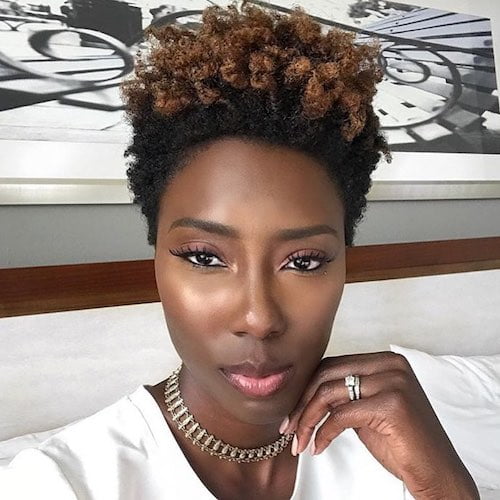 Light Brown Hair on Medium Brown Skin Tone:
Medium to light brown hair is still not an outrageous hair color, but it does offer a bit more boost to dark skin tones than dark brown hair. For dye shades that are lighter or brighter than your skin, your hair can make you look brighter and give you an additional glow.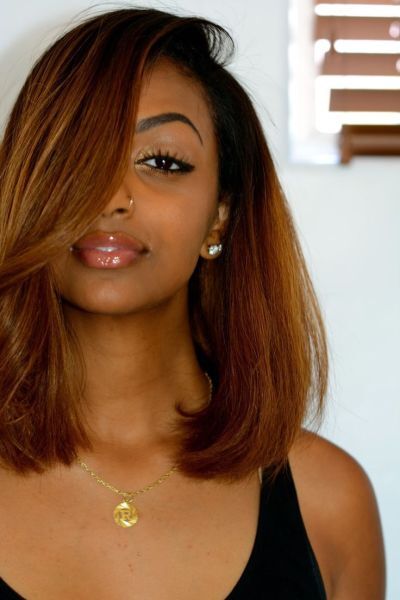 On the other hand, for shades darker than your skin, the contrast can also make your skin look lighter than it actually is.
3. Blonde Hair Color for Dark Skin or Black Women
Blonde comes in many shades and can be carried well by any woman with dark skin. Shades such as platinum, strawberry, golden, champagne, and ashen blonde are just some of the colors you can choose from.
Blonde hair for a dark-skinned woman can be a huge change in your look because of the amazing contrast, but when the right shade is chosen for your skin color, you can achieve the Tyra Banks-Naomi Campbell look.
For light brown skin, lighter shades of blonde such as light ash blonde, light strawberry blonde, and buttery blonde have lots of potential to look amazing. You can also get away with platinum blonde, as your skin won't have much contrast to the color and look too unnatural.
Buttery Blonde on Light Brown Skin: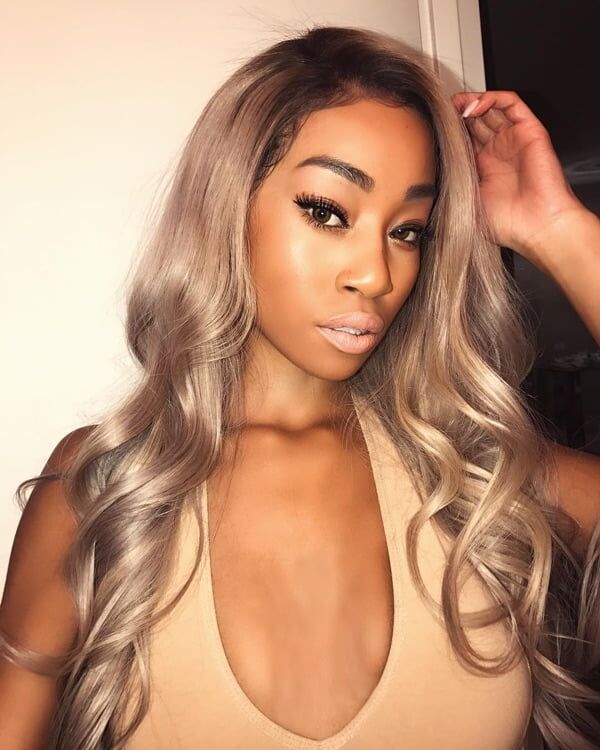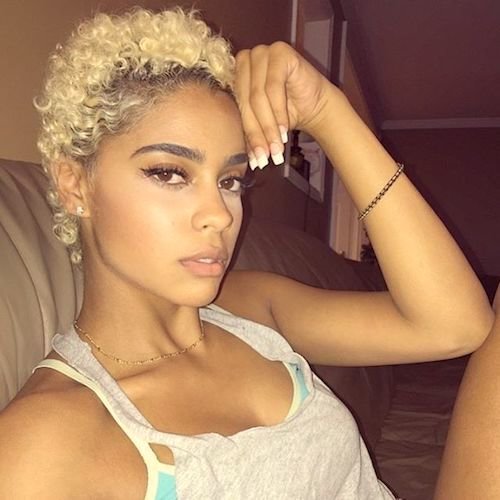 Shades that go well with medium brown skin are also light blonde colors (mentioned above) and in-between hues such as beige, summer blonde, creamy blonde, dirty blonde, and honey blonde. Depending on the color, your hair can accentuate your skin to make it look more outstanding, as seen in this example below.
Platinum Blonde on Medium Brown Skin: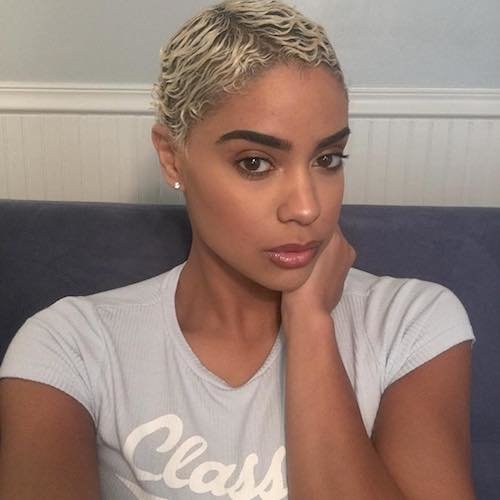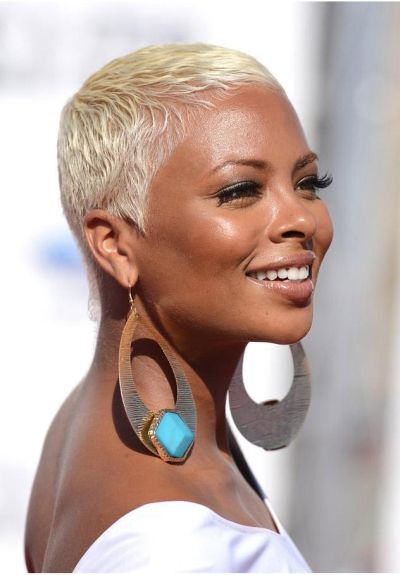 For dark brown skin, every shade of blonde from light to dark will look great (ashen blonde, brownish blonde, caramel blonde, chestnut, and sandy blonde especially). With darker skin comes greater contrast to blonde hair, and can result to a more incredible, head-turning look.
Light Blonde Frosted Tips on Dark Brown Skin:
Frosted tips are not just for guys stuck in the 90's. It's also a way for women with dark skin tone to showcase blonde hair. A cropped short afro can be colored with any shade of blonde. The short length reins in the color and keeps it from getting out of control. If you're looking for a contrasting hair color for black women with very short hair, check this out.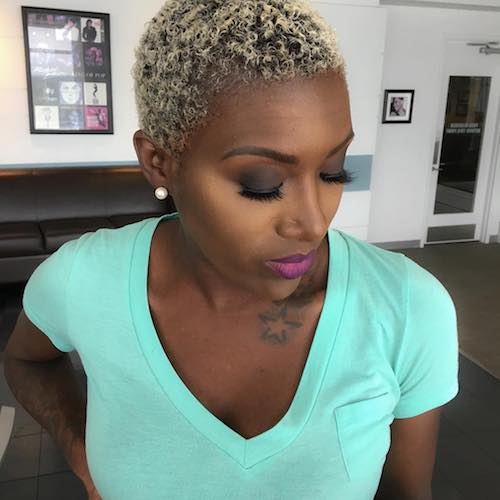 Light Ash Blonde on Dark Brown Skin:
However, blonde shades that have overpowering orange and yellow tints are not recommended, since you don't want to ruin the contrast with a too-bright hue.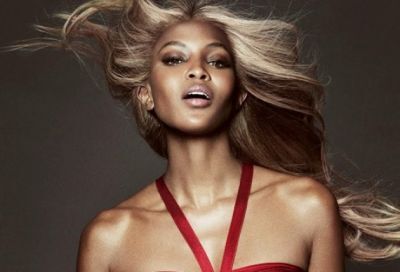 4. Reddish and Purple Hues for Women with Dark Skin
Want to be a little bit more playful? Red dye is a strong, vibrant color that adds a lot of character to your look. Scarlet, red wine, light red, dark red, and bright red colors go well with light to medium brown skin tones, while more burgundy hues match with darker skin tone.
We recommend that the darker the skin tone, the more intense the shade—to make your hair color pop.
Red Hair Color on Dark Skin:
Let your red hair color for dark skin shine by highlighting your luscious locks. Red is the perfect accent color if you are seeking the spotlight. At the same time, keeping a dark black base to your hairstyle anchors the look and helps the red sparkle. Don't be shy, give this a try!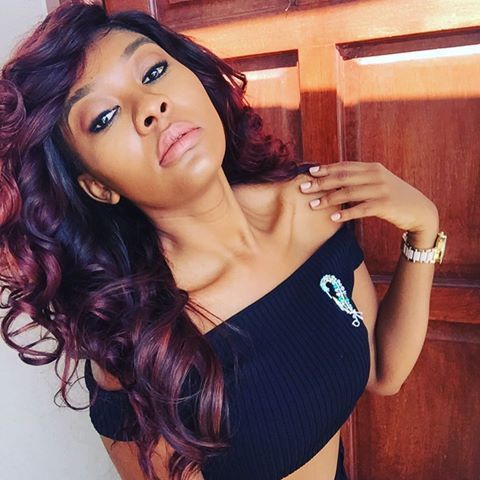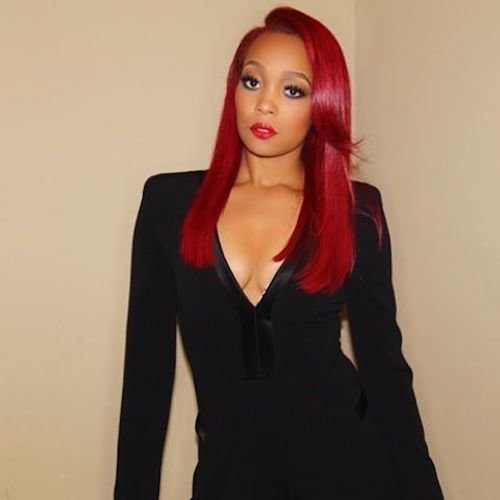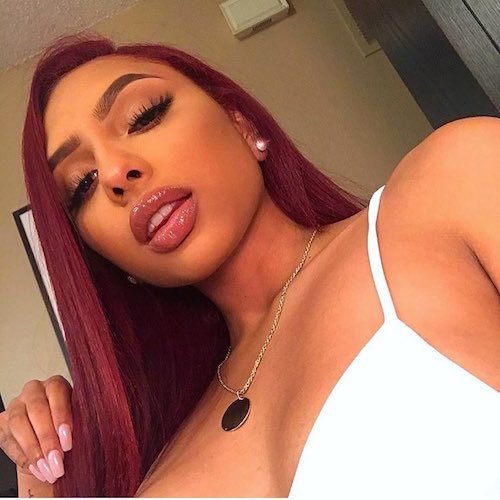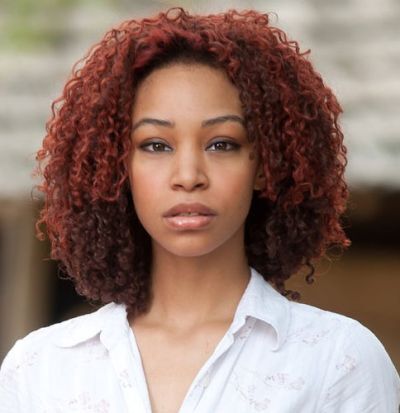 Purple hair is another story. If you're feeling a little bit more playful and bold, go for violet, lilac, or purple hues. It doesn't contrast excessively with brown skin and being a cool color, purple and violet hair blends well with dark-skinned women.
Purple Hair Color for Dark Skin: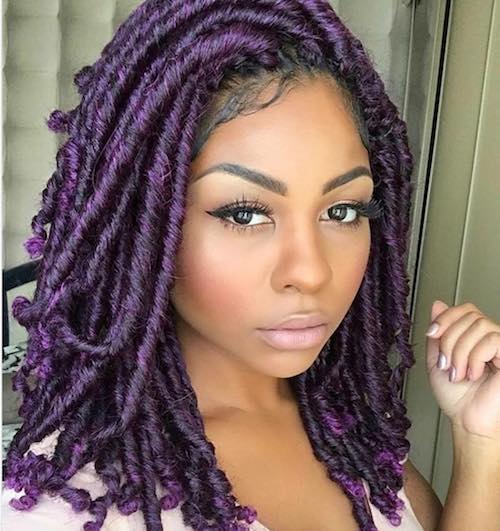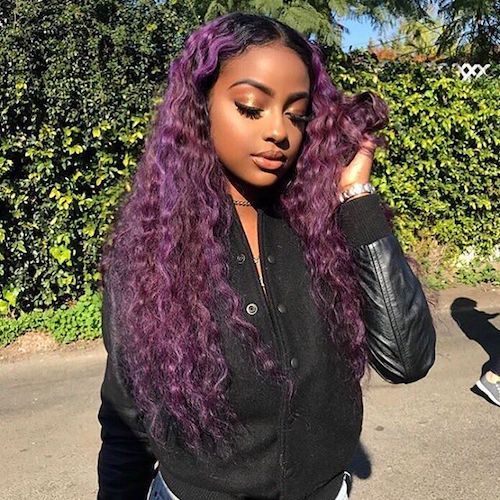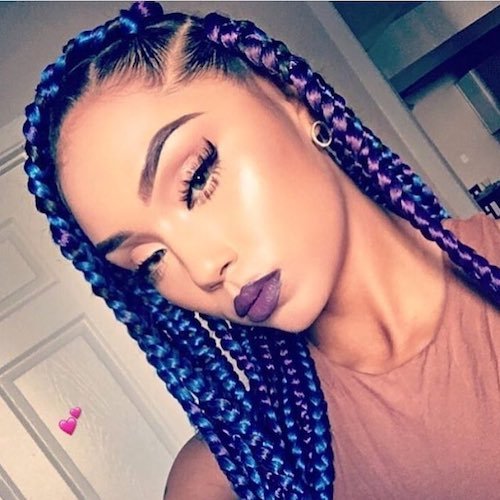 To elevate the drama, go with a lighter purple shade for light brown skin.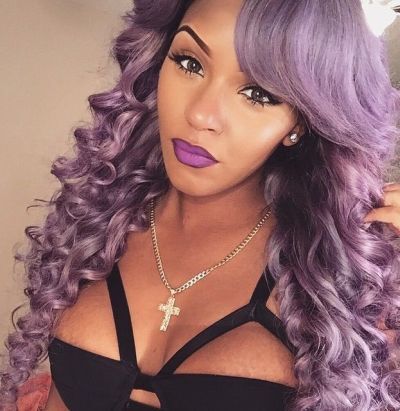 5. Green, Blue, and Other Outrageous Hair Colors  for Dark Skin
If you want to try unusual hair colors like green, blue, indigo, silver, pink and many others, consider getting yourself an ombre. An ombre of any color looks amazing on every shade of skin. It's a style that would not go out of trend for many years to come, you can rest assured that your hair wills always turn heads and garner those Instagram likes.
Dark Blue Hair Color for Medium Brown Skin:
Looking for an elegant twist for hair color? Check out this dark blue base dye with lighter blue highlights for brown skin tones. A muted shade of blue adds a touch of uniqueness for women who want to stand apart from their friends.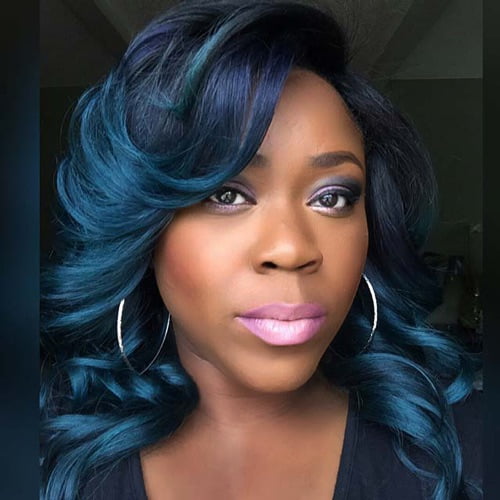 Blue Green Shades on Light Brown Skin:
If you're daring enough, take a peek into blue-green hair colors. Only women with big personalities need apply.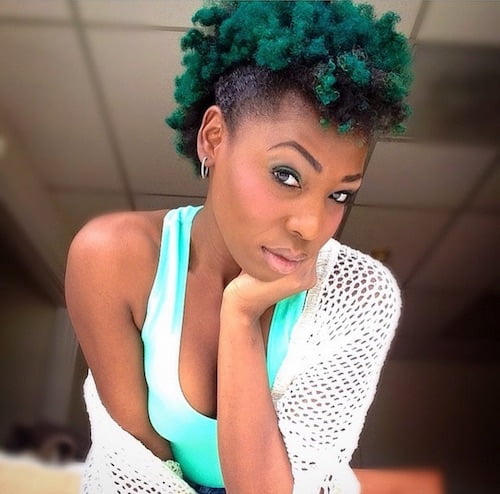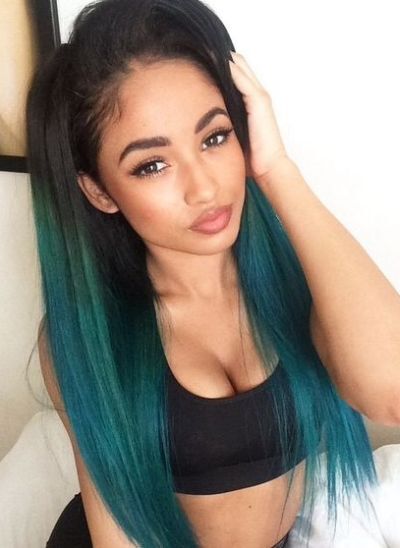 On the other hand, when you feel confident enough, rock the solid color look. Keep in mind to choose a color that you can commit too, and one that matches your style and skin shade well.
However, both ombre and solid color hairstyles can inflict great damage on your hair due to bleaching and extensive styling (plus possible straightening/curling) so make sure to choose the color you want and provide good aftercare for your hair.
Lilac Hair Color on Dark Skin: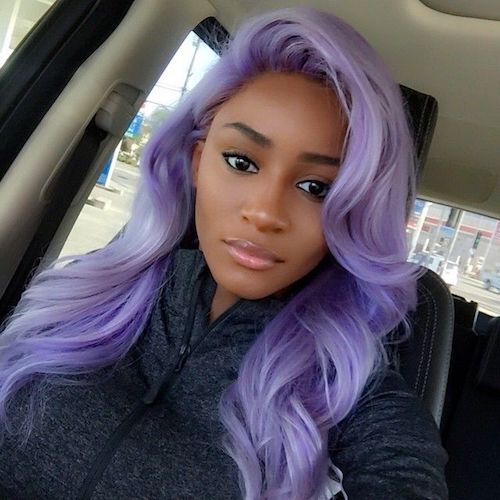 Cotton Candy Blue on Medium Brown Skin: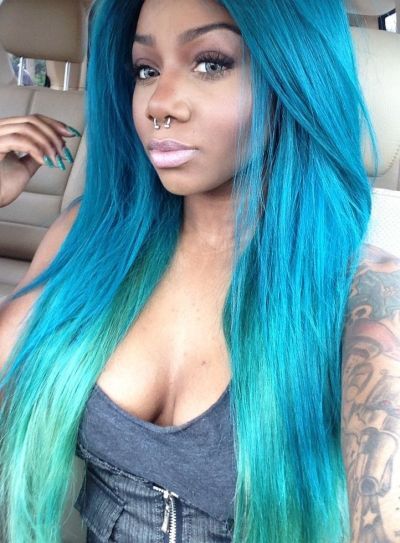 It's no secret that ladies want to stand out, and what better way to do that by coloring your hair into a beautiful, flattering color that complements your natural dark skin. Your skin tone is an asset, and you should flaunt all of your assets and emphasize them with the right hair color.
In this article, we highlighted the best hair colors for dark skin. If this article helped you find the right hue for you, then leave a comment below. Also, share this with your friends to help them know what color is best for them, as well. Thanks for reading!