69 Emo Hairstyles for Girls (I bet you haven't seen them before)
Emo Hairstyles for Girls
Looking for the Best Emo Hairstyle to convey your emotional, sensitive, lonely, or depressed self? When your music brings love, anger, or pain, it's Emo time!
What is the Emo Hairstyle?
You may hear about emo hairstyles for girls and guys but do you know why we call it emo? Emo or "emotional" or "emotional hardcore", is actually a genre of hard rock music that broke out in the mid 2000's. In an attempt to look different from the rest of the singers, the artists belonging to Emo decided to wear a hairstyle that later turned into a famous trend that young people love to follow worldwide. The emo hairstyle trend peaked in 2008, but you can still see emo hairstyles around today.
For emo fashion, a black or dark zip hoodie and dark shirts, sometimes adorned with skulls, stars, hearts, or musical band names or logos. The emo personality is introverted, and posts to social media are often cryptic and emotional. Emo's also like to quote music lyrics to express their feelings. The emo image also includes lots of dark eye liner.
But enough of the background, let's talk about hair! Emo hairstyles and Emo haircuts involve lots of long, heavy bangs brushed to one side, that tend to cover one or both eyes  in a chaotic manner.
Emo hair is usually straight, but can be wavy. Emo hair is usually black , but it could also be any other color.
Here's a list of Emo hairstyles to inspire you and your future look.
1. Long Emo Hairstyle with Layers on Both Sides
Long Black Emo Hairstyle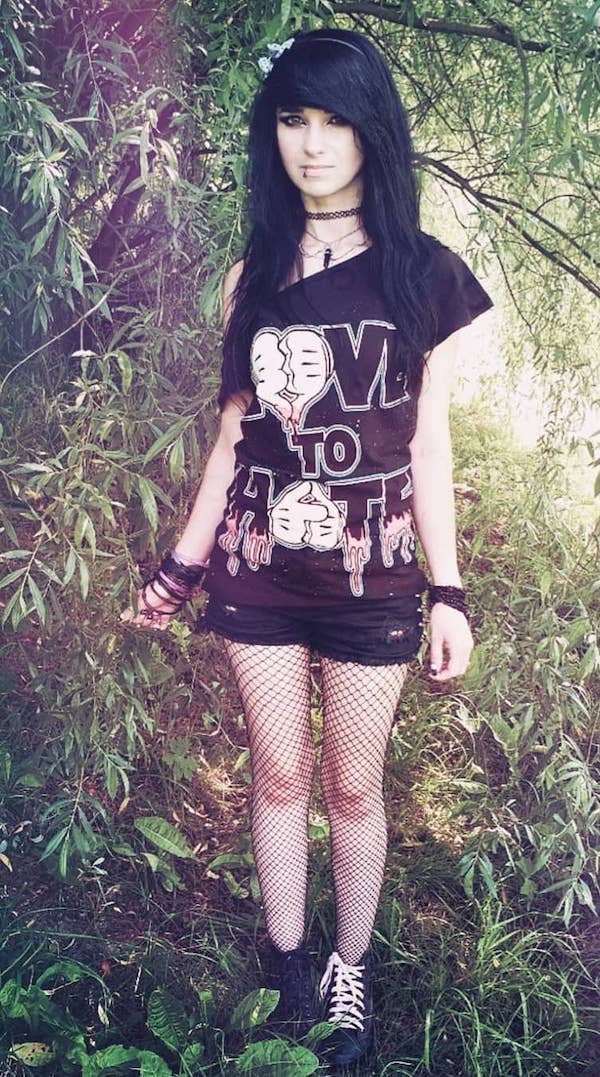 Black hair is the original color of the emo lifestyle. If you want to be authentic, consider something like this.
Long Indigo Emo Hairstyle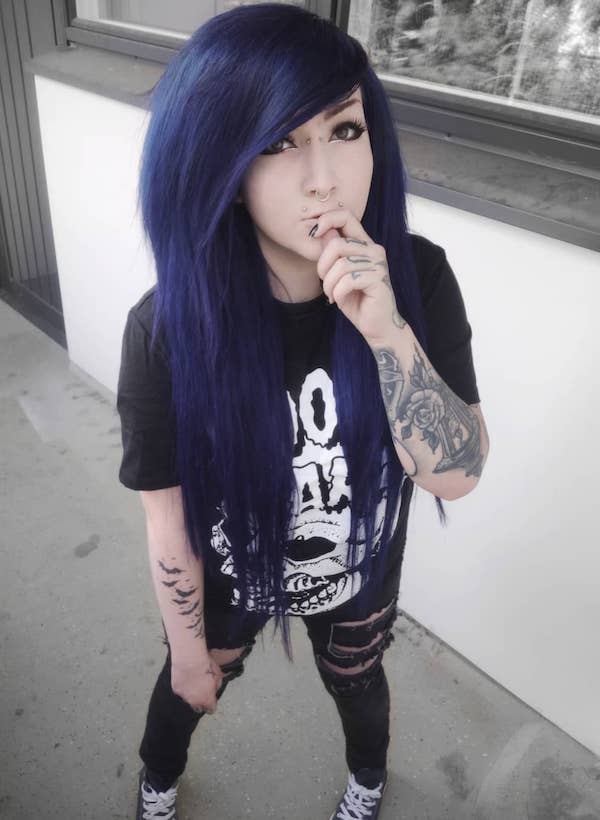 A classic long emo hairstyle for girls with an indigo hue. Complete the look with tattoos, facial piercings, and requisite attire.
Long Denim Blue Emo Hairstyle For Girls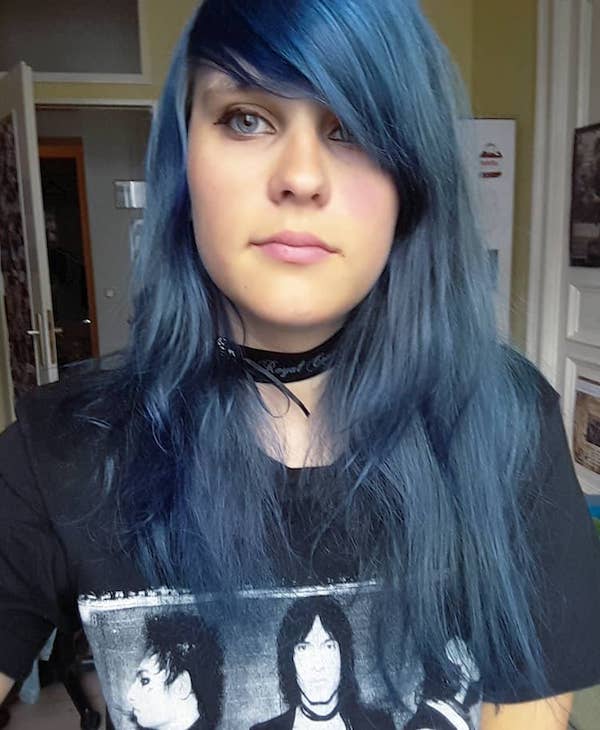 Freshen up your emo theme with denim blue hair color. It's a muted tone and isn't flashy, so you can still rock your visceral style.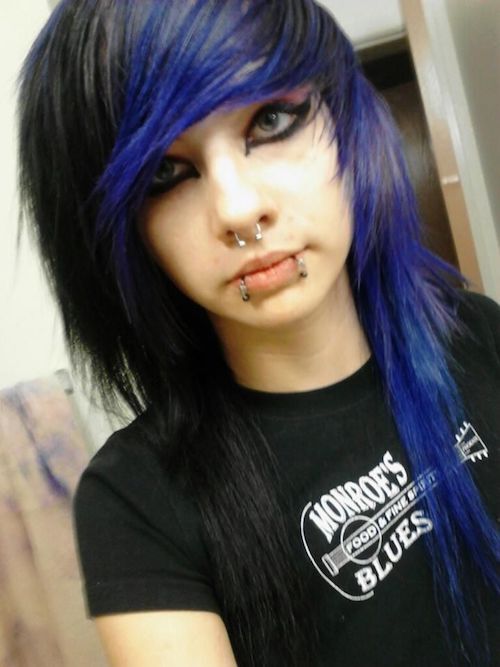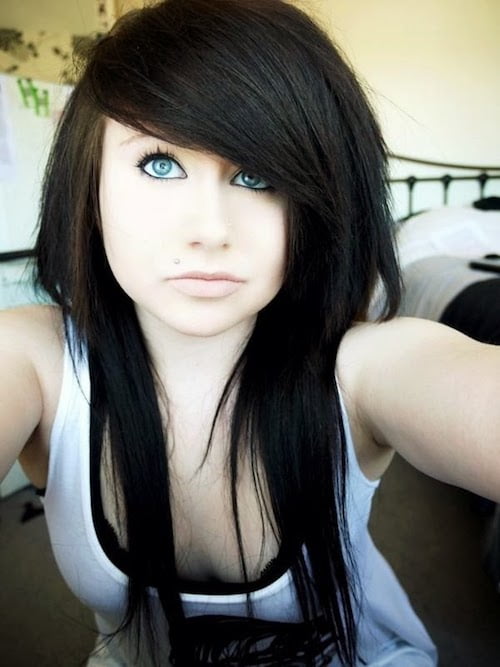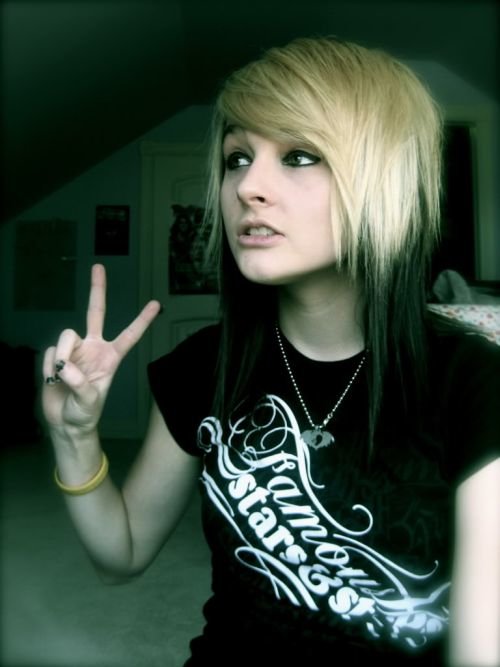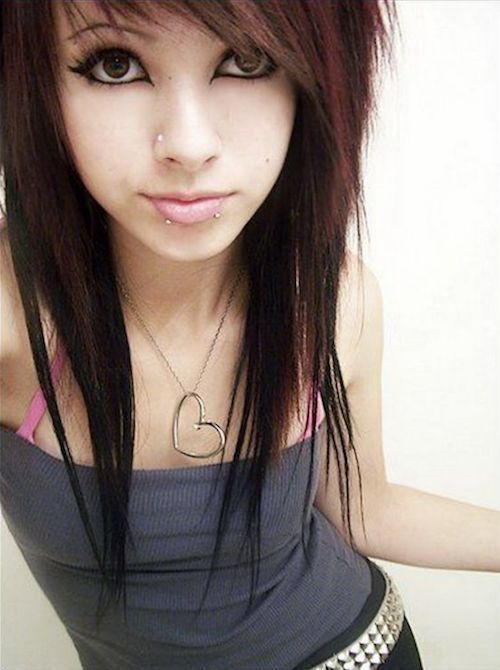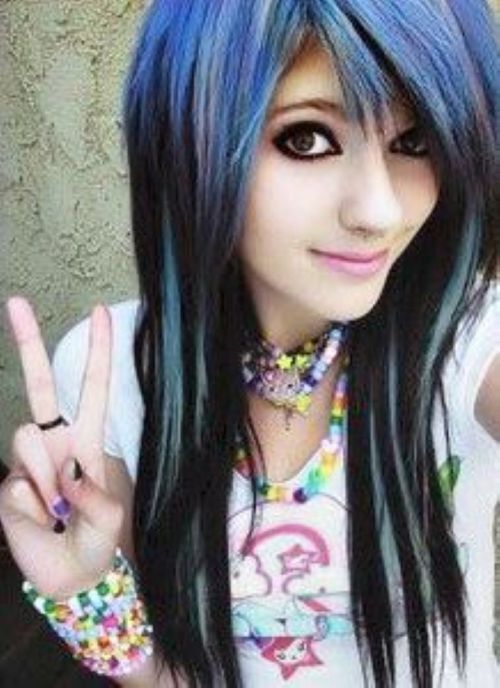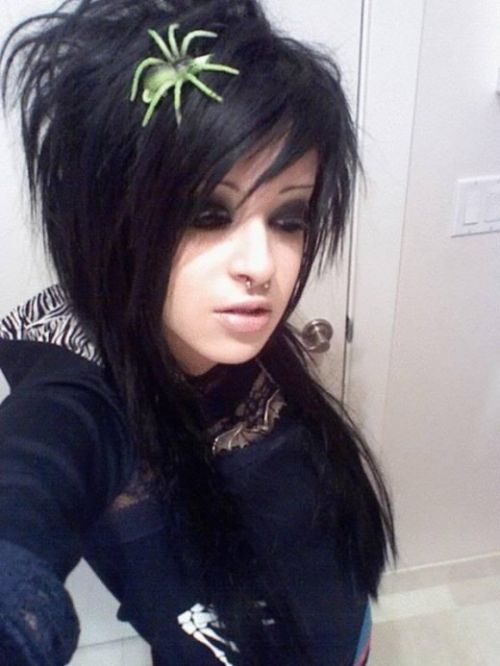 This emo hairstyle features long layers on both sides of the model's face and she has teased a bit of her hair on top of the crown area. The stylist has tried to keep her flick shorter enough that doesn't catch in her eyes, that's a nice idea for teenagers.
2. Short Emo Haircut in Blonde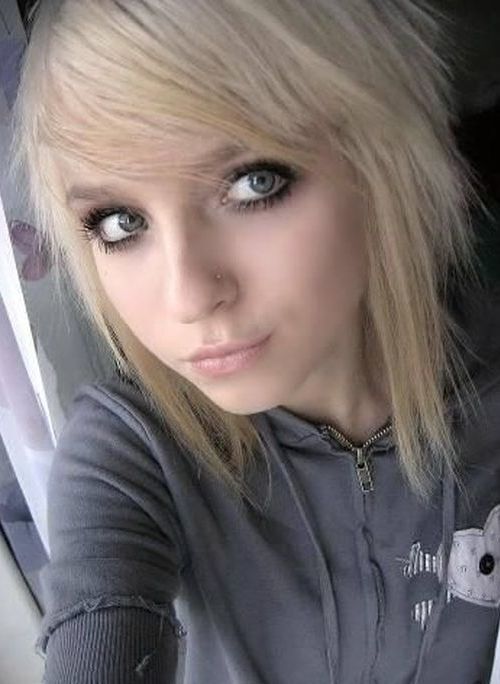 Emo haircuts don't always have to be black in color. One way to update your emo haircut is to go with a blonde hair color. A blonde emo hairstyle brightens your look, but that doesn't have to change your personality. You can still hide your visceral, emotional self behind the blonde hair.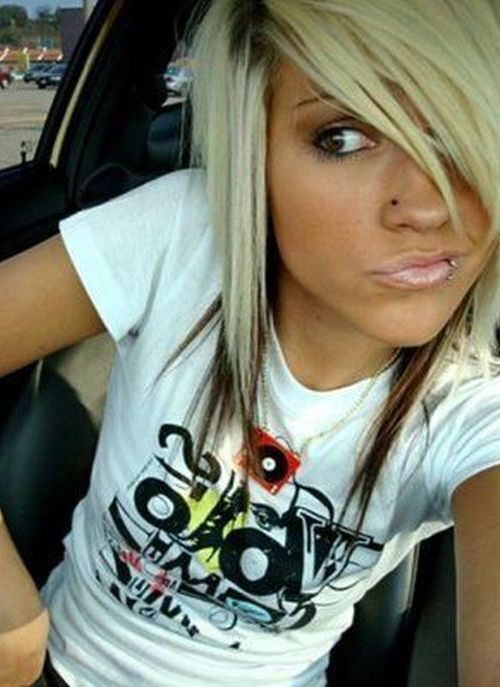 A sassy blonde hair over a darker base gives an edgier look to an emo haircut. Emo hair doesn't always have to look lonely and depressing.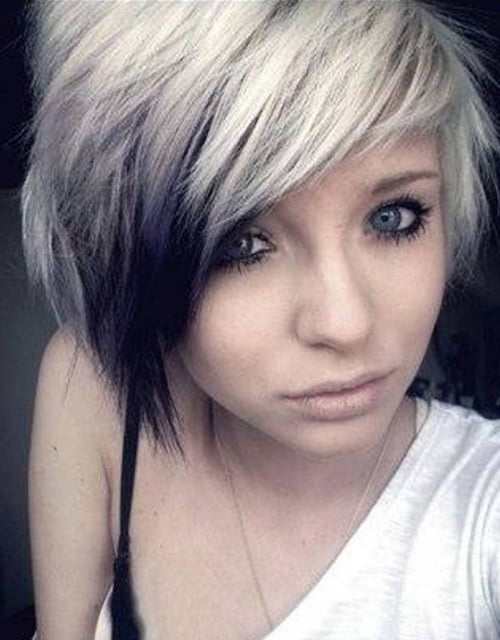 When your family overwhelms you with their whines about your dark emo hairstyle, shut them up with a blond overlay. It could be a win-win outcome for you.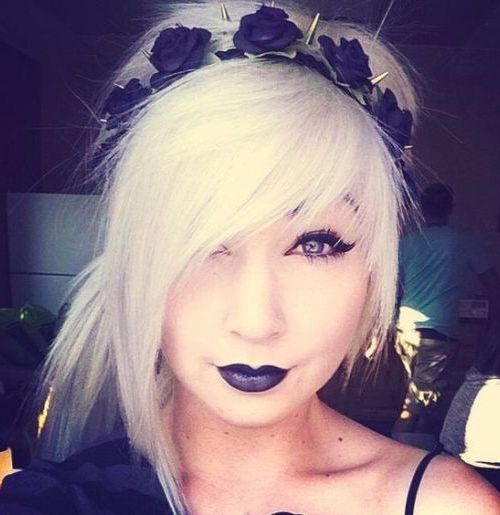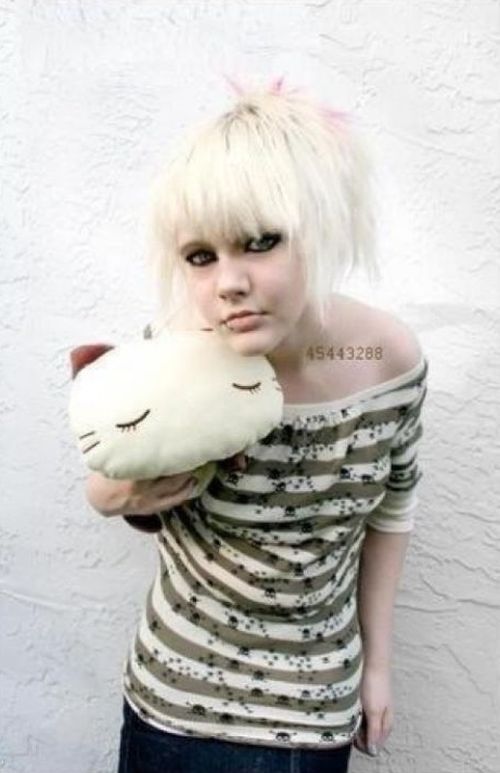 Anyone who has hair above her shoulder length can get this emo hairstyle. Front bangs are cut in a slight angle and a dash of hot pink in the middle of the crown where the model has spiked her short edgy strands.
3. Side Parted Emo Haircut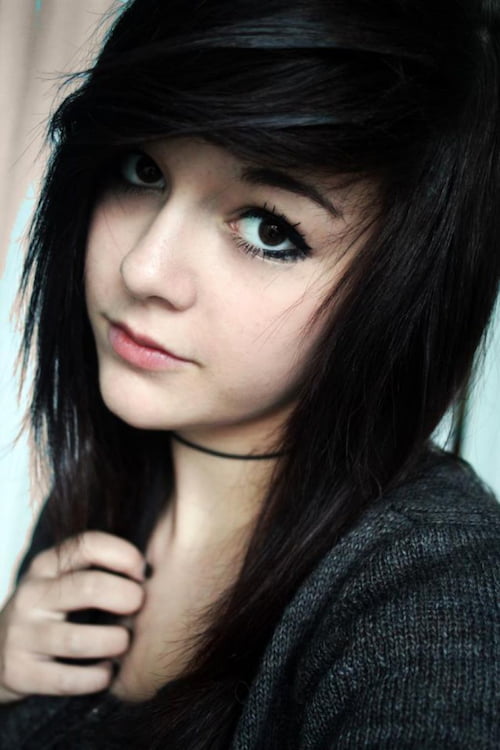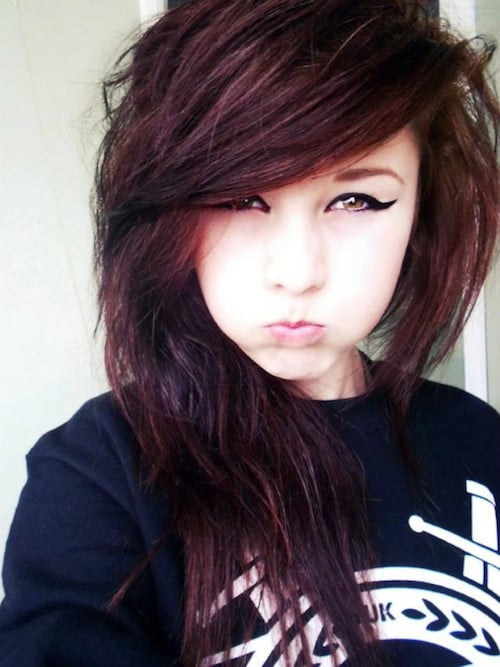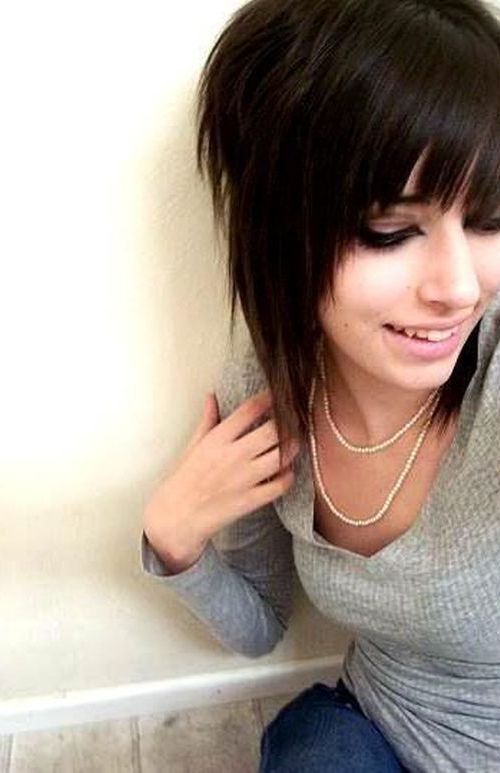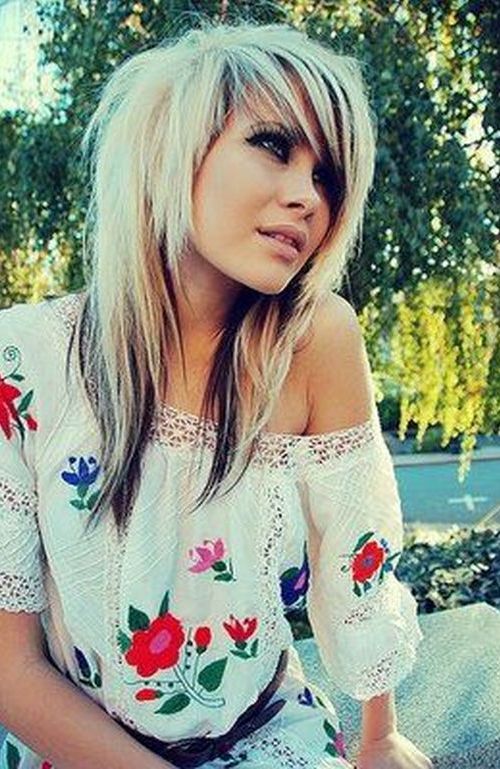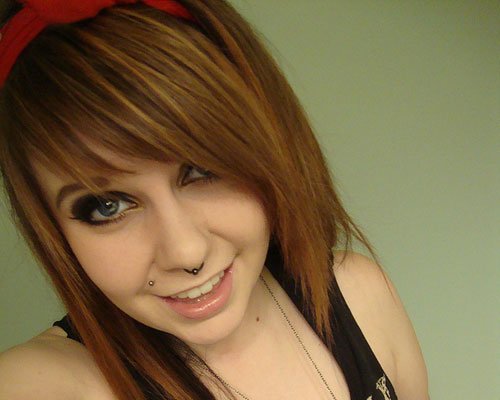 Emo hairstyles for girls can be done in any color. So this model has brown hair and she has highlighted them in a lighter tone. She wears side parted emo haircut and also wears a soft fabric headband to secure her hair and to impart a sweet look.
4. Curly Emo Hair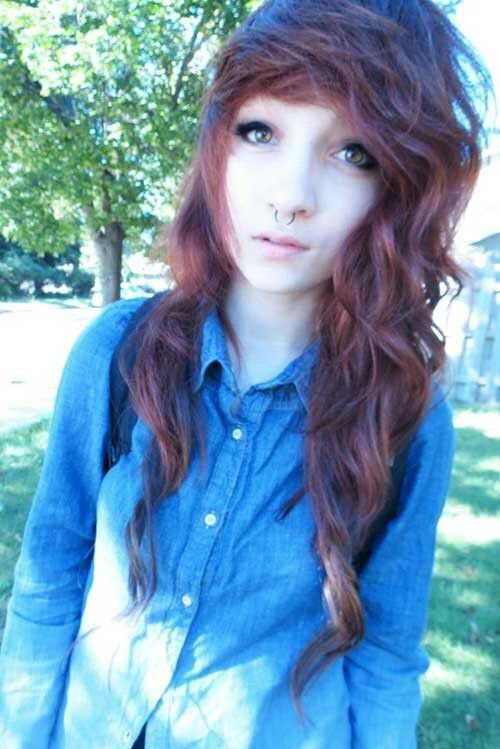 Curls and curly hair emo haircut for girls is a softer variation on the traditional emo haircut.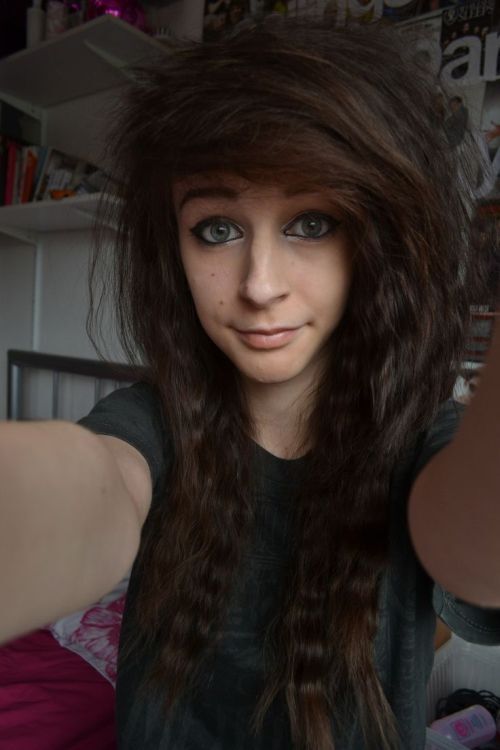 An emo haircut with crimped hair adds texture and interest.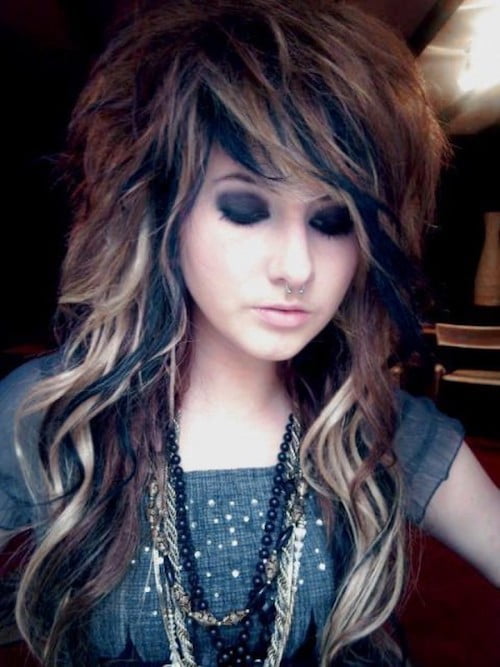 Medium length curly hair can easily achieve this kind of emo hairstyles for girls. After getting your haircut, all you need is to apply an anti-frizz hair spray for no fly-aways.
5. Wavy Emo Hairstyle for Girls
Wavy Emo Hair for Girls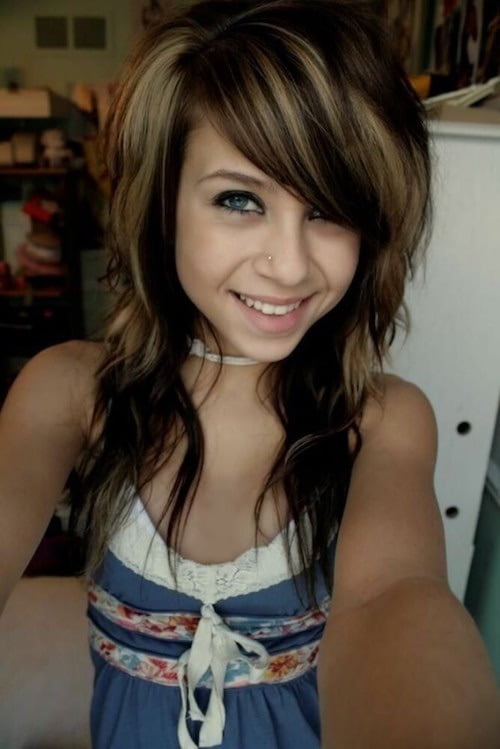 Wavy hair and ash blonde highlights adds a modern flair to complement her emo haircut.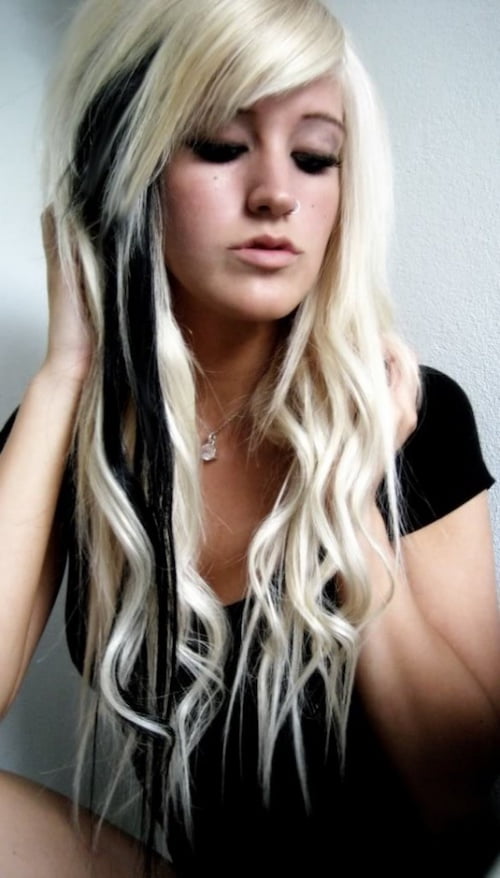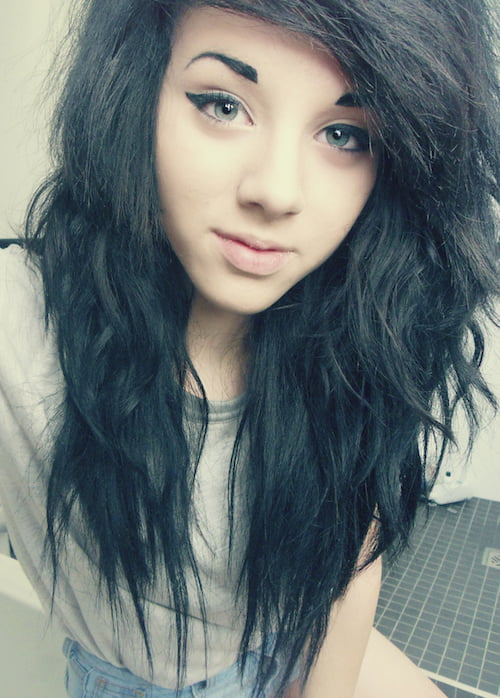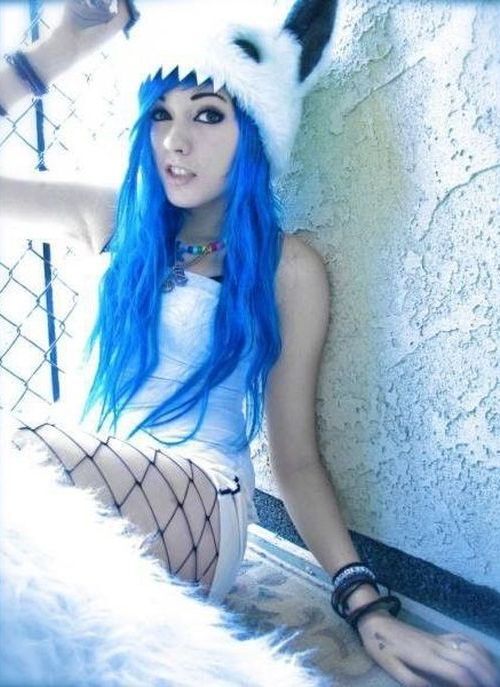 Bright, especially neon colors are more associated with scene hairstyles instead of emo hairstyles. They are included here for comparison and to tempt you should you want to try a scene haircut instead.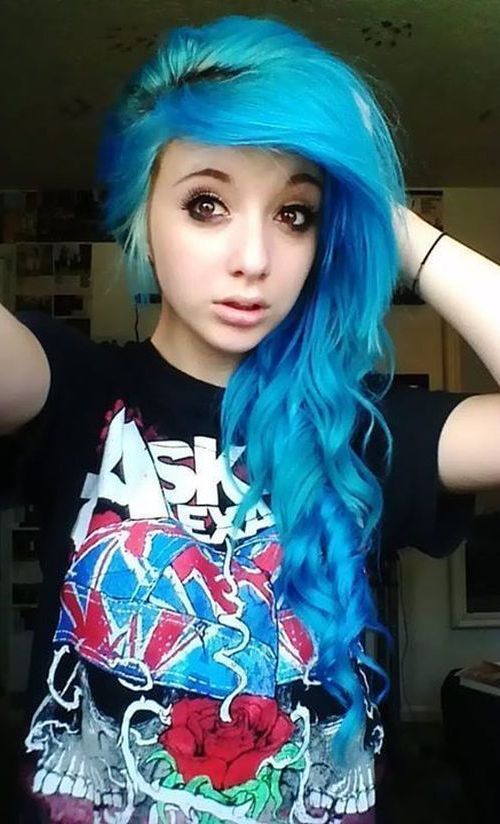 If you have slightly wavy hair, you can give them any color with highlights and keep longer layers along your temples on both sides. This hairstyle will look better with long hair.
6. Emo Haircut in a Ponytail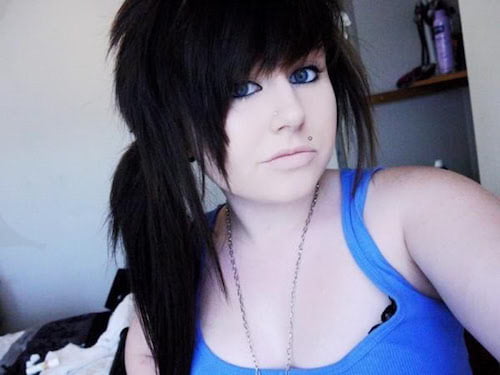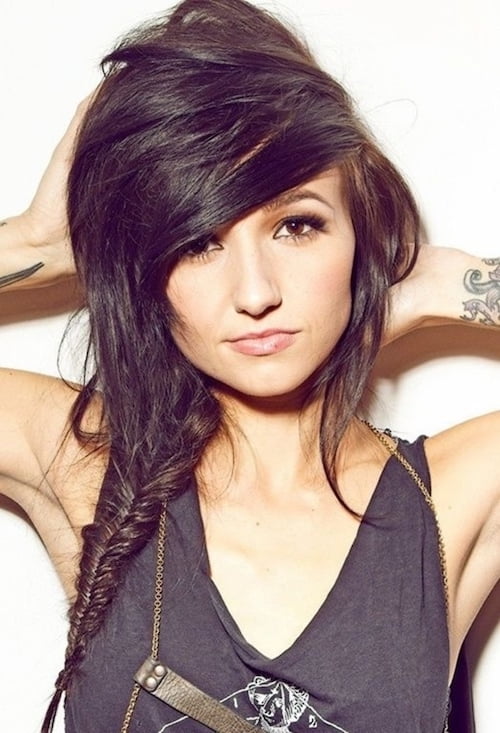 An emo haircut with a fishtail braid brings traditional styling to the world of emo hair.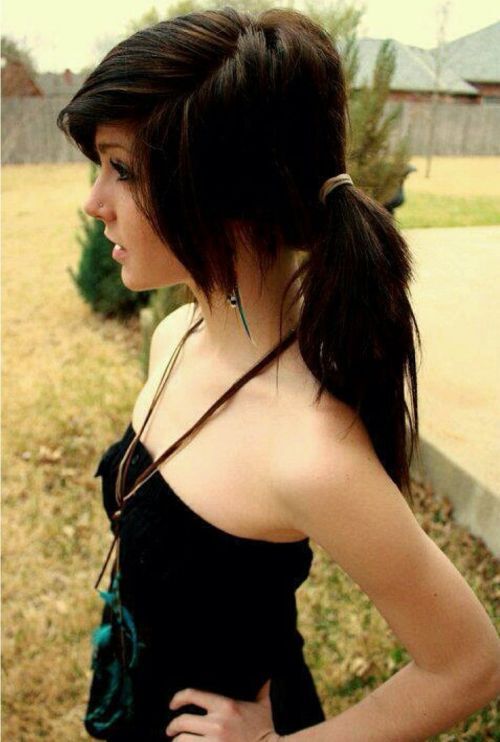 This is a perfect emo hairstyle for brunettes with naturally dark hair. Side-sweep your long bangs to one side and backcomb them for a little uplift. Then secure them into elastic like you do a low ponytail.
7. Emo Haircut Medium Choppy Layers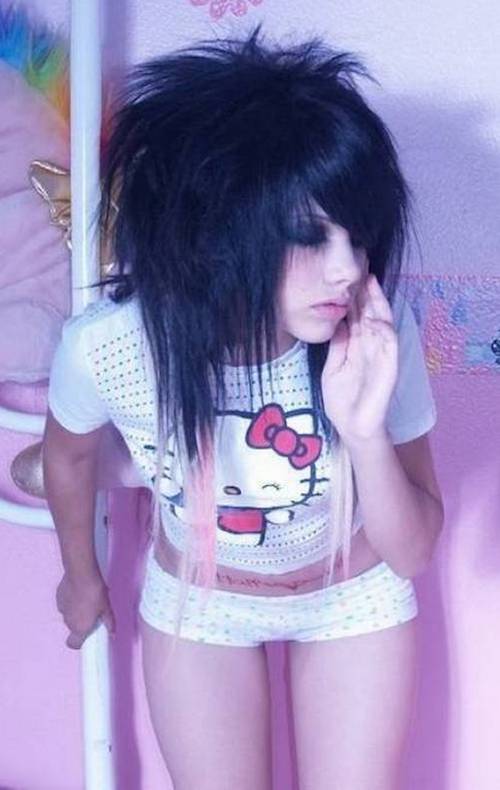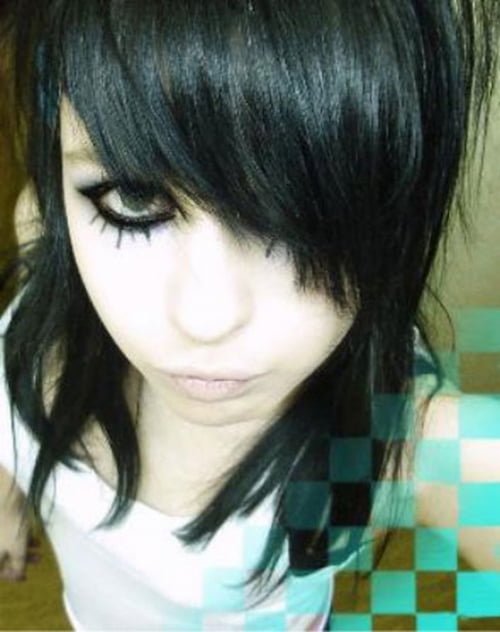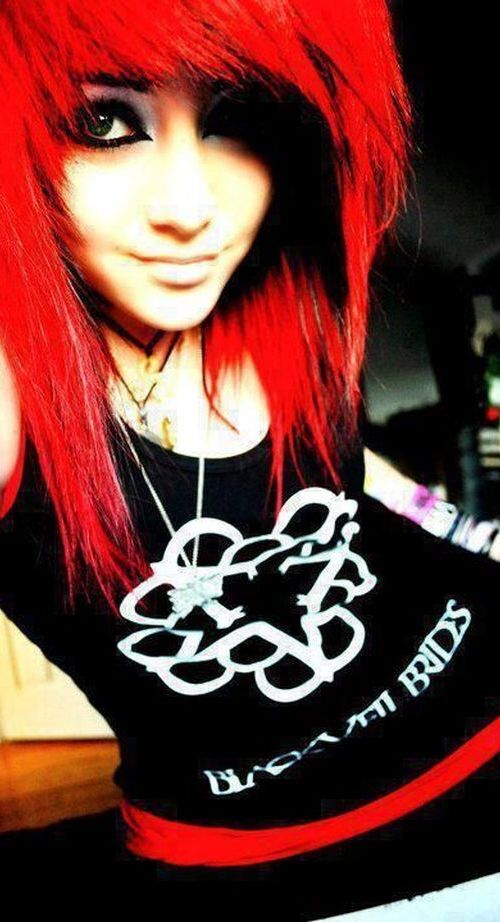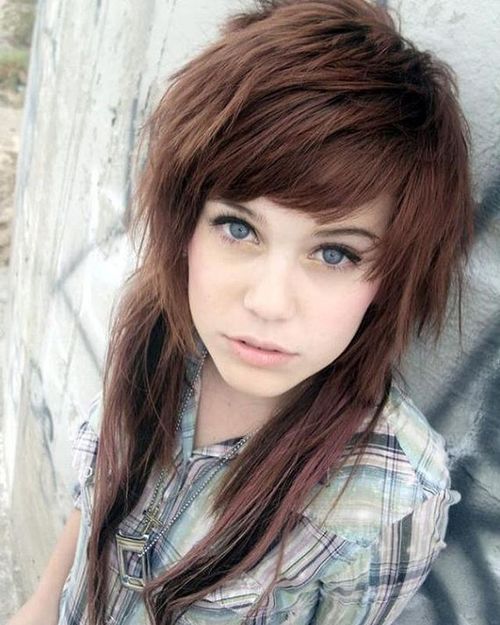 This emo hairstyle suits best to thin fine hair and the stylist has chopped her layers along her shoulders and the model has also got the edges of her longer layers slightly curled.
8. Colored and Black Emo Haircut
Calico Black Emo Hairstyle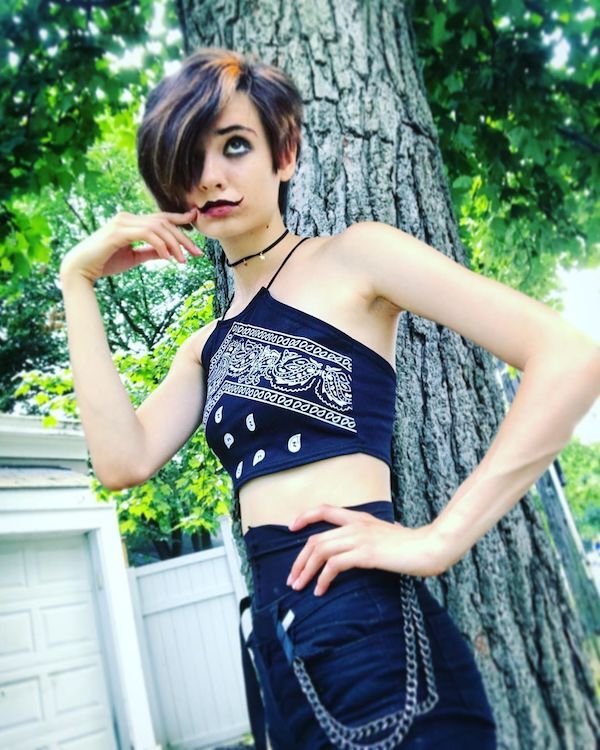 Unleash your inner feline with a calico cat and black emo hairstyle.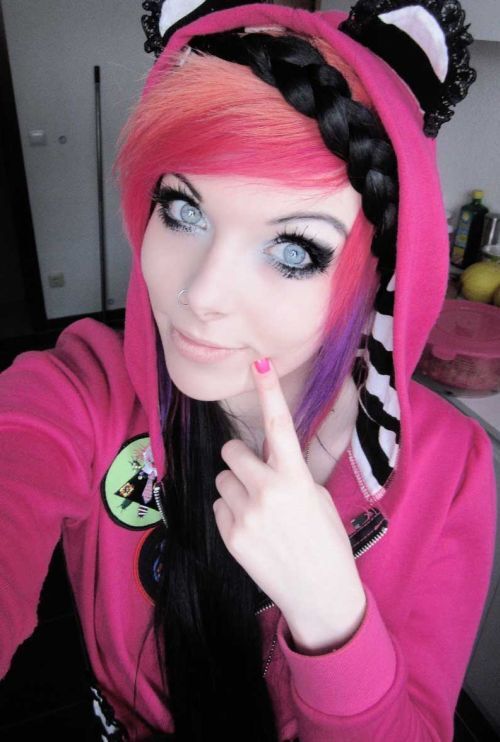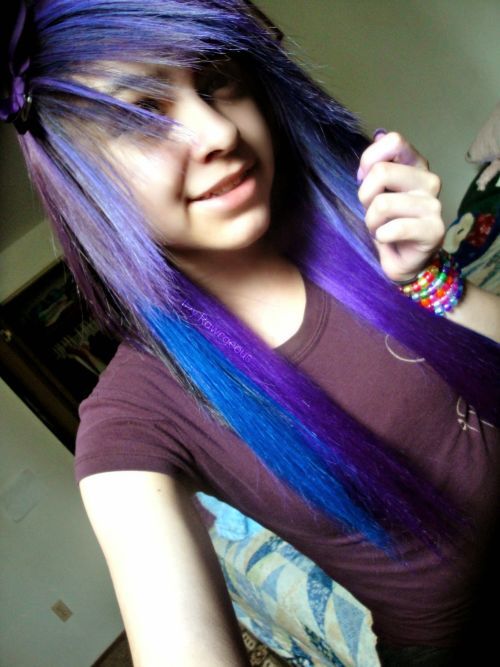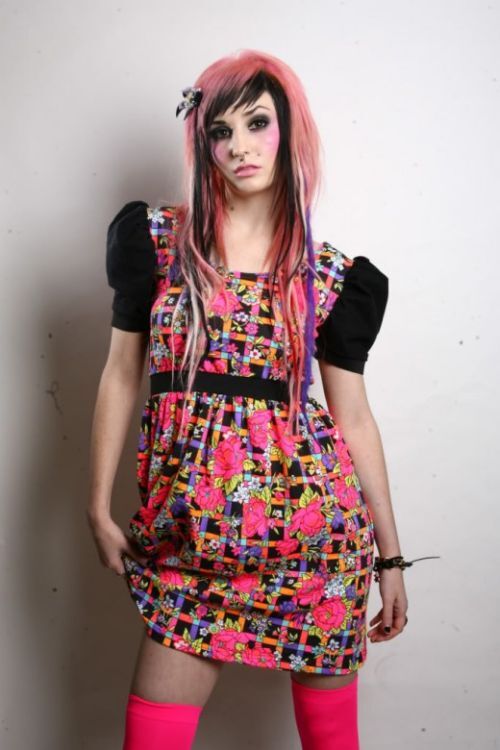 2 inch sections of strands along her front hairline are colored in black and the rest is dyed in pale red. This girl has weaved purple ribbons in her layers lengthwise to add more color.
9. Teased Crown Emo Hairstyle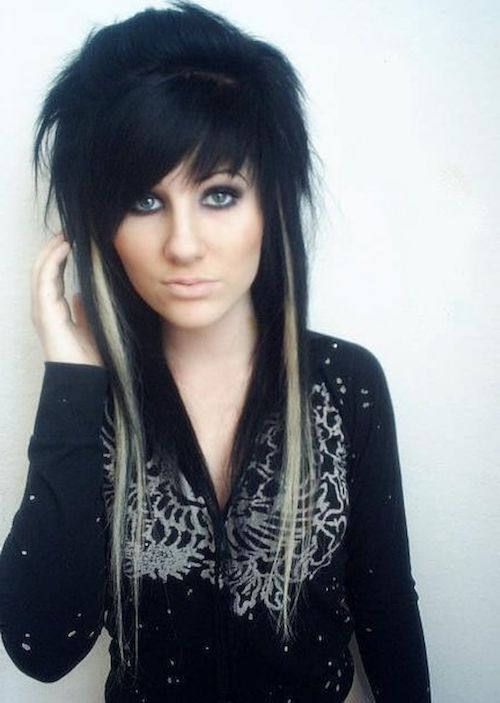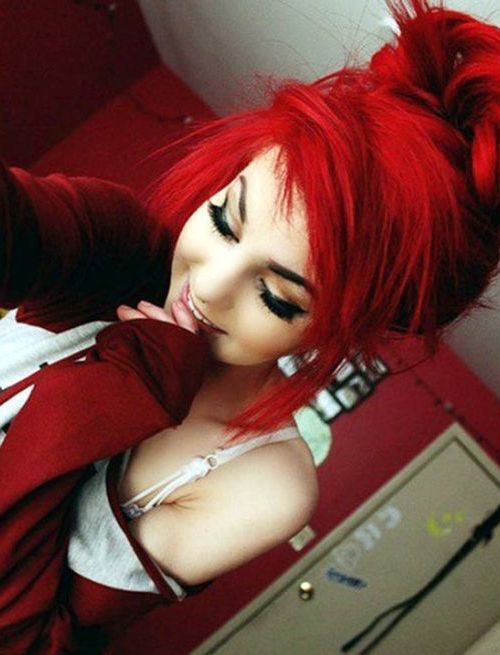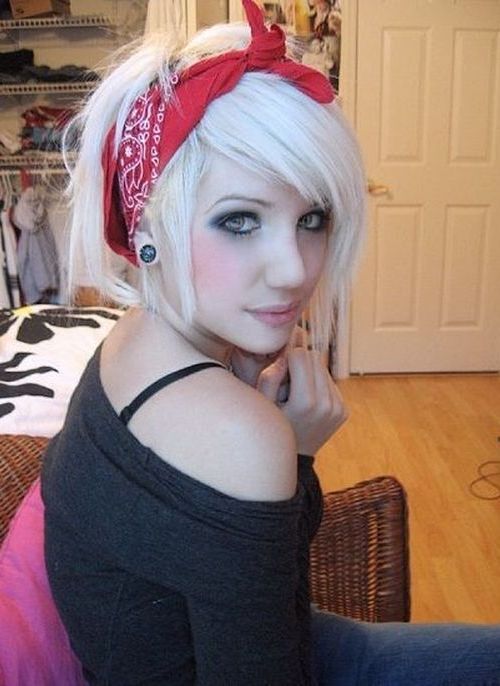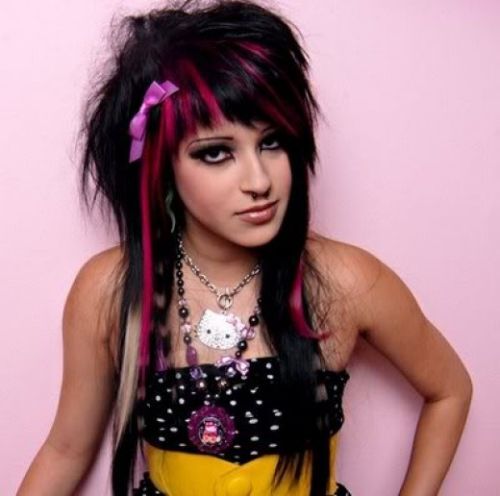 This model wears emo hair with a lot of teasing on the top of her crown. This hairstyle cant be done to fine hair because they don't support teasing usually or you need a huge amount of hair spray on the top.
10. Blonde Bangs Emo Hairstyle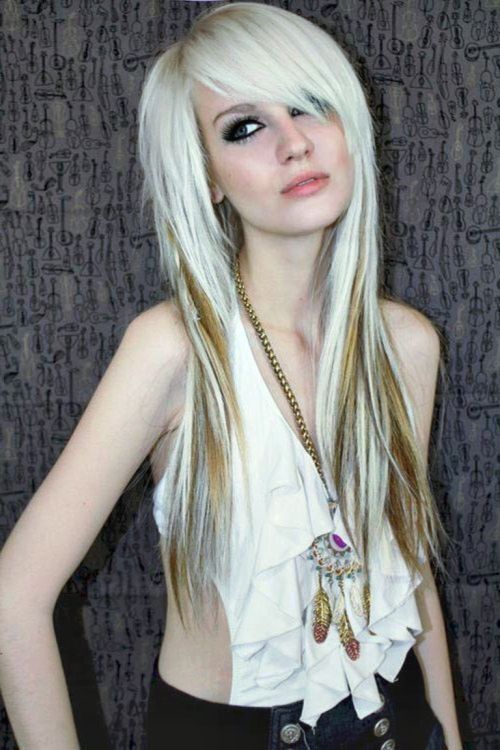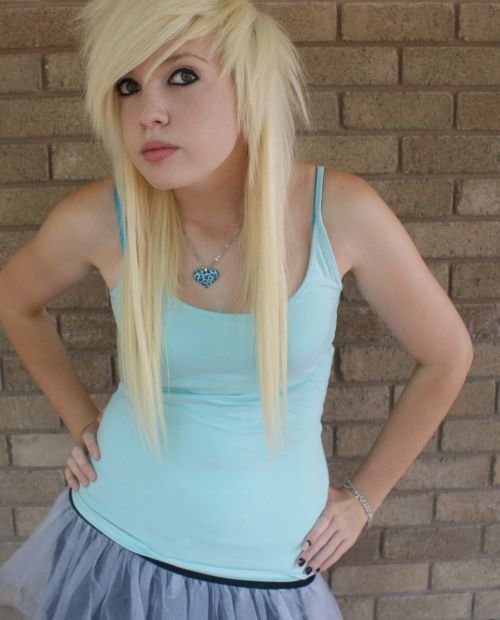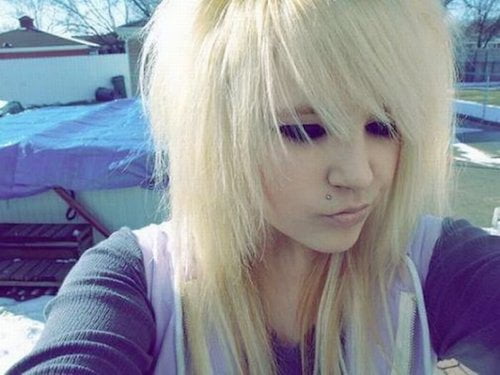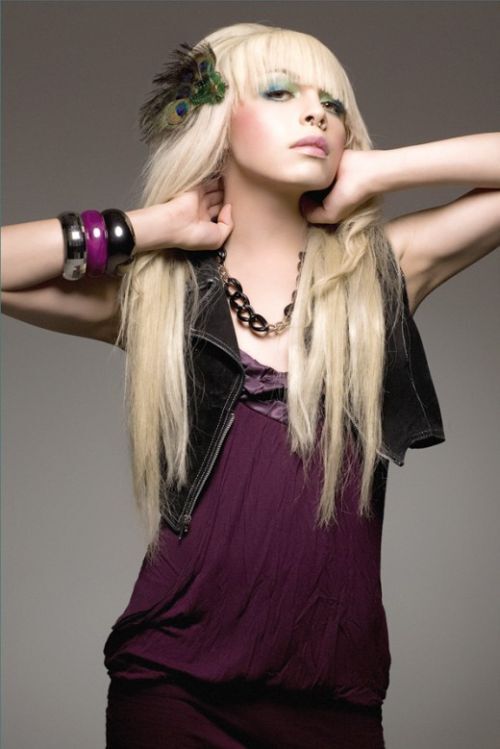 Front bangs are done in an angle and the remaining hair are teased, back combed, and secured with a clip or bobby pin on the back for a half up half down emo look.
11. Hot Pink Emo Hair
If you take an emo hairstyle and color it hot pink, you'll end up with a scene hairstyle.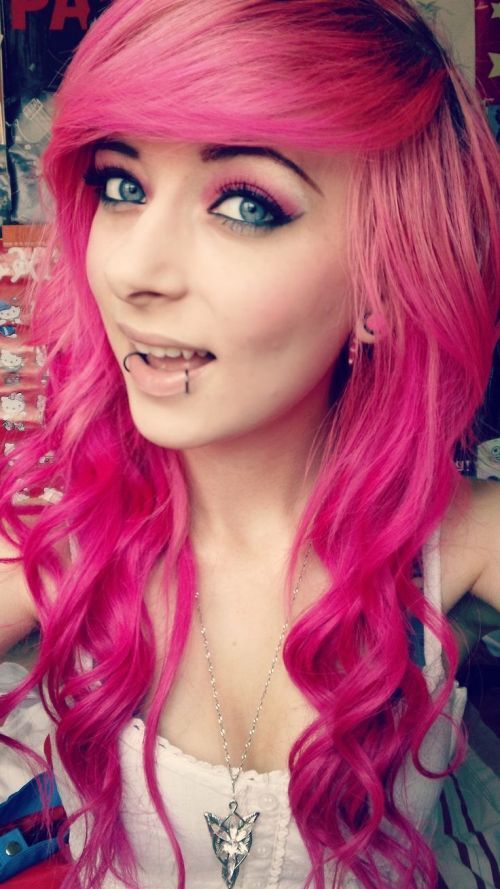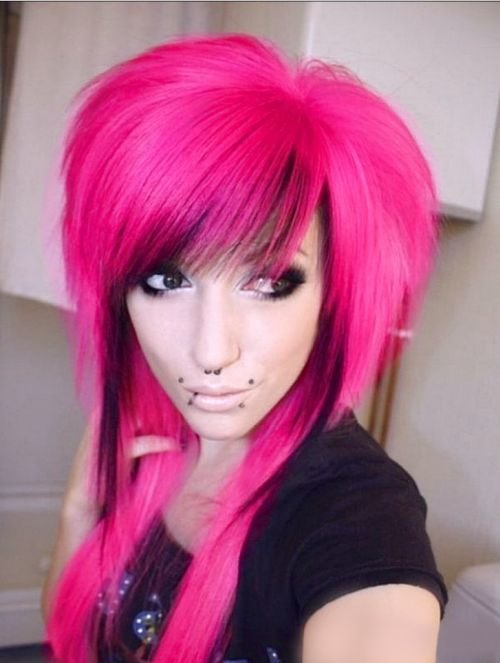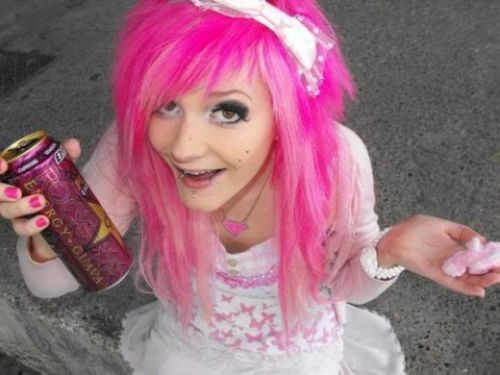 A simple emo haircut is dyed in hot pink with slight baby pink overall highlights. To add more drama, the model wears a pink bow headband on her head. Again, hot pink is really more of a scene hairstyle versus emo.
12. Fantasy Emo Hairstyle
A fantasy colored emo is considered more of a scene look.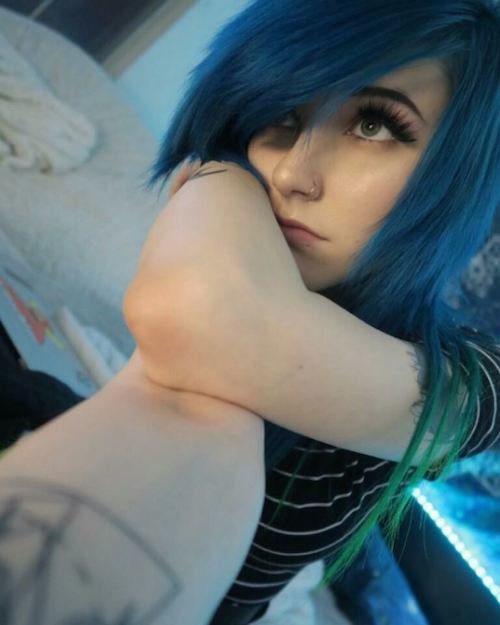 Even mermaids get depressed when the seas are rough. When you want to break free from you inner self, color your emo haircut with a mermaid hair color of sea blue and green. Who knows, one day you might actually crack a smile.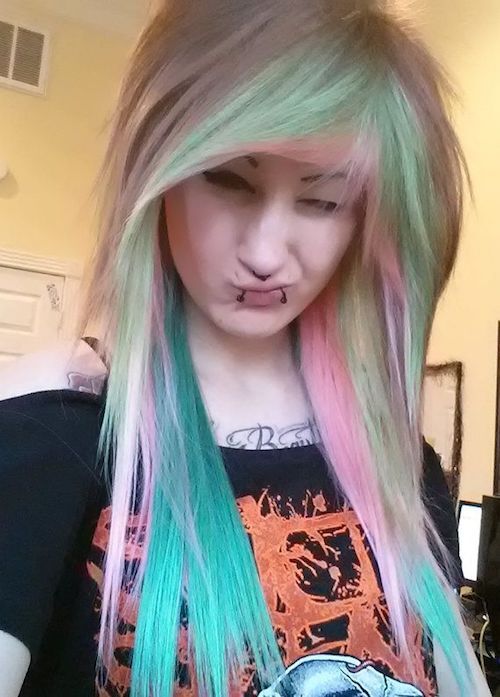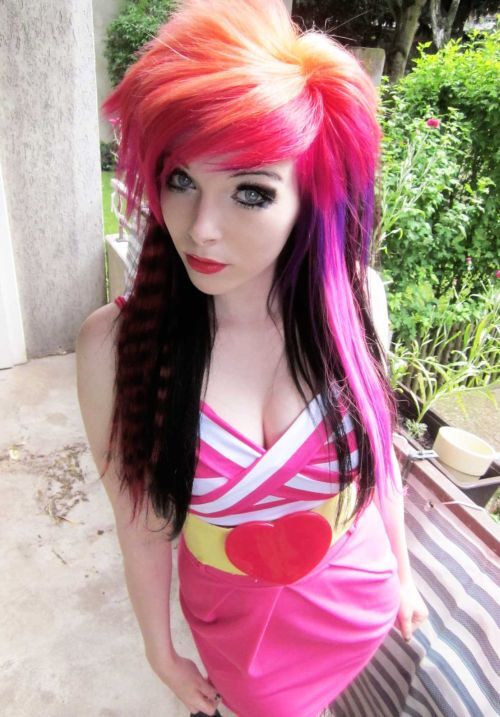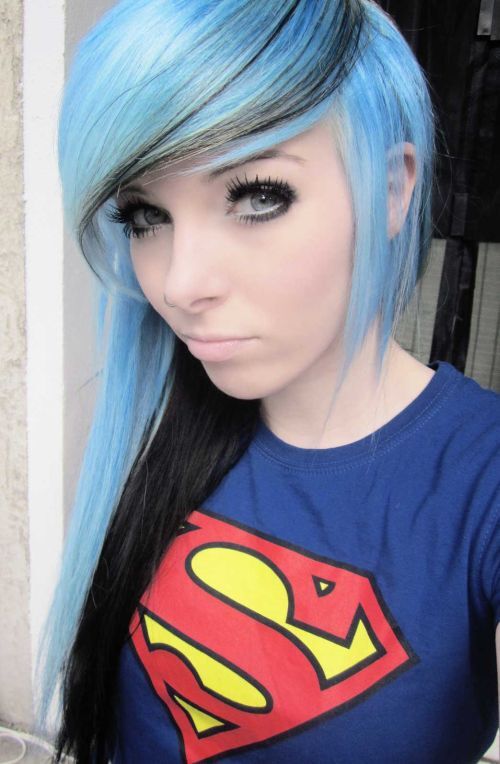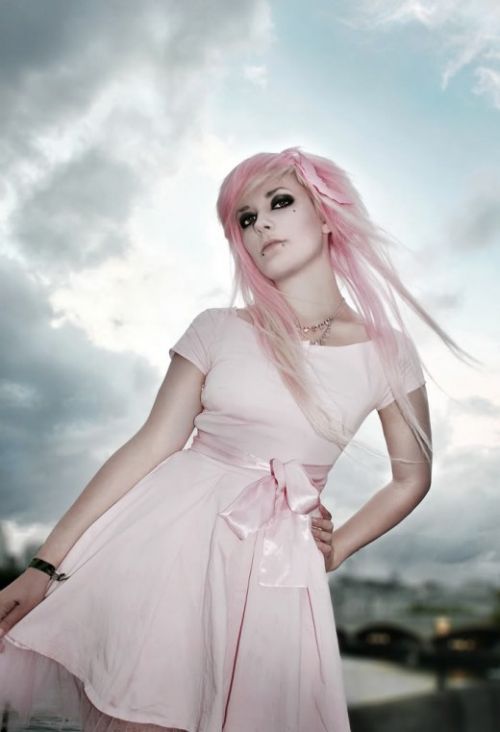 Light blonde hair are dyed in pale pink with deep side part and the side part is secured with a pink feathery hair accessory.
13. Formal Emo Haircut Look
Short Brown Emo Hairstyle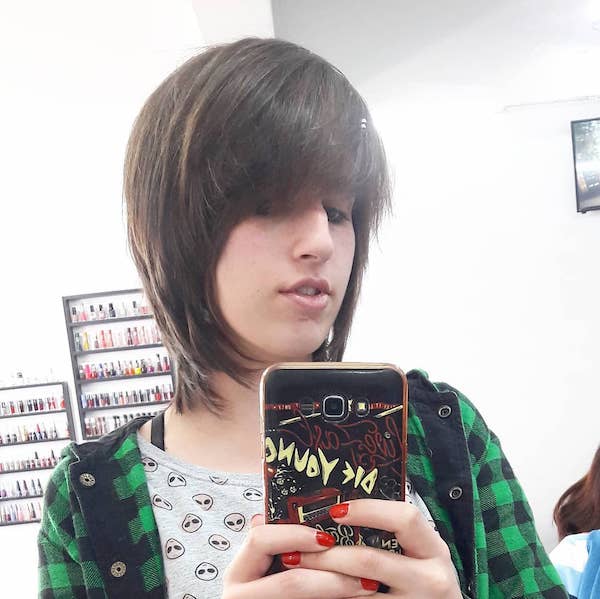 Some girls are not sure about fully transitioning to emo. A short and tidy layered emo hairstyle lets you go both ways until you decide.
Short Black Formal Emo Hairstyle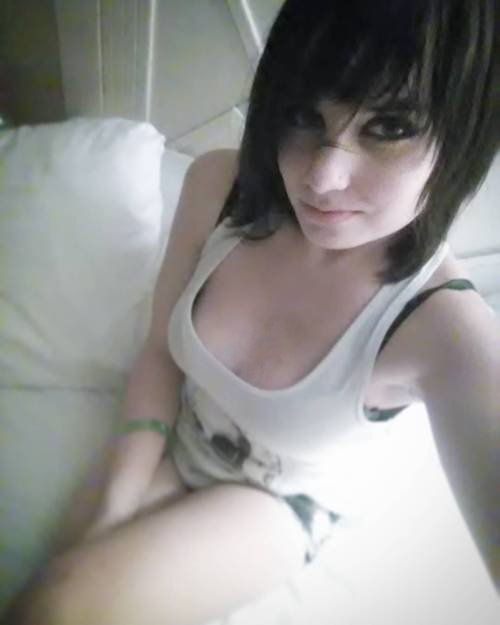 Not quite ready to escape the bonds your long emo hairstyle? Cut the length to your shoulders and update your look with a modern emo haircut. It may even help you get closer to landing that dream job.
Formal Emo Haircut with Side Part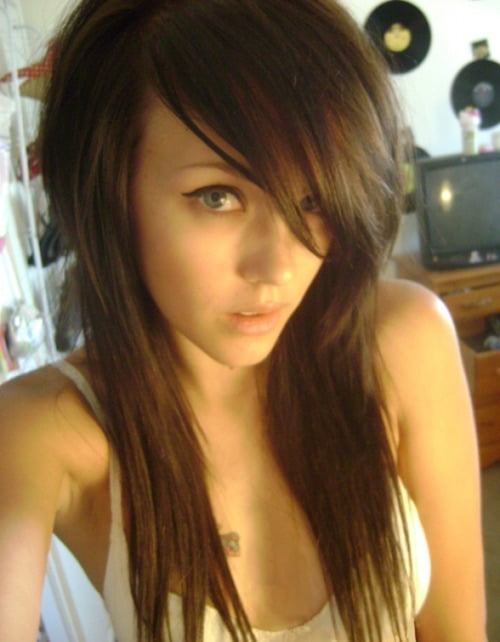 Layering to remove volume brightens up a traditional emo hairstyle. It's a blend of a contemporary look with an emo base.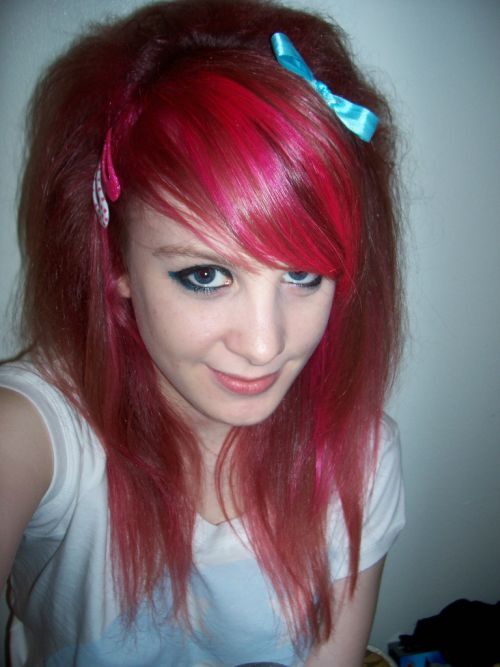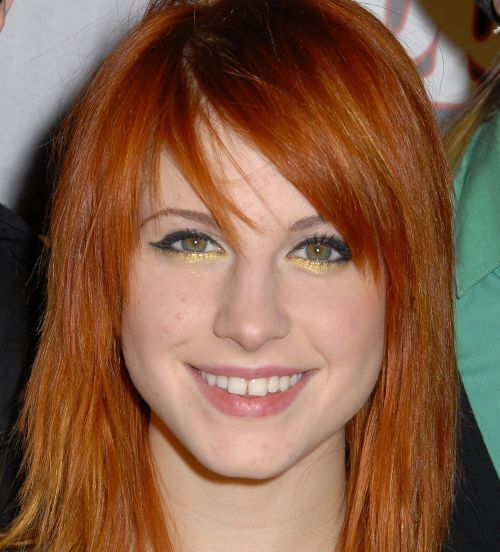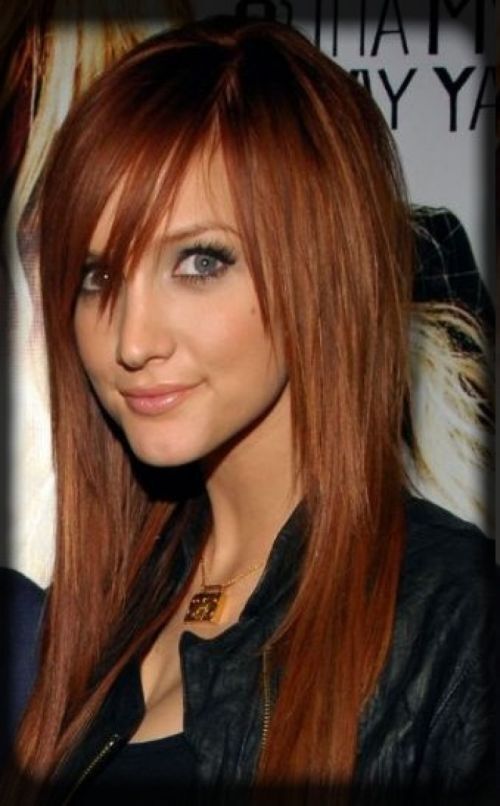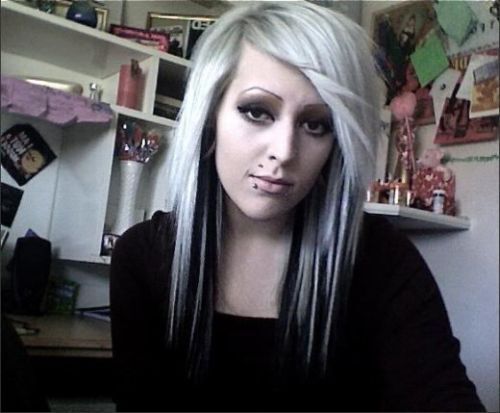 Black, grey and blonde emo hairstyles for girls are totally wearable for workplace and school alike as you see in this picture. This girl has side parted her front bangs and also set back the side flick with a strong holding spray.
14. Party Emo Hair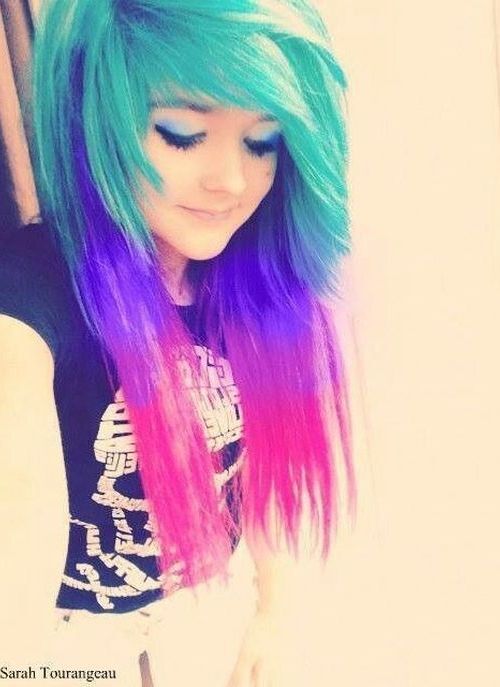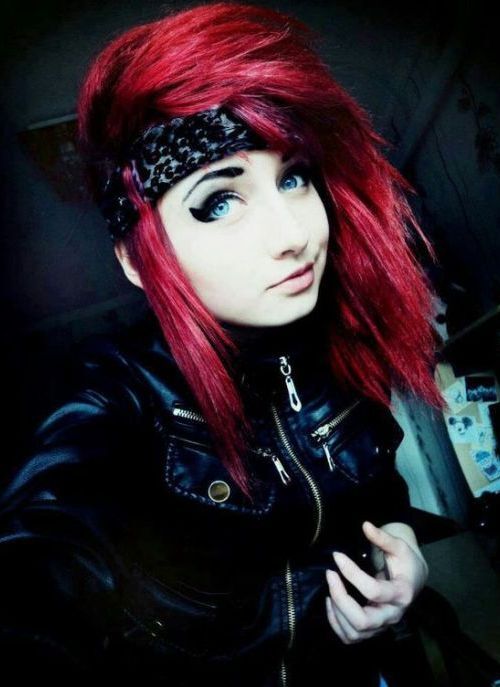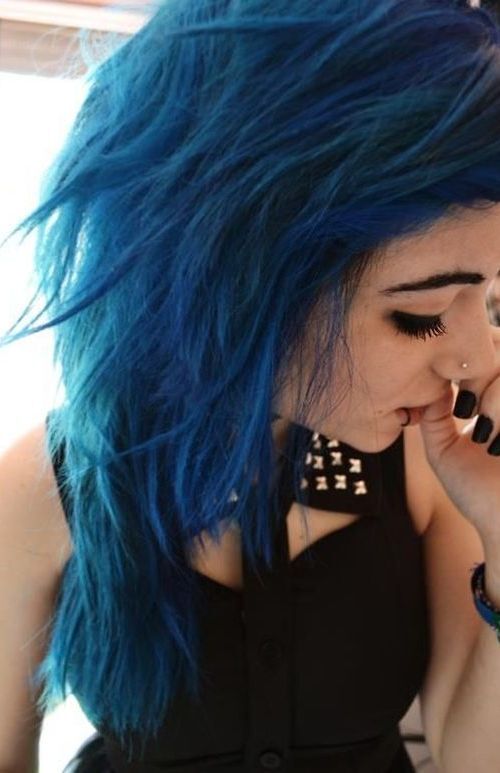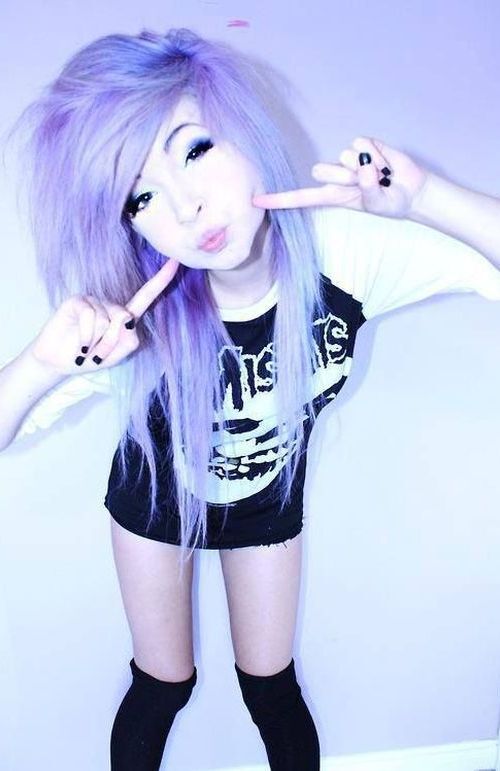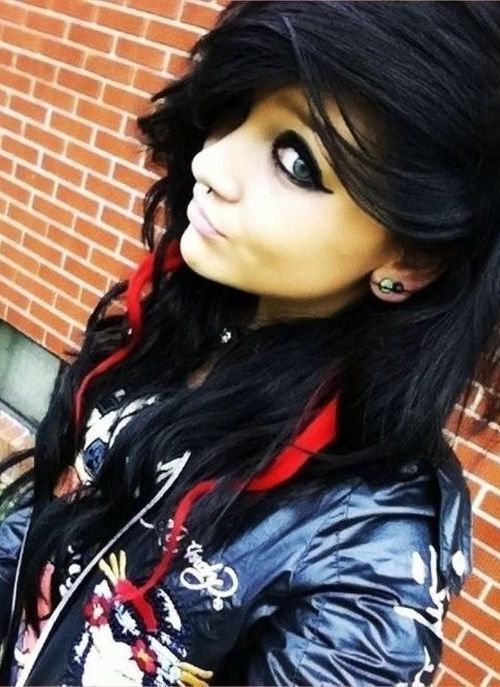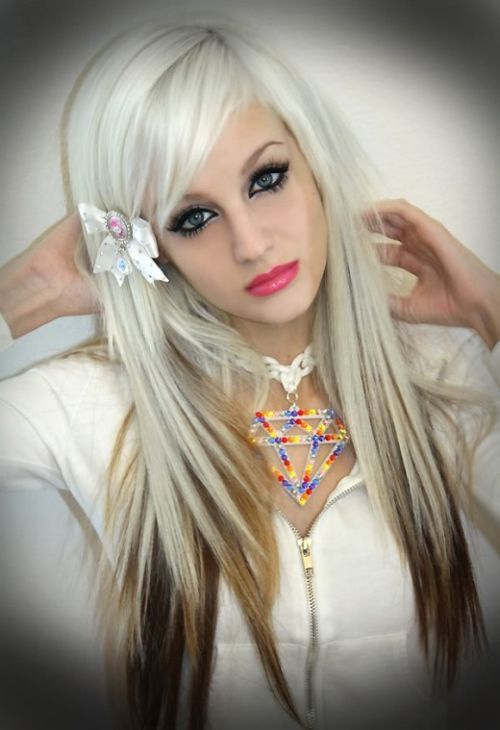 Blonde hair are given ombre highlights in darker tone. As this model has very heavy hair so she has enough layers to boast even after securing her deeply side parted layers on to one side.
15) Funky Jet Black Emo Hair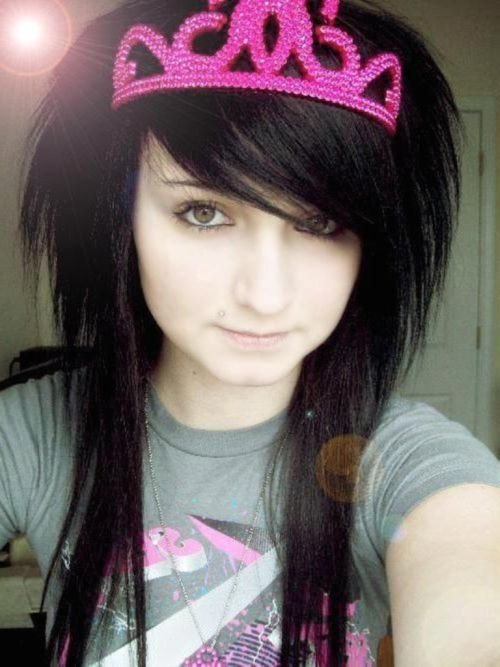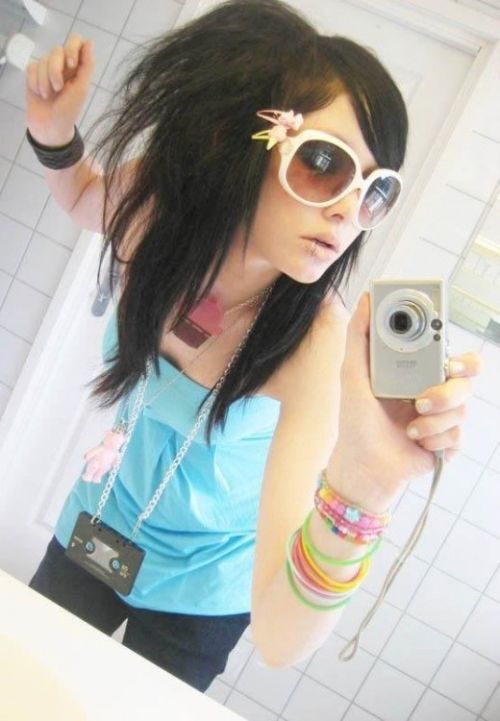 This girls has not done much to her emo cut. She has added to her looks by wearing complementary accessories with it.
Thank you for making to the end of our Emo Hairstyles tour! We hope you have found and emo haircut that suits your personality and style. Whether you go with and emo cut or a scene hairstyle, we wish you the best in your future hairstyle adventures!
If you've got something to say, or if we've missed your favorite emo hair, go ahead and leave us a comment below. Thanks again.