Short curly hairstyles look trendy and are easy to maintain.
Curly hairdos are youthful of all hairstyles and flatter any face cut except the fat face type. Gone are the days when the term trendy hair meant straight and sleek hair. As more and more women now embrace their natural shape of eyebrows, complexion, and height; so is the case with their natural hair.
Instead of fighting with your natural hair type, why don't you make it a statement? Have a look on these top ten curly hairdos meant for short hair.
Top 10 Short Curly Haircuts
They say curly hair are both a curse and a blessing. If you don't know how to style your curls to look their best, you will always find yourself looking for ways to pin and turn them into straight locks. Check these top ten short naturally curly hairstyles to get an idea of what you can do to your hair to make them look amazing.
Short Curly Pastel Colored Pixie Haircut: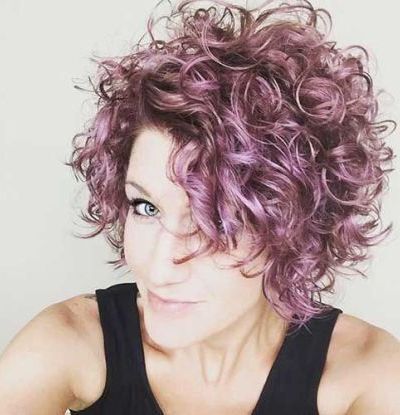 Loose Boho Braid: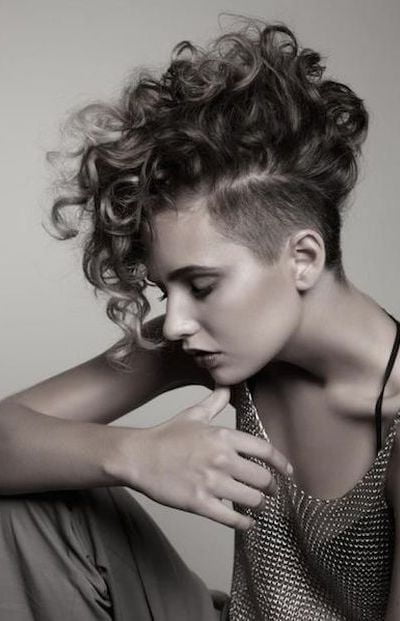 Chin Length Curly Bob Haircut: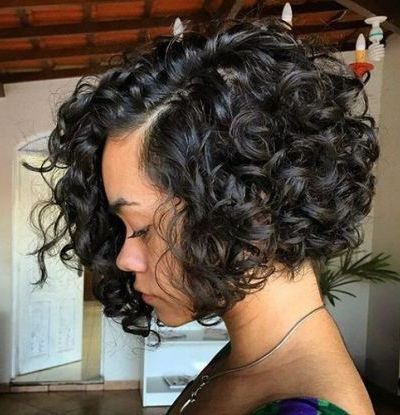 Cute Short Curly Hairstyle: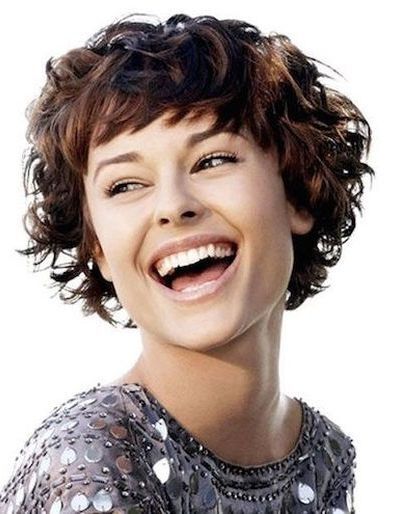 Short Curly Hairstyle for Thick Hair: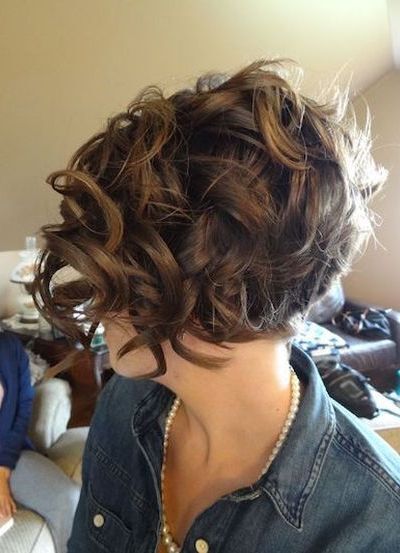 Short Curly Layered Haircut: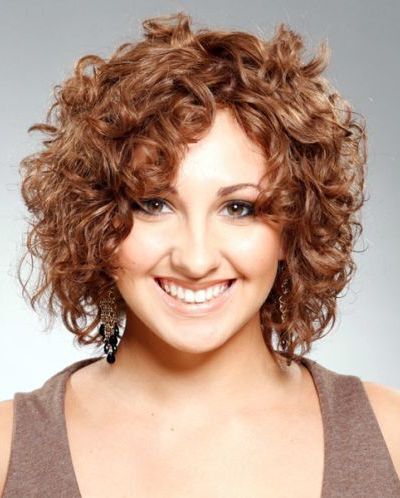 Voluminous Curly Bob: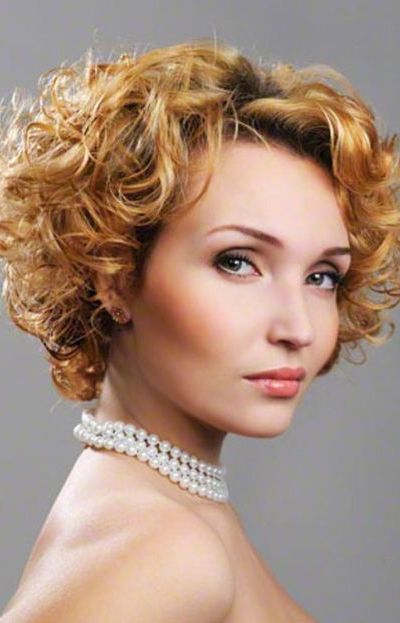 Short Curly Highlighted Pixie Cut: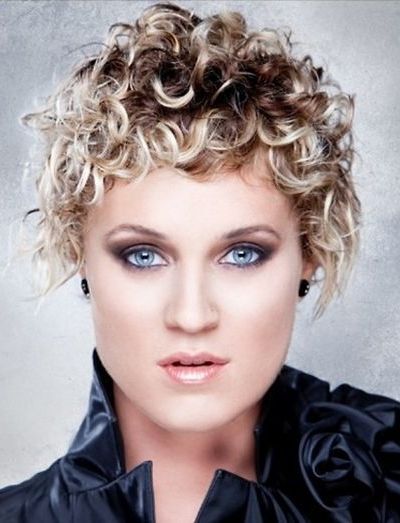 Short Wavy Haircut: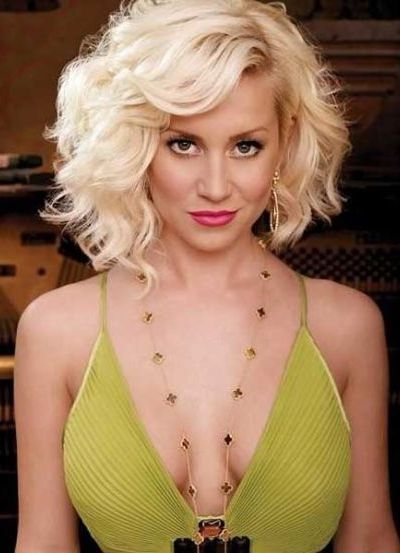 Bangs with Curly Hair: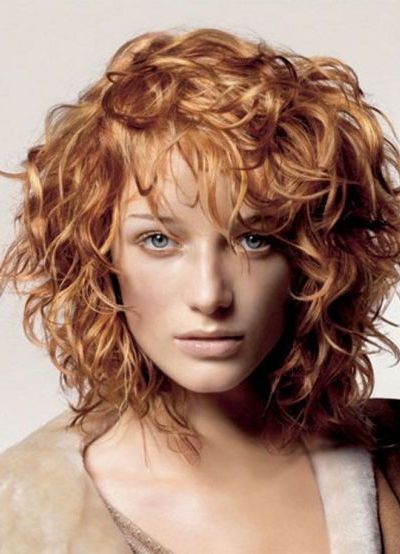 Short Curly Hairstyles for Heart Shaped Faces
Women with heart shaped faces are actually blessed if they have curly or wavy hair as it flatters their face cut. Curls accentuate their eyes and broader forehead, and draw focus away from their pointy chin. It is advisable to keep the length of the hair below or slightly above your chin and some short bangs on the forehead will do the job.
Check out the pictures of women with heart shaped faces and how they have styled their curls to enhance their cheekbones.
Tussled Curly Do: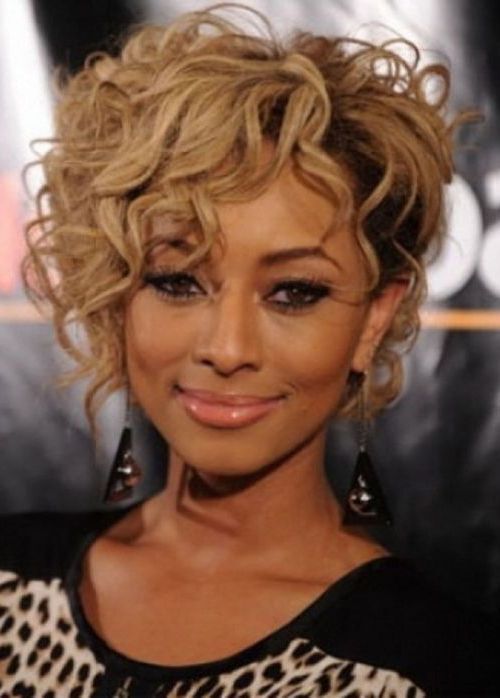 Age Defying Short Curly Hairstyle: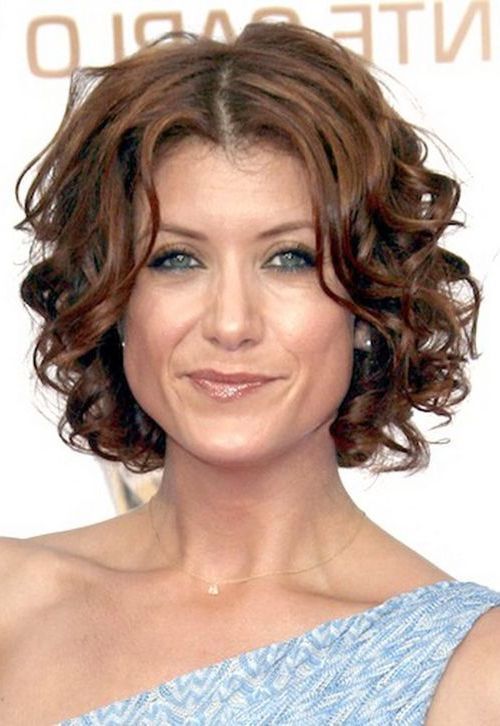 Cute Bouncy Curly Haircut: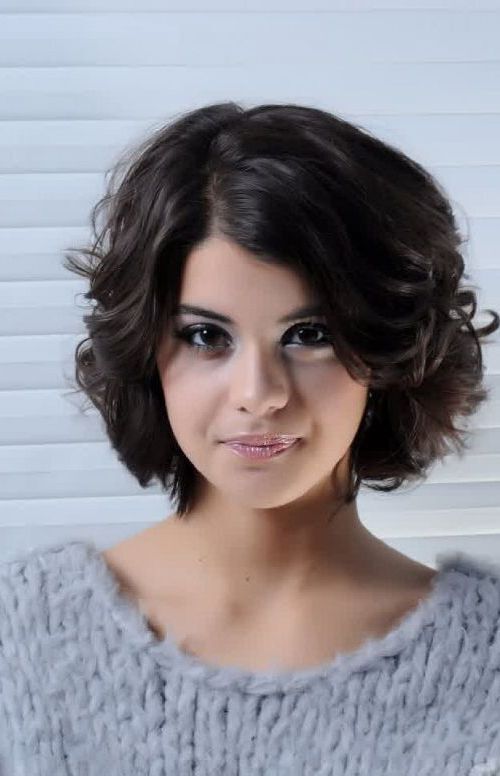 Thin Blonde Curls: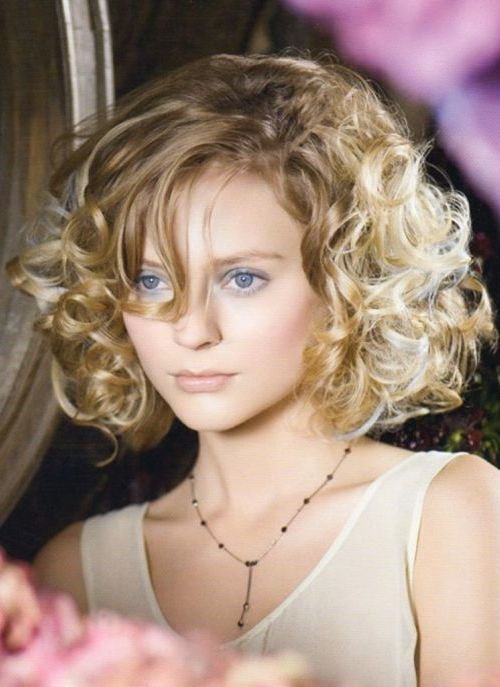 Side Swept Curly Hairdo: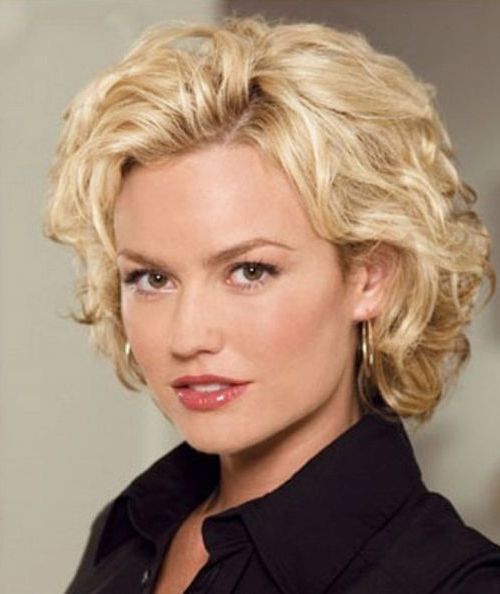 Tight Shoulder Length Curls: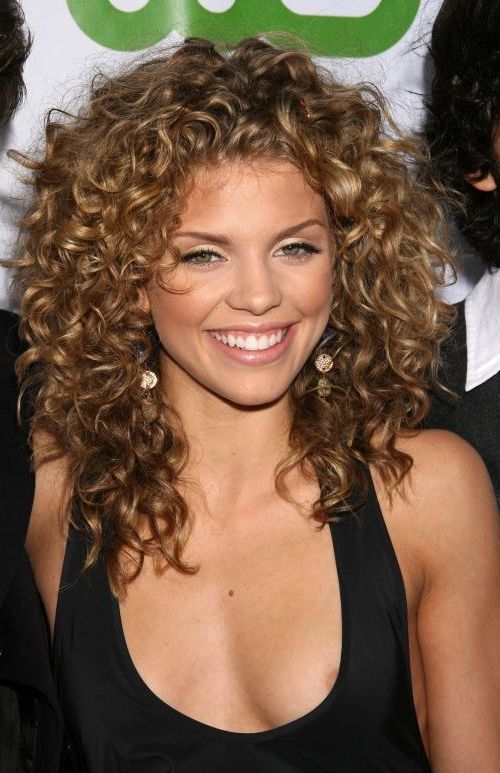 Wind Friendly Short Curly Do: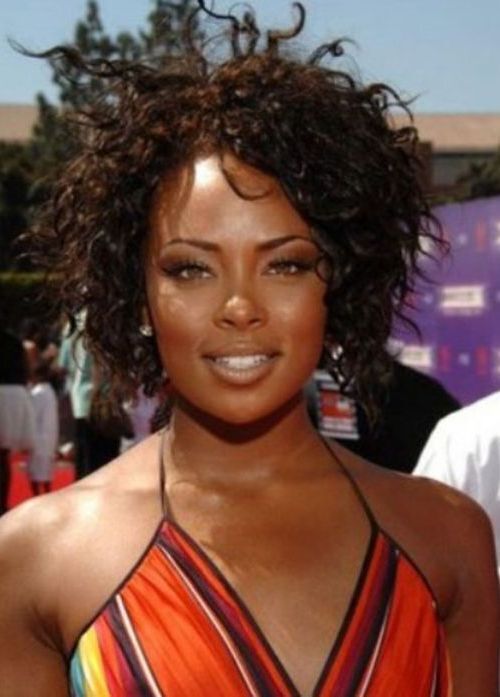 Curly Pixie Haircut: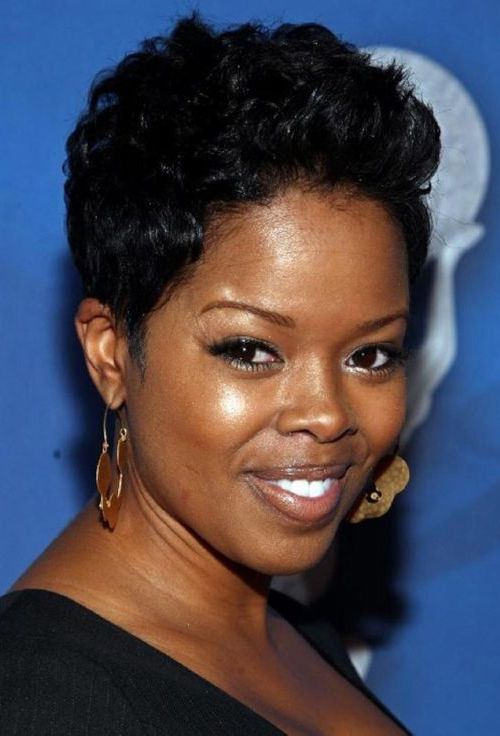 Red Shaggy Hair: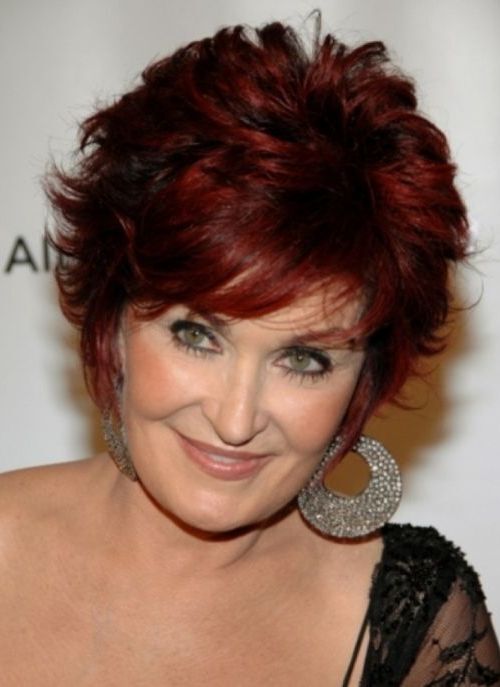 Messy Curls in Medium Length Hair: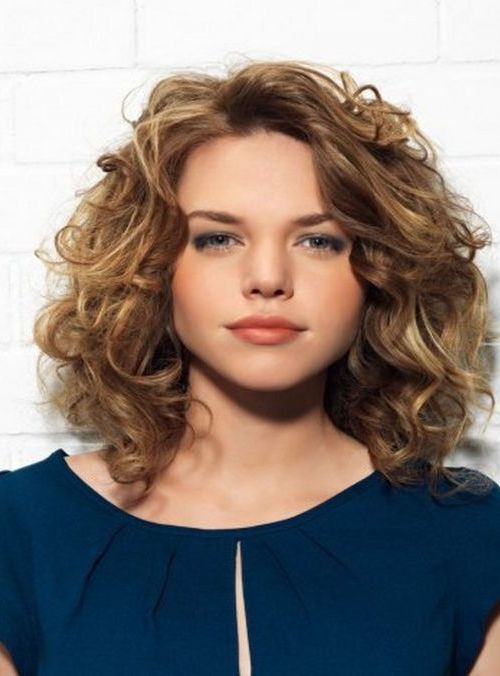 Short Curly Hairstyles for Women with Oval Faces
Short Bob with Bangs:
Best short curly hairstyles for women with oval faces should draw up the cheekbones so the face looks more rounded as you see in this picture.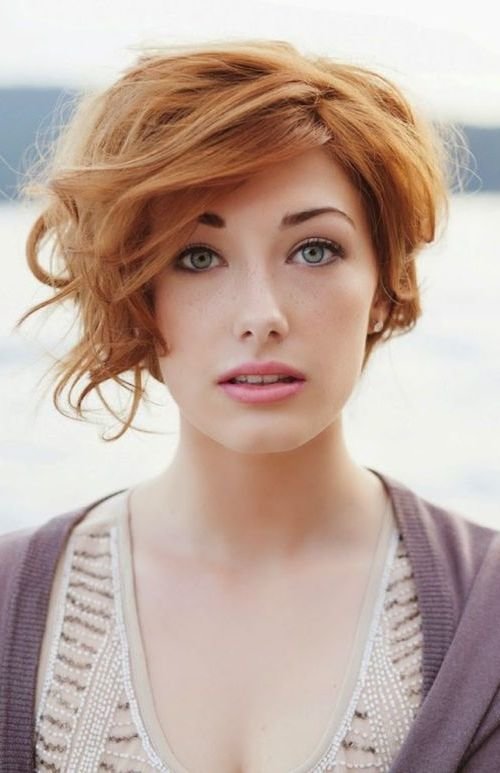 Curly Side Swept Bob:
Don't back comb your curls because it will further lengthen your face.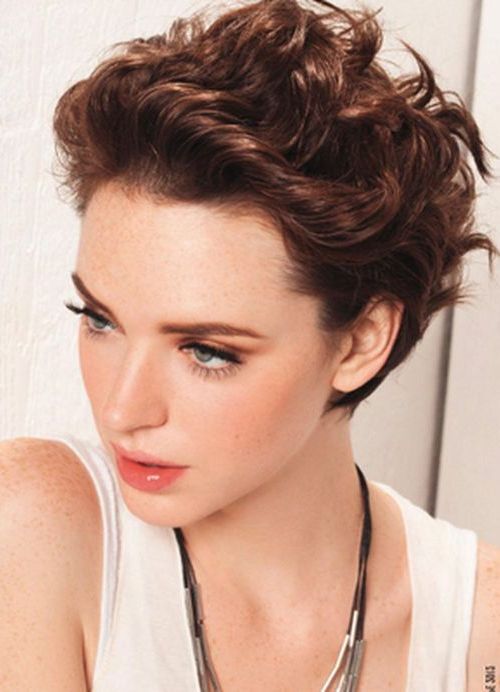 Short Bob With Thin Hair:
Your aim is to create volume and all one length hair is not your best bet. Boho curls are also a good choice for oval faces as you see in this picture.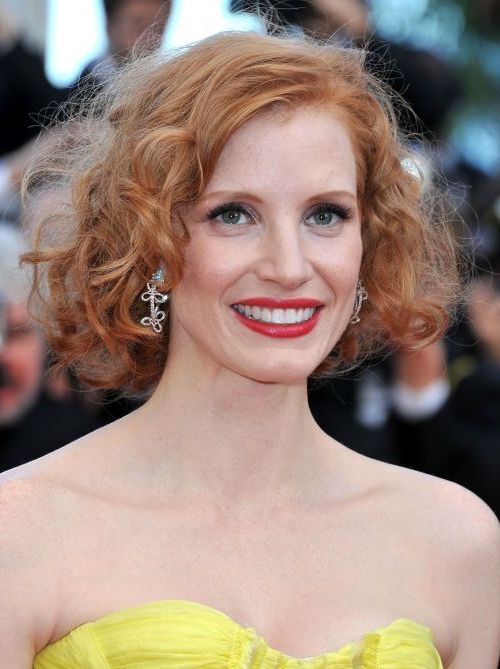 Sweet Curly Hairdo: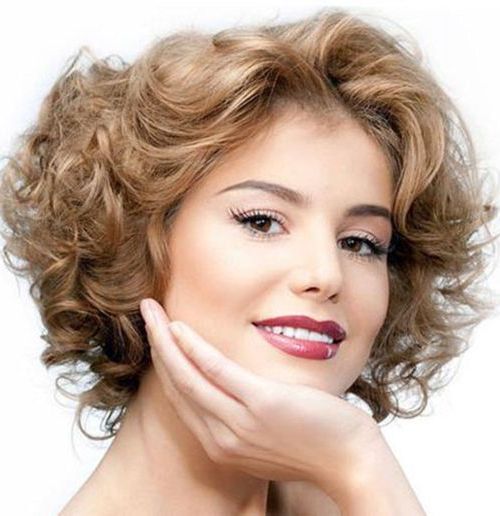 Pixie with Bounce Haircut: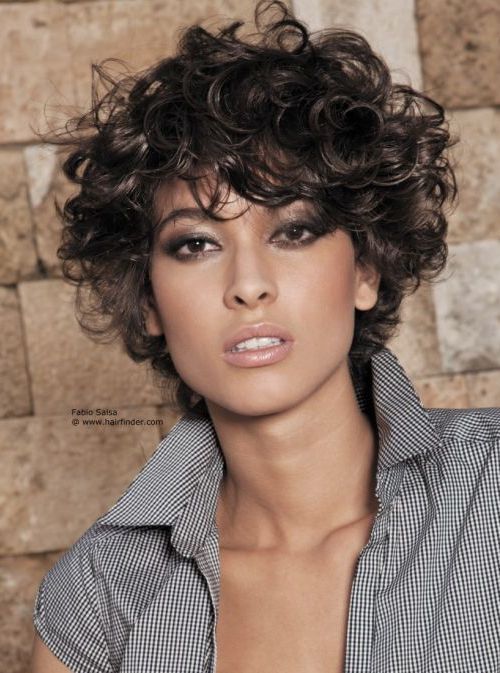 Wind Friendly Medium Bob Cut: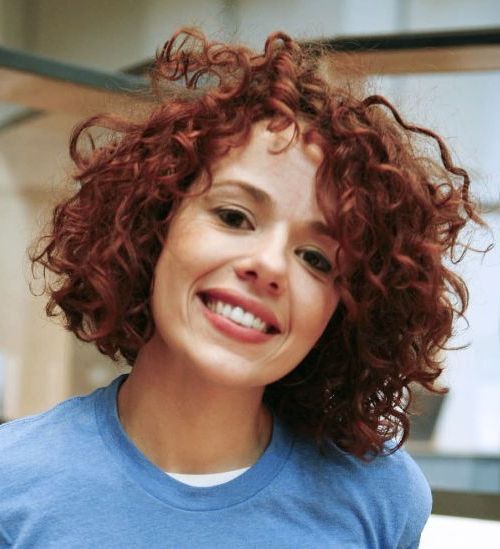 Part A Line Bob: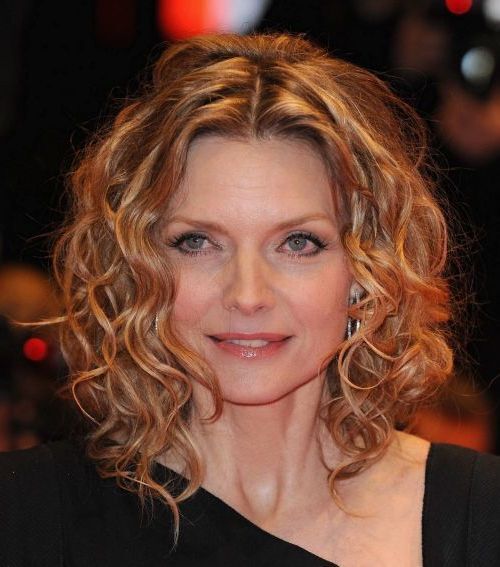 Combed Back Short Pixie: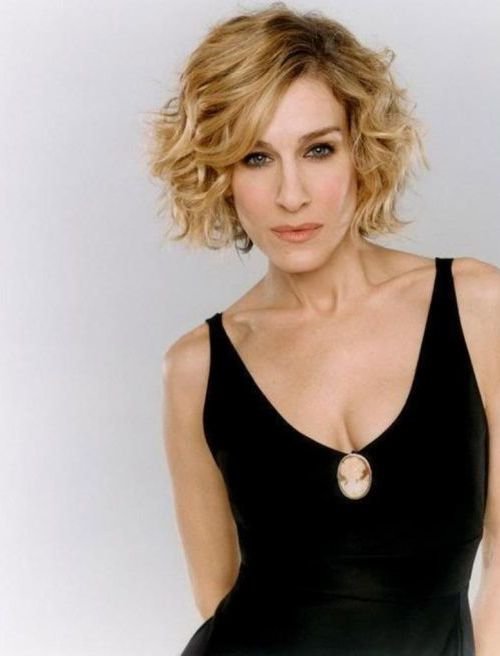 Blonde Bob: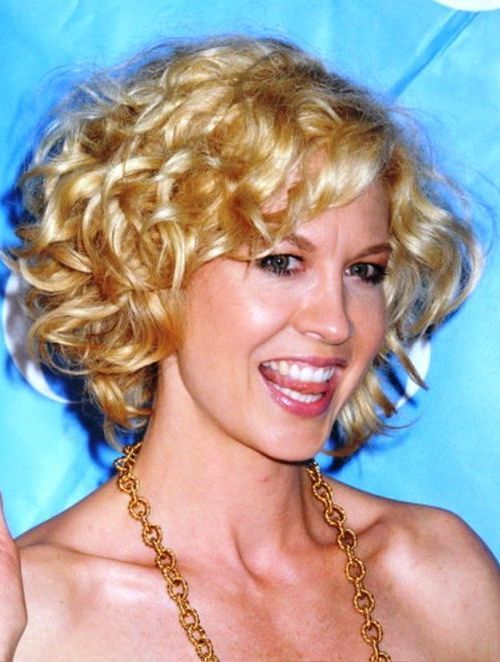 Side Swept Wavy Bob:

Short Curly Haircuts for Fat Faces:
Women with full cheekbones and chubby faces curse themselves if they have curly hair. People also tell them never to keep short curly haircuts since it will spoil their looks. Definitely for fat faces, very short curls are a big no no as you see in this picture. These curls will widen your face even more.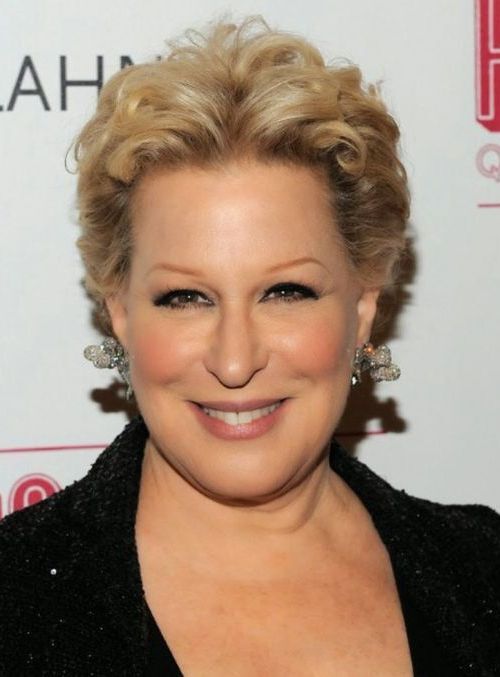 On the other hand, loose waves kind of curls will help slim down those chubby cheeks –
Curly A Line Bob: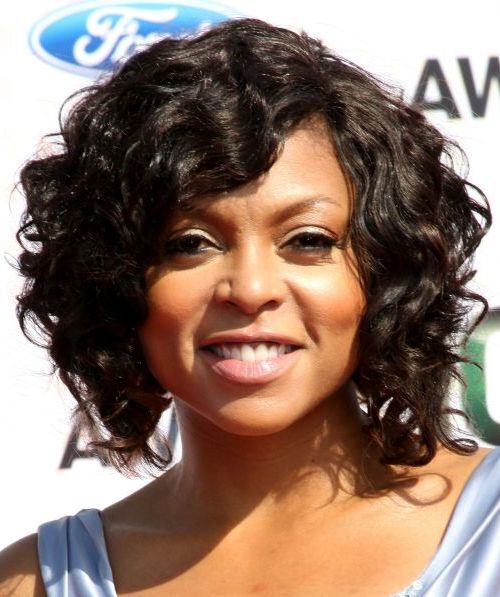 Medium Bob with Highlights: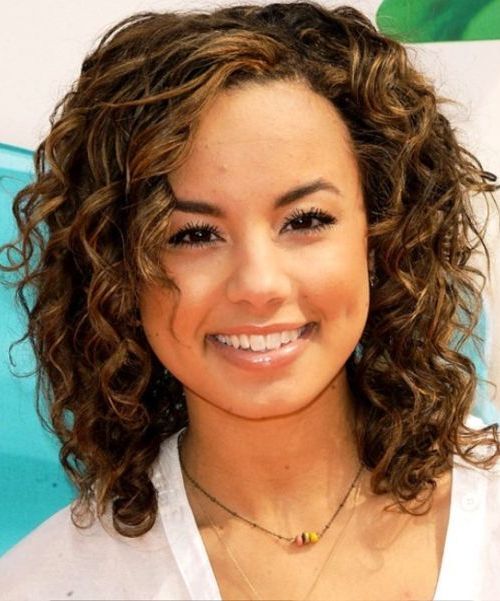 Short Tussled Bob: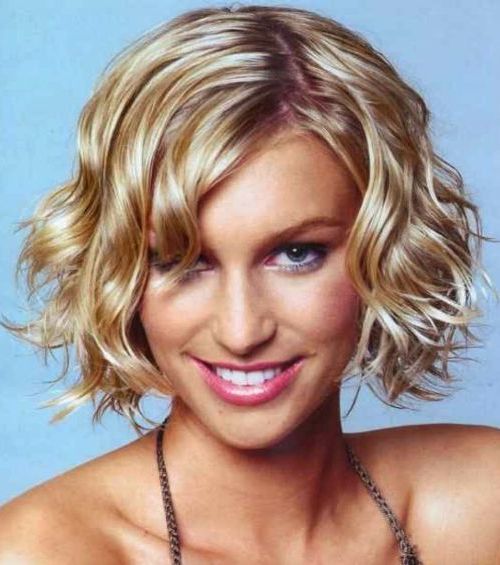 Cute Short Bob: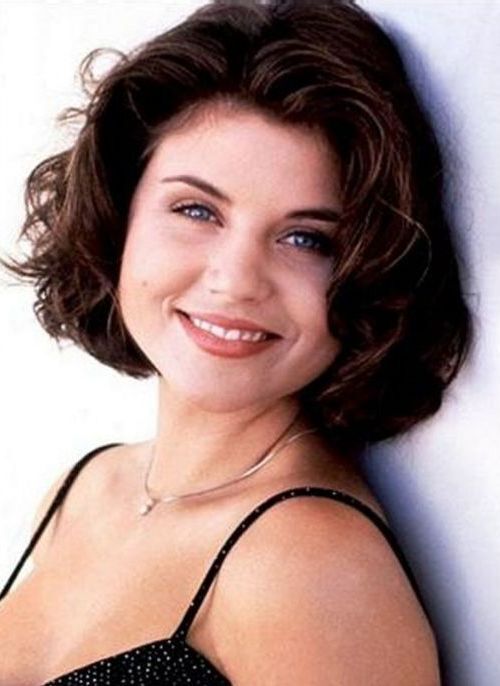 Growing Short Bob: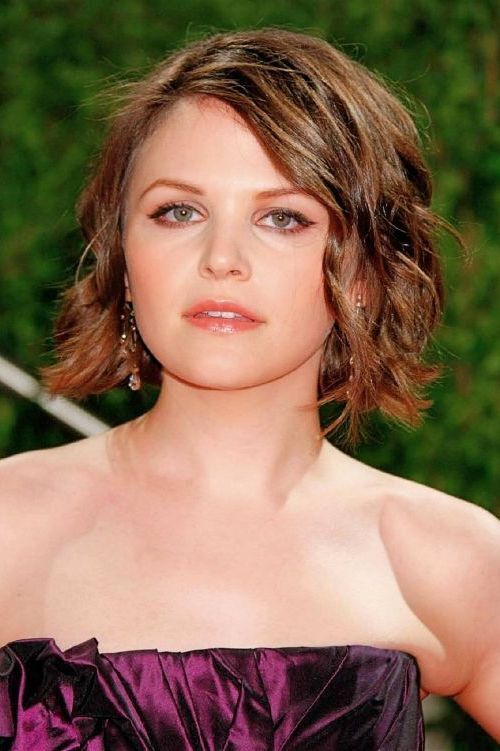 With asymmetrical bangs on the forehead, you can hide the width of your forehead and try a new you –
Curly Bob for Thin Hair: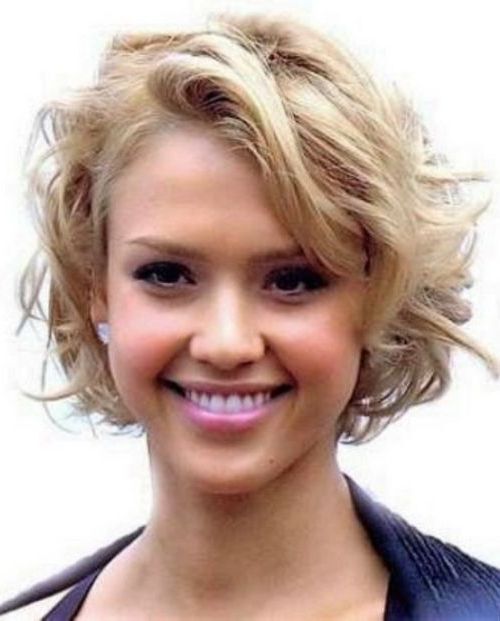 Tussled Short Bob: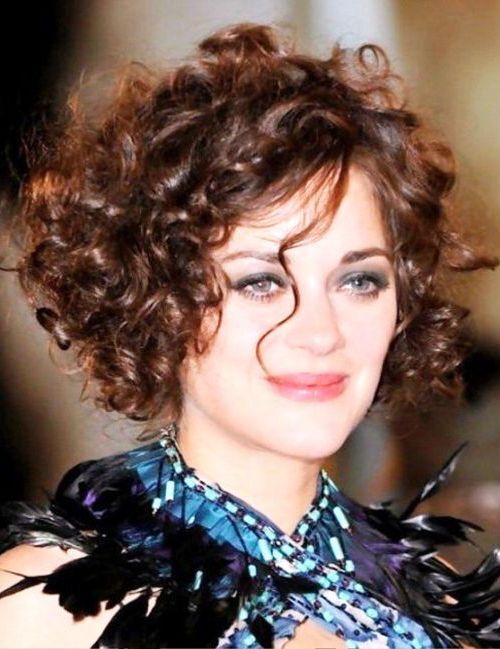 Highlighted Spiral Curls: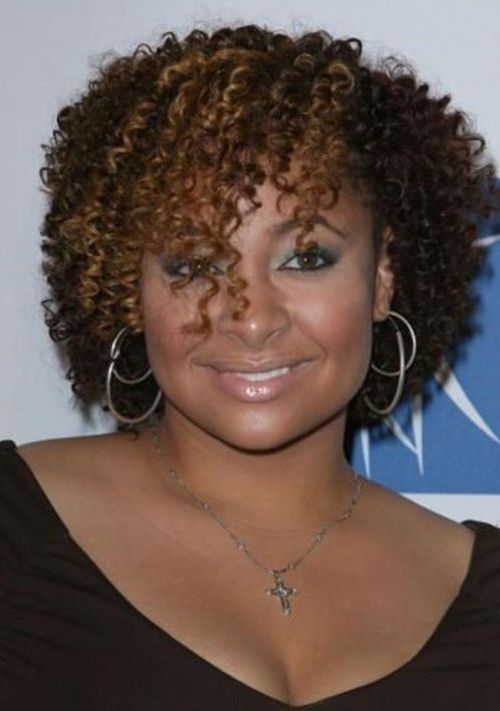 Short Curly Hairstyles for Thin Hair
The key to style short curly hair of this type is to increase the volume as much as possible. Curls and waves already add to the actual volume of the hair so one can easily do one's hair. Cropped cuts or shags are the best choice for women with short curly hair because you can effortlessly achieve volume.
Shag for Thin Hair: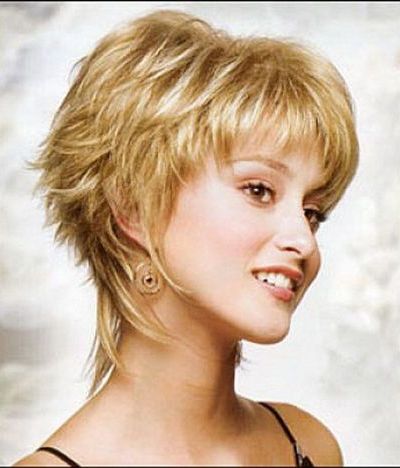 Messy loose waves also look nice especially when you comb them to the opposite side –
Side Swept Medium Thin Hair: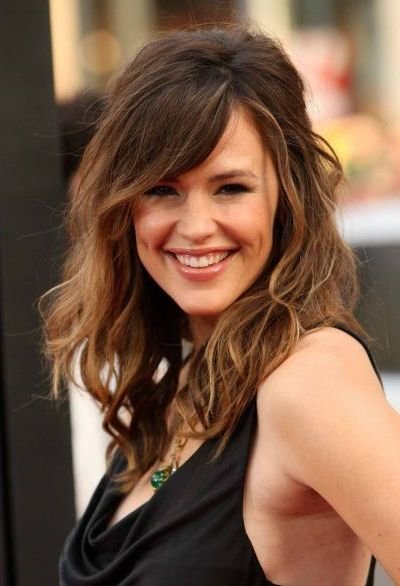 Sexy Bob Haircut:
Tussled Growing Bob Cut: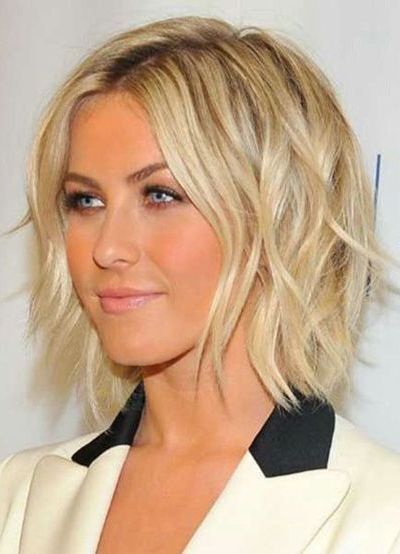 Medium Bob with Highlights: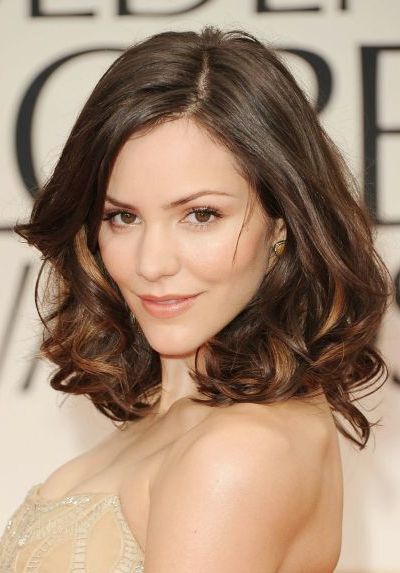 Blown Out Bob for Thin Hair: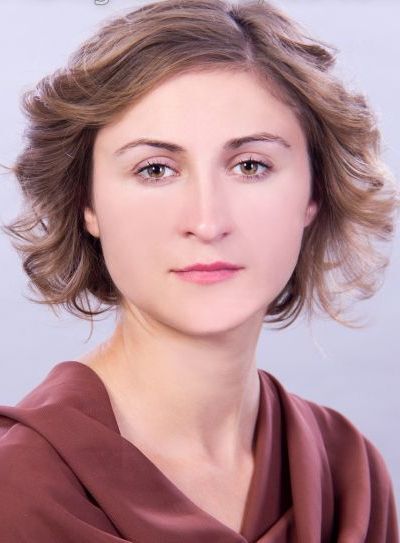 Spiral Curls for Thin Hair: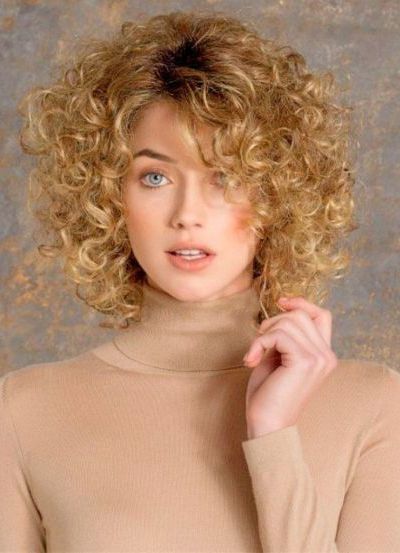 Sexy Layered Bob: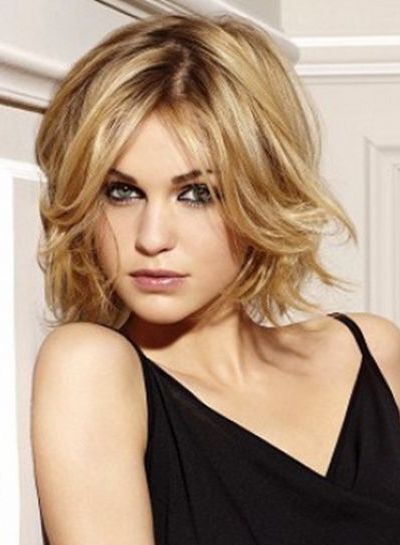 Short Curly Hairstyles for Thick Hair
We often find women with thick curly hair complaining that they see no single way to tame their thick curls. Here we have a few examples of short curly hairstyles for thick hair to give you a mesmerizing hairstyle that can be achieved with thick tresses. This hairstyle is fun and sensational at the same time and with a little texture, you can bring this short haircut to life.
Fun Bob Hairdo: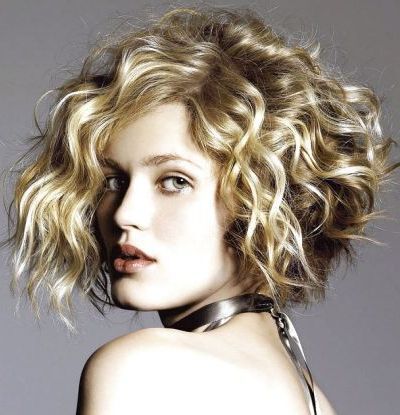 Refining your thick waves with a curling iron will help achieve this look:
Define Your Curls on Medium Length: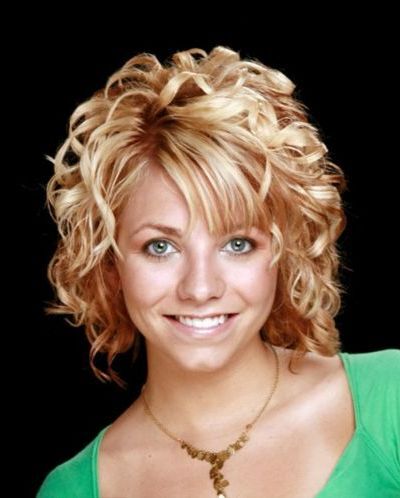 Thick Curly Short Bob: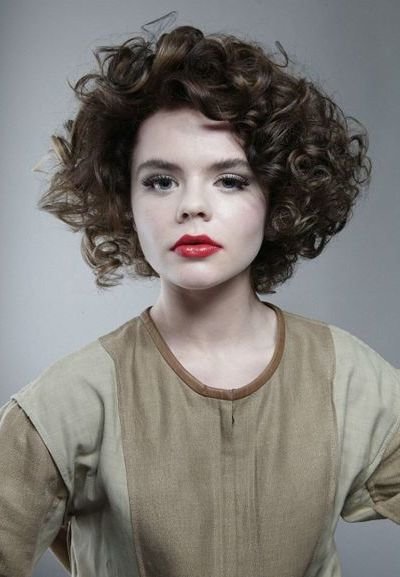 Apply a styling mousse and sit your hair with finger tips to get these cute effortless hairdos:
Side Swept Curls Medium Length: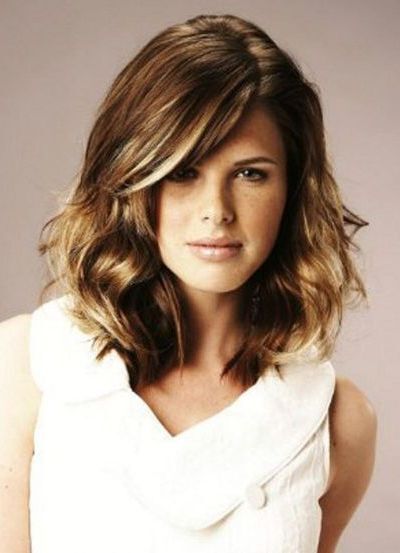 Sweet Bob with Bangs: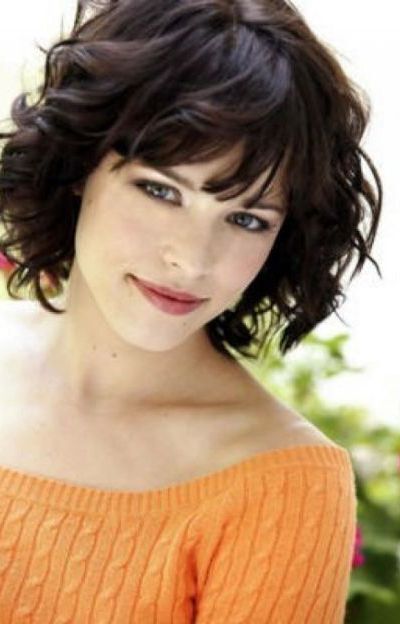 Layered Bob for Thick Hair: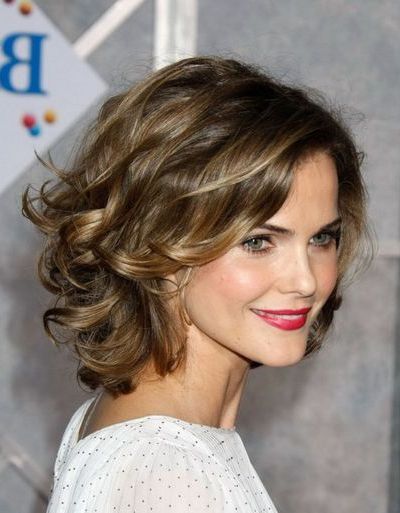 Short Curly Hairstyles for Long Faces
With a long face cut, your aim is to create width and your curls can help you in that. Curls not only cover up a wider forehead but you can also add some loose waves along your temples to create width. Chin length curly hair are an ideal choice among short curly hairstyles for women with long face.
Chin Length Blonde Bob: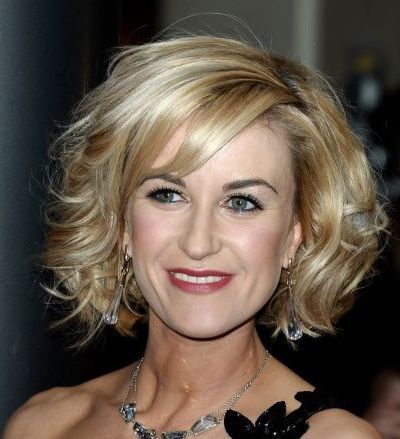 Short Bob with Highlighted Roots:
For some change, you can straighten your curls to create a graceful look like you see in this picture: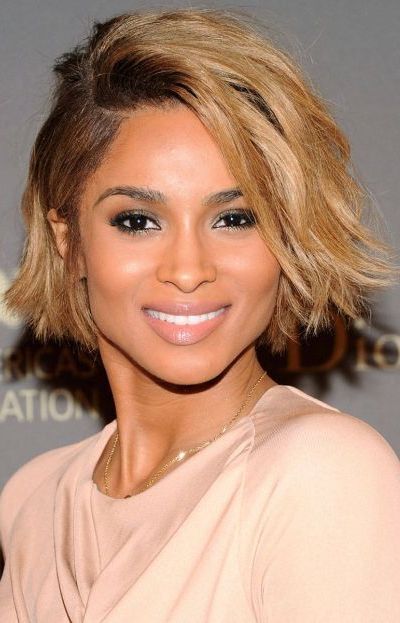 Highlights also add to the looks so don't be afraid to try something unique.
Curly Layered Bob: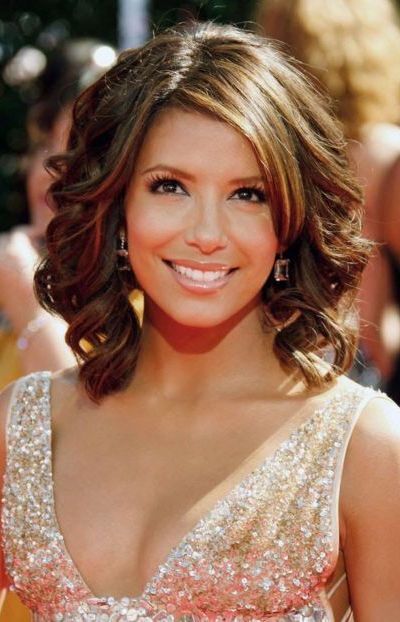 Asymmetrical Short Bob: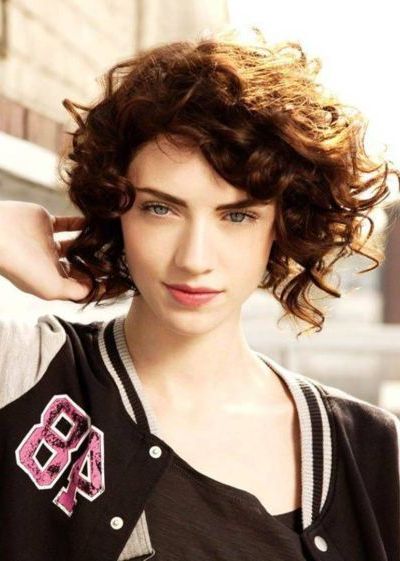 Thin Curls with Bangs: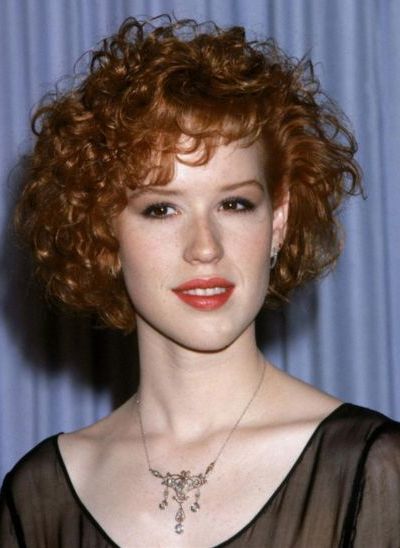 Short Pixie Cut for Long Face Type: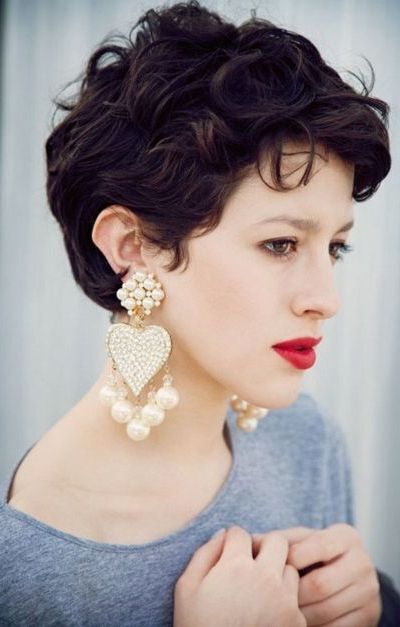 Short Curly Hairstyles with Bangs:
Take your short curls to the next level with these interesting bangs. Bangs whether you make in the form of softer bouncy curls or flowing waves, create an effect of lust and being desired.
Sexy Bangs with Curls: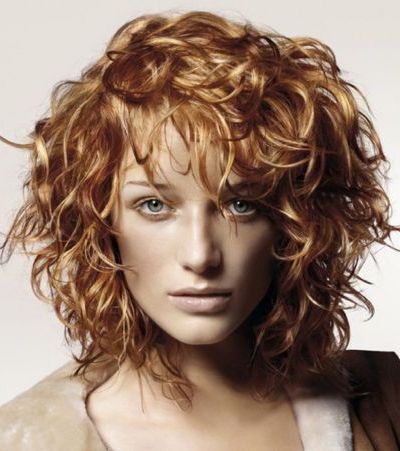 Side Swept Short Bob: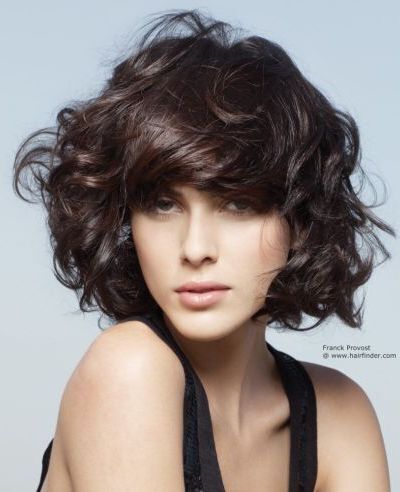 You can also add a few traditional bangs on the forehead that look real cute –
Cute Bob with Bangs: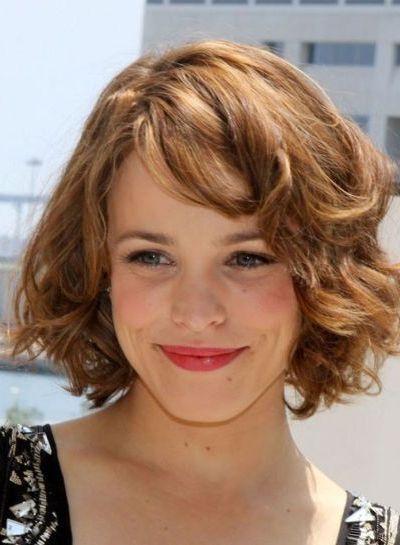 Side Swept Wispy Bangs: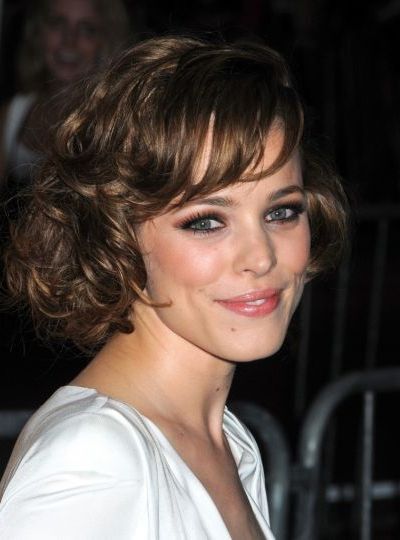 For an undone look, try these messy bangs hairstyles –
Shag with Messy Bangs: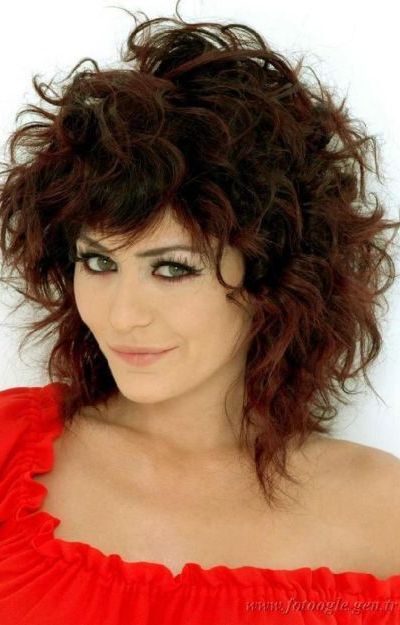 Bangs for Thin Hair: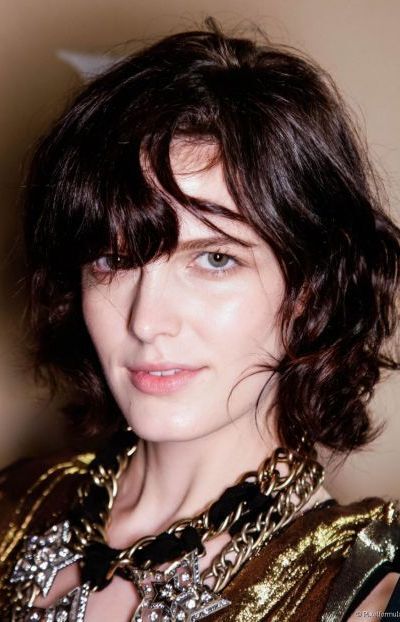 Short Curly Hairstyles with Weave
Weaves are one of the relatively new curly hairstyles for short hair. With weaves, you don't need too much effort to look chic; all you need to do is to tighten your curls even more.
Asymmetrical Bob with Weave Curls: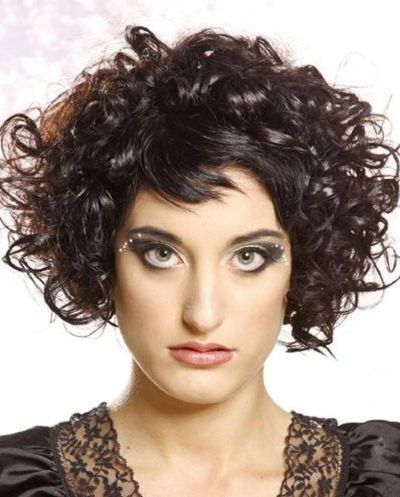 But take care of following the same direction while you run the curling iron through your hair. Weaves curly hairdos are quick, contemporary, and can also turn a shoulder length into a short bob.
Center Part Medium Length Weave: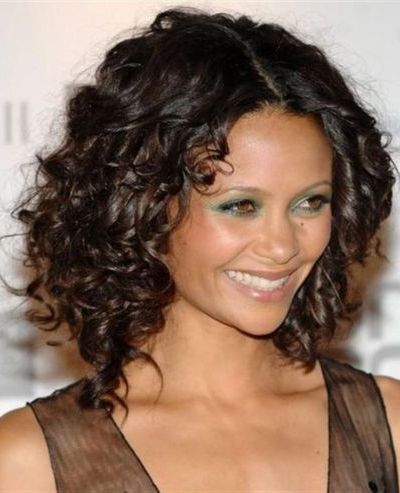 Side Swept Short Weave Bob: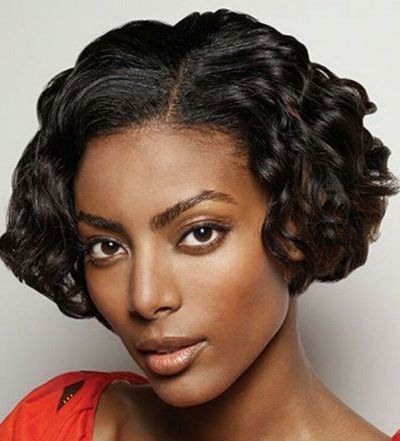 Weave Bob with Bangs: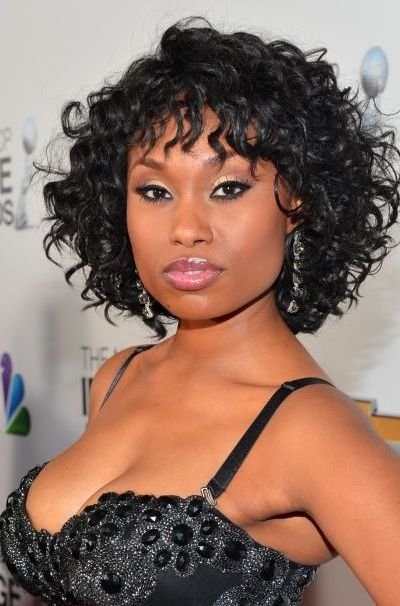 Medium Length Hair with Weave Curls: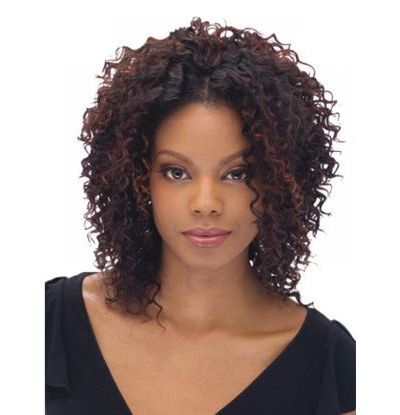 Short Curly Hairstyles With Layers
Women with short curly hair dislike their hair because whenever they get a haircut, it disappears after the first wash. Here we will show you how you can add layers to your short curls. Ask your hairstylist to give you some random layers especially if you have thick hair.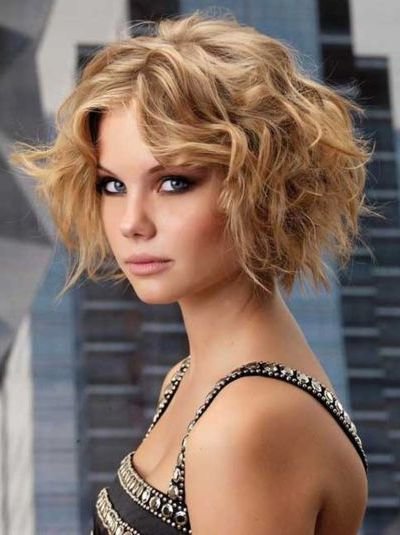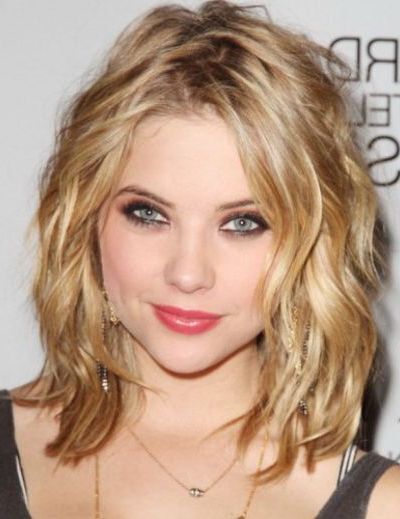 Short Layered Shag:
Or you can have layers that can be styled like shag. If you have thin hair, these shaggy layers will give a volumised look.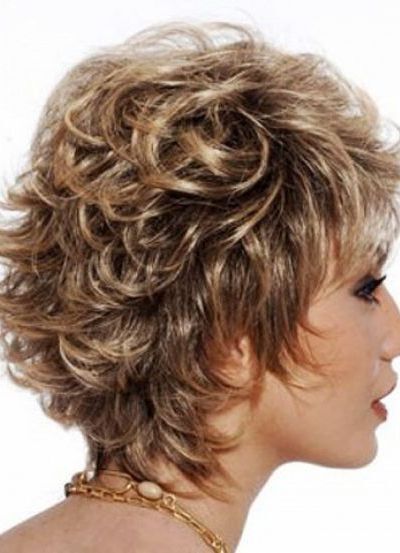 Blown Out Short Layers:
For a sweeter look, try these blown out short layers.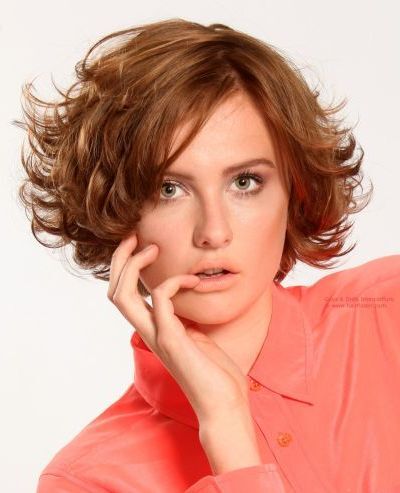 Pixie with Bangs: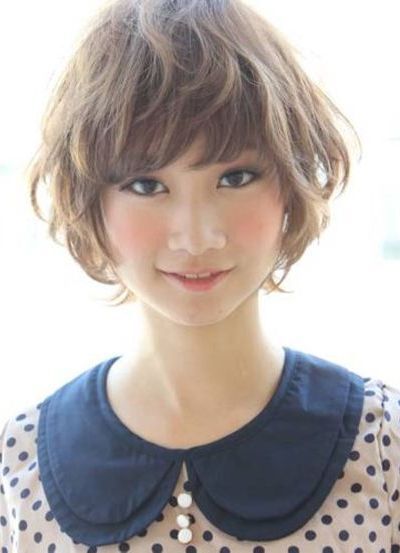 Medium Length Spiral Layers:
Those who have spiral curls can go for these sharp layers that will reduce the volume of their hair.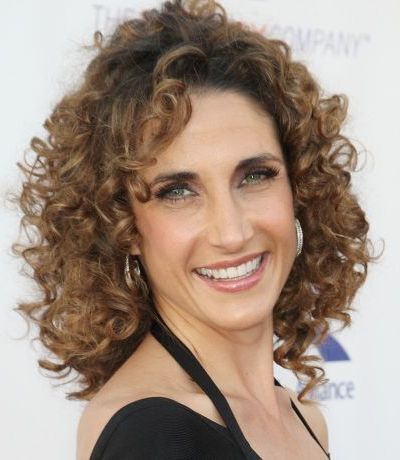 Spiral Layers with Highlights: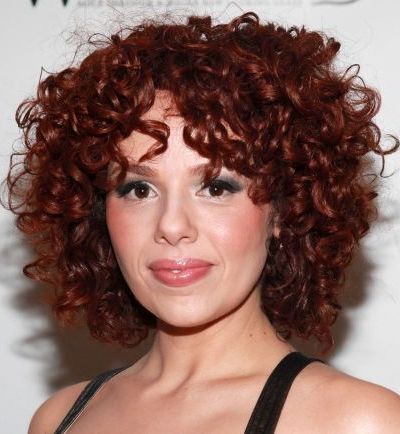 Short Curly Hairstyles with Braids
Braids look incredibly pretty in short curly hair. If you have fairly uncontrollable waves, braids can be tricky. Headband braids are good for loose curly hair as you notice in the picture –
Headband Braid on Bob: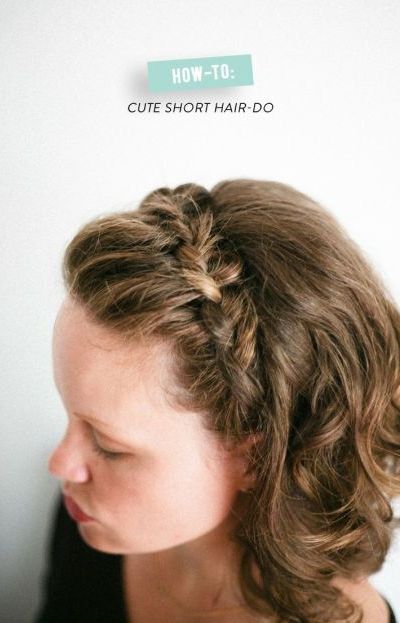 Braid on Cropped Hair:
For cropped curls, try this loose boho braid.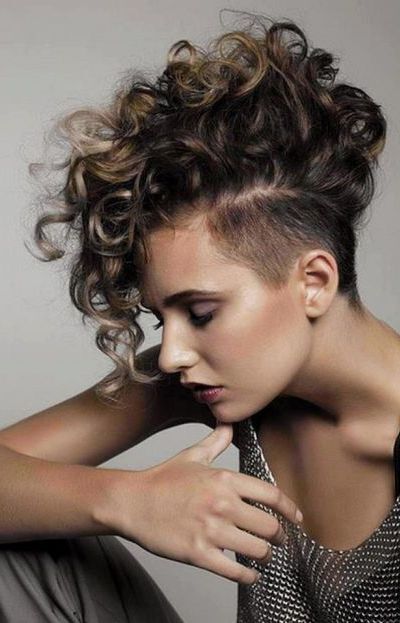 Halfway Braids:
For thick curly hair, these halfway braids work best, where the braid begins at the crown and is left loose halfway down the crown.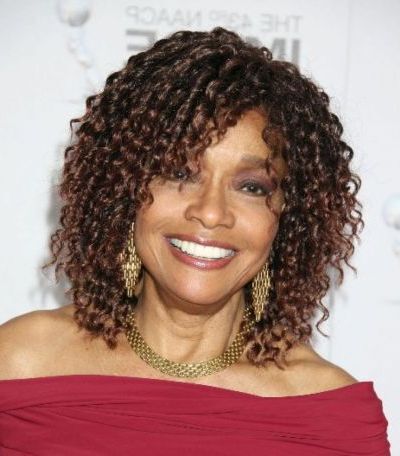 Center Part Braided Curls: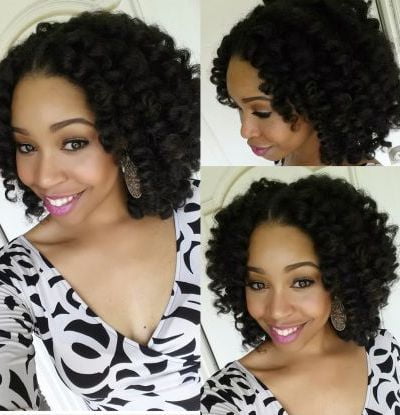 Then we have traditional black braids to catch seriously wild curls.
Traditional Black Braids: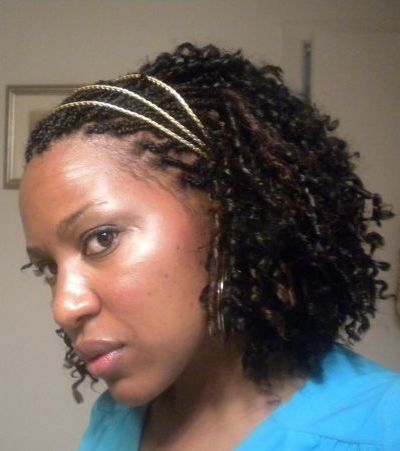 Short Curly Hairstyles with Shaved Side
Curly hair with shaved side can make a real statement when you style them with some effort. Check out these ideas for the most stylish undercut curls.
Undercut Curls with Hair Color Boost: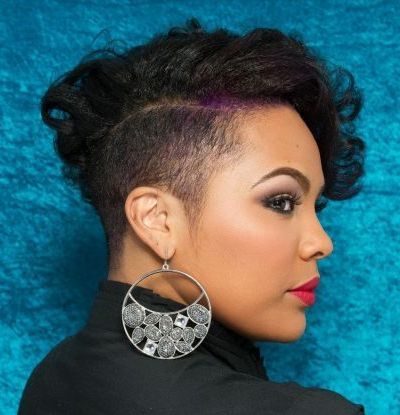 Blonde and Black Undercut Curls: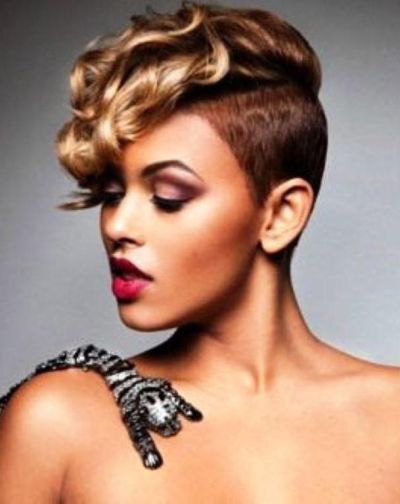 Conservative Mohawk Hairstyle:
For this punk beauty, you can take out your hair to a whole next level. The best advice is to leave a few strands of hair to cover your shaved side for more conservative occasions.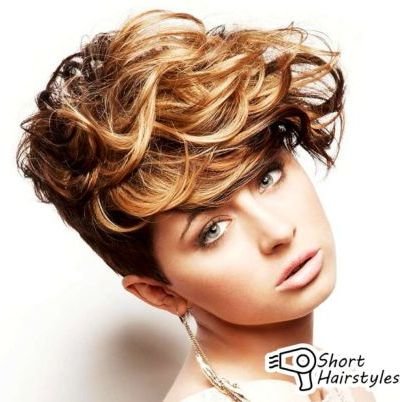 Growing Pixie with an Undercut: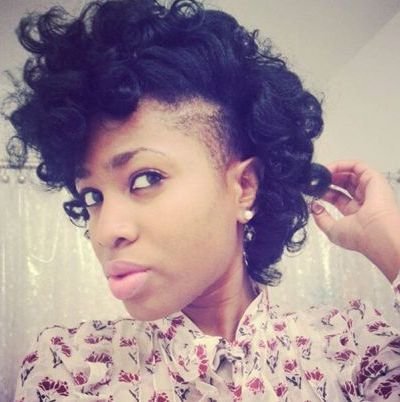 Wispy Bangs on Shaved Side: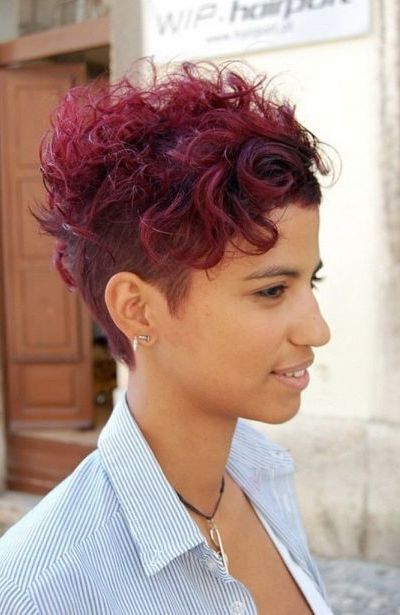 Spiral Curls on Cropped Head: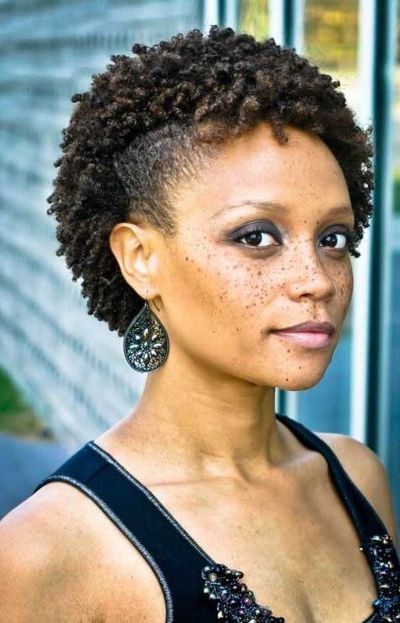 Undercut for Thin Hair: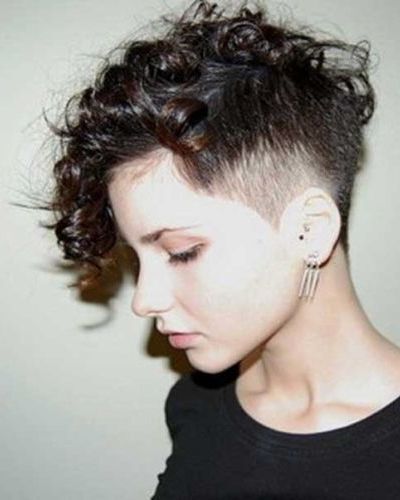 Spiral Curls with a Bold Undercut: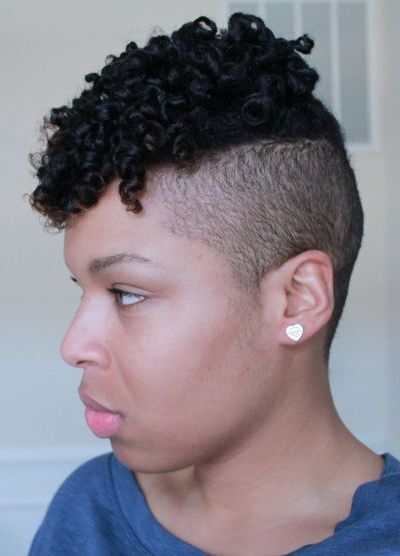 Short Curly Hairstyles with Headbands:
Curly hair are the best type to wear headbands.
Spiral Curls done with a Sparkly Headband: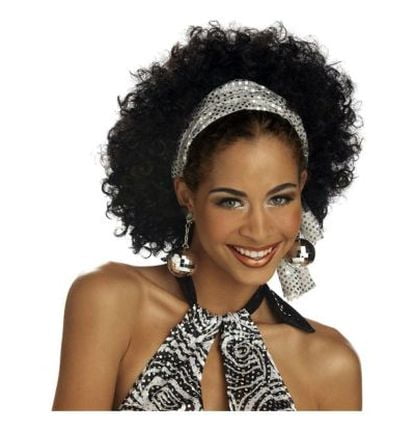 A sparkly headband like you see in the above picture can complement any party dress. Sometimes headbands help conceal the greasy part of your curls.
Casual Headband Look: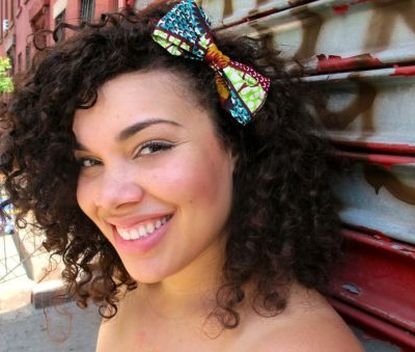 Summer Hairdo with Headband: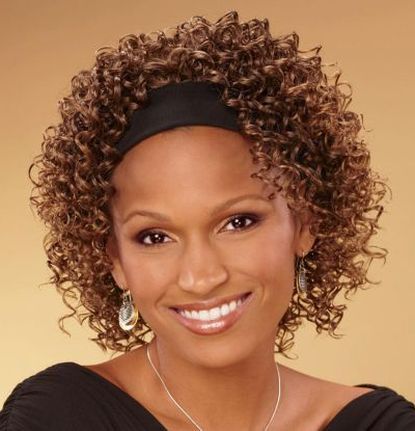 Floral and diamante filled headbands are a perfect choice for curly hair on a special event such as a wedding. Sometimes, a headband is the only thing we need to create short curly hairstyles.
Natural Flowers Headband Look: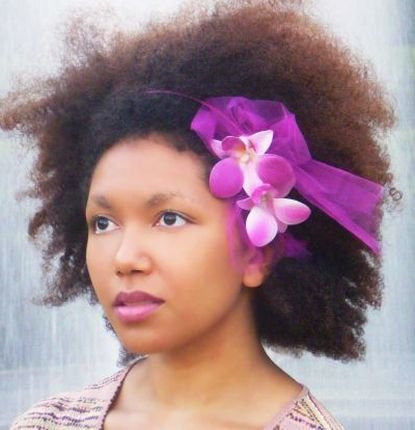 Updo for Curly Hair and Headband: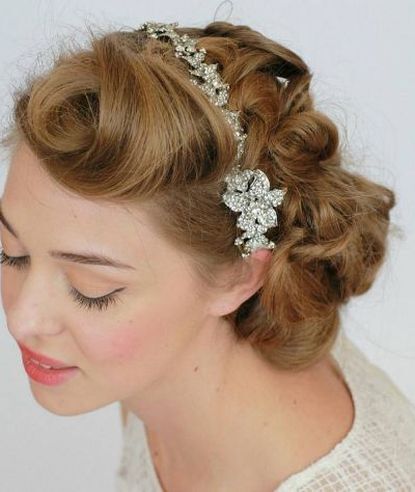 Headband Style for Wedding: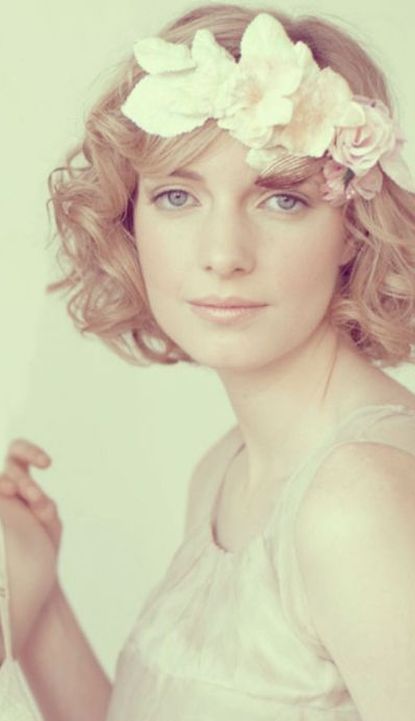 Hippie Style Headband Curls: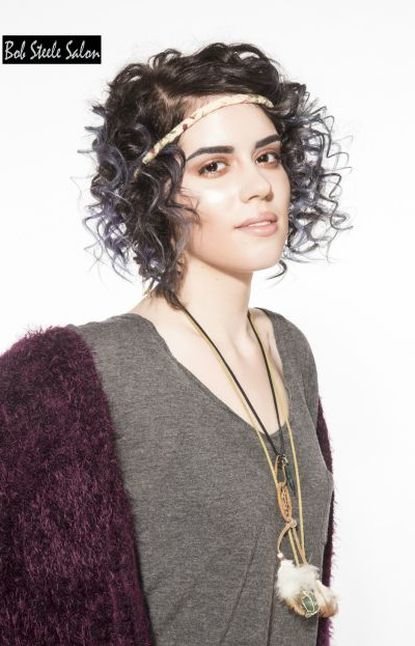 Short Curly Hairstyles with Highlights
Highlights seem ultra-flattering for most hair colors and you can not only create an illusion of volume, but it also makes you look younger in some cases.
Pixie with Highlights:
Center Part Curls with Highlights: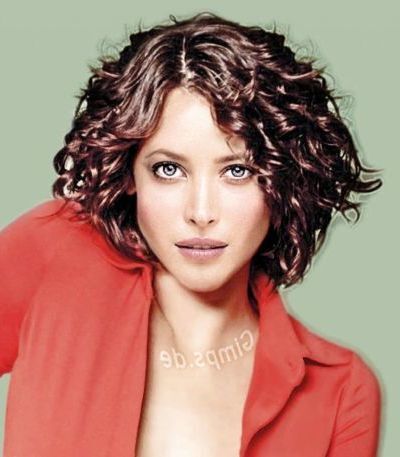 The softer hues of auburn saturate the tender strands of hair making a subtle difference of light –
Age-defying Highlights: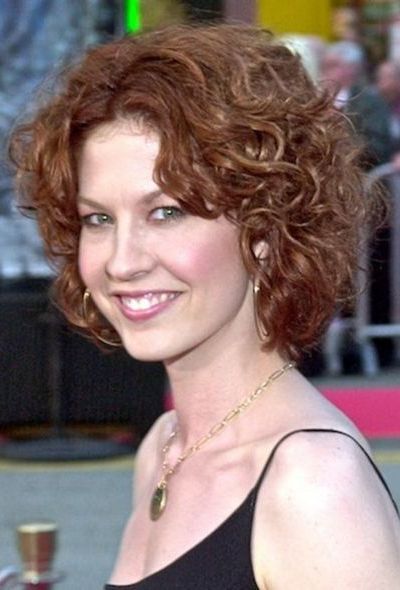 Pixie with Highlighted Bangs: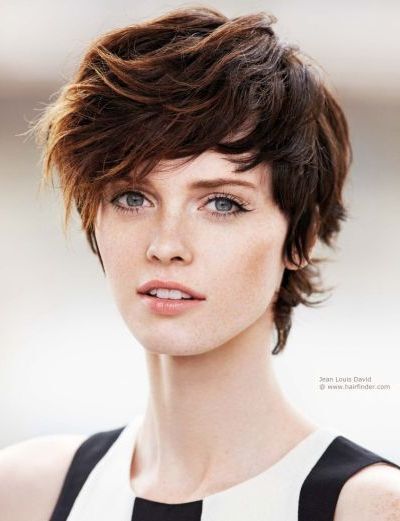 Light Blonde Bob: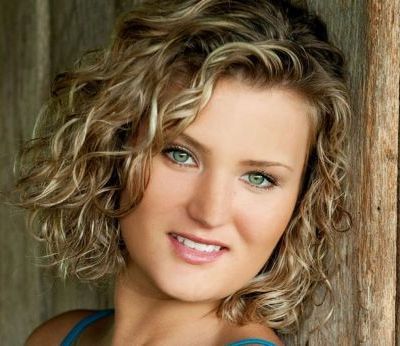 Layered Bob with Highlights: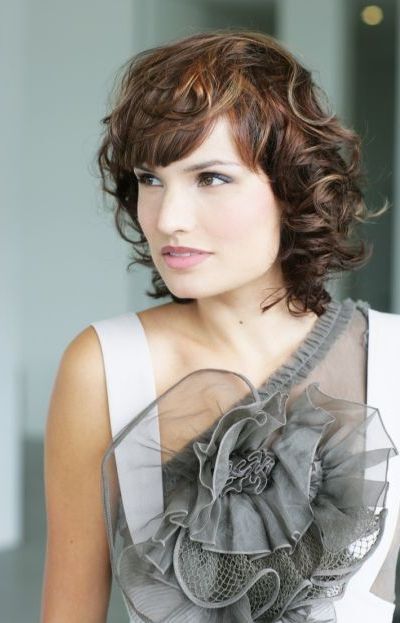 Short Curly Hairstyles with Rollers
The choice of rollers depends on the curl pattern and those with natural curls should avoid curling iron because they only need to give their curls a nice shape.
Funky Short Curls: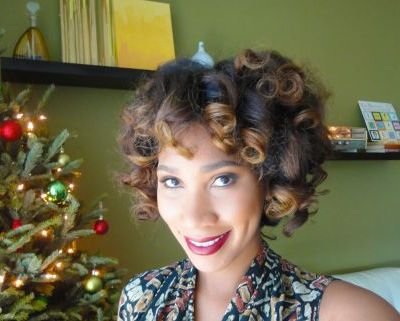 Heatless Curly Do:
Another interesting look achieved with heatless rollers is seen here: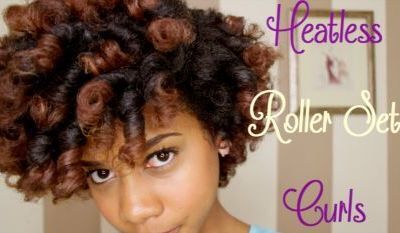 Casual Black Curls:
For casual rolled out look, you can leave normal size Velcro rollers in your head overnight and the result will be similar to this –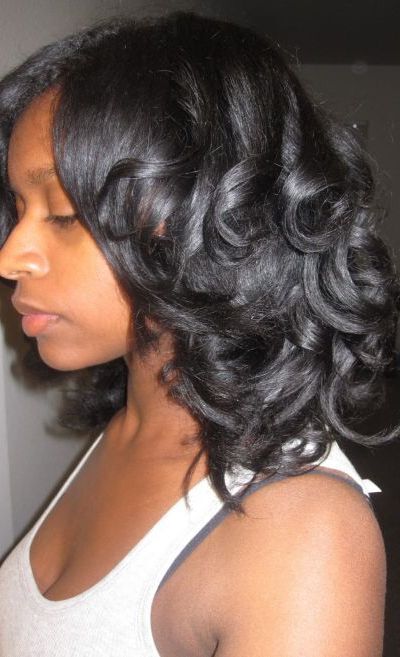 Here we have a few party looks created with no heat rollers –
Pearls Headband Curly Do: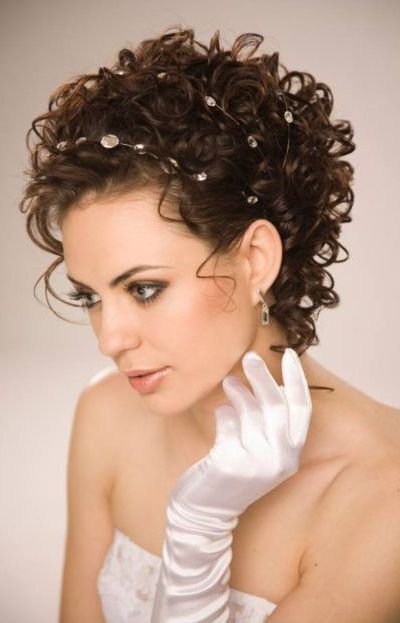 Bouncy Side Swept Curls: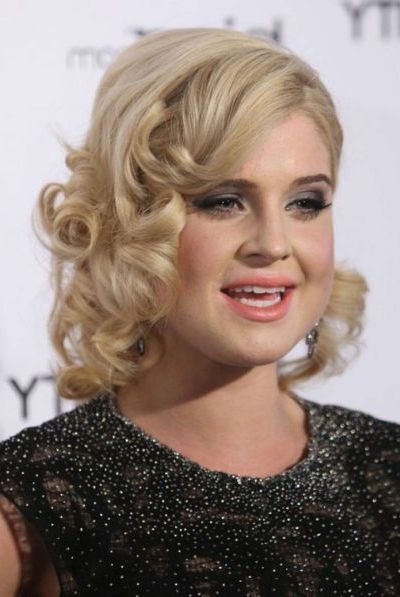 Short Curly Do for Wedding: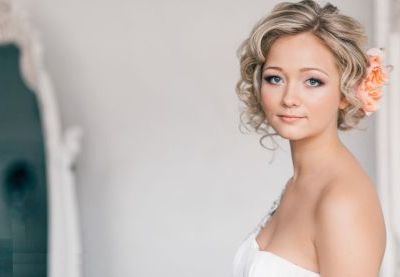 Short Spiral Curls: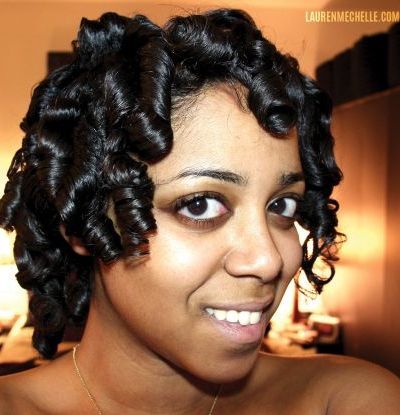 Typical Black Curls: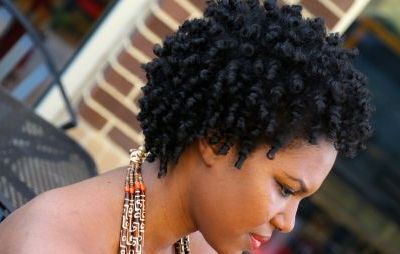 Save
Save
Save
Save
Save
Save
Save
Save
Save
Save
Save
Save
Save
Save
Save