111 Amazing Short Curly Hairstyles for Women To Try
Short Curly Hairstyles for Long Faces
With a long face shape, your aim is to create width and your curls can help you in that. Curls not only cover up a wider forehead but you can also add some loose waves along your temples to create width. Chin length curly hair are an ideal choice among short curly hairstyles for women with long face.
Chin Length Blonde Bob: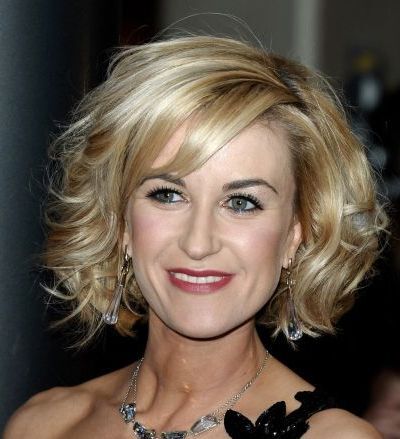 Short Bob with Highlighted Roots:
For some change, you can straighten your curls to create a graceful look like you see in this picture: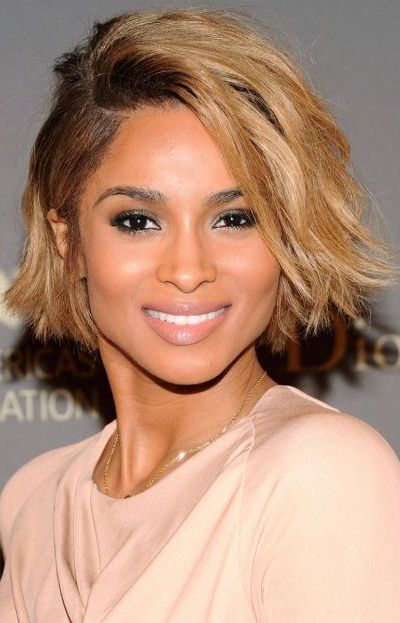 Highlights also add to the looks so don't be afraid to try something unique.
Curly Layered Bob: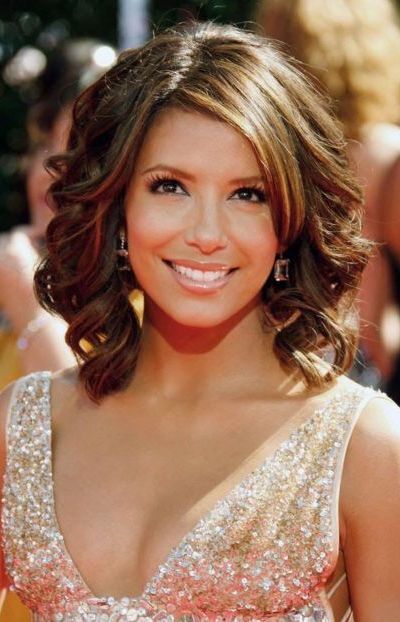 Asymmetrical Short Bob: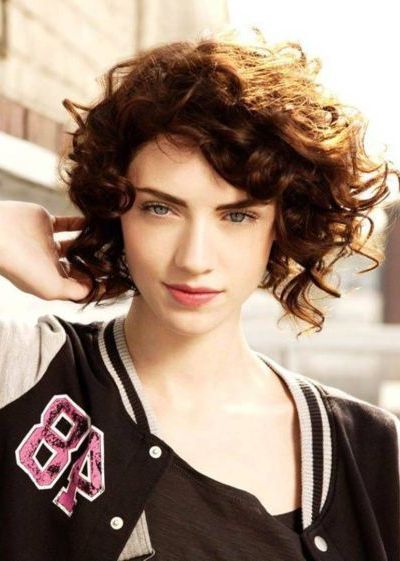 Thin Curls with Bangs: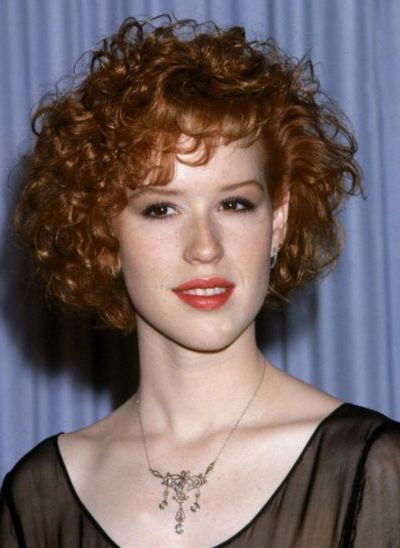 Short Pixie Cut for Long Face Type: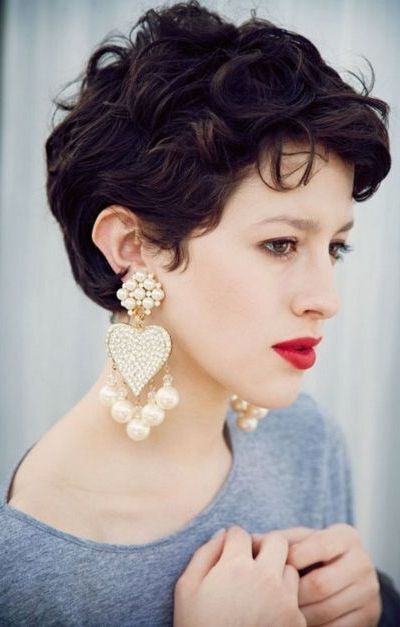 Short Curly Hairstyles with Bangs:
Take your short curls to the next level with these interesting bangs. Bangs whether you make in the form of softer bouncy curls or flowing waves, create an effect of lust and being desired.
Sexy Bangs with Curls: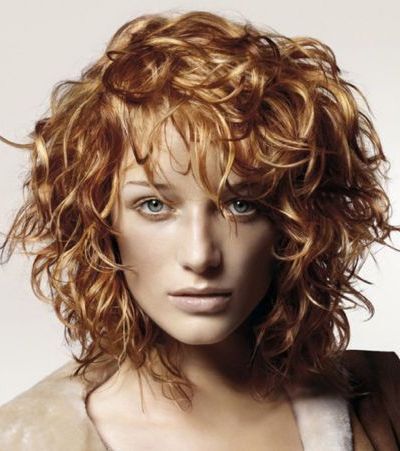 Side Swept Short Bob: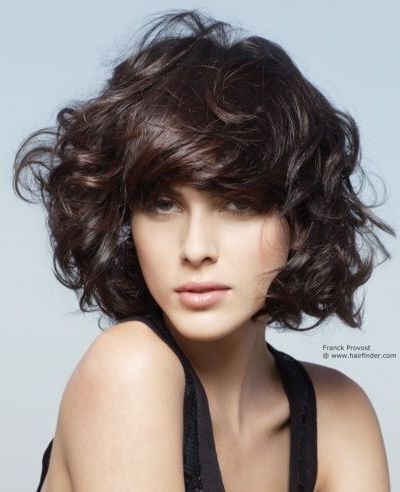 You can also add a few traditional bangs on the forehead that look real cute –
Cute Bob with Bangs: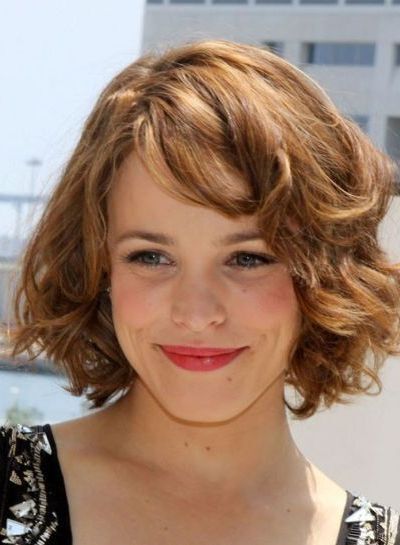 Another option for short curly hair is bangs. Here is a cute hairstyle for women with an oval face.
Side Swept Wispy Bangs: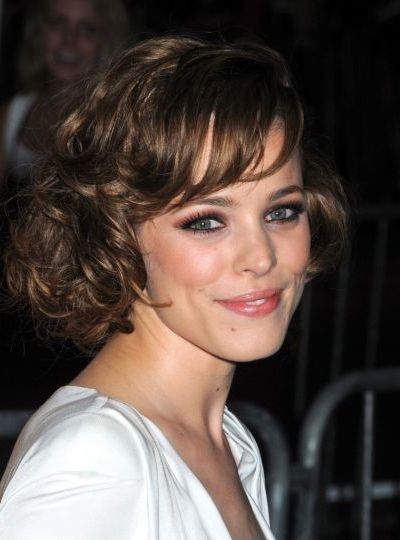 Shag with Messy Bangs:
Bangs for Thin Hair: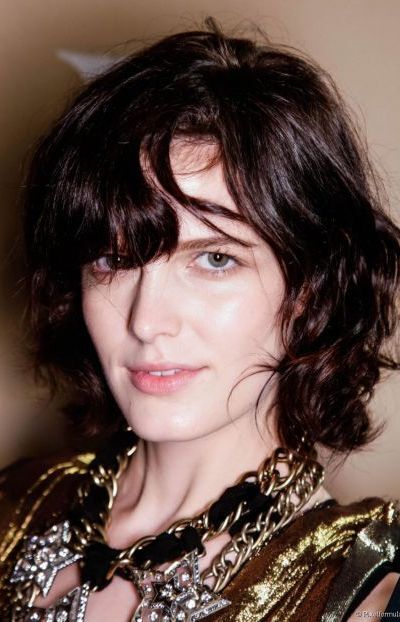 Short Curly Hairstyles with Weave
Weaves are one of the relatively new curly hairstyles for short hair. With weaves, you don't need too much effort to look chic; all you need to do is to tighten your curls even more.
Asymmetrical Bob with Weave Curls: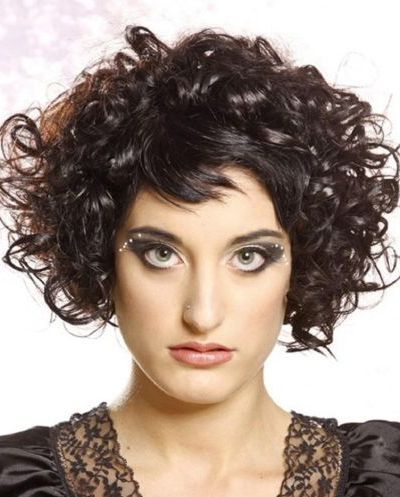 But take care of following the same direction while you run the curling iron through your hair. Weaves curly hairdos are quick, contemporary, and can also turn a shoulder length into a short bob.
Center Part Medium Length Weave: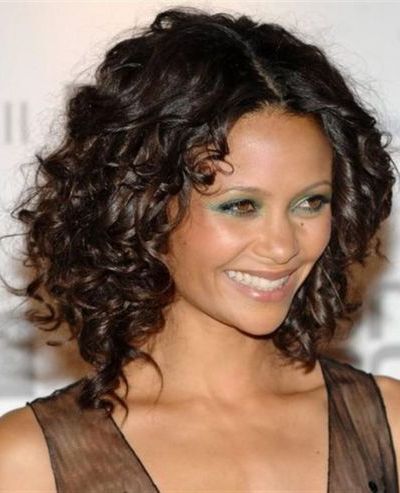 Side Swept Short Weave Bob: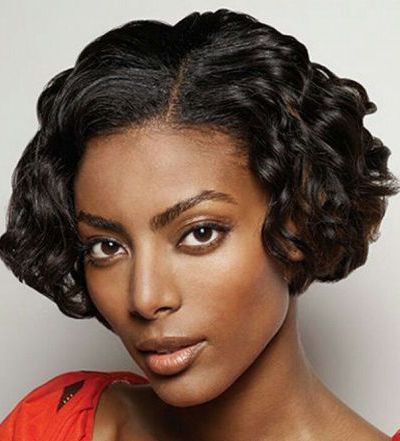 Weave Bob with Bangs: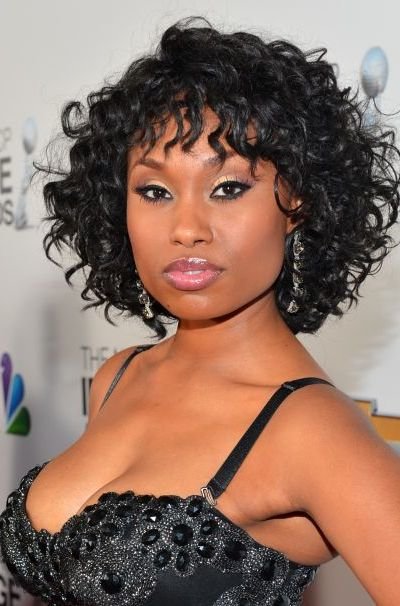 Medium Length Hair with Weave Curls: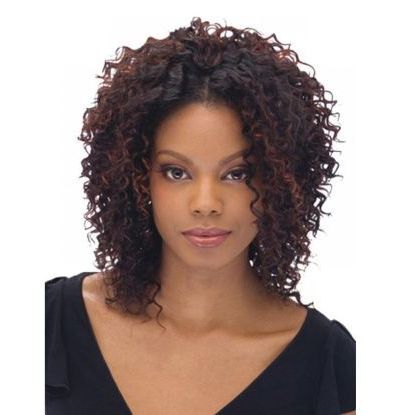 Short Curly Hairstyles With Layers
Women with short curly hair dislike their hair because whenever they get a haircut, it disappears after the first wash. Here we will show you how you can add layers to your short curls. Ask your hairstylist to give you some random layers especially if you have thick hair.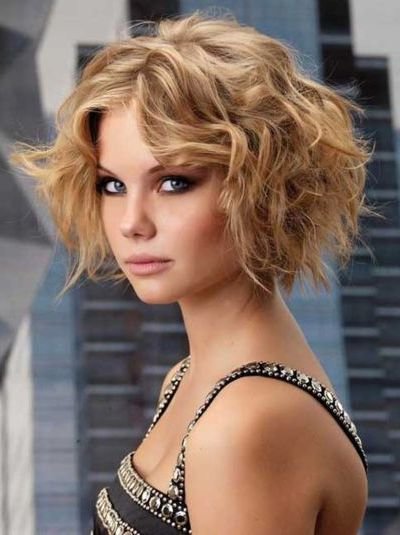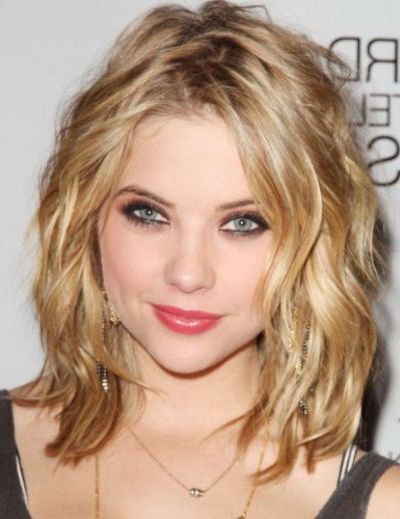 Short Layered Shag:
Or you can have layers that can be styled like shag. If you have thin hair, these shaggy layers will give a volumised look.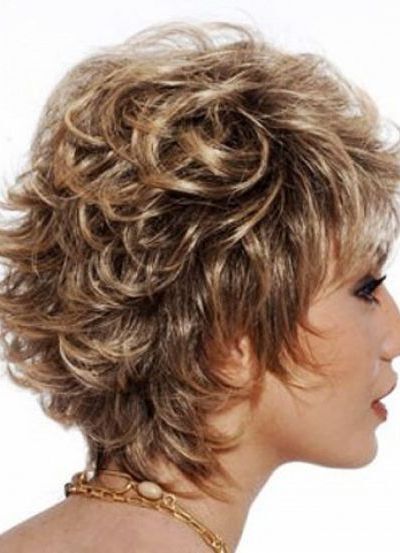 Blown Out Short Layers:
For a sweeter look, try these blown out short layers.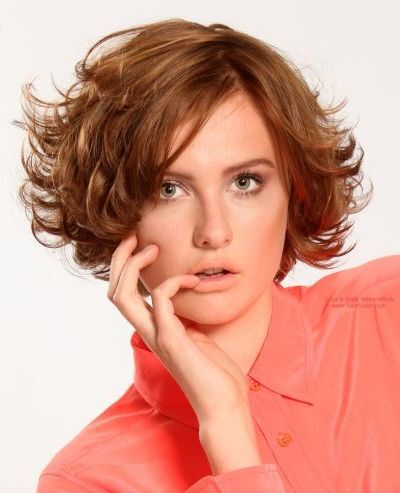 Pixie with Bangs: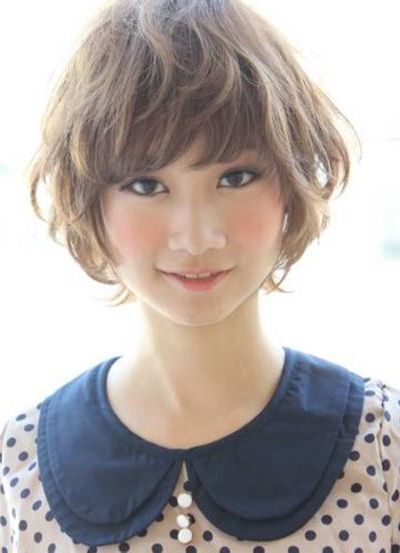 Medium Length Spiral Layers:
Those who have spiral curls can go for these sharp layers that will reduce the volume of their hair.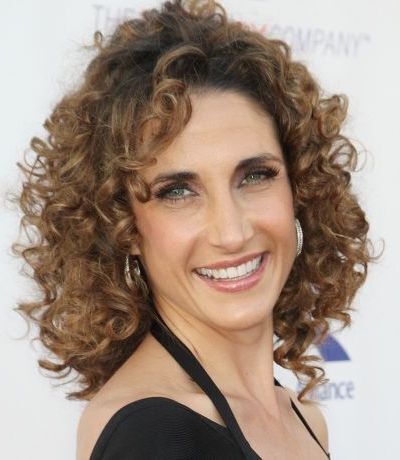 Spiral Layers with Highlights: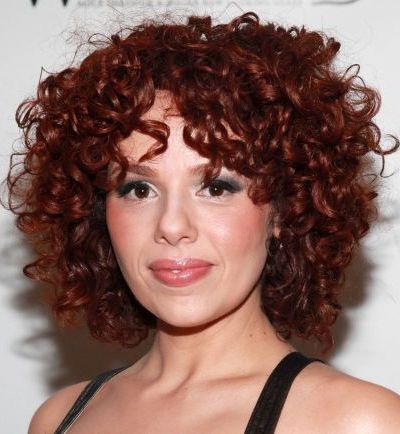 Short Curly Hairstyles with Braids
Braids look incredibly pretty in short curly hair. If you have fairly uncontrollable waves, braids can be tricky. Headband braids are good for loose curly hair as you notice in the picture –
Headband Braid on Bob: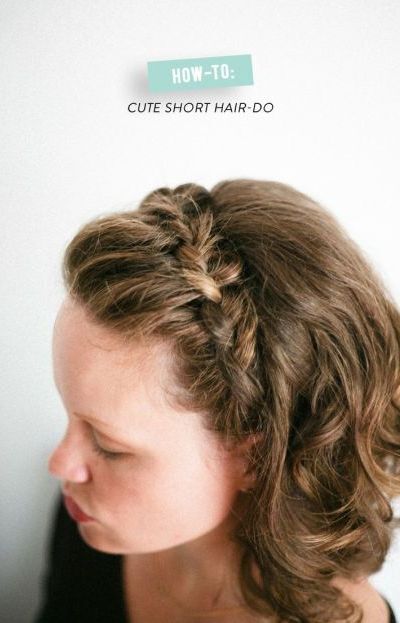 Braid on Cropped Hair:
For cropped curls, try this loose boho braid.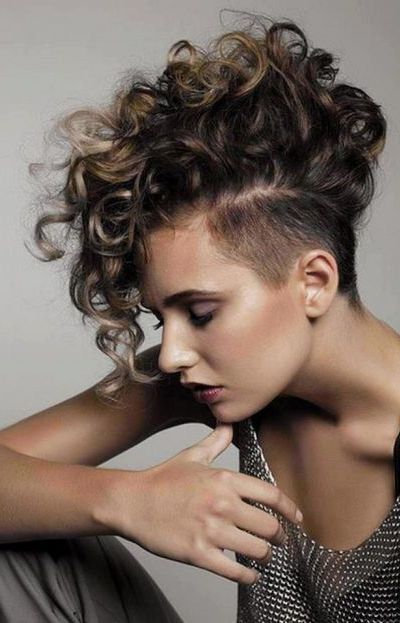 Halfway Braids:
For thick curly hair, these halfway braids work best, where the braid begins at the crown and is left loose halfway down the crown.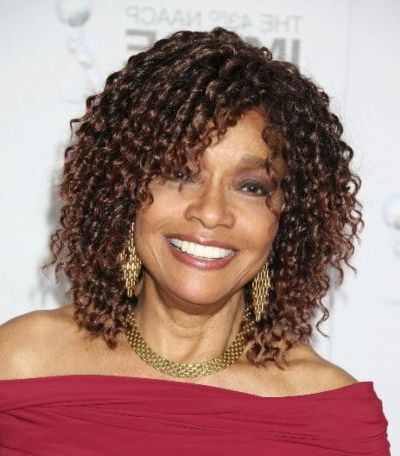 Center Part Braided Curls: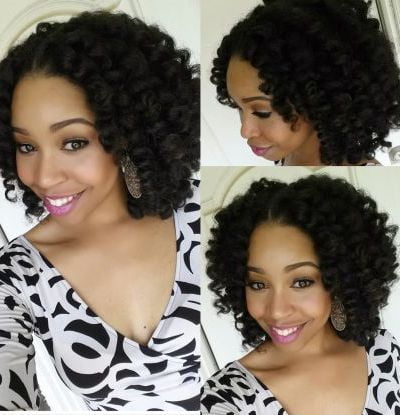 Then we have traditional black braids to catch seriously wild curls.
Traditional Black Braids: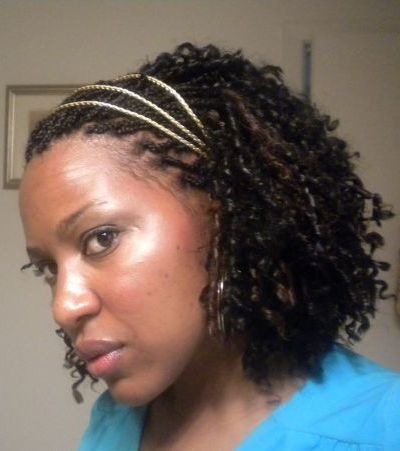 Short Curly Hairstyles with Shaved Side
Curly hair with shaved side can make a real statement when you style them with some effort. Check out these ideas for the most stylish undercut curls.
Undercut Curls with Hair Color Boost: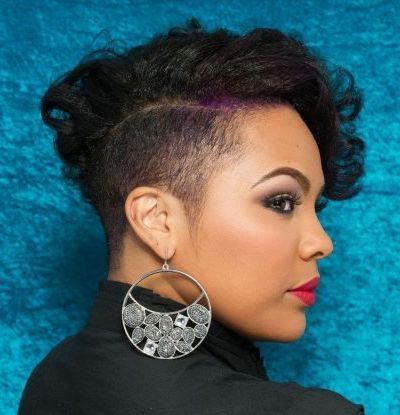 Blonde and Black Undercut Curls: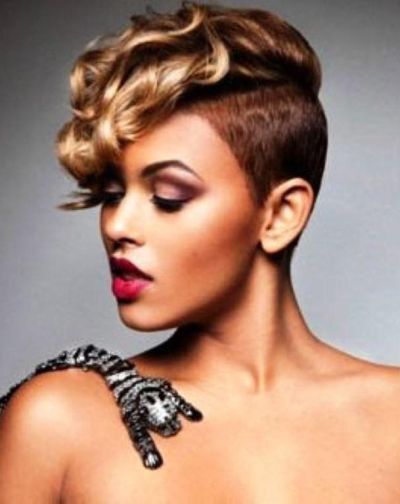 Conservative Mohawk Hairstyle:
For this punk beauty, you can take out your hair to a whole next level. The best advice is to leave a few strands of hair to cover your shaved side for more conservative occasions.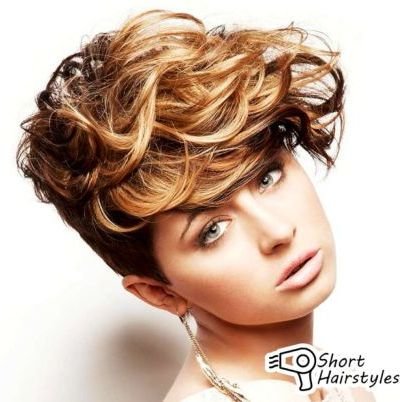 Growing Pixie with an Undercut: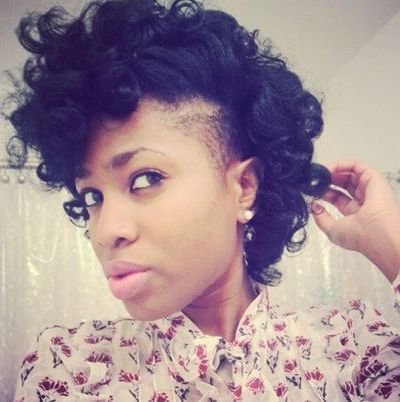 Wispy Bangs on Shaved Side: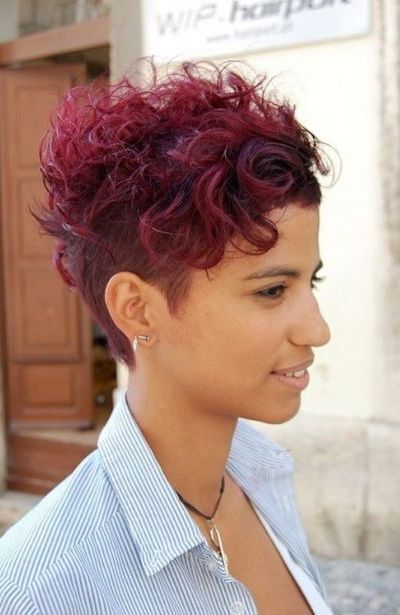 Spiral Curls on Cropped Head: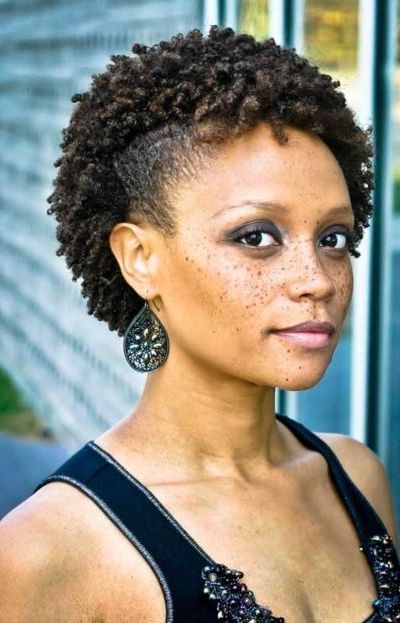 Undercut for Thin Hair: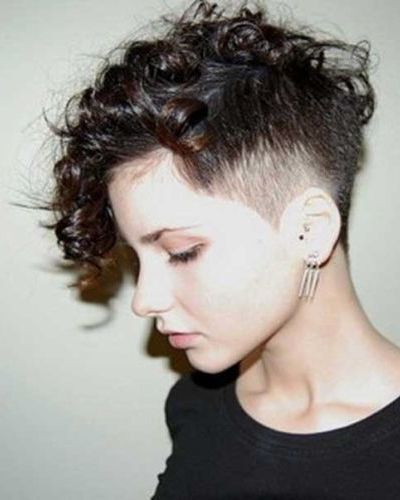 Spiral Curls with a Bold Undercut: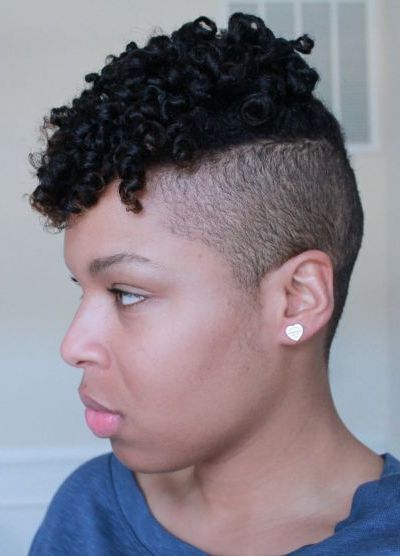 Headbands for Short Curly Hair:
Another easy way keep hair, is by wearing headbands for curly hair. Headbands and curly hair are a natural pair because the band helps keep the curls in check. Headbands come in all sorts of shapes, sizes, and materials so it should be pretty easy to find one that you love and complements your looks. Lets get on to some of the best headband hairstyles for curly hair.
Spiral Curls done with a Sparkly Headband: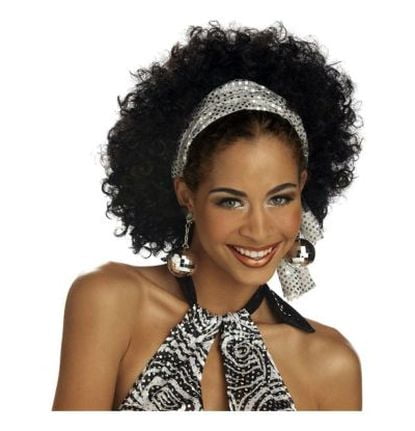 A sparkly headband like you see in the above picture can complement any party dress. Sometimes headbands help conceal the greasy part of your curls. Other times, the headband is just an easy way to keep t
Casual Headband Look: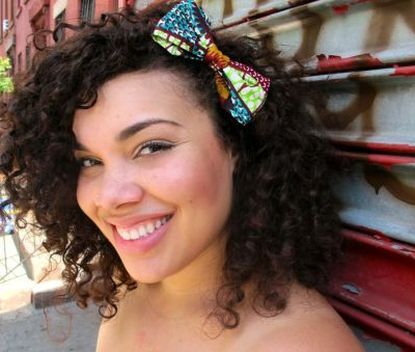 Summer Hairdo with Headband: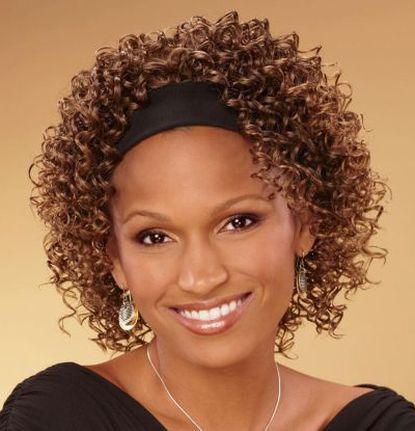 Natural Flowers Headband Look: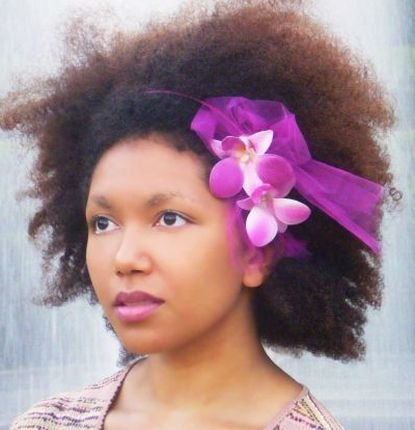 Floral and diamante filled headbands are a perfect choice for curly hair on a special event such as a wedding. Sometimes, a headband is the only thing we need to create short curly hairstyles.
Updo for Curly Hair and Headband: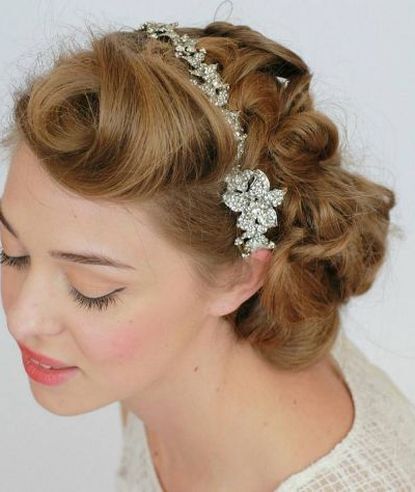 Weddings and proms can be a great opportunity to show off your stylish curly hair. Whether you are the bride, bridesmaid, flower girl, or prom girl, you'll benefit from adding elegance to your curly hair.
Weddings traditionally favor a short curly updo hairstyle. If you seek a wedding hairstyle for short curly hair, consider an updo with a headband to keep curls in place. The secret is a jeweled headband that adds a touch of elegance to your wedding hairstyle. If your hair isn't long enough for an updo, a short curly bob with a headband can still work for a wedding hairdo.
Headband Style for Wedding: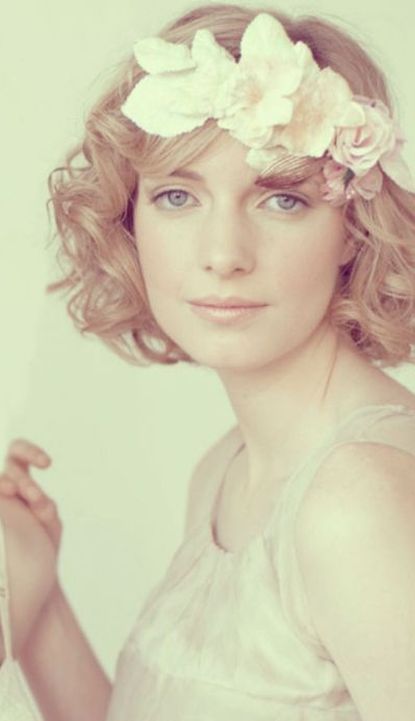 Hippie Style Headband Curls: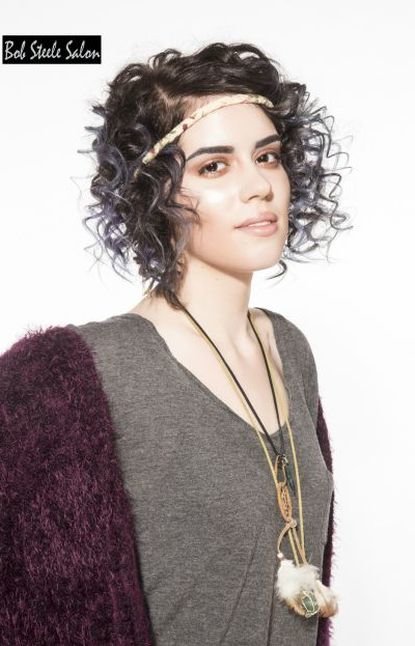 Short Curly Hairstyles with Highlights
Highlights seem ultra-flattering for most hair colors and you can not only create an illusion of volume, but it also makes you look younger in some cases.
Pixie with Highlights: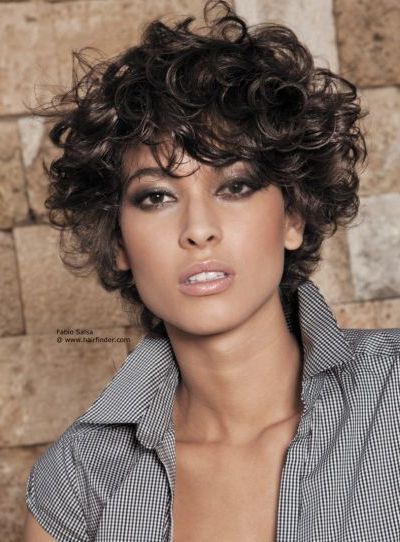 Center Part Curls with Highlights: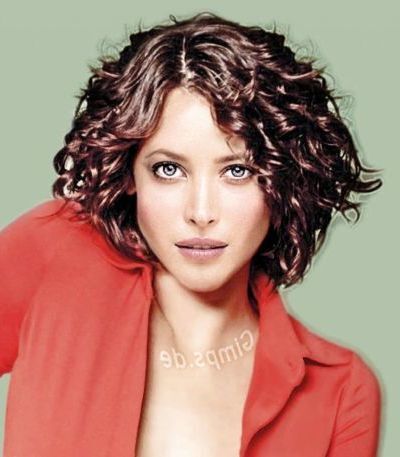 The softer hues of auburn saturate the tender strands of hair making a subtle difference of light –
Age-defying Highlights: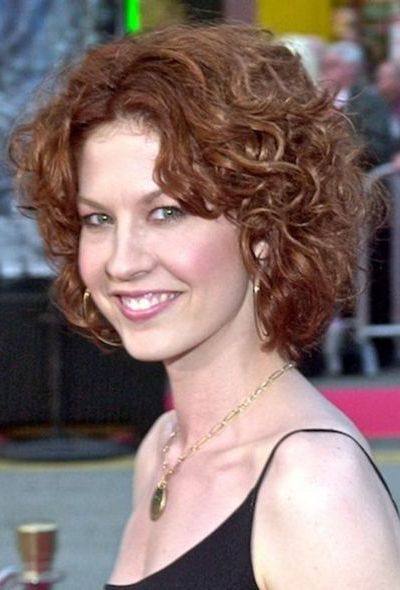 Pixie with Highlighted Bangs: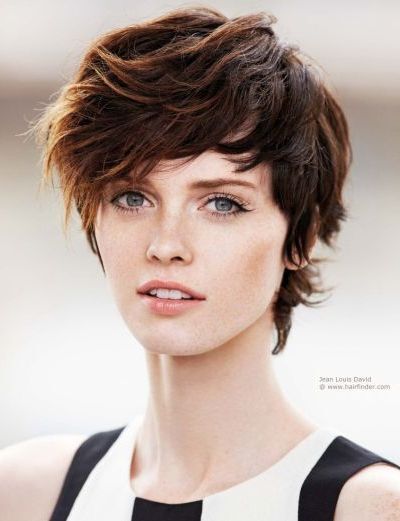 Light Blonde Bob: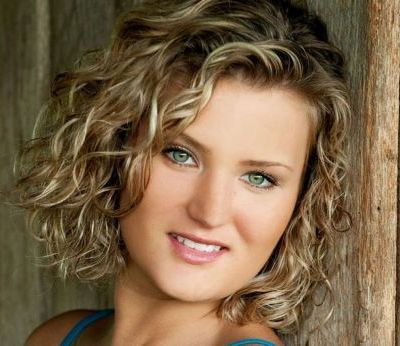 Layered Bob with Highlights: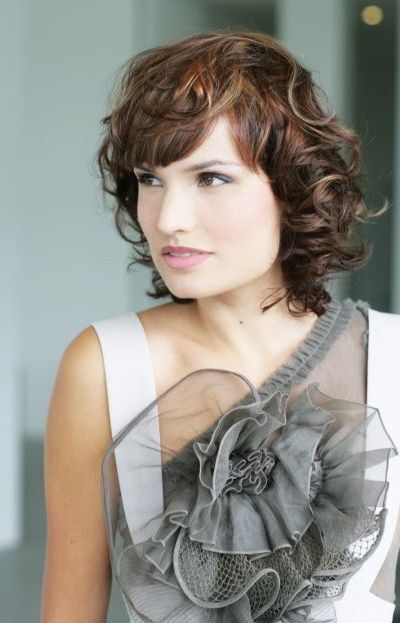 Short Curly Hairstyles with Rollers
The choice of rollers depends on the curl pattern and those with natural curls should avoid curling iron because they only need to give their curls a nice shape.
Funky Short Curls: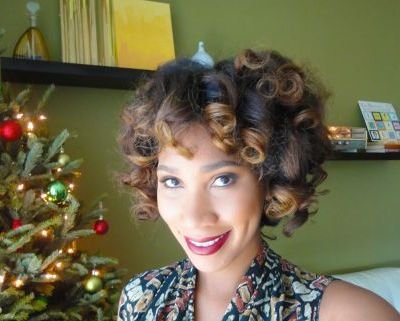 Heatless Curly Do:
Another interesting look achieved with heatless rollers is seen here: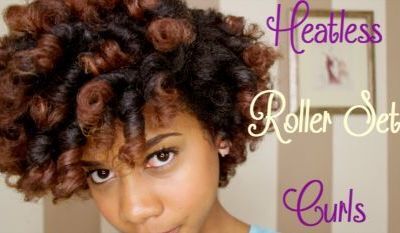 Casual Black Curls:
For casual rolled out look, you can leave normal size Velcro rollers in your head overnight and the result will be similar to this –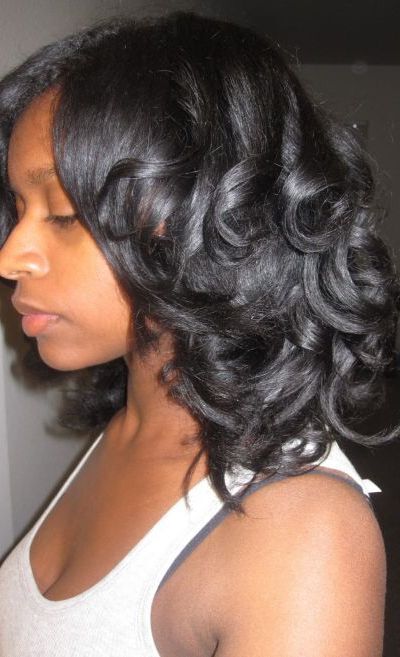 Here we have a few party looks created with no heat rollers –
Pearls Headband Curly Do: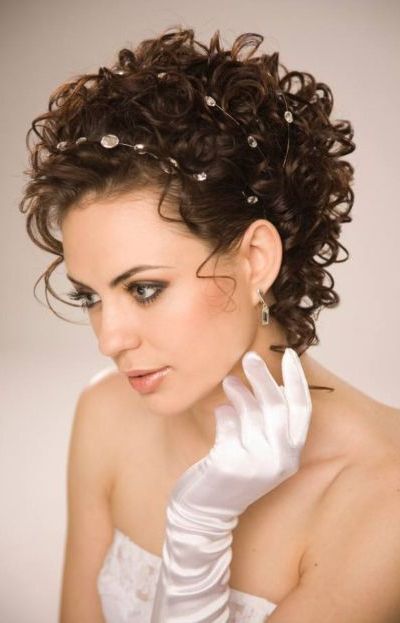 Bouncy Side Swept Curls: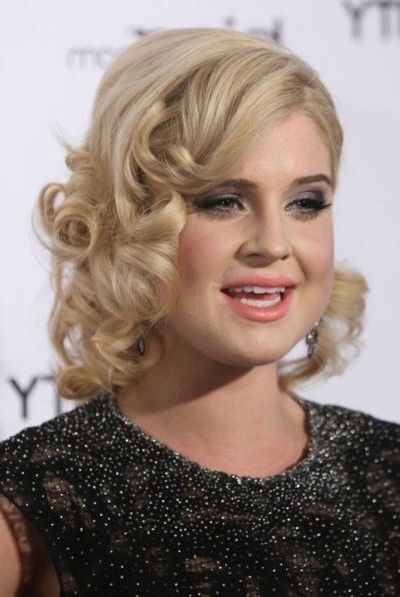 Short Curly Do for Wedding: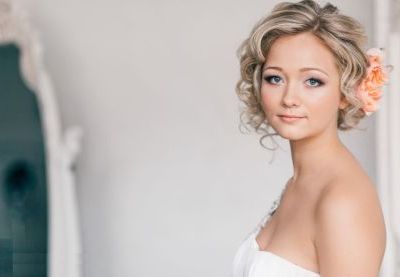 Short Spiral Curls: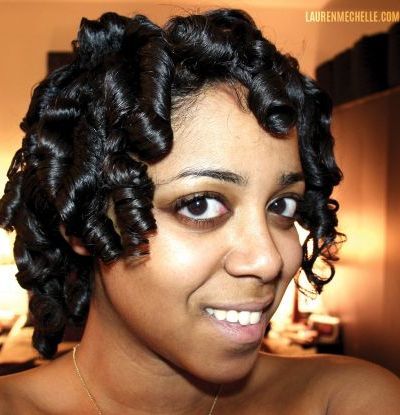 Typical Black Curls: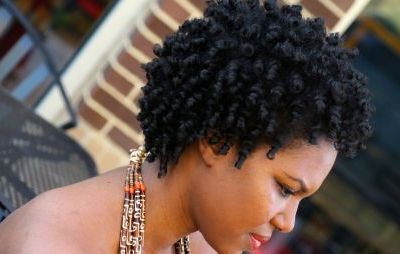 We hope that you have found at least one interesting hairstyle to try soon. Thank you for giving us a chance to show you our thoughts. If you have any comments or ideas, let us know in the comment box below.