Bella Hadid Plastic Surgery Secrets EXPOSED!
Bella Hadid Plastic Surgery secrets include rumors over a nose job, cheek fillers lip fillers, and breast implants. We'll examine Bella's plastic surgery before and after photos for you to decide for yourself. Everyone is curious, did Bella Hadid get plastic surgery? If so, what surgical procedures did she get? Let's begin by taking a closer look at Bella Hadid and who she is.
Bella Hadid History
Bella (Isabella) Hadid is a successful American model under the talent agency, IMG Models. She is the younger sister to Gigi Hadid, another super model. Born in 1996, Bella was voted Model of the Year in 2016 at age 20. Bella is 5ft 9in (175 cm) and lives in New York City, New York.
Bella began her modeling career in 2012 when she was 16 years old. By 2014 she signed on with IMG making her fashion debut in 2014. She has been on many magazine covers including Vogue, Harper's Bazaar, Seventeen, GQ, Glamour, and Love magazine. In November 2017, Hadid turned heads walking the Victoria Secret's Fashion Show in Shanghai, China.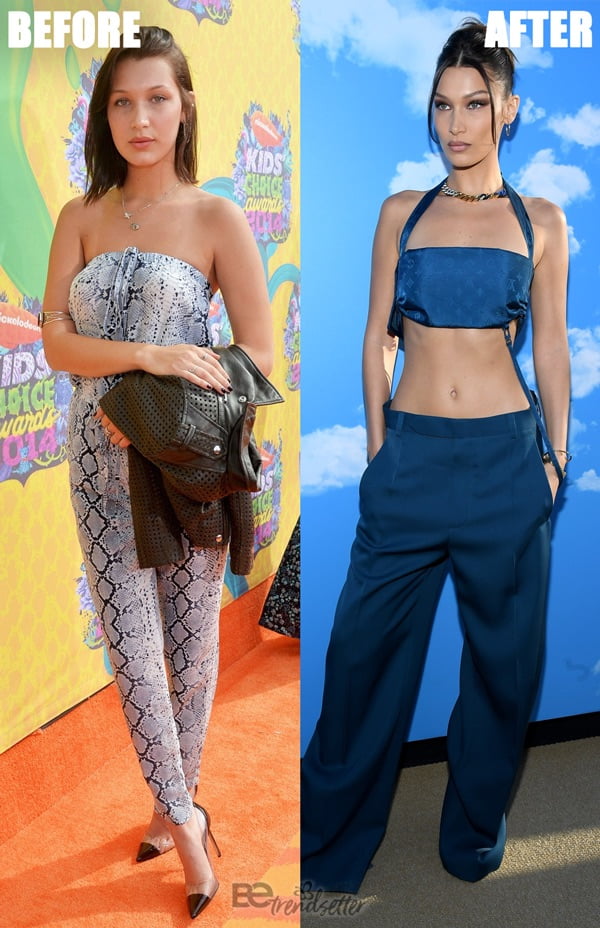 With all the pressures of being a super model, one wouldn't blame Bella for electing to go under a surgeon's knife. But what does Bella say? In May 2018, Bella reportedly said "I'm scarred of putting fillers into my lips, I wouldn't want to mess up my face". Then in January 2019, Bella's mom Yolanda Hadid, strongly denied that Bella had any plastic surgery, botox, or fillers. It's all denials from the family, so now let's examine Bella Hadid before and after photos and compare what she looked like back then and now.
Bella Hadid Nose Job
Bella was always a beautiful girl growing up and had a very normal, pretty face. As she ended her teen years however, her nose took on a different profile. Could puberty, diet, exercise, or fat-loss be responsible for the change? Take a look:
Taking a closer look at her before photo from 2010, Bella's nose is rounded, normal, and pretty. Now compare that with the after photo from 2016. By this time, Bella's nose is smaller, thinner and much more angular. It's much more of a "Hollywood celebrity" nose. It's hard to imagine that a nose will change this dramatically due to the aging process. Perhaps the Hadid family consider a nose job to be regular surgery and not "plastic surgery".
Some people think this Bella nose job then and now is some sort of camera angle trick. For those who continue to deny Bella Hadid rhinoplasty (nose job), let's look at her nose from a different angle.
In this 3/4 angle view of Bella Hadid nose profile is much more dramatic. This before photo shows just how huge Bella's nose used to be in comparison to 2018. If her plastic surgeon doesn't already have a gold medal in nose reconstruction, they should get one for this transformation. From the looks of it, her nose was reduced by 50%, with the tip being pulled up. If there are any doubts now, please let us know in the comment section!
Bella Hadid Lip Filler
Bella Hadid has luscious lips today, we can all agree to that. The question is, was it always that way? To answer that, we hit the photos.
Way back when she was 14, particularly in this Mona Lisa like photo, Bella's top lip was on the thinner side. The bottom lip looks normal, and is bigger and thicker than the top.
Fast forward to Tokyo in 2016 in the after photo, and her lip sizes are reversed. Now her top lip is larger than her lower lip. This is the reason why people wonder, did Bella Hadid get lip fillers?
The most common method of lip augmentation is through injectable hyaluronic acid dermal fillers. With the effects lasting about six months, Bella would need to see her plastic surgeon twice a year for maintenance. Is that in her calendar, or is something else the cause of her full lips?
Bella Hadid Cheek Filler
Bella Hadid cheeks, the facial ones, have also been the source of cosmetic surgery speculation. All across social media, people are wondering if Bella Hadid has cheek fillers or cheek implants.
Here's a set of before and after photos to ponder. Back in the day, Bella had a rounder face with baby fat. Her cheekbones are not prominent in the before photo. The after photo shows Bella's cheeks in 2017.
Her smile causes her cheek bone structure to show. The strange thing is that her cheeks look different, they are asymmetrical. Maybe it is because her smile is uneven, or maybe her smile is uneven because one of her cheek implants shifted. What do you think?
Injectable cheek fillers dissolve over time, and cheek implants can be removed. Either way, in the 2018 after photo, Bella Hadid's cheeks are modest and sophisticated. They still have more structure, and shows higher cheekbones that her before photo. Is it from make up alone?
Bella Hadid Boob Job
Let's talk about Bella Hadid's body. More specifically, did Bella Hadid get a boob job? In some photos, Bella shows off a slender body and yet her boobs are still big. Almost too big.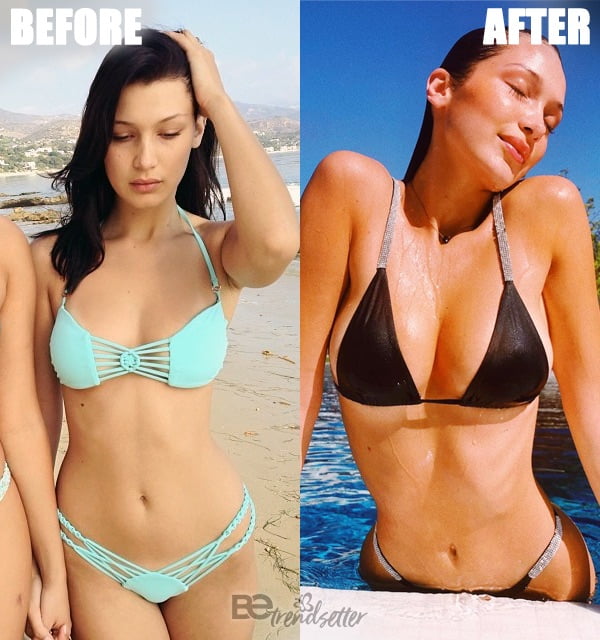 The before photo is from 2013. Bella is not flat chested, but her breasts aren't huge either. The after photo is from the Shanghai Victoria Secrets Fashion Show in 2017 where Bella Hadid boobs appear much larger. It's well-known that VS has wonder bras that can give anyone a cup or two bra size increases. You'll have to make this call yourself.
While on the subject of Bella Hadid's body and VS, there was much controversy over her thin, anorexic-like body she had in preparation for the fashion show.
You can see that she is super skinny in the 2017 before photo. You can even see Bella Hadid thigh gap. After the show, in the 2018 after photo, you can see that Bella Hadid's body returned to a healthier body mass index.
The interesting thing to notice, is that while she was really thin, her boob size remained relatively the same between 2017 and 2018. That would suggest some help from Bella Hadid breast implants.
Bella Hadid Plastic Surgery Results
We have exposed several of Bella Hadid's plastic surgery secrets in this article. Others will remain a mystery for now until more evidence comes in.
We hope you liked this page on Bella Hadid plastic surgery. Let us know what you think, if you agree or disagree, or if you have any other opinion you want to express in the comment section below.
You may also want to see:
Selena Gomez Plastic Surgery
Ariana Grande Plastic Surgery
Bella Hadid Bio
Name: Bella Hadid, Isabella Khair Hadid
Born: 9 October, 1996 in Washington, DC, United States
Age: years old
Height: 5ft 9in (175 cm)
Weight: 120lbs (54 kg)
Body Measurements: 34-24-34
Bra Size: 34C
Cup Size: C
Eye Color: blue-green
Net Worth: $12 Million
Siblings: Gigi Hadid, Anwar Hadid
Parents: Mohamed Hadid, Yolanda Hadid