The best hair color ideas for women over 50 depends on your skin tone and your personality. And while some women may have been coloring their hair for years, others are looking into this because of their increasing amounts of gray hair. Take a peek at these photos and get inspired for your next look!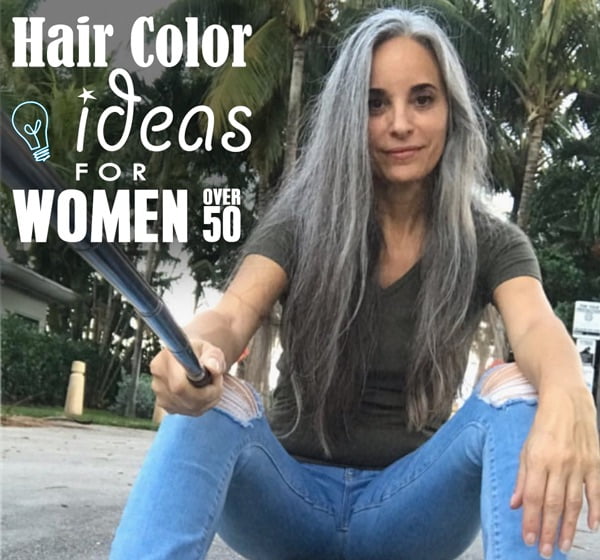 Coloring Gray Hair
A common side effect of the aging process is the gradual appearance of gray hair. For some, this can come quickly and prematurely. Eventually though, by the time you are over 50, everyone has caught up. Many women fear the gray, and look to color their hair, especially in the beginning when their hair first starts to change.
Gray hair or white hair results from the loss of pigment which gives hair its color. Gray hair can be difficult to deal with since there is no base color and the hair is usually thicker and coarser. That said, there are still many options and colors, from pigments and dyes, that will hide those pesky gray hair strands. Let's take a look at some of the possibilities:
Blonde Hair Color for Over 50
Going to a lighter, natural color makes the transition from gray hair to colored hair a little less obvious. It also blends better with the white roots as your hair grows out. For that reason, a lighter hair color can make you look younger, especially when paired with an appropriate, modern hairstyle.
Related: Short Hairstyles for Women Over 50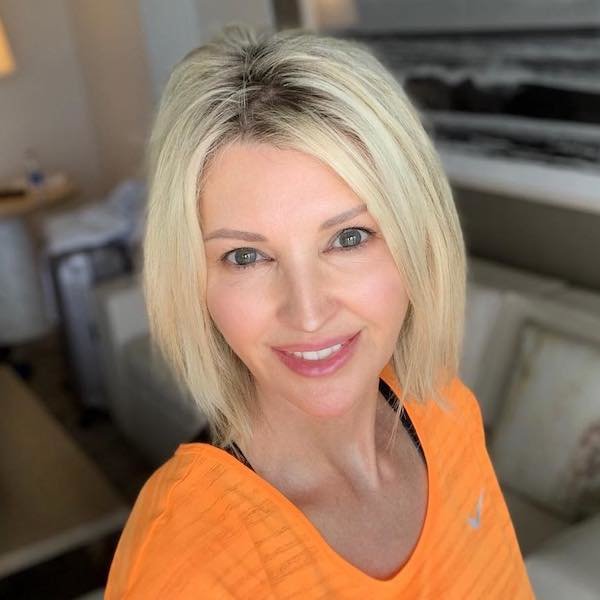 Going with blonde highlights while keeping dark roots is a trendy way to hide those pesky gray hairs. It's a great color choice for women over 50 with fair skin and blue eyes, because the dark roots keep your face from being washed out. Also, by staggering the color near the roots, you'll be able to go longer without color touch ups since the dark hair is an integral part of the color design.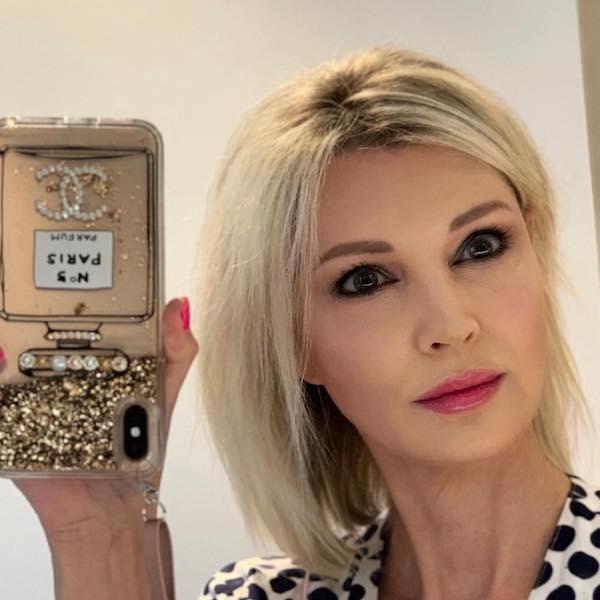 Here is another example of blonde hair and dark roots. You can see how the blonde highlights and hair color work with the underlying darker tones to give a sophisticated look to this over 50 bob hairstyle.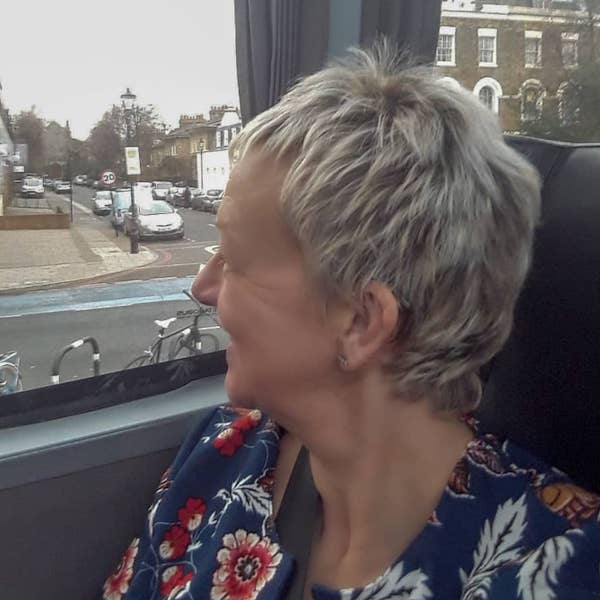 Another way to hide gray hairs in plain sight is with these ash blonde spiky highlights. Keeping the light brown base gives added dimension to this short hair style for women over 50. The spikes give a contemporary, modern touch to this hair cut, and as a bonus, is very low maintenance.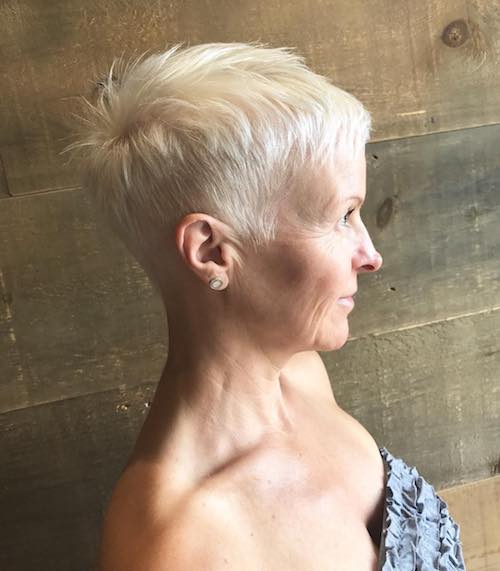 A short, platinum blonde pixie is a youthful haircut and hair color combination for women over 50. It's also easy to maintain, and looks fabulous.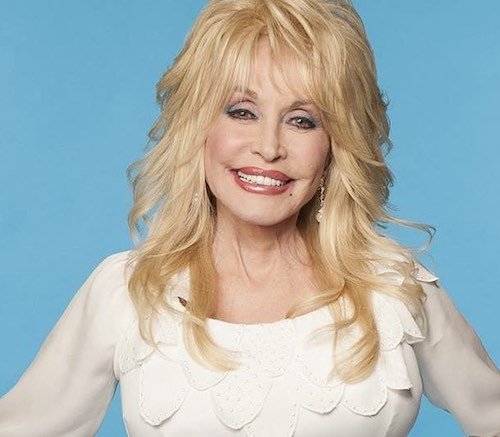 A feathered long blonde hairstyle is another example of a good hair color for women over 50.
Related: Best Dolly Parton Hairstyles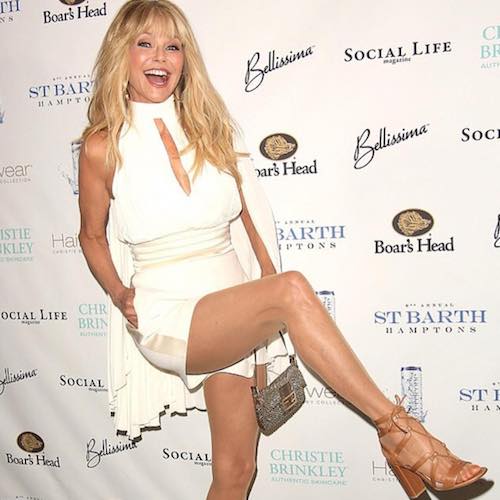 A long beach blonde hairstyle with blonde highlights as shown by Christie Brinkley.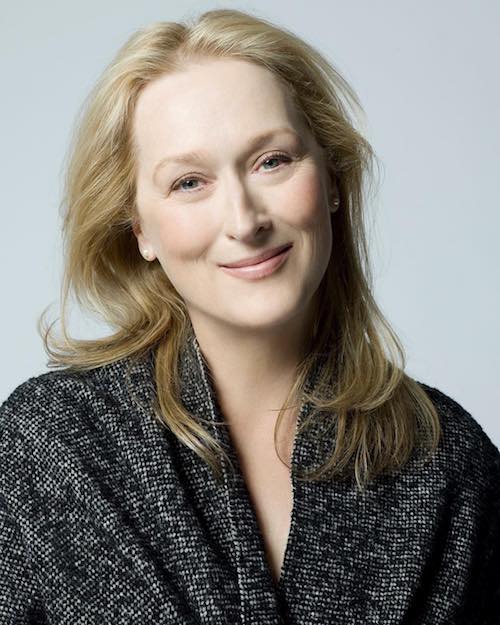 A light honey blonde hairstyle is great hair color for women over 50 with fine hair and fair skin. The color is natural resulting in a younger look as shown in this photo of Meryl Streep.


Best Gray Hair Color Ideas for Women Over 50
Let's face it, your hair turning gray over time is a fact of life. You can't control that, but what you can control is your response. What if, instead of fretting over the gray, you embraced it? Here are some silver and gray hair color ideas for you to ponder.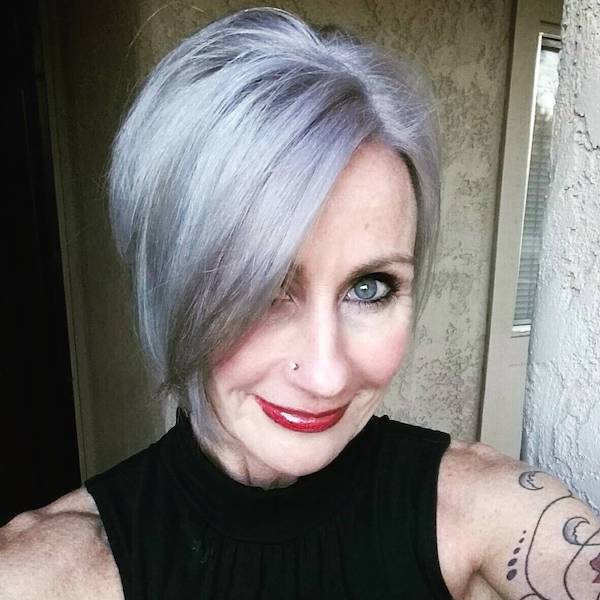 Hide your naturally graying hair with a bob and silver toned highlights. This style works best when you have dark roots that add contrast and weight to the look.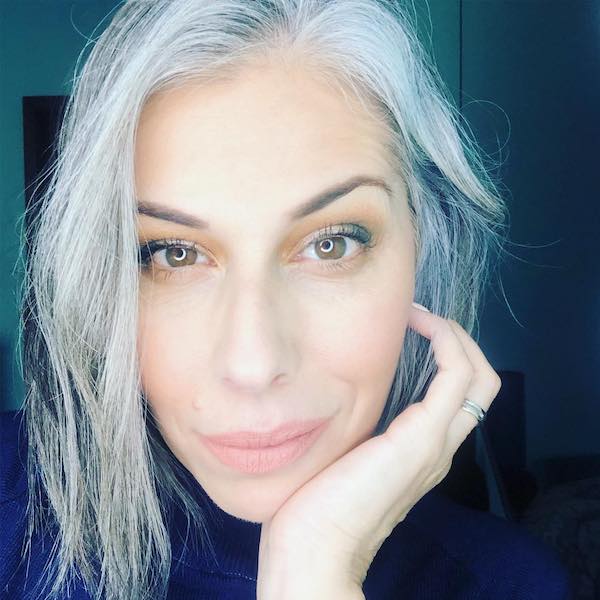 Add some gray hair color highlights to turn your natural gray hair into an asset. Nothing but style here.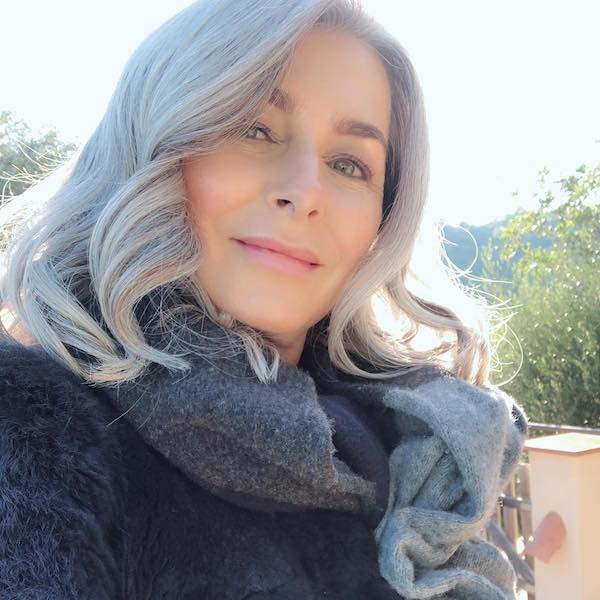 Think your days of style are over once you get over 50? Think again. Gray and silver tones with large soft curls can add that touch of elegance and let you age oh so gracefully.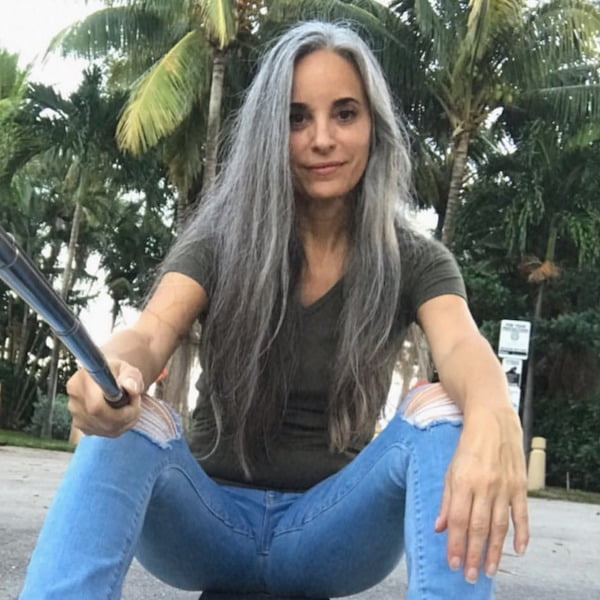 Embracing the gray hair color with a long natural hair style, exudes a sense of honesty and charm. When your personality is full of youth, your mind won't worry about the gray hair color.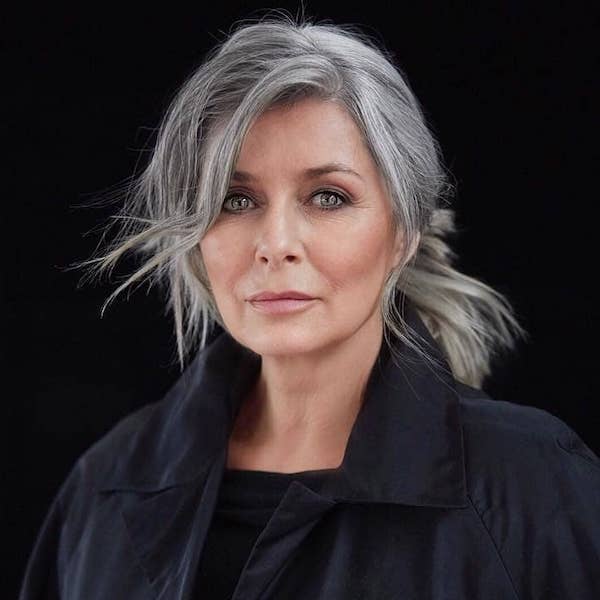 If you're a woman over 50 with gray eye color, going with a matching pale steel gray hair color is always a winning choice. Not only does the hair color give you a trendsetting look, your eyes will have a beautiful pop to them.
Best Hair Color Ideas for Women Over 50 with Fair Skin
If you've got pale, or fair skin, you'll want to stay clear of the warmer hair color tones. Stick with the cooler browns.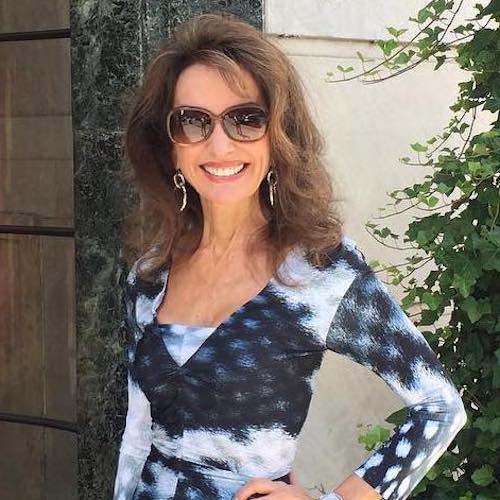 Catch this Susan Lucci light ash brown hair color for women over 50. The styling may be a bit dated, but she wears it well.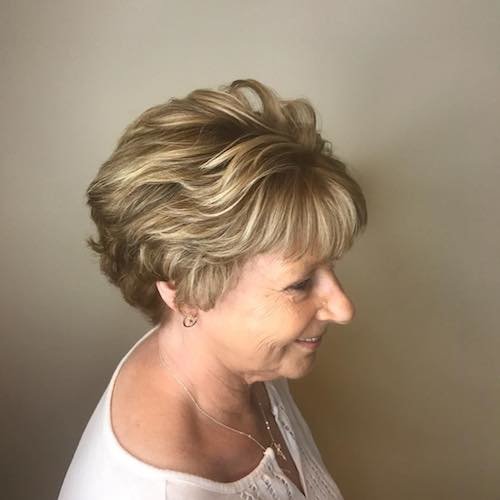 A light and medium ash blonde balayage bob with bangs for women over 50 with fair skin. Having blended hair colors is a perfect way to hide the gray hair that grows in over time.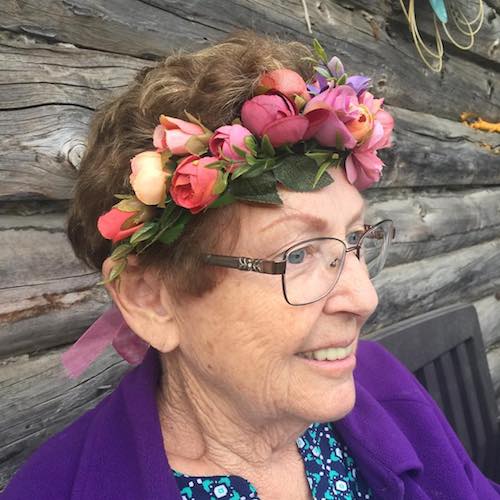 A natural medium brown hair color for women over 50 is another natural look that works great with fair skin. The darker hair contrasts well and looks beautiful.


Best Hair Color Ideas for Asian Women Over 50
Asian women over 50 with black hair have a challenge as they age. The gray and white hairs that appear over time, are much more visible against a black backdrop. But fear not, we have some ideas to help with this.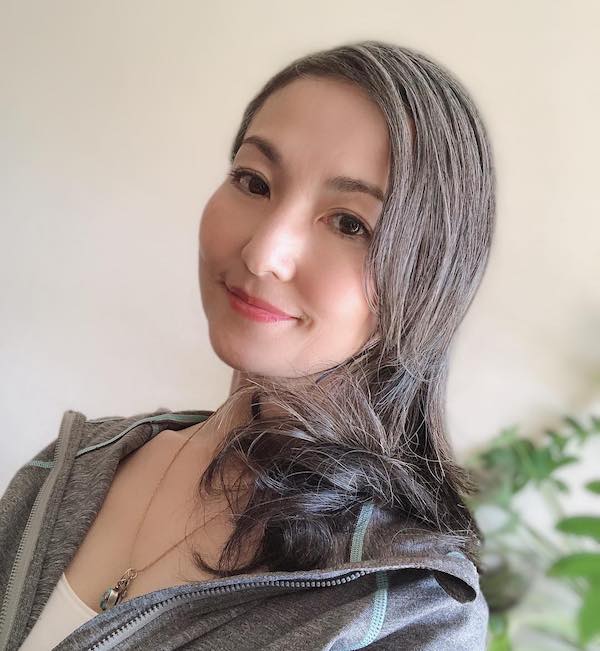 Switching from jet black to an ash brown hair color reduces the contrast with gray hair. Thus, they become less noticeable. Keep it to the cooler brown shade for a more natural look.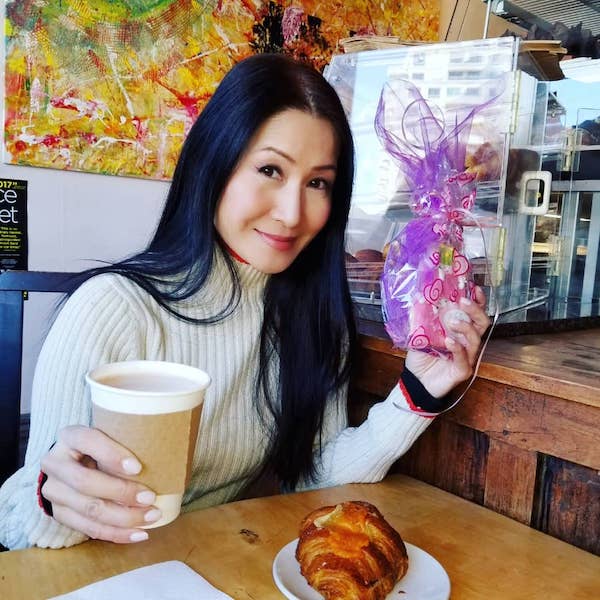 A great choice for women over 50 with gray hair is to use blue highlights. No bleaching is done here to keep the blue tone subtle. Your hair gets and awesome blue tinge to it while all the gray hair magically disappears.
Best Hair Color Ideas for Women Over 50 with Olive Skin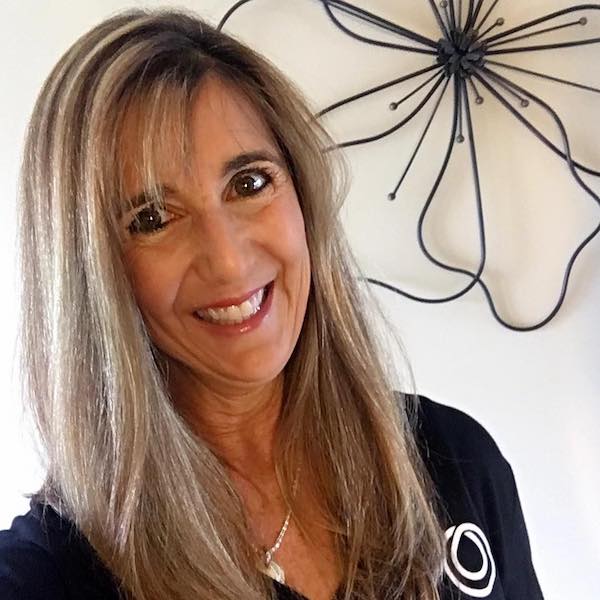 Women over 50 with darker or olive skin tone can go with warmer hair color tones. Multi-color light brown highlights will easily cover gray hair. It a hair color and hairstyle that can take a few years off your appearance.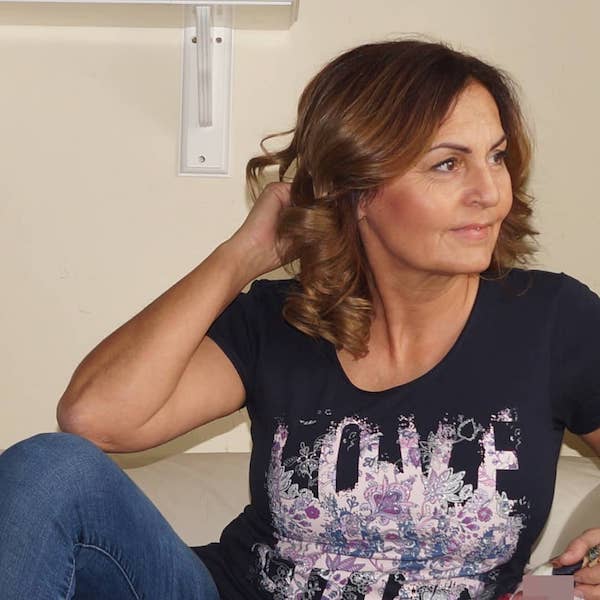 A mahogany brown hair color for women over 50 looks great with olive skin. As this Sophia Lauren look-a-like demonstrates, it's a wonderful hair color choice.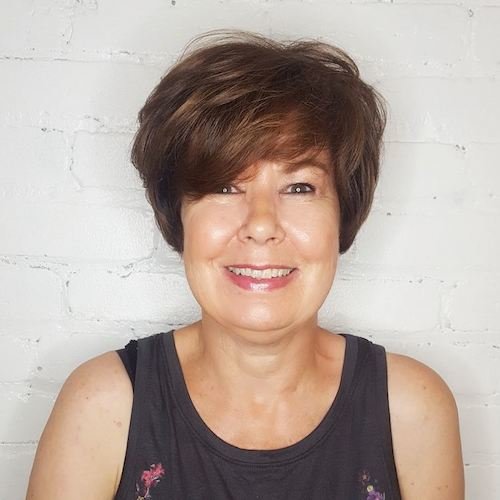 This dark solid hair color works best for women with light or partially gray hair. Once the hair turns fully white, the gray roots will become obvious fairly quickly.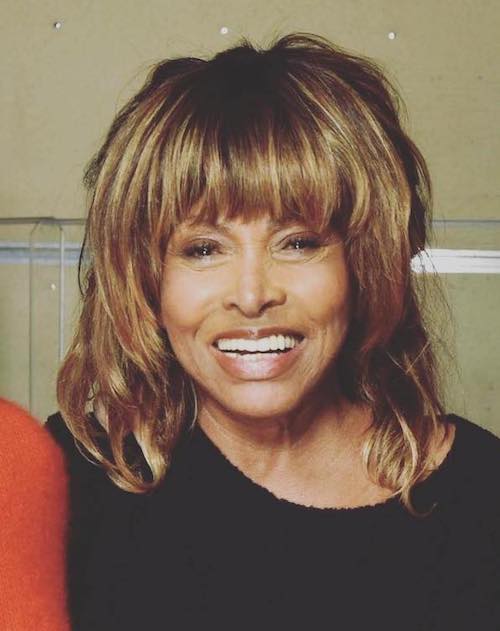 A medium blonde, dark chocolate hair color mix for women over 50 with dark skin complements the skin tone perfectly. It's a great way to hide gray hair and look youthful.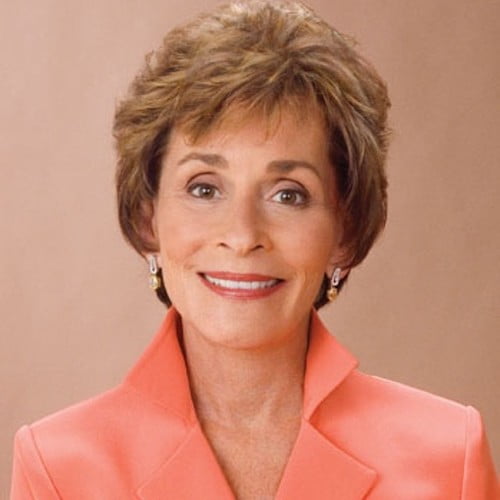 Judge Judy sports a short spiky hairstyle with a medium ash brown hair color. It's a natural looking hair color for women over 50 with olive skin.
Full Hair Color For Women Over 50
If you can handle the attention or like to seek it out, going full on with a bold color may be just what you are looking for.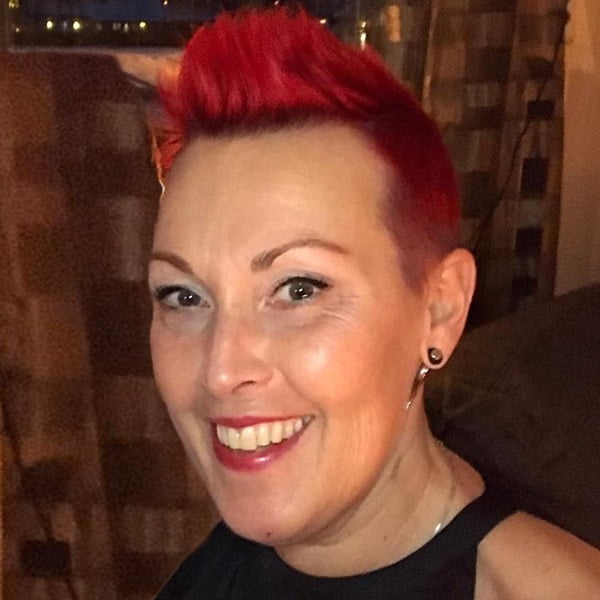 Got a thing for firemen? Set your hair ablaze with this fire engine red hair color. Shave the sides of your head and spike up the hair on top, and behold, you're on fire!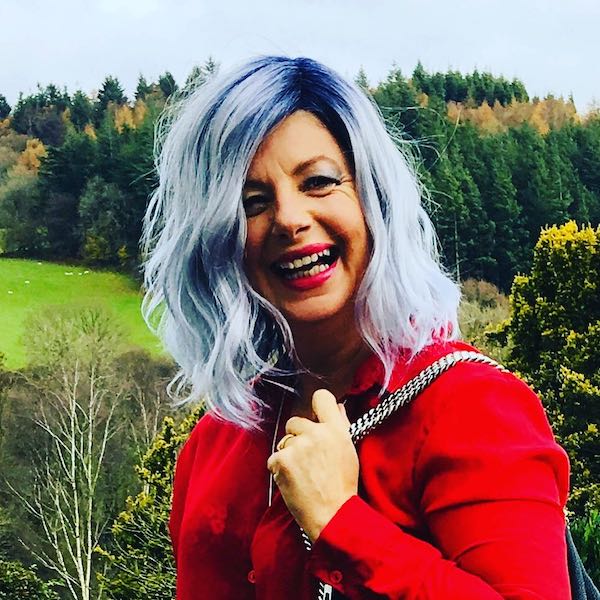 If your wardrobe is full of red clothes, then you might want to complement that with a bold, sky blue hair color. That color combination will perfectly match your stone washed jeans. It's a fine fit for that denim hair color movement.
Related: Denim Hair Color Ideas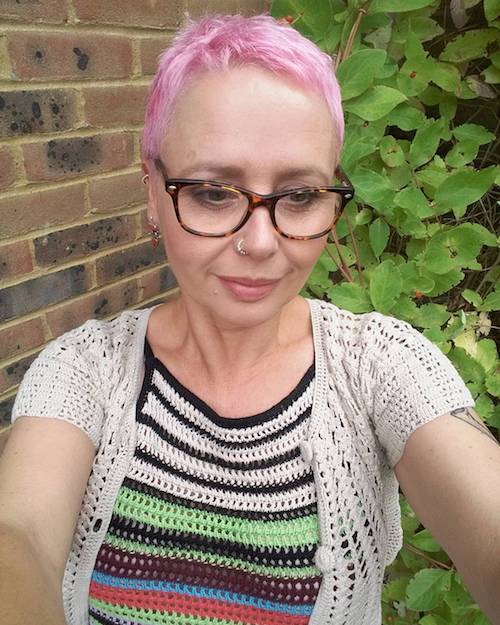 A pink hair color pixie for women over 50. A soft shade of pink is sure to attract attention while maintaining your femininity. It's fun color that makes you look younger. Sport this hairstyle if you can match it with a happy personality and smile.
Related: Pink Hair Color Ideas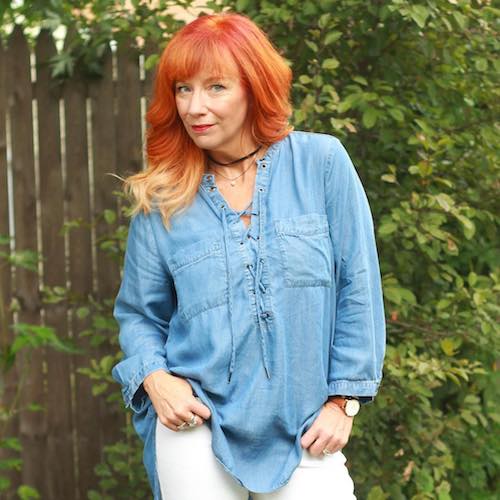 Are you ready for flaming pumpkin hair color? Take no prisoners with this fiery hairstyle featuring a bold orange with a blonde dip. A sure-fire conversation starter, this hairstyle complements fair skin and blue eyes. Be bold, and channel your inner fall harvest pumpkin.
Accent Hair Color for Women Over 50
If you're a woman over 50 with a young and fun personality, you don't have to sit on the sidelines while all the millennials play with colored hair. Bask in the attention you'll get when you show up with your colored hair style.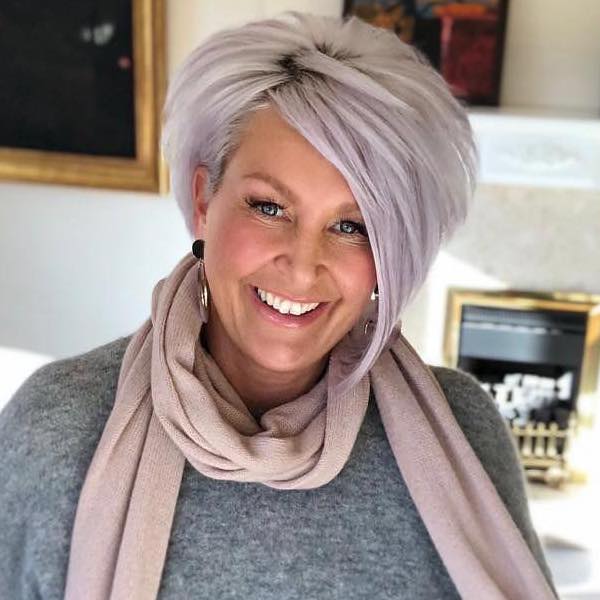 What's the best hair color for a woman over 50 with blue eyes? Try this fabulous ash gray and silver angled bob on for size. But don't stop there! Take it up a notch, with some purple highlights. Amazing!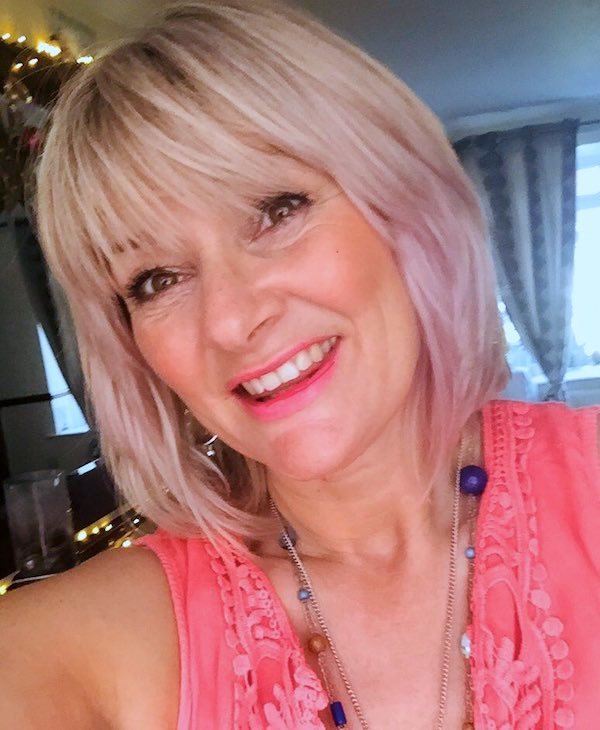 Looking for that little extra pop with your blonde hair color? Add a splash of pink to your short blonde hair! Give yourself that hint of playfulness and youth to match your personality.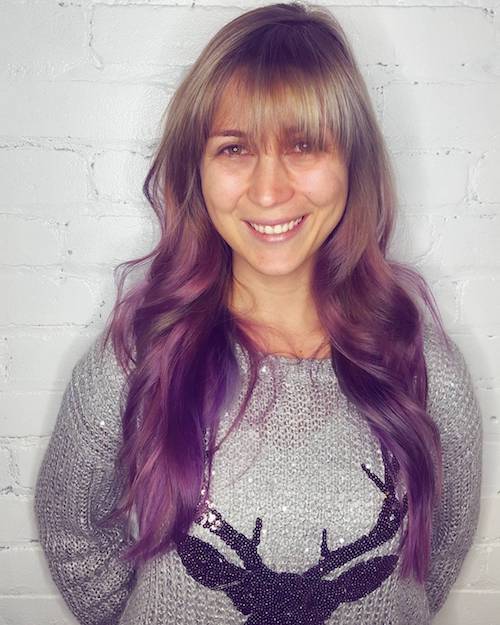 This purple ombre is a fun way to add hair color for women over 50. The lighter, natural hair color near the head keeps the hairstyle and hair color easy to manage.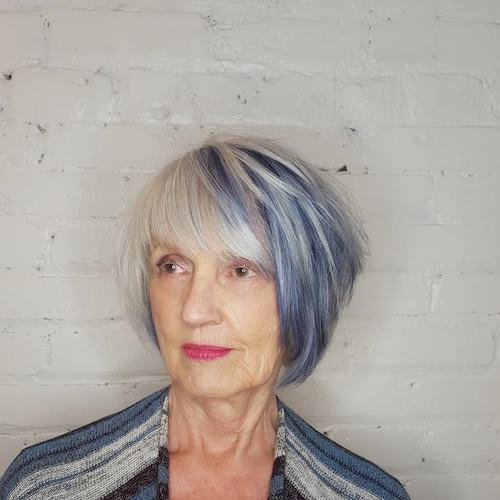 Another with to add hair color for women over 50 is an asymmetric blend. Here, a blue and dark blue hair dye adds a contemporary feel to an otherwise normal hairstyle. It's a good choice for women with a full head of gray hair as it adds color that looks great and is easy to maintain.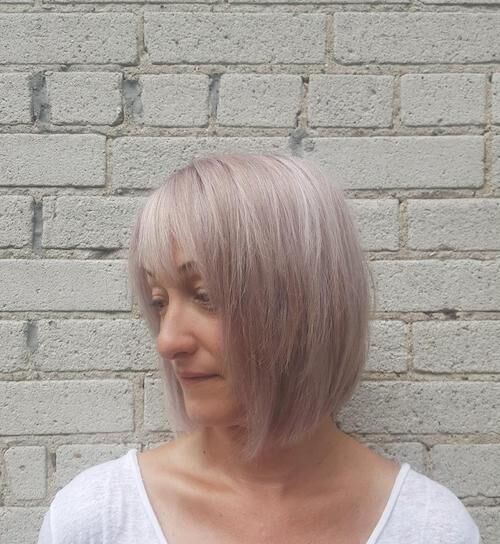 If you have a  softer personality, but still want color, go for just a touch of color. This light blonde hairstyle with subtle lilac highlights looks amazing without being obvious.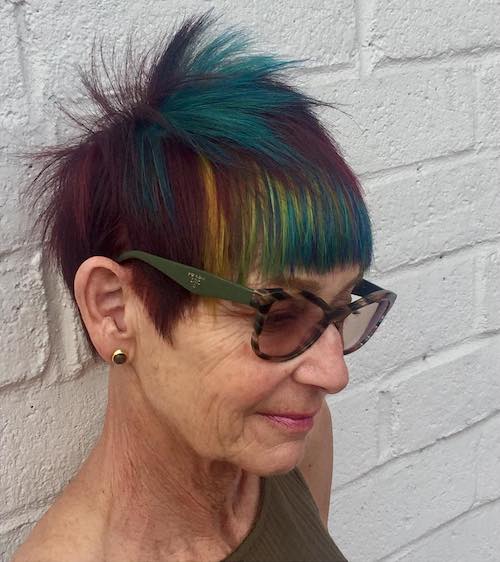 If you're bold enough to pull out all the stops, then go for a burgundy base hair color with peacock colored accents. There's no missing this hairstyle where ever you go, so you'll need a big personality to pull this off.
Hair Color Maintenance
After you've spent the time and money to get the hair color you wanted, you'll want to keep it that way. Look for a shampoo and conditioner that is design to keep your hair color fresh.
Red Hair Color Shampoo
Red hair color is the quickest to fade, so get your shampoo for red hair right away.


If you found something interesting that you liked or if you've got something to say, share it with us in the comments below.