Megan Fox Plastic Surgery Before And After REVEALED!
Megan Fox Boob Job
Moving down her body, people wonder about Megan Fox's chest. Did Megan Fox get a boob job? Some internet fans proclaim that Megan's breasts are too round, too big, or too perfect to be real. They suspect Megan go breast implants. Let's explore whether she has fake boobs or the real deal.
When Megan Fox starred as Prudence in the television series, Two and a Half Men back in 2004, she already had large breasts at 18 years old. As you can see in the before photo, Megan's bra size is a 34C, with a C cup size.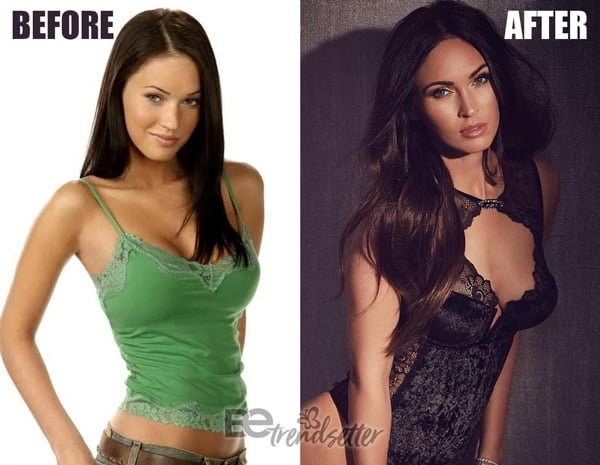 In the after photo from 2018, Megan's breast size is unchanged. She's got some normal age and mom related loss of lift going on, so that is consistent with Megan having real breasts. If she did have breast implants, her boobs appearance would have likely retained its perkiness. There doesn't seem to be any evidence to assert fake breasts. Let's continue the investigation.
Some fans have pointed to a screen capture from 2008 when Megan starred in a movie, How to Lose Friends & Alienate People as proof of Megan's breast augmentation surgery, shown in the before photo below. We tend to chalk this up to a combination of bad posture, bad camera angle, and bad wardrobe teaming up to give the illusion of smaller A cup or B cup breasts. If you compare that with the after photo from 2018, you can see that even now Megan's chest can look flatter depending on these environmental factors. Also if you've seen the movie, you'll see that in the full clip Megan Fox tits do appear larger than in this one snapshot.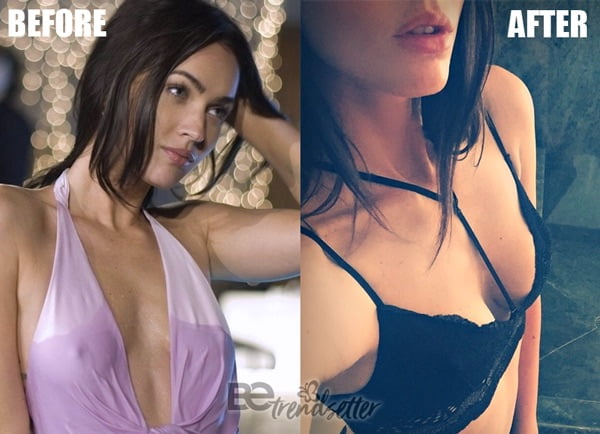 Let's keep looking. In her before bikini photo, Megan's breasts are wide-set, defined as being three or more finger's widths apart at the sternum. Now, her breasts are the same size, but seemingly closer together. This more likely to have been caused by child bearing rather than breast enhancement surgery. A side note, you can see the difference in her Marilyn Monroe tattoo on her forearm, which she is in the process of removing.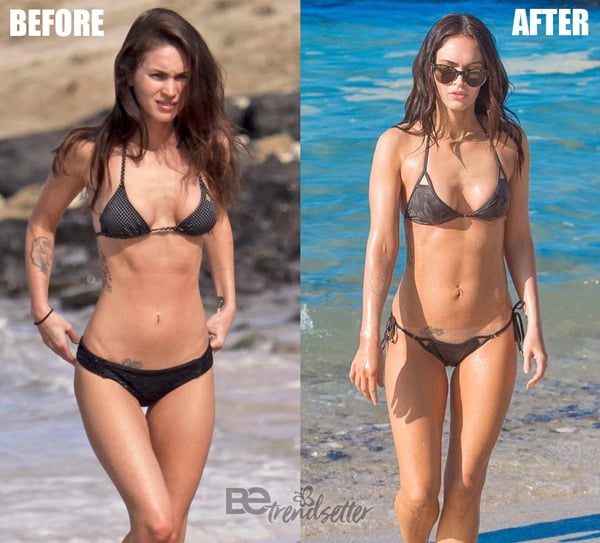 Earlier in her career, Megan Fox's chest was full and athletic. The shape and outline of Megan's nipples and areolas are visible through this near nude supergirl shirt in this before photo. There may have been some photoshop enhancements here however.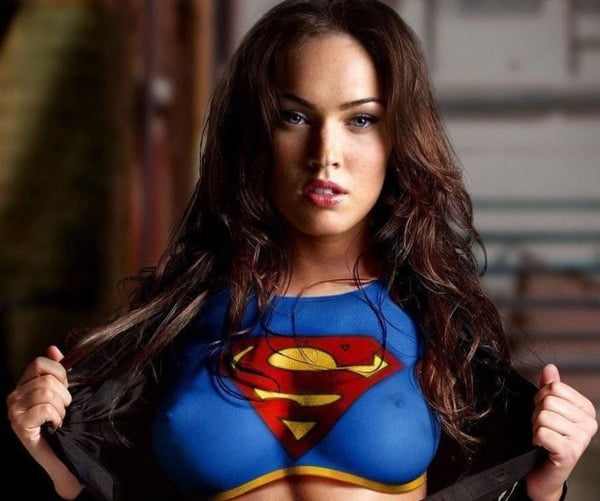 While it is possible that Megan got breast augmentation before she was 18, we don't think that's the case. So for the Megan Fox boob job rumor, we are going to go with false. Megan Fox's has natural breasts.

Megan Fox Lingerie
Plastic surgery or not, you can't deny Megan Fox is a force to be reckoned with. In 2016 Megan Fox partnered with Frederick's of Hollywood to create a Megan Fox collection of lingerie. In 2018, the Megan Fox Collection became available in Forever 21 stores. Follow Megan Fox on Instagram for more updates.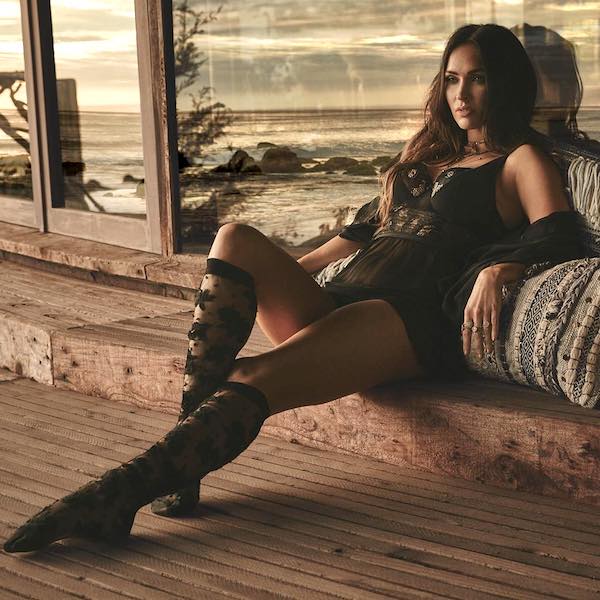 Megan Fox Plastic Surgery Results
So we have confirmed a few of Megan Fox's plastic surgery rumors involving her face. The quality of the procedures she is getting has gotten much better, and Megan has developed into an elegant, more mature version of herself. Yes, you can see the changes in her face over time, but her body is a different story.
Megan's body today is the result of hard work. Exercise and proper diet are the key, along with dedication.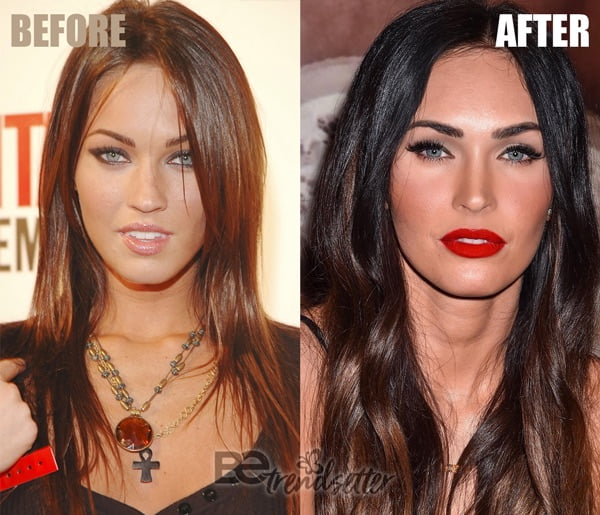 We hope you have enjoyed our article on Megan Fox, and have learned something about this fabulous woman. Let us know what you think, if you agree or disagree, or if you have any other opinion you want to express in the comment section below.
Megan Fox Bio
Name: Megan Fox, Megan Denise Fox
Born: 16 Mvay, 1986 in Oak Ridge, Tennessee, United States
Age: 34 years old
Height: 5ft v4in (163 cm)
Weight: 115 lbs (52 kg)
Body Measurements: 34-24-33
Bra Size: 34C
Cup Size: C
Net Worth: $8 Million
You may also want to see: Ariana Grande Plastic Surgery
You may also want to see: Rose McGowan Plastic Surgery