Megan Fox Plastic Surgery Before And After REVEALED!
Megan Fox Plastic Surgery rumors include a nose job, cheek fillers, lip fillers, boob job, and Botox. We will be walking you through some plastic surgery before and after photos so that you can decide for yourself. We all want to know, did Megan Fox get plastic surgery? But before we get too far along, let's review Megan's career and history to see who exactly we are talking about.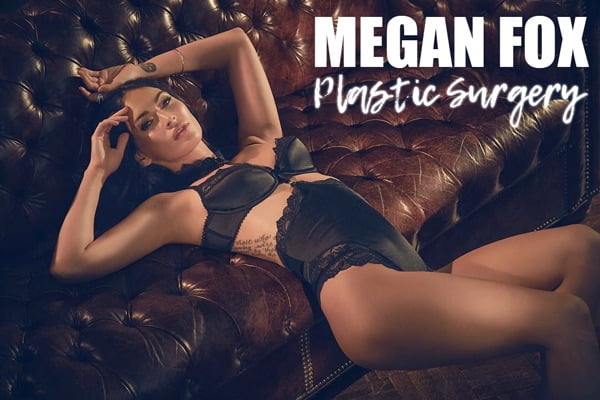 Megan Fox History
Megan Fox is an American television, movie actress and model that began her acting career in 2001 in a series of television and film roles. Many people will remember her from her iconic 2007 role as Mikaela Banes in the action film, Transformers. She returned to that role in the 2009 sequel Transformers: Revenge of the Fallen. More recently, Megan has starred in Teenage Mutant Ninja Turtles in 2014 and again in 2016 for Teenage Mutant Ninja Turtles: Out of the Shadows. She has also been featured in Jennifer's Body (2009), The Battle of Jangsari (2019), Rogue (2020), Big Gold Brick (2022),
Due in part to her wild success in Transformers, Megan Fox was named FHM's Sexiest Woman in the World in 2008.
Megan admits that she suffers from obsessive compulsive disorder (OCD), self-harming, insecurities, and a low self-esteem. She claims to be bisexual, although she had issues kissing Amanda Seyfried while filming Jennifer's Body. In 2014, Megan married Brian Austin Green in 2010 and has three children with him.
We hope that has refreshed your memory about who this fabulous actress is, and now let's move on to the critical subject of Megan Fox cosmetic surgery.

Megan Fox Nose Job
When Megan Fox was growing up, her face and nose looked different back when she was young. In the before picture of Megan Fox 2005, her nose profile was wider and she had a cleft, a vertical dent, at the front tip of her nose. It was a perfectly normal and pretty nose, but apparently not good enough for the Transformer star. By 2008 the dent was gone and Megan's nose became thinner and more refined.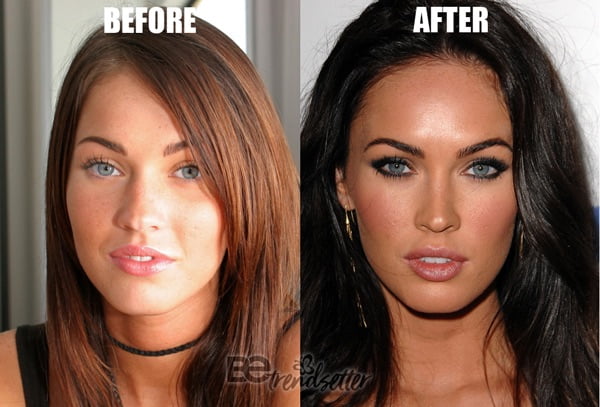 When you take a look at photos of Megan Fox in her Transformer's role from 2007, the cleft nose is still visible. Here is a nose job then and now comparison from 2007 to 2012. The change is subtle, but noticeable especially when seeing them side by side. Charting the changes over time, it appears that Megan got a nose job in late 2007 to early 2008. Perhaps right after she cashed her Transformer's paycheck.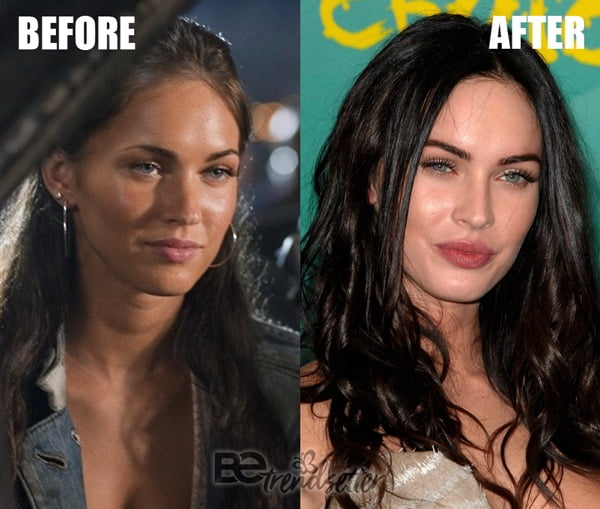 While the tip of her nose can be explained by a non-surgical filler such as Radiesse or Restylane, the thinning of her nose would require reshaping of the underlying cartilage. Thus there is no denying the Megan Fox nose job rumor. The evidence is right in the middle of her beautiful face.

Megan Fox Lip Filler
Let's move on to Megan's Lips. Has Ms. Fox resorted to lip fillers or lip injections? Again we will take a look at some before and after photos of her mouth and lips, and you can be the judge. Back then, Megan had a thin top lip, much thinner than today. As you can see in her earlier photos, Megan's top lip is so thin that there is a tendency for her front teeth to show. When you look at the after photo from 2018, her mouth is completely proportional. Her upper and lower lip are the same size.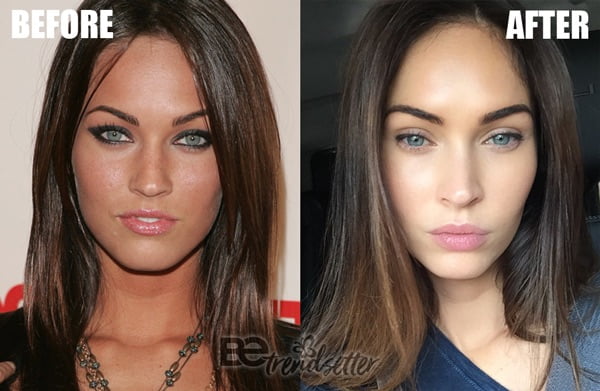 Makeup, lipstick, or even lip plumpers can't fully explain the size difference in her lips. Typically, these lip injections are hyaluronic acid fillers – so called because they contain substances similar to hyaluronic acid, a naturally occurring substance in the body. The effects last about six months and come under such brand names as Restylane and Juvederm Ultra. Fat injections, implants, and collagen injections were popular back in the day, but have fallen in use as newer products were developed that are safer and last longer.
In the case of Megan Fox, we suspect that you'll agree with the yes nod to Megan Fox lip fillers.

Megan Fox Cheek Filler
While still on the subject of Megan Fox face before and after plastic surgery, we need to consider her cheeks. There are rampant rumors about Megan getting cheek fillers or cheek implants to add contour to her face. For reference, we have a before, Megan Fox 2006 picture. Today, Megan Fox looks refined and sexy. However, this was not always the case. There was a dark period.
Back in 2010 to 2011, the future TMNT star would visit an over zealous, injection happy surgeon and get too much plastic surgery. This was a disaster for Megan, an unfortunate plastic surgery nightmare.
Related: Celebrity Plastic Surgery Disasters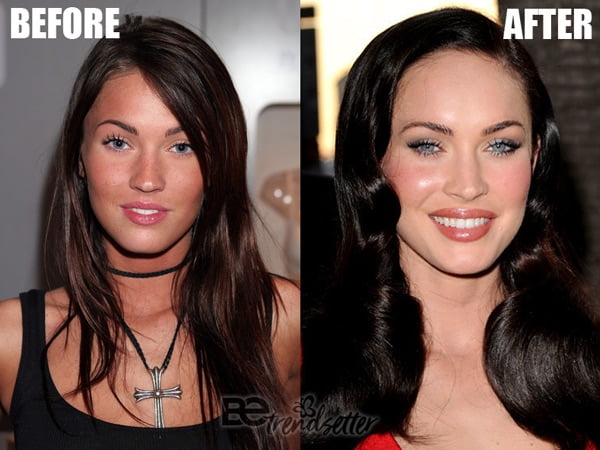 In the after picture, from 2010, Megan's face appears much wider with very pronounced cheeks. Megan's cheek filler was likely to be Juvederm Ultra Plus or Juvederm Voluma. Usually cheek fillers are used to offset age related sagging or flattened cheeks to make one look younger. In Megan's case however, excess filler gave her a fatter face and made her look much older than she was.
Thankfully, these cheek injections are only temporary. They can last up to two years however, and that's long enough for this fair maiden. Over time, her cheek fillers have settled, giving Megan a more natural look these days. Many Megan Fox fans are happy to see this phase end. This one is another obvious cosmetic surgery rumor that can be confirmed.

Megan Fox Botox
With all the other injections going on with Megan Fox's face, it's only natural to wonder about Botulinum Toxin, or Botox for short. Botox is injected into the wrinkle prone areas in the forehead to paralyze and relax the underlying muscle. The result is a smooth forehead without the worry wrinkles.
In an effort to squash the Megan Fox Botox rumors, the actress posted photos on her Facebook page in 2011 showing "things you can't do with your face when you have botox".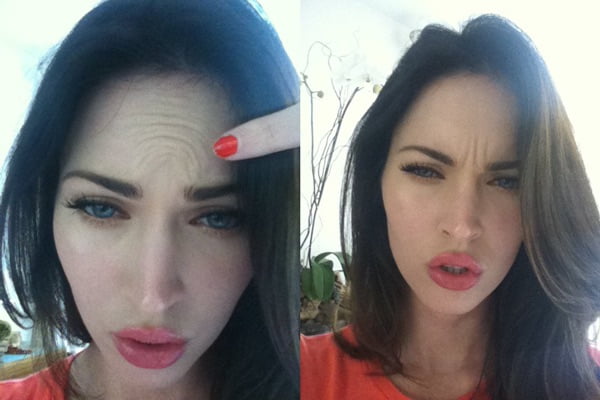 Some have questioned the authenticity of the photos, particularly the one with the curved wrinkle forehead. It does look unusual to us. What do you think about Megan's wrinkle formation? Have you seen anyone else with that?
One tidbit about Botox is that it lasts about three to six months. As it wears off, it can do so unevenly which might explain the curved forehead appearance. Speculation aside, it would be a simple task to wait until the botox subsided before taking these photos. Then, she could visit her plastic surgeon and get her fix.
For these Botox rumors, we'll go out on a limb and say yes, Megan Fox gets Botox injections. Her forehead appears too smooth in too many photos for us.

Megan Fox Face Peel
While digital cameras have vastly improved over the last ten years, their ability to capture imperfections in Megan's face have seemingly diminished. In the before photo, Megan's face in 2007 showed a normal skin surface. You can see some unevenness with some raised spots and pock marks which resemble acne scars. In the after photo from 2019, Megan's face has porcelain skin.
While make-up can do wonders, and have probably helped her skin tone. The lack of blemishes look like they have also been reduced with facial skin peels. She could have also had microdermabrasion which is a physical exfoliation versus the chemical peel. The end result is the same, skin that looks better with less blemishes.

Megan Fox Thumbs
One thing Megan Fox has not altered with plastic surgery are her clubbed thumbs. An inherited genetic trait, known as brachydactyly, or "short finger", Megan's thumb resembles a big toe to some. This condition occurs in about 1 out of 1000 people. Luckily for Megan, it has only affected the tip of her thumb and not the joint.
Nonetheless, Megan's toe thumbs have not affected her millions of fans around the world. If anything it just shows that she is human. What do you think about her thumb? Let us know in the comment section below.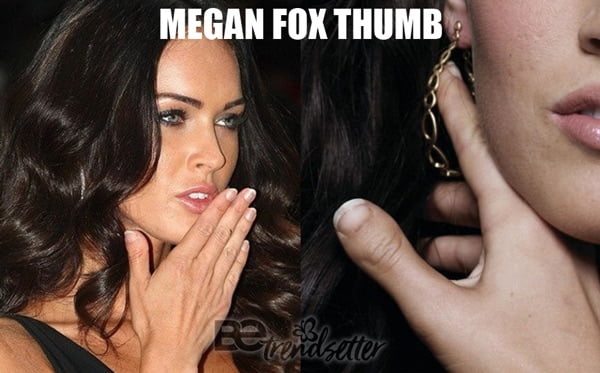 Coming up, Megan Fox Boob Job…