Looking for the best balayage hairstyle for your short, medium, or long, straight hair? Check out these styles, and you're sure to find one you love.
Balayage is a French hair coloring technique that has been a growing trend and is making a statement in 2017 as some celebrities like Selena Gomez and Jessica Alba are bringing it to the attention of the public. Traditionally, balayage is paired with curled or wavy hair, but it can also be applied to straight hair with fabulous results, as you'll soon see.
Balayage is freehand color painted on hair without foil or caps, and in the hands of a talented hairstylist, can bring about amazing, natural, sun-kissed looks, and much, much more. The effect can be subtle, natural, or dramatic depending on the colors and contrast selected.
Some people confuse balayage with ombre, a shade effect, and so if you're one of them, see balayage vs ombre to get up to speed. Then come back here to see the latest balayage trends. In some hairstyles, balayage is combined with ombre to give a person a unique look.
Check out the 29 photos below, and let us know what you think in the comments.
Best Balayage Hairstyles for Straight Hair for 2017
1. Subtle blends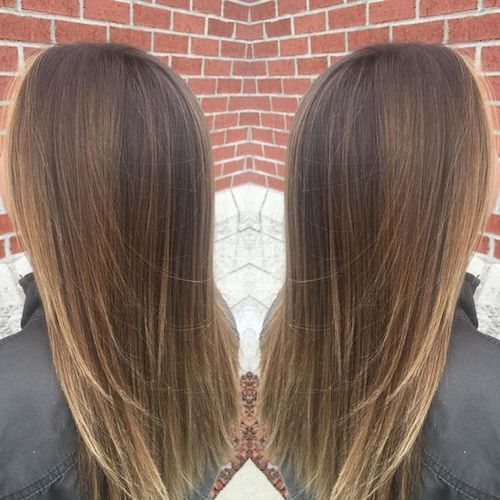 Apply a subtle balayage to give your hair a fabulous, gentle sun-kissed look. Choose this for a super yet natural appearance.
2. Blonde Bob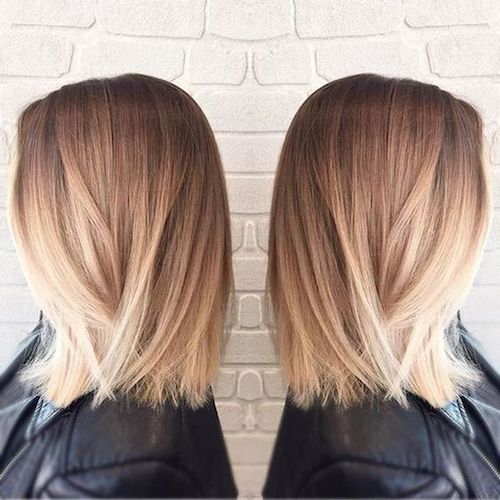 You can balayage short straight hair, too. Choose a dramatic contrast for an immediate impact.
3. Silvery Blonde Hair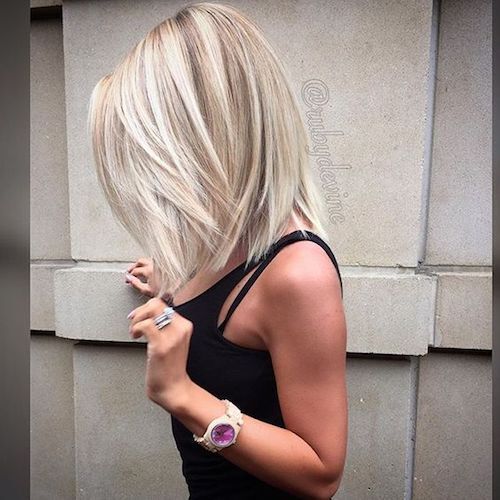 For fine, light silvery hair, darken the roots to add contrast add weight. This blending of colors works best with fine, thin hair.
4. Asian Long Black Hair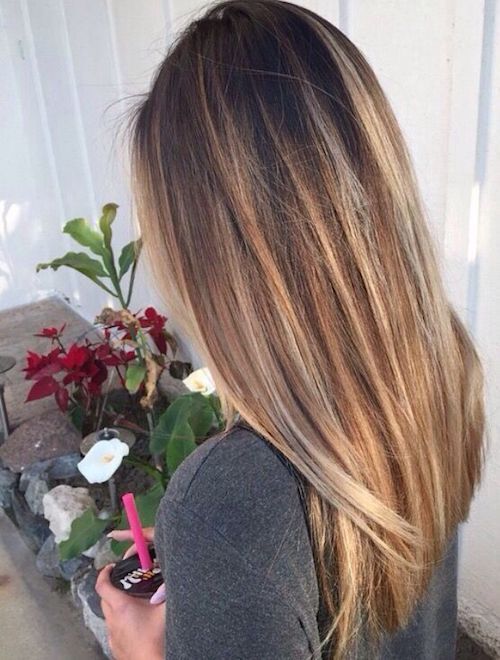 For Asians with long straight dark brown or black hair, balayage can bring a lighter brown tone to accentuate brown eyes.
5. Medium Brown Hair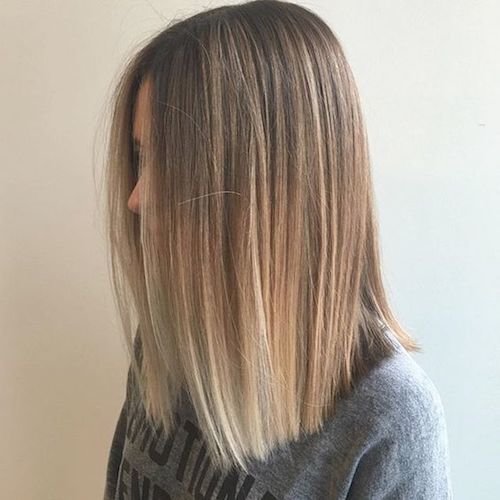 For medium length brown hair, bring a lighter color toward the face to frame, brighten, and lighten your look.
6. Long Soft Highlights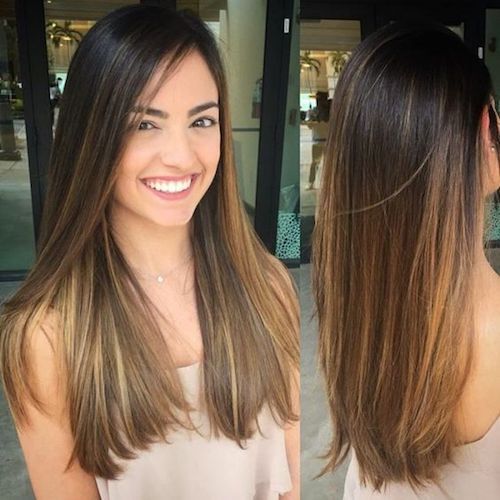 Rejuvenate long dark brown hair with soft balayage highlights to bring out your inner glow. The many color lines bring out a fresh look.
7. Asian Medium Hair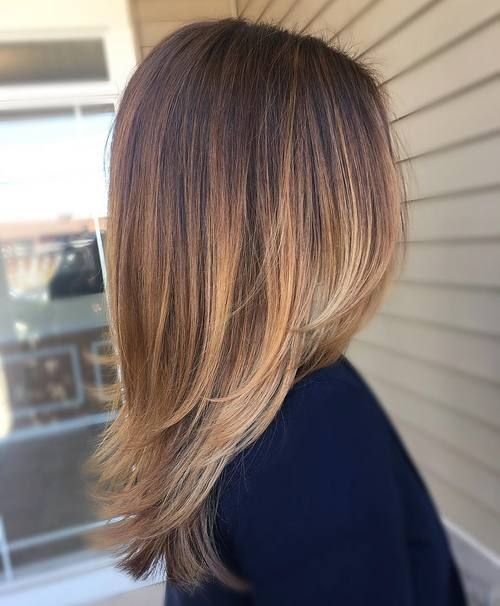 Asians with medium length hair blend to a light blonde color for a lighter tone with easier maintenance.
8. Brunette Blonde Blend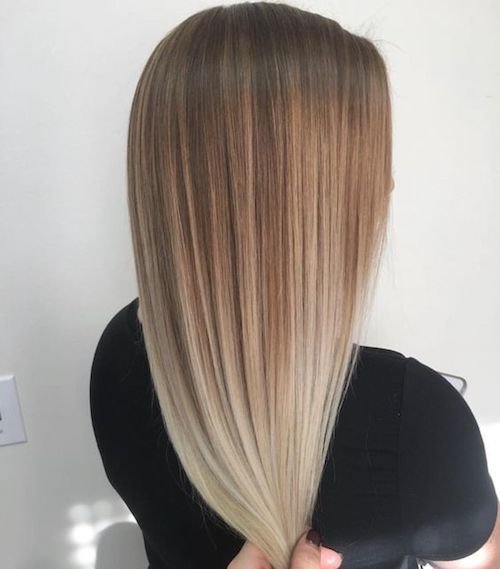 Brunettes with long straight fine hair can try a dramatic and seamless blend from brown to blonde. Amazing transformation.
9. Long Fine Blonde Hair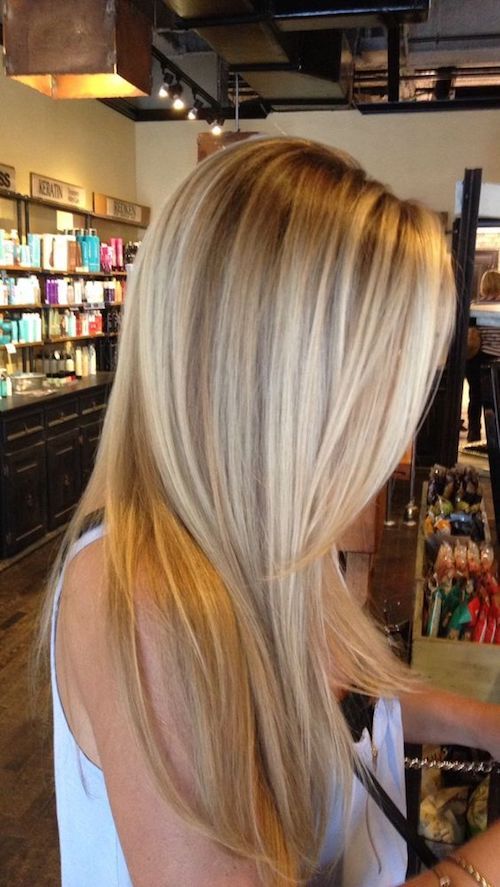 Balayage long blonde and strawberry highlights for a fabulously rich look. From the darkest blonde to the lightest, its an amazingly graceful mix and transition.
10. Asian Subtle Brown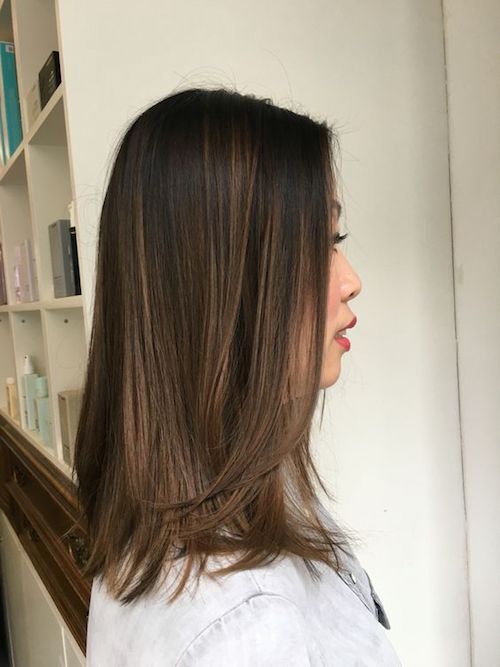 Balayage Asian hair with gentle natural highlights to give a subtle and elegant look. Choose this look to keep a conservative appearance while showing off a natural sun-kissed look. This would work well in any professional office setting.
11. Asian Gray-Blonde Hair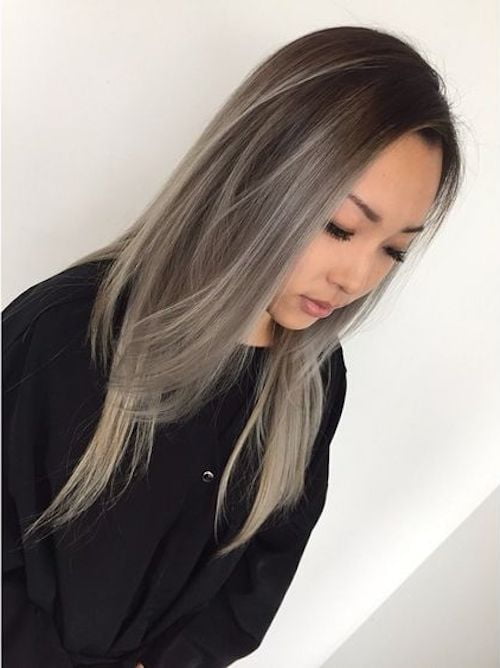 To stand out from your friends, Asian balayage can incorporate gray and gray-blonde shades. Choose this for a stunning, complementary look to your natural color.
12. Balayage and Ombre mix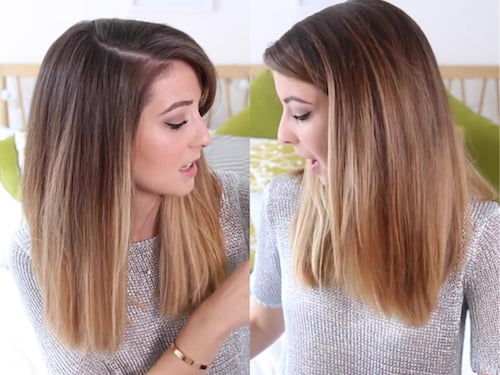 Mix balayage and ombre to give a blended look with highlights.
13. Long gray, ash blonde blend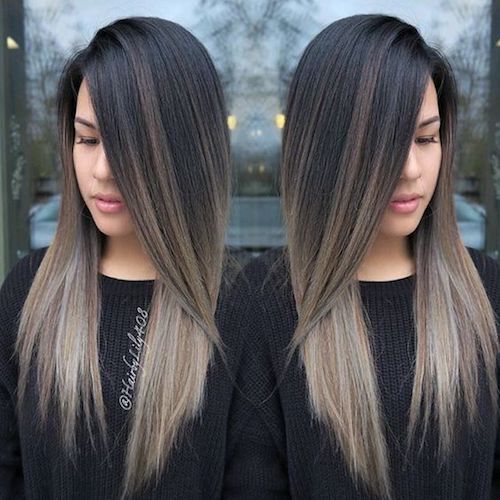 This delicate balayage graceful transition to grey and ash blonde is positively striking.
14. Straight brown and blonde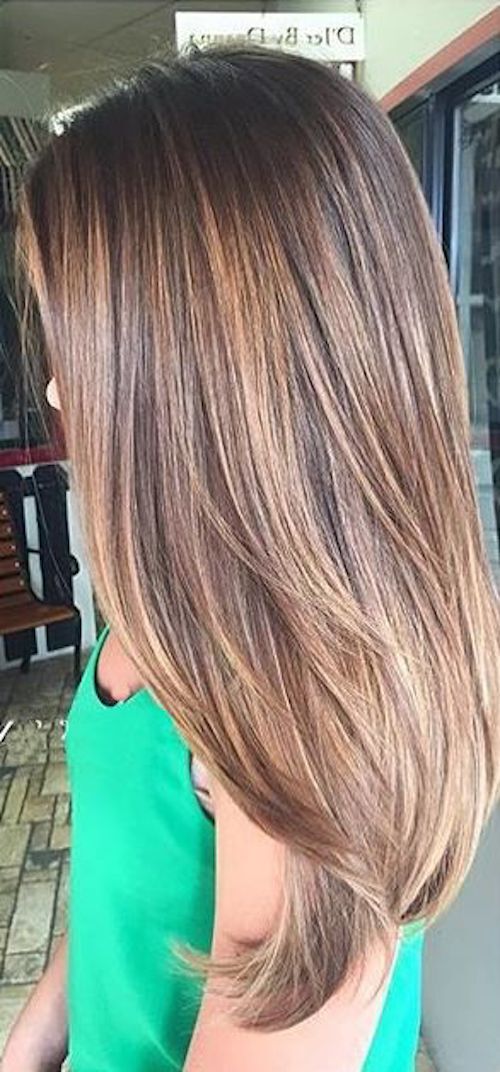 Straight dark brown hair with blond and ash blonde colors.
15. Short dark brown and blonde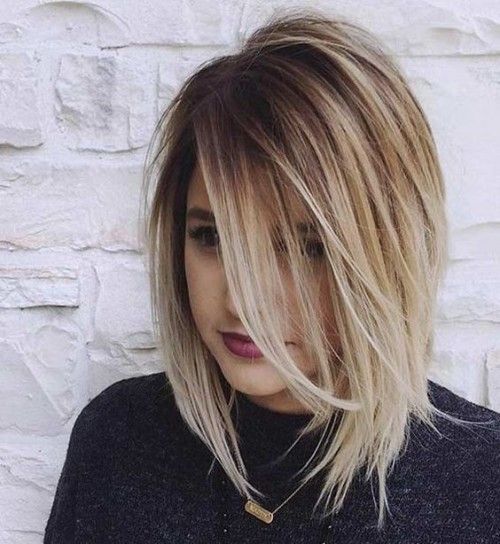 Short dark brown hair with a dramatic flow to bright, light blonde. Choose this to pop out from the ordinary without going over the top.
16. Asian short and pink hair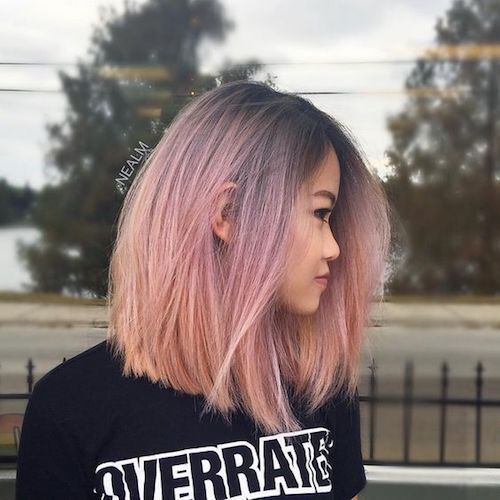 Asian sporting a soft pink and blond balayage with dark roots on medium straight hair, looking amazing. The pink exudes delicate femininity with definite style.
17. Long brown with soft blond color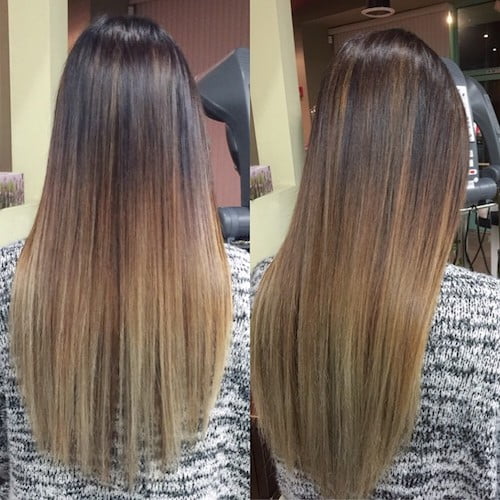 Balayage on long straight brown hair.
18. Ash blonde hair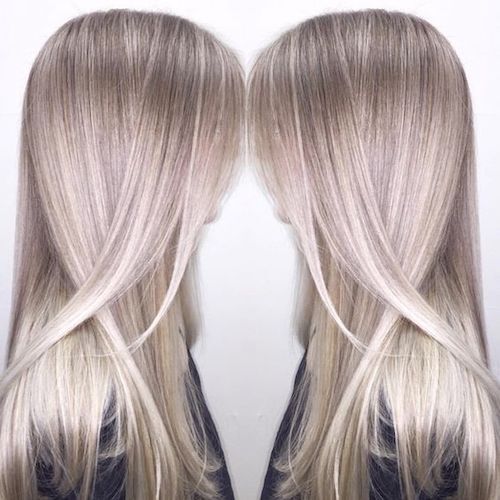 Beautiful soft color, balayage Ash blonde with babylights. This is a beautiful look for those with thin hair.
19. Jessica Alba balayage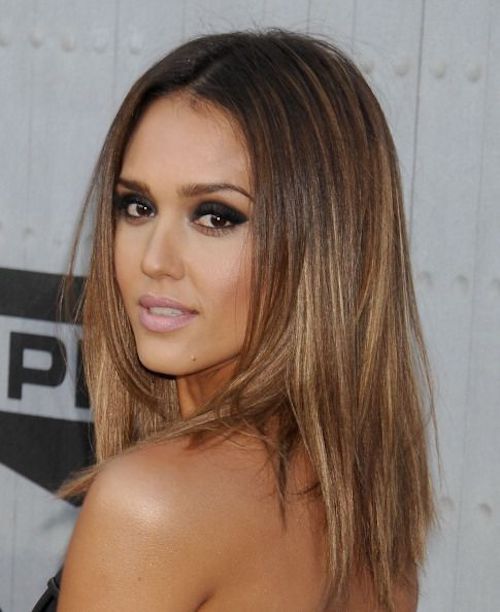 Jessica Alba shows off her balayage dark brown hair and light caramel brown highlights.
20. Asian blonde balayage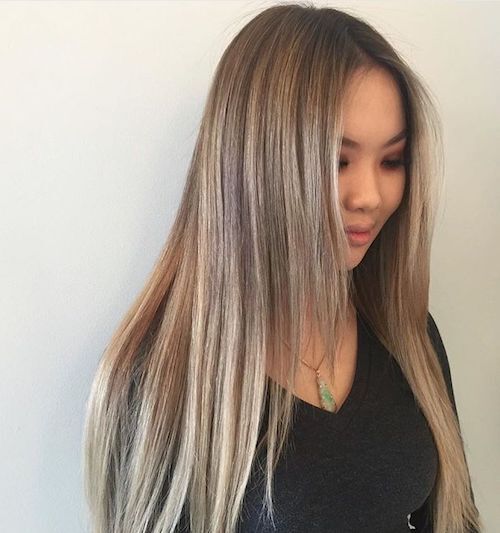 This Asian blonde balayage hairstyle shows the graceful transition that is possible with this technique. The seamless look appears natural yet striking.
21. Pastel pink on blonde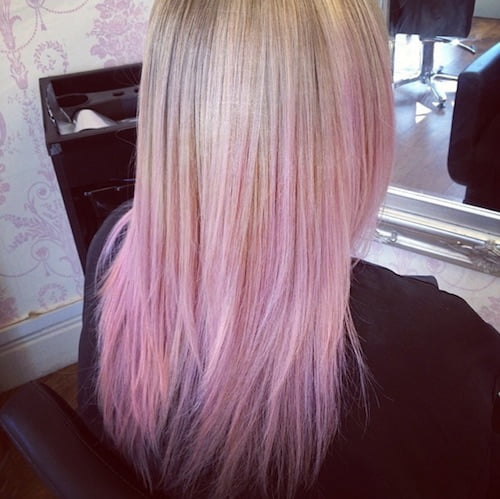 A soft pastel pink balayage adds a delicate flair to blonde hair. It's a graceful look that will set you apart from the others.
22. Asian with purple balayage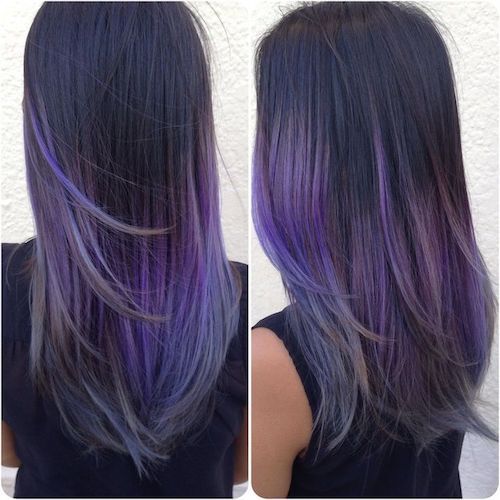 For an Asian seeking an amazing hair color, multiple shades of purple come together to add a vibrant highlight to a black background hair color.
23. Straight turquoise balayage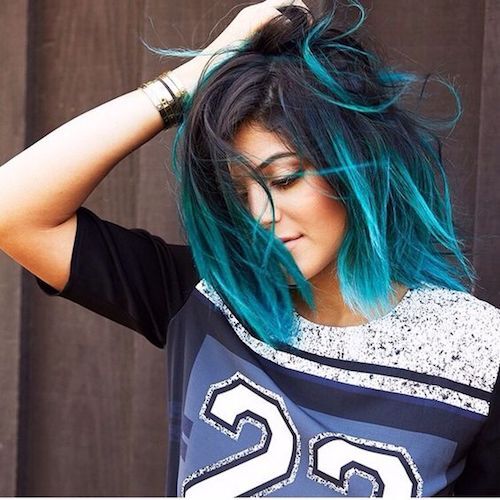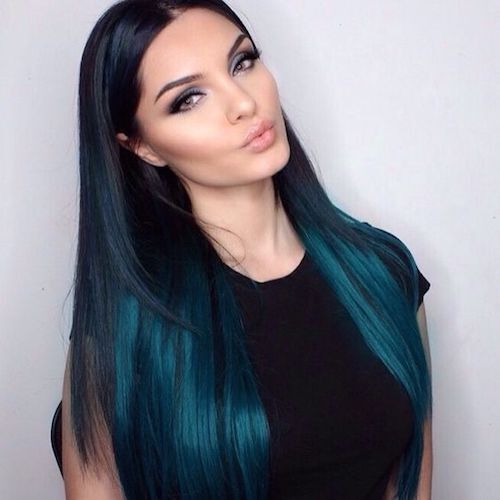 For a beautiful trendy color that works well with long straight black hair, check out turquoise. This color works even better when paired with a complementary eye shadow.
24. Long red balayage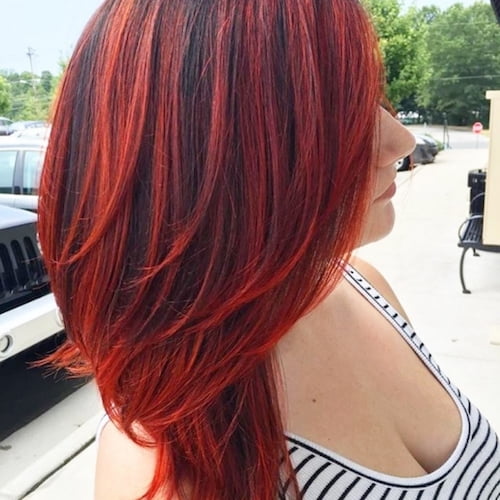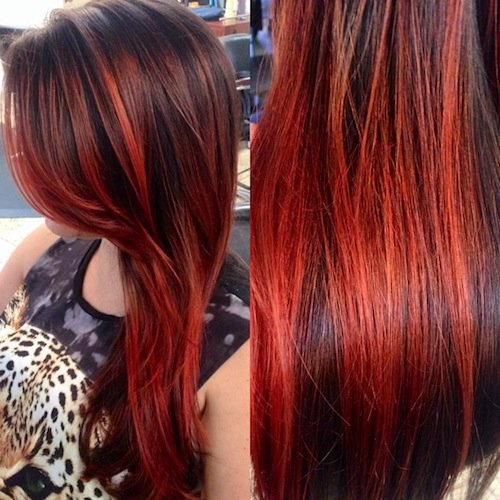 Adding a fiery red balayage to your straight brown hair is a sure fire way to attract attention. This color is not for the faint of heart. But if you have the personality to match, this red color take you to the next level.
25. Selena Gomez caramel balayage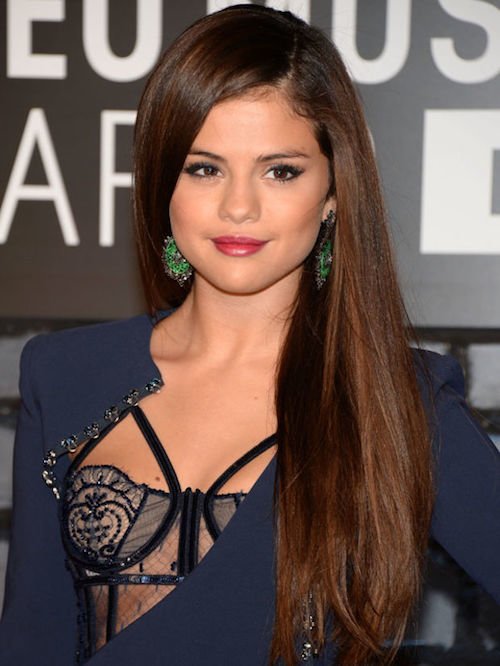 Selena Gomez with long straight dark brown hairstyle. A delicate caramel balayage adds grace and elegance to her already gorgeous look.
26. Ash blonde blunt lob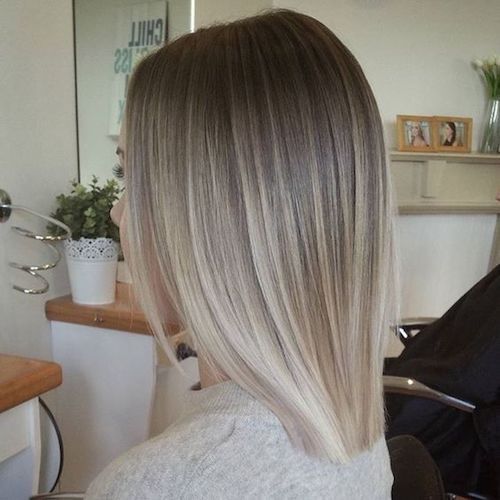 This blunt lob haircut paired with an ash blonde balayage in an ombre style looks amazing. Super delicate highlights make for a soft, feminine look.
27. Assymetrical short blonde bob balayage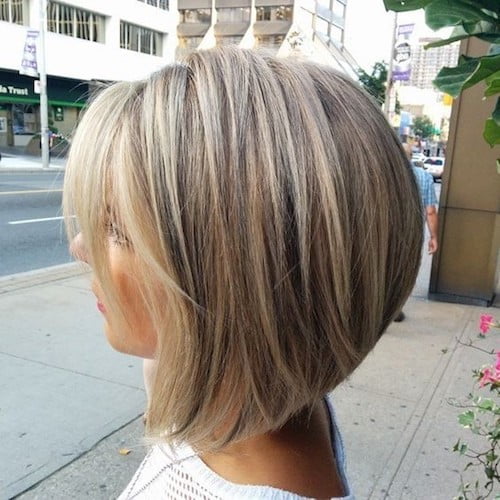 For this assymetrical blonde bob, balayage creates depth and dimension throughout the hairstyle. It's one more example of how balayage can take any haircut to the next level.
Thank you for staying with us to the end. We hope you enjoyed the photos and have been inspired to tryout balayage on your own hair.