An Overview of the Best Eyebrow Stencils Brands
Eyebrow stencils come in printable, plastic, and pre-waxed styles and you can wear them according to your face shape. In this post, we'll guide you on their selection and the most popular eyebrow stencils manufacturers.
Whatever type you choose to buy, you should know how to wear them and some tips that will make you wear them in the best possible manner.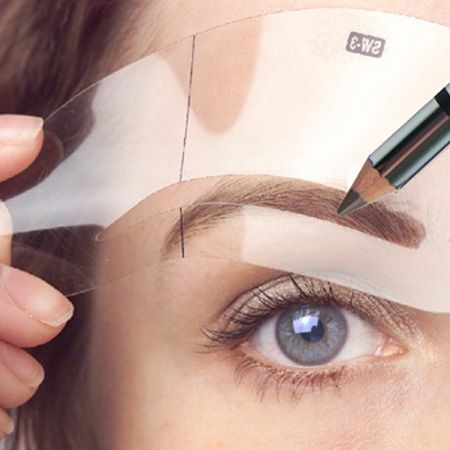 At the time of purchase, try to choose the best eyebrow stencils that will deliver you an ideal brow shape as well as accentuate your overall features. We'll start with what eyebrow stencils are. Simply defined, these are patterns with which you can draw a certain shape before shaping or reshaping your eyebrows. The material used to manufacture these stencils is flexible transparent plastic. You can keep it on top of your brows and ensure that maximum hair are walled in it.
Then you can draw the pattern with the help of a brow pencil and your eyebrow is ready to wax, tweeze, or pluck. Those who can't pluck their eyebrows symmetrically can use eyebrow stencils to draw a flawless shape and give their faces a perfect face framing. They make the job easier for you but…
the secret to draw perfect brows lies in the selection of perfect eyebrow stencils.
How to Use Eyebrow Stencils With a Pencil
Below are the right steps to follow while using eyebrow stencils: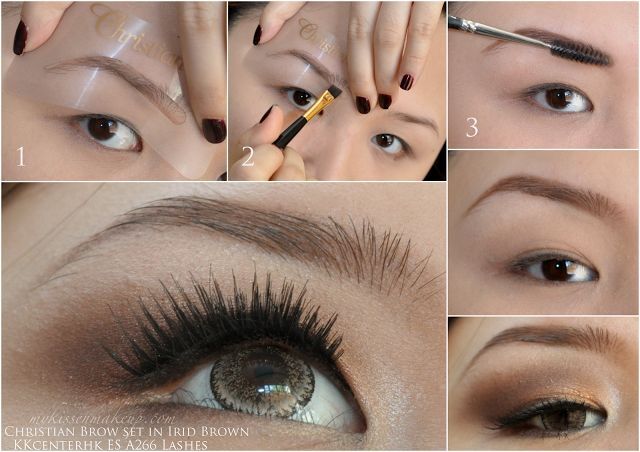 Before going to buy eyebrow templates for you, know your brow shape (see below image). You can easily notice your shape when you stand in front of a mirror, it could be high angled, softly angled, very flat, thick, thin, round, or well curved. This knowledge will help you further in the selection process. Also decide on how thick an eyebrow will work for you and it totally depends on your personal preferences.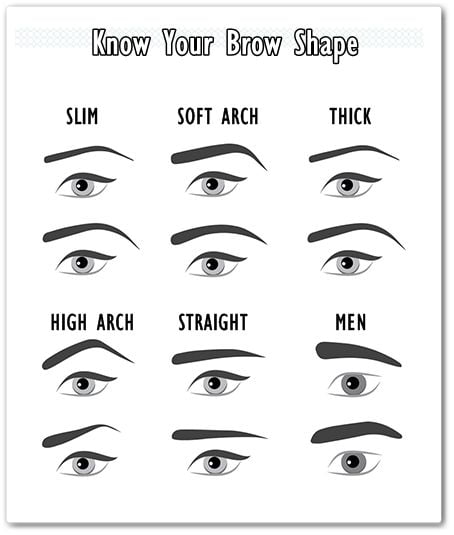 Also measure the approximate length of your brows; it can range from 1.5 to 2.5 inches. Another tip is to prefer a stencil that is wider and longer than your ideal shape. If you happen to buy a stencil that is very close to your desired shape, you may have to pay very close attention to micro details.
Below is an overview of the best eyebrow stencils available in the market, though you should choose based on the best eyebrow stencils reviews, you find online.
1. Eyebrowz Brow Stencils
The manufacturer offers a whole catalog of brow stencils and it allows you to create your own kit, choose from preselected stencils or professional collections. Eyebrowz.com offers their services to both men and women.
2. e.l.f. Essential Eyebrow Stencil Kit
e.l.f. brings flawlessly shaped brows that accentuate your facial features. You can reuse these fabulous stencils and it is easier to use them. This eyebrow stencil kit offers you four different stencils (curved, soft, structured, and full arches) from which you can choose what suits you the most. This range offers at least one stencil to suit every face shape. Now you can wear perfect eyebrows every day with the help of e.l.f. essentials stencil kit.
3. Anastasia of Beverly Hills Brow Stencil
Crafted of PVC, Anastasia stencils are very good for reuse. One stencil is available for almost $20 and you can choose from petite, slim high, full, high, and medium arches. Their official website also offers you professional tips on how to adjust and use their stencils.
4. Anastasia of Beverly Hills Brow Stencil
This is one of the most affordable best eyebrow stencils according to most reviews. This kit consists of a casing, a tiny eyebrow brush, an instruction manual, and four different shapes of stencils.
5. NYX Eyebrow Kit with Stencil
The manufacturer has added stencils and other eyebrow shaping essentials to one kit making it an ultimate choice for an eyebrow fanatic. They have added four universally flattering eyebrow powder colors, a brush and a comb to shape brows, and three kinds of eyebrow stencils to help reshape your eyebrows.
6. Christian Dior Backstage Brow Design Brow Shaping Stencils Kit
Christian Dior products are very safe to use for reshaping eyebrows, waxing, or dyeing purposes. The package includes 3 stencils with a color palate that consists of eight different colors and it also contains a double ended applicator. It is manufactured with a clay based powder that sticks to the skin not your brows, so it delivers 24 hours lasting control.
7. Paula Dorf Brow Stencil Kit
You'll love the packaging for $25, it contains a sturdy brow brush and according to the manufacturer, it enables women to create graceful and gorgeous brows instantly and it looks so natural that it is hard to believe for anyone when you tell them you've worn stencils.
8. Art Deco Eye Brow Stencil Kit
The purpose of this stencil is to assist in the application of brow powder as mentioned by Art Deco on their official website. You'll find three stencils in the package: thin, thick, and natural). And you can use any stencil depending on your natural eyebrow shape. Art Decos' are probably the best eyebrow stencils that are made to help out the cosmetic applications on brows.