15 Wonderful Bridal Mehndi Designs For Hands and Feet
As the title suggests, this post will discuss the latest bridal mehndi designs but before we move any further, we should address the question, why do brides paint their hands and feet with mehndi and when did it all originate. Because there are a lot of readers who are not even familiar with the tradition of mehndi and its festive value, so it is a better idea to begin the discussion from the historical perspective.
In Hindu religion, there is a myth that Pavarti (who is said to be the consort of Shiva) used henna (mehndi) to adore herself and please her man. And Shiva the God gave an intense positive reaction to Pavarti's henna related charms, so it turned into a ritual that a woman should wear mehndi to please her husband. This ritual gradually associated mehndi with sexual gratification and marital bliss.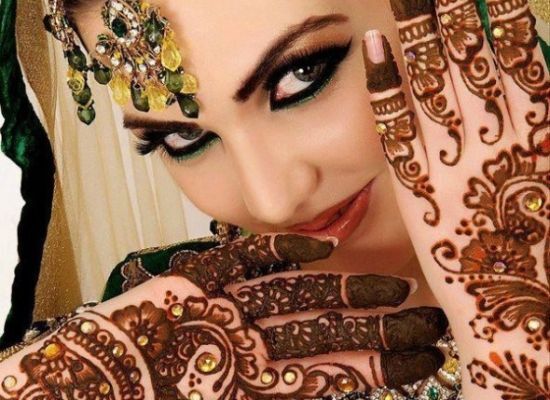 And it is also believed in Hinduism that by adoring her hands and feet by mehndi, a woman tries to protect herself from calamities and pleases her Gods through cosmological applications. On the basis of the story of Shiva and Pavarti, the plant of henna is believed to be connected with enchanted powers and this is why it is decorated in wedding ceremonies in India. The plant actually symbolizes the transition from isolated to unify and this is the purpose of marriage also.
Brides decorate their palms, backhand, feet, arms, and legs with mehndi; and there is a different significance for every adorned part of their bodies. For the palms of hands, brides usually draw a sun, sunflower, or mandala and all these patterns symbolize fortune, opportunities, and bright future. Decorating backhands of brides means defense, fortification, and shield closing. Right hand mehndi designs project male side and left hand projects female side of the personality.
Women also decorate their feet and legs with henna and it is thought to be a point of divine contact as feet are the spot where human beings meet earth so it is believed to be a sacred junction. Below is a list of bridal mehndi designs for your inspiration and you'll love the way mehndi adds in the symbols of culture in a striking and propitious manner.
1. Sunflowers For Feet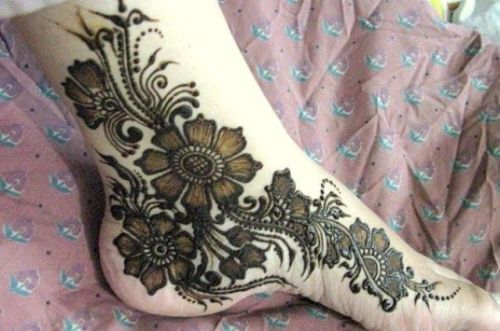 An abundantly flattering mehndi design for feet that smartly sorts a large branch of flowers on the bride's feet.
2. A Dash of Purple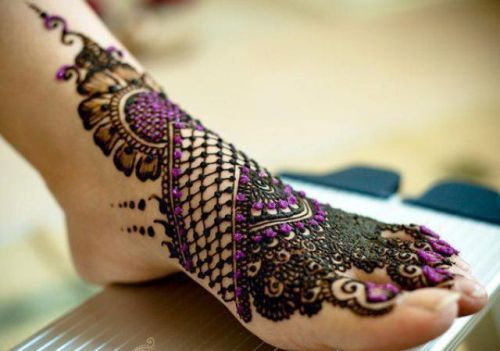 Did you ever see a foot adorned with mehndi so elegantly?
3. Mandala for Hands
A beautiful mandala motif for bride's hands highlighting beads in multiple colors and sizes.
4. Anklets and Bracelets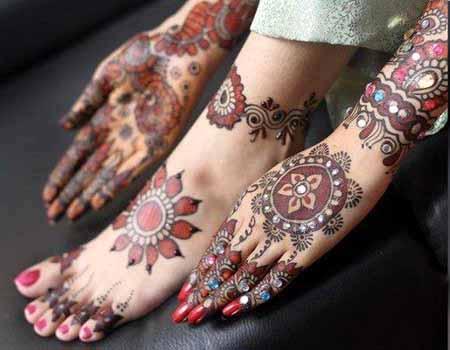 This design consists of anklets for the feet and bracelets for hands so you can wear mehndi jewelry on its own.
5. Peacock for Your Feet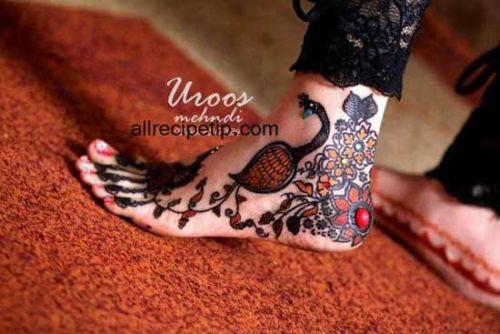 Mehndi designs for feet rarely feature a full peacock as you find in this picture. The artist has added color to its beak and the petals of the flower.
6. Beads and Pearls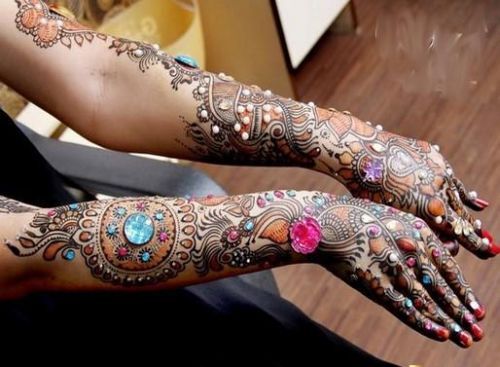 You can paste matching beads and pearls in your mehndi design for hands. It looks fabulous as is seen in the picture.
7. Mandala with Bracelet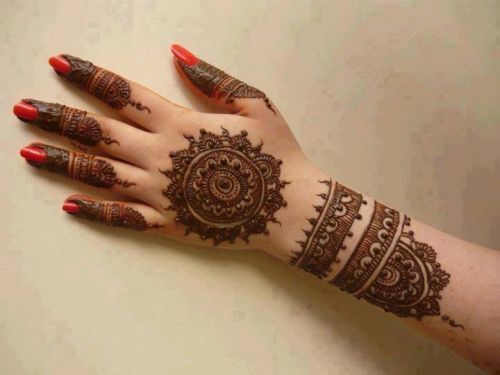 Some brides prefer wearing light design with flashes of their skin. This design is perfect for such women; it features a mandala in center, bracelet on the wrist, and leaves space to wear rings for the bride.
8. Geometric Arabic Design for Hands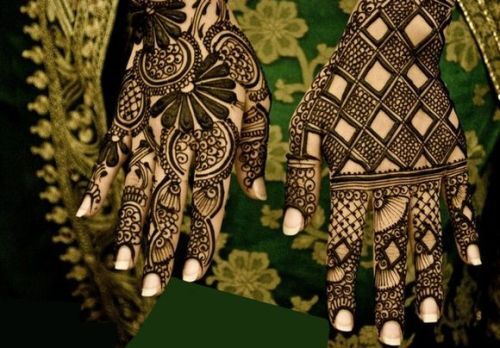 Bridal mehndi designs for full hands consist of a lot of motifs embedded in to a single pattern. You'll see squares, zig zag, dots, flowers, and feathers in this design.
9. Cute Daisies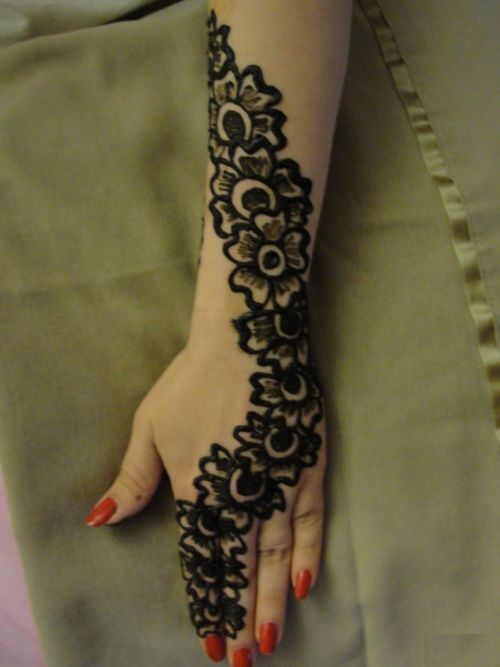 A limb of cute daisy flowers grows from the index finger and extends to elbows making it an ideal Arabic bridal mehndi design.
10. All in One Arabic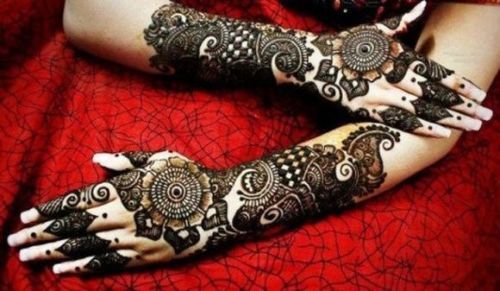 You'll see charms, mandala, peacock, chess pattern, and paisley motifs all embedded into one design in an Arabic style.
11. Birds on Full Arm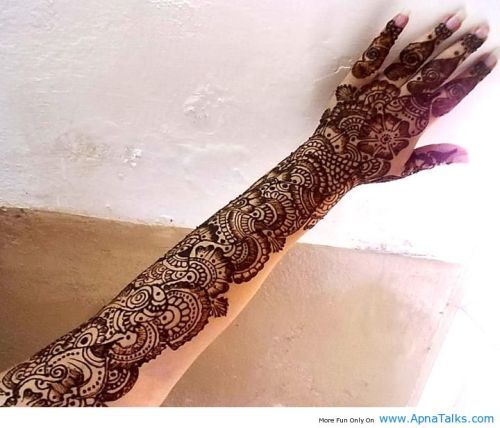 From one angle it seems like a spread of flowers on the whole arm but from another angle it gives the impression of birds drawn close to each other.
12. A Mix of Brown and Black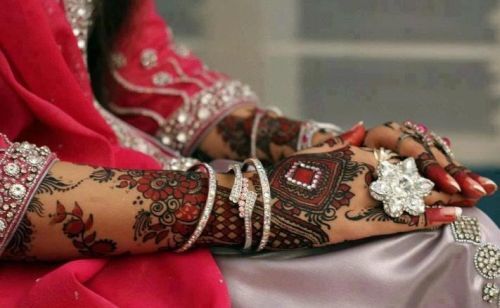 Squares, chess pattern, and a lot of blossoms mark this unique brown and black mehndi design.
13. Indian Bridal Mehndi Design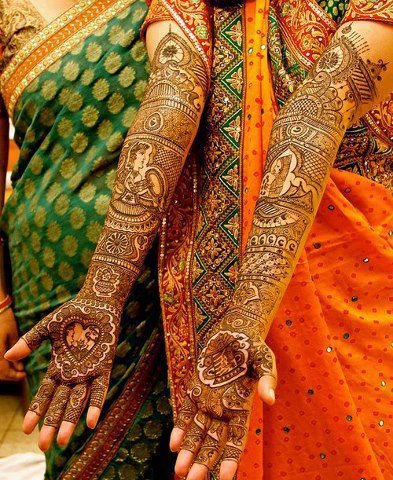 Indian bridal mehndi designs consist of images of Hindu Gods and Godmothers as is noticeable in this design. You can see pictures of Gods, sacred animals, and temples of India.
14. Peacock Feathers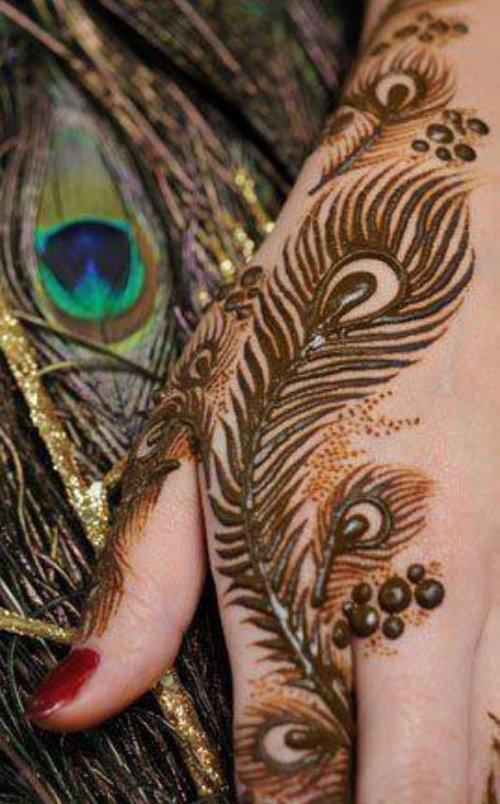 Here is a gorgeous pattern featuring peacock feathers for half hand. You can extend this intricate design to full hands or backhands.
15. Embellished Full Arms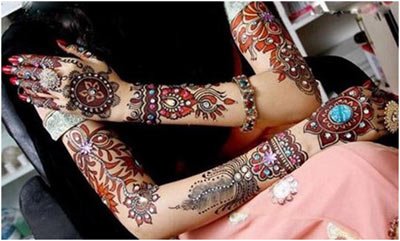 Bridal mehndi designs are mostly made in accordance with the design elements of the bridal dress, so is this design. You'll see mandalas in her pink dress and peacock feathers are an embellishment of the same pattern.