Looking for the best & trendy medium length hairstyles and haircuts for men? Believe me, you're gonna love these hairstyles & haircuts for 2017.
One of the biggest dilemmas a man can encounter once or twice in his life is about the length of his crowning glory. Long or short? That seems to be the only question, isn't it? Well, with this list, I hope to show the multitudes of hairstyles that come between long and short hair — 65 medium length hairstyles for men.
65 Macho Men's Medium Hairstyles for 2017
1. Man Bun and Braids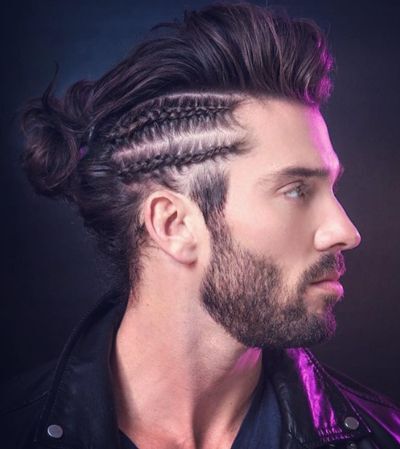 There's one common misconception about men's hairstyles, and that is feminine hairstyles are big no-no. Obviously, with this hairstyle consisting of a man bun and dual side braids, some men can look handsomer with it.
2. Medium-length Fringe Hairstyle with Undercut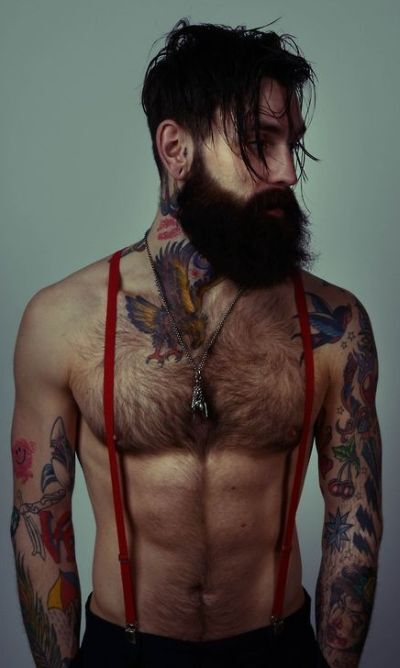 No matter the age, a medium length fringe combined with an undercut can make any man look younger than he is.
3. Front Combed Curly Medium Length Hair with High Fade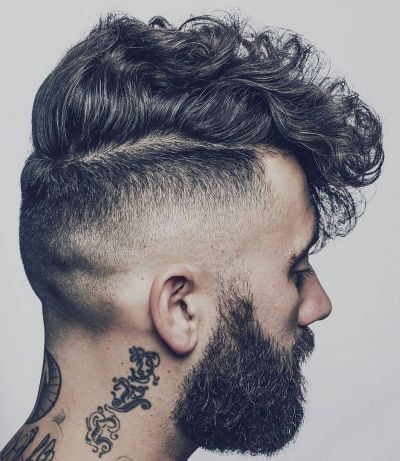 Now here's a more natural take on the front combed curly medium length hairstyle for men. With this style, you can let your natural curls free. See more fade haircuts here.
4. Pushed Back Shoulder Length Hairstyle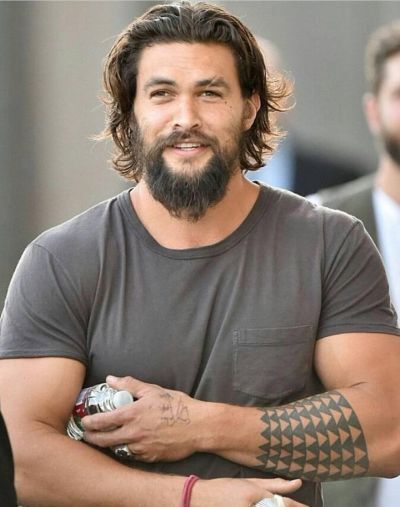 Longer hair is sometimes harder to maintain, but with this picture, it's no doubt that shoulder length hair pushed back with some styling gel is pretty badass.
5. Stylishly Tangled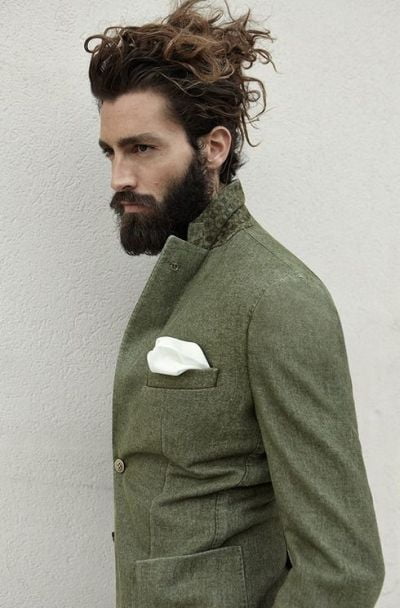 Whether you're a male model or hipster, this intentionally messy hairstyle can get you a long way when it comes to style and chicness.
6. Tidal Wave Combover Haircut for Medium Length Hair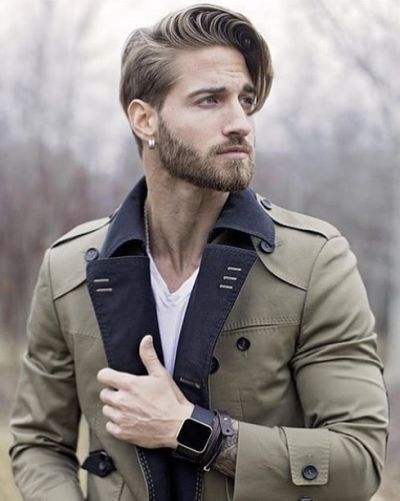 With this style, you can create a wave-like effect with your fringe and look young and dapper while doing it, too.
7. Medium-length Bob Hairstyle for Men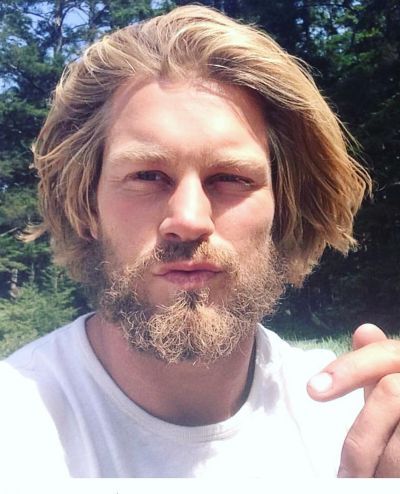 Some men often go for the dreamy guy look, and you can do so without cringing too much by getting a medium length bob.
8. Combed Back Bangs with Silver Streaks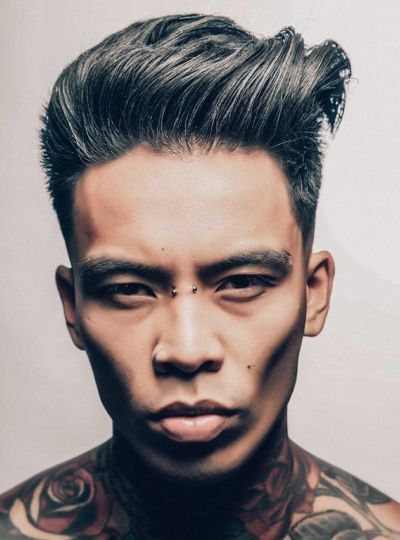 Step one to looking badass is probably to get this hairstyle as soon as possible, and be sure to match it with icy silver streaks.
9. Sea Green Hairstyle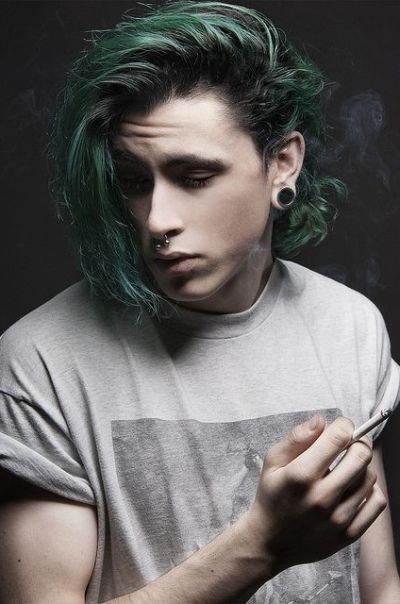 Let's talk about color on men's medium length hairstyle. Clearly, this sea green color is great for men who want to take their hairstyles up a notch. It's a cool, cold color, which will go great with almost any clothing style.
10. Ruffled and wavy Medium hairstyle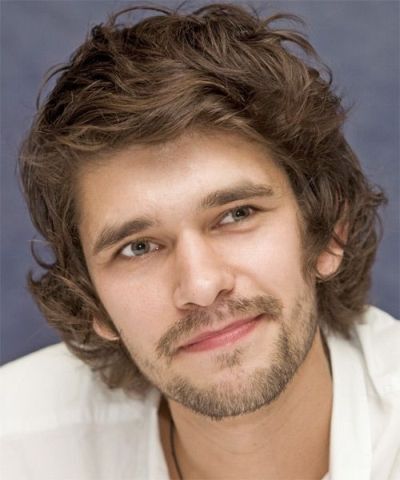 A good example of a medium length hairstyle for men is one that comes down to the shoulders, exhibiting elegance with each lock of wavy hair.
11. Prim and Proper Medium Length Hairstyle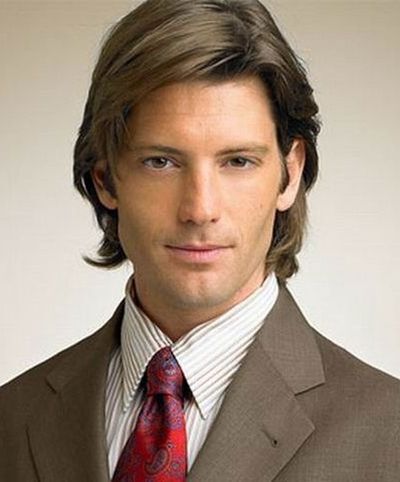 Who says medium length hairstyles are inappropriate for the workplace? Well, with this neat hairstyle with hair brushed back and tucked behind the ears, you're no doubt one of the sexiest in the office.
12. Tousled Mousy Hair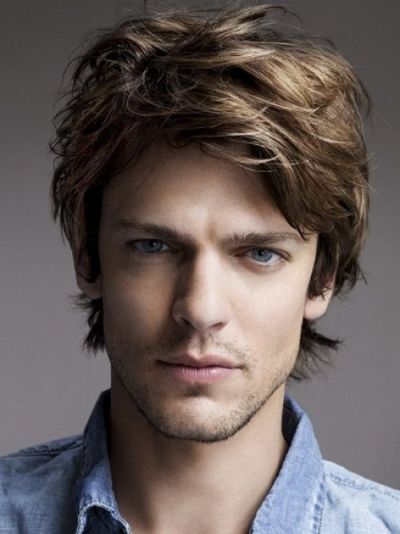 Some men like to pull off the just rolled out of bed look with elegance. With this hairstyle consisting of bedhead locks, you just may get the nonchalant look you're going for.
13. Straightened Hair with Bangs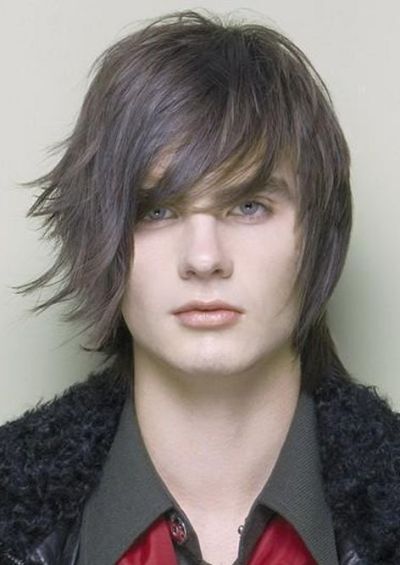 Looks like the emo era has left its remnants in the form of this hairstyle. Still fashionable, this medium length hairstyle with long bangs over the eyes can be a great option for men who want to look younger and carefree.
14. Textured Medium Length Hairstyle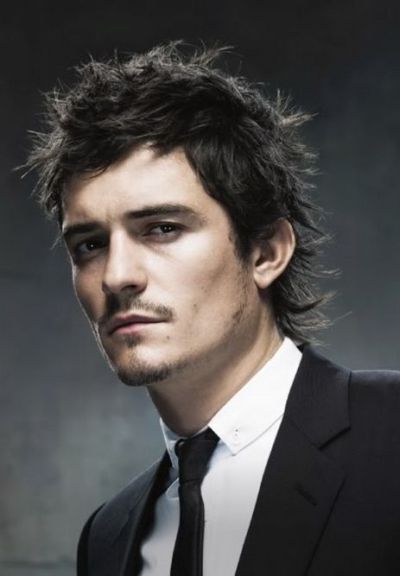 Messy hairstyles can come in different variations. In this particular one, we can see a little bit of careful styling and texturing to give us a uniquely disheveled look.
15. Mane Bangs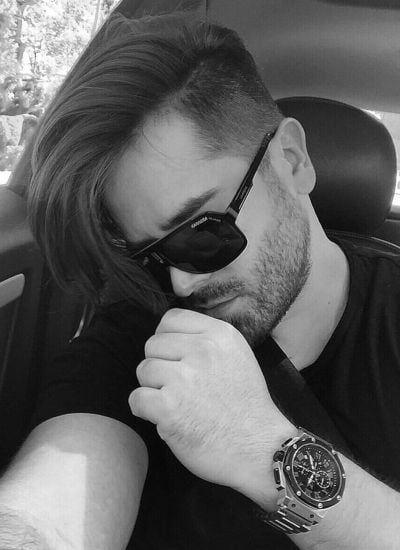 This type of bangs or fringe imitates that of a horse's mane. Like a powerful stallion, you can attempt a pseudo-mohawk look with a more modern twist with this hairstyle.
16. Blonde Messy Curls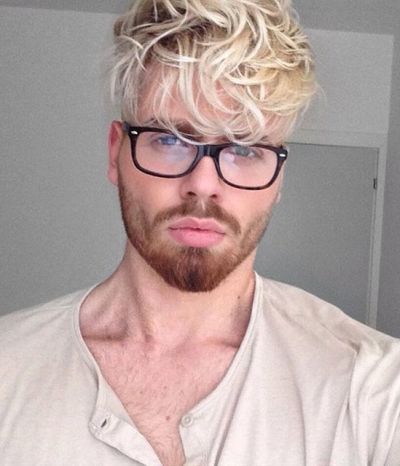 Natural blonde curls are a thing to be boasted about, so make sure they're the center of attention by cutting the sides of your hair short, and letting your curls fall down to your forehead in a messy, wavy fringe.
17. Pompadour Mohawk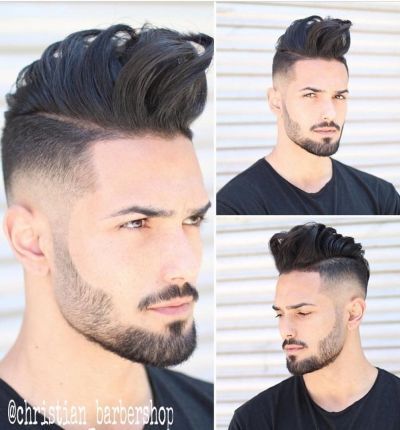 Like the title says, this hairstyle combines the elements of pompadour (with its wavelike style) and the Mohawk.
18. Sleek and Stylish Top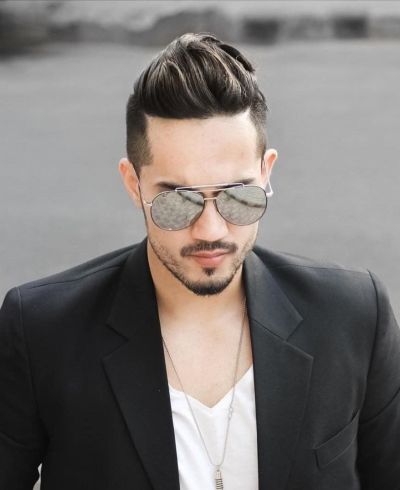 This look takes into account the importance of a clean appearance and looking stylish and non-boring. A great option for young professionals who want a clean, stylish look.
19. Long side Fringe for Medium Length Hair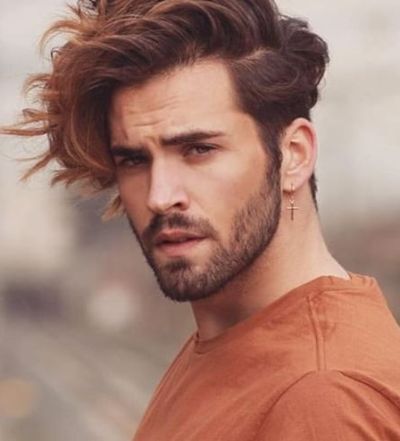 Most guys love the side fringe hairstyle and this is one of the reasons why.
20. Long Bangs with Subtle Undercut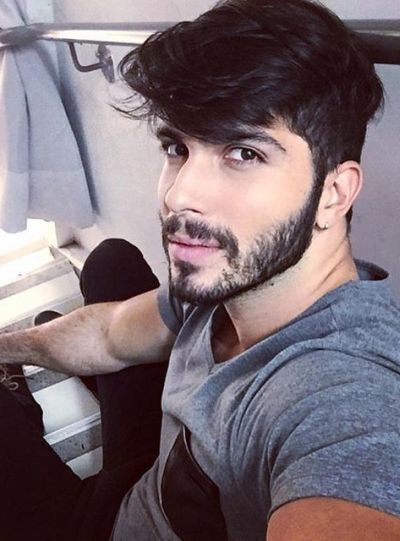 Long bangs and fringes plus undercuts have been the trendiest combination of these past years. And you can see how it focuses all the attention on the top of the head, where you can highlight your best features.
21. Reverse Fade and Medium Curly Hair on Top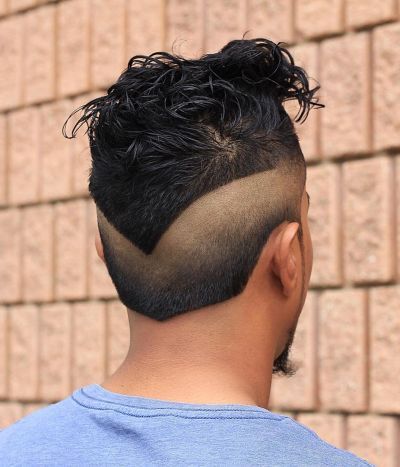 There is a lot of action in this medium length hairstyle; curly top, V-shaped cut, and a reverse fade. All of these styles together can either be chaotic or the perfect way to catch everyone's attention — in a good way of course.
22. Faux Hawk with Mid Fade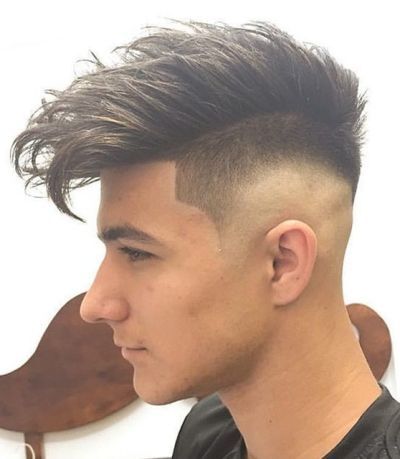 This is another trendy rendition of the Mohawk, wherein you can see a short hawk cut, carefully styled so that it stoops forward, and a mid-fade to add to that mix.
23. Medium Length Combover Haircut with Buzz Fade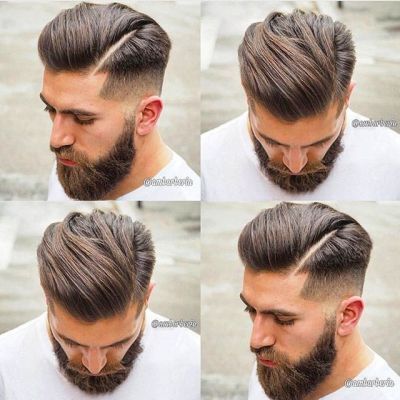 If you have a long fringe like most men these days, you can try a combover hairstyle as such and combine it with a buzz cut fade.
24. Rippled Mohawk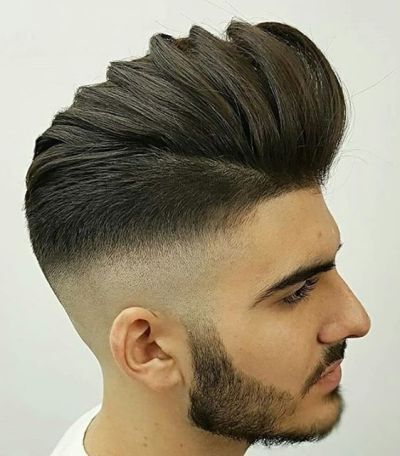 Yet another fresh style to take on the famous center cut. In this particular one, you can see a rippling effect on the Mohawk, which is really cool when done right.
25. Naturally Curly Medium Length Hairstyle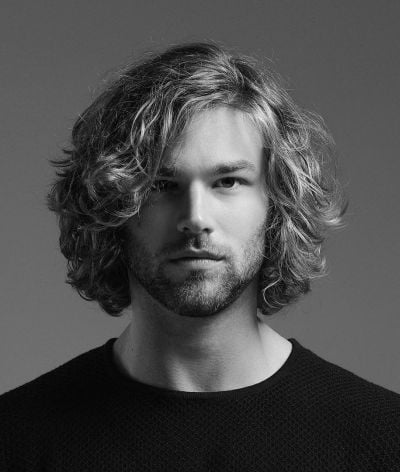 Now, this is another nice length for men to try. At the middle of the nape and almost down to the shoulders, your natural curls will make you nothing short of cherubic but mature.
26. Curly Locks with Back and Side Undercut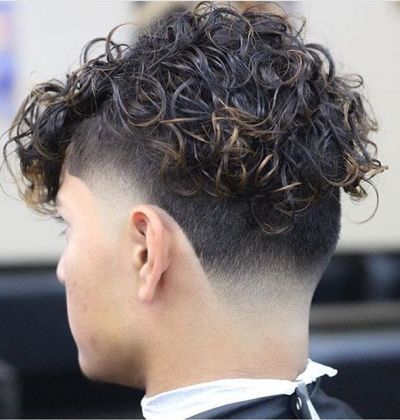 This is another way to center the attention on your curly, natural hair—by getting the sides and back of your head buzzed clean.
27. Windowed Effect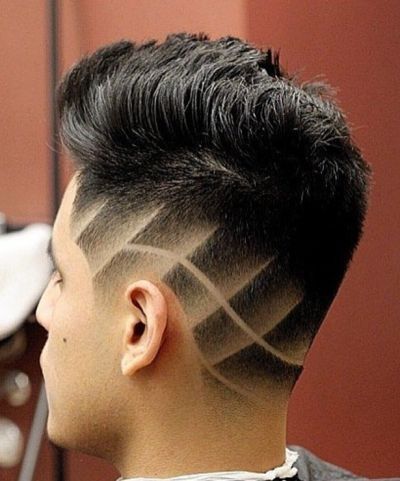 This type of undercut features a unique and cool design that makes most youngsters excited.
28. The V-line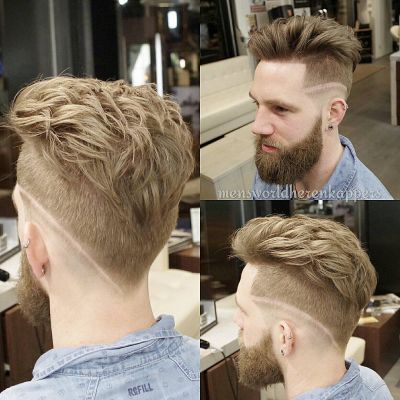 Another way of stylishly undercutting your hair is to create a V-shape along the sides and to the back of your head.
29. Centered Pompadour with Taper Fade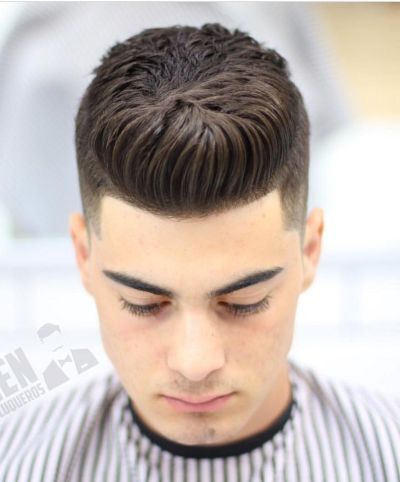 Another thing you can do with a pompadour hairstyle is to bring all the hair to the center. This style works great especially for young men with shorter hair.
30. Messy Medium Length Curls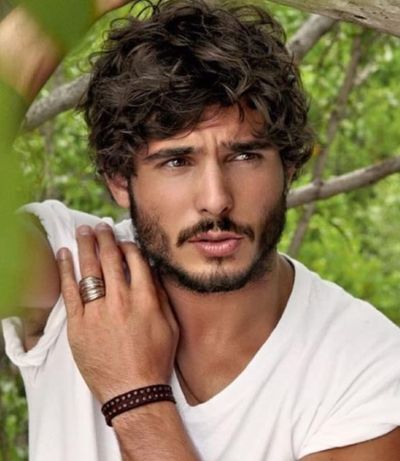 For men, your natural curls can make you ten times more charming as apparent in this photo, more so if you do a little bit of tousling.
31. Spiked Up Wave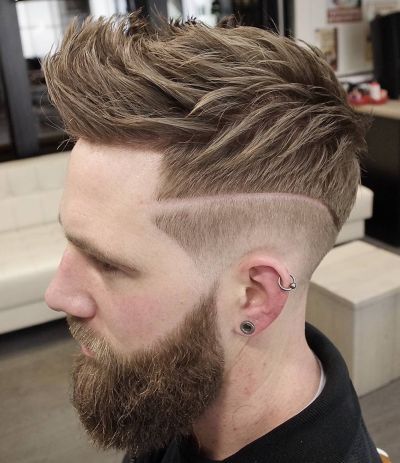 This hairstyle imitates the motion of a wave when hitting a rock, creating a cool yet charming feel.
32. Bedhead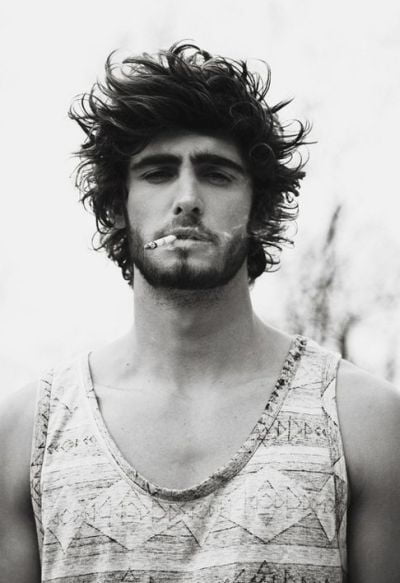 Having your hair sticking up in all directions doesn't always need to be a bad thing. If you're a guy that can pull off a bedhead hairstyle, then this is the one for you.
33. The Pidgeotto Haircut for Men with Medium Length Hair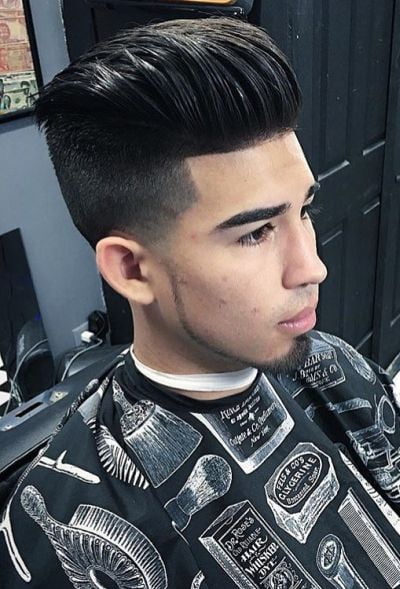 This haircut is popular with young men as well. It mainly consists of a thick combover at the center with a buzz cut flanking each side.
34. Straight Bangs with Creative Side Burns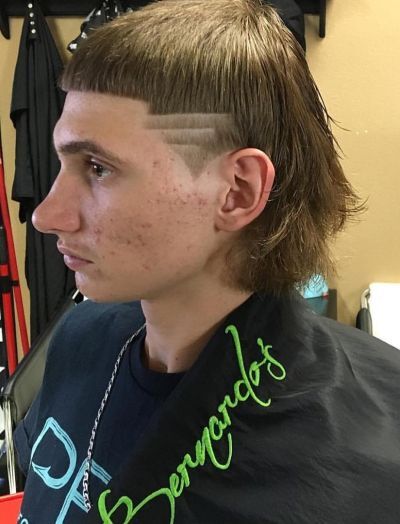 This hairstyle is what you don't see everyday. With straight bangs that no one sees anymore these days, and creatively designed sideburns, your hairstyle can be the most unique by far.
35. Professional Side Combover
With so many men clamoring over long fringe hairstyles, you can still keep it simple yet elegant with a side combover such as this one.