65 Striking Medium Length Hairstyles for Men – The Ultimate List
36. Spiky Hair with Medium Length Bangs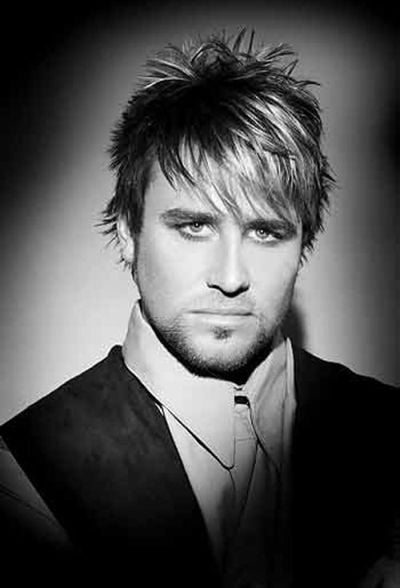 Punk rockers will appreciate this hairstyle, but men who want to explore their hairstyle tastes can try this spiky hairstyle was well.
37. Loose Combover with Short Sides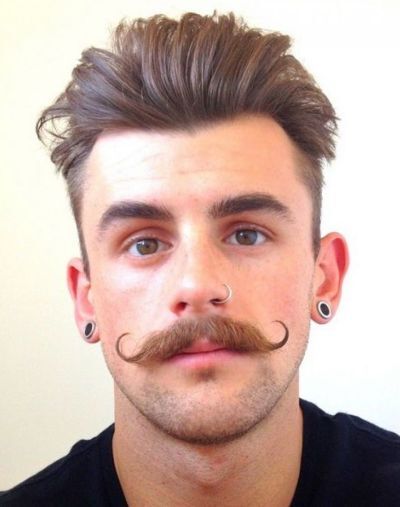 Don't want to be too gelled up with your combover? You can try letting it loose with a minimum amount of fixing gel, like in this example, so you can still look fresh without your hair looking greasy.
38. Preppy Medium Length Hairstyle for Men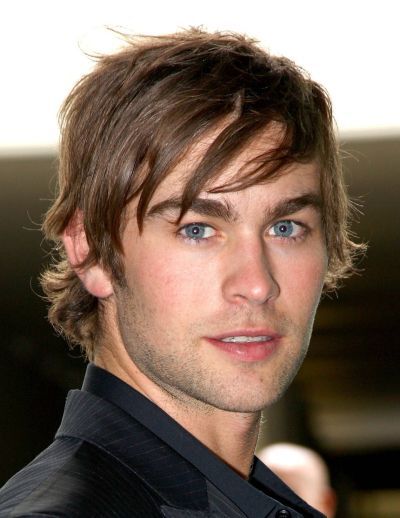 This is perhaps the standard boy-next-door, jock, and highschool dream guy haircut.
39. Super Neat and Sleek Combover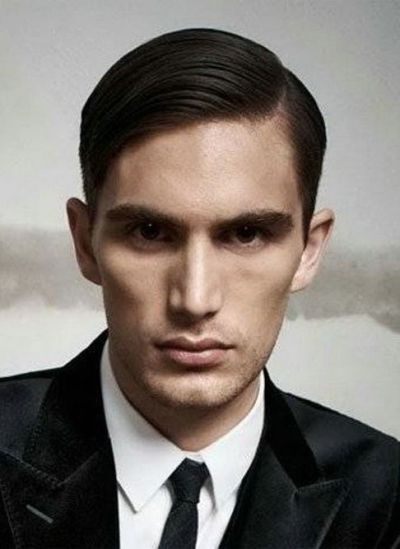 Nothing can beat a good first impression with an immaculate hairstyle such as this one. It's neat, sleek-looking, but not too short.
40. Mop Hairstyle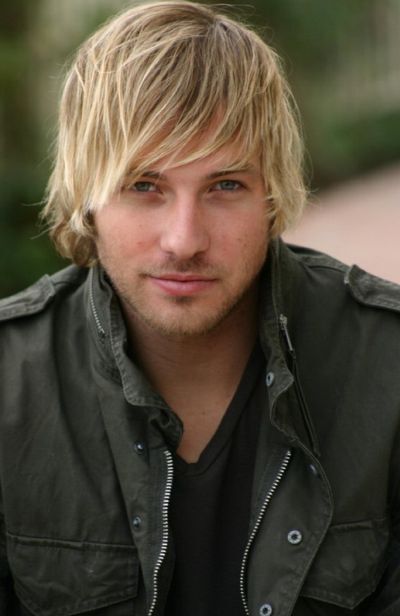 This hairstyle was popular in the 90s and early 2000s among band boys with groupies. Nowadays, it doesn't seem too bad an idea to try it out, especially with many clothing styles that can match it.
41. Afro Man Bun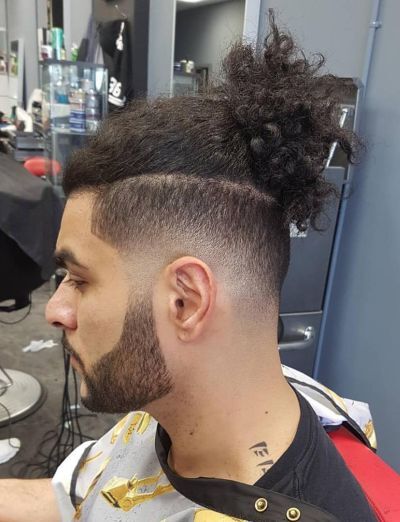 As the title says, it's an afro man bun. A stylish and awesome-looking way to keep your fro neat and tidy.
42. Center Sweep Medium Length Hairstyle for Men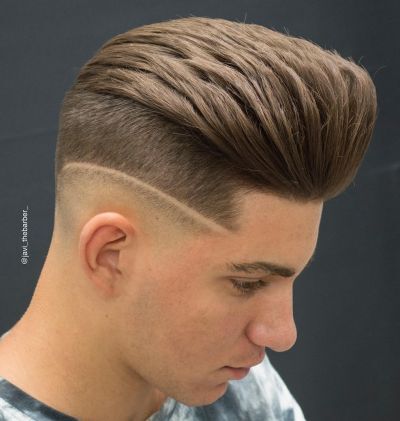 The center sweep haircut makes your hair look like it's been perfectly brushed back to give you a neat-looking appearance.
43. Blonde Streaks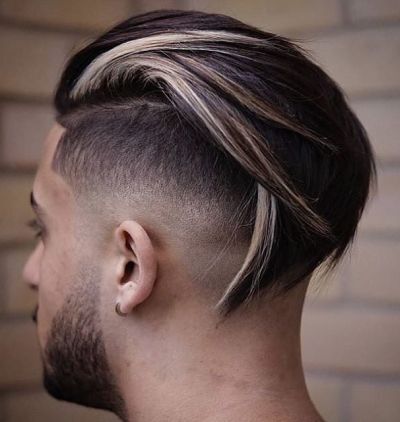 Another color entry in our list consists of a long comber hairstyle made more interesting with a few platinum blonde streaks along the side. One good way to make your hair more appealing.
44. Dual Scalp Line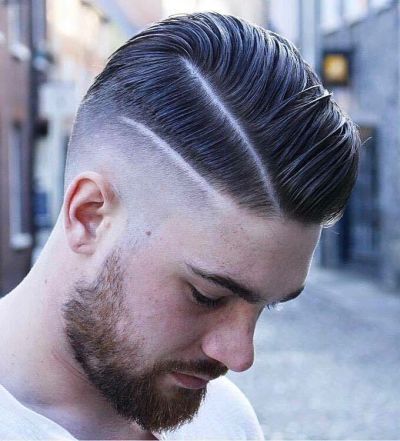 This trend doesn't do much harm when done right. As you can see, this medium length hairstyle makes use of shaving a straight line along two points of the hair to reveal the scalp and create a sort of partition.
45. Brushed Forward Medium-length Hairstyle for Guys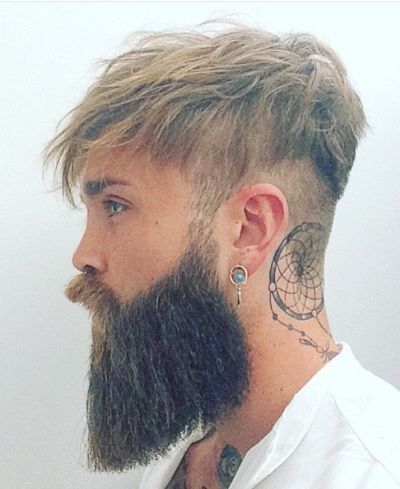 Yes, this hairstyle is the opposite of brushing your hair back to make yourself look neat. In this case, brushing your hair forwards can allow for a cool and tousled look.
46. Rippled Side Combover
Resembling rippling waves, this hairstyle is hard to achieve but with astonishing results.
47. Curly Medium Length Hairstyle with Undercut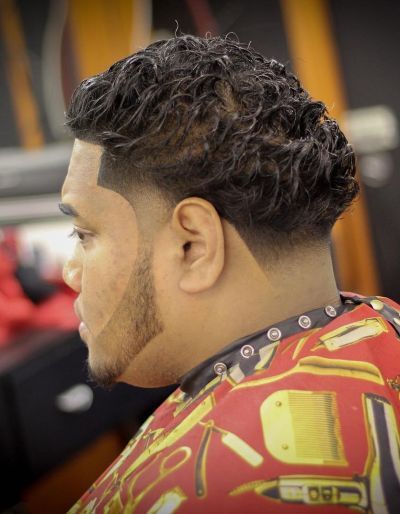 Your curly hairstyle can be made more clean and sharp by creating undercuts along the sides and back of the head. The sideburns can be made neater as well as the beard area.
48. Low Wave with Undercut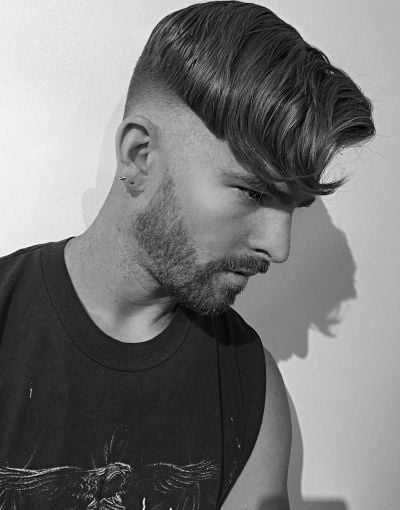 Your low tidal wave hairstyle can be emphasized with a buzz undercut along the sides.
49. Tiny Topknot for Men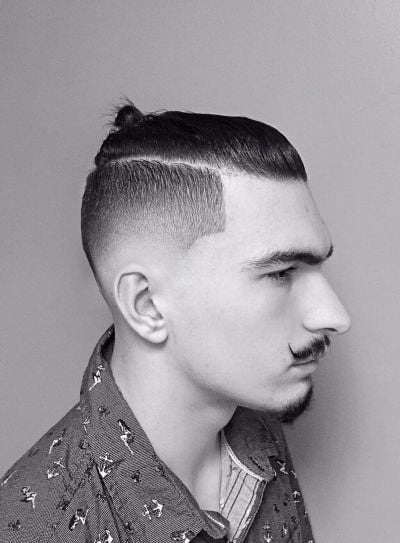 It's not too early nor is your hair too short to a try a topknot.
50. Neon Red Mohawk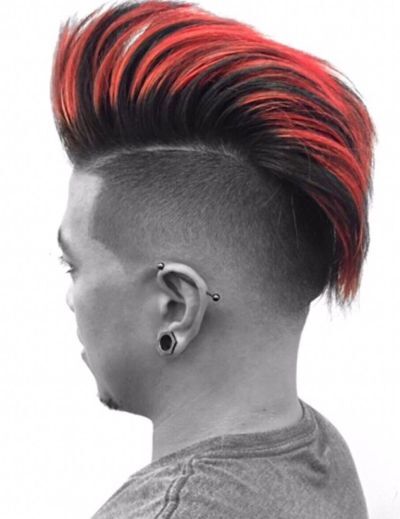 This medium length Mohawk hairstyle was made more interesting and cool with neon red streaks. Any color would have done, but neon red is a particularly powerful color.
51. Curly Top Mid-length Hairstyle with Headband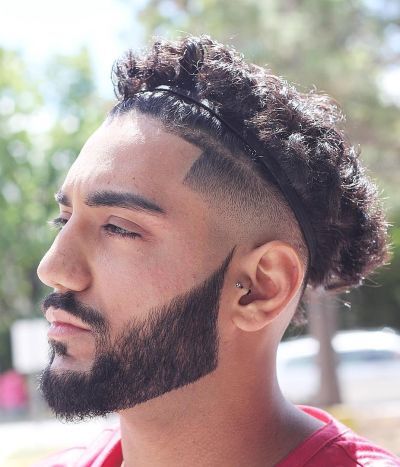 When you have unruly and extremely curly hair, it's best for some men to keep it out of the way by cutting along the sides and back so that majority of the curls rest at the top.
52. Subtle v-shape Hairstyle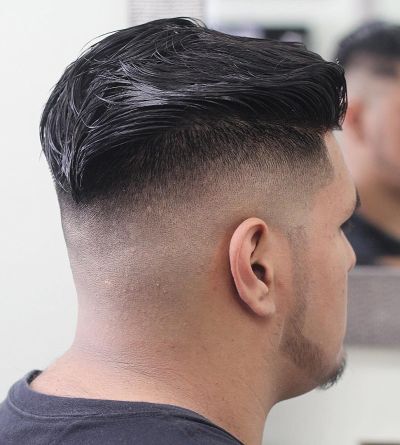 One thing you can do with your medium length center partition is to style it into a sleek v-shape from the sides to the back of the head.
53. Geometrical Undercut Designs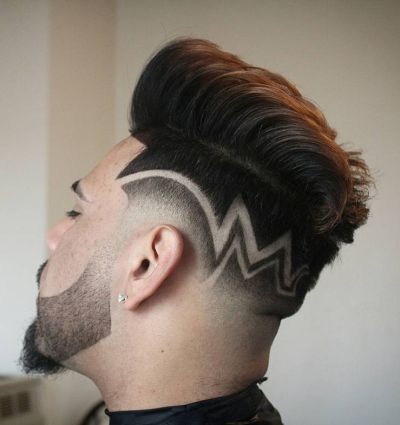 Like I've said before, undercuts are like a blank canvas for talented barbers. In this case, it's a geometric undercut design that tops this hairstyle off.
54. Reverse Fade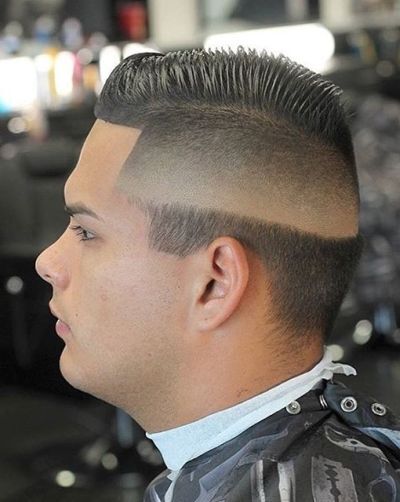 This is a definitely peculiar hairstyle, where you can find the fade hairstyle reversed such that the thicker parts are found at the bottom, not the top.
55. Platinum Blonde for Mid-length Hair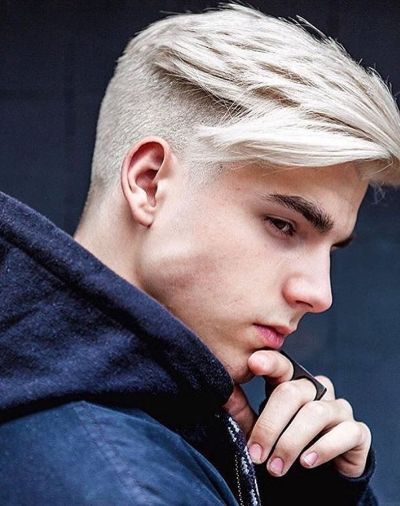 If you're feeling a little Jack Frost-ish, you can try getting his hair color with a magnificent shade of platinum blonde on a medium-length hairstyle for men.
56. Petal Design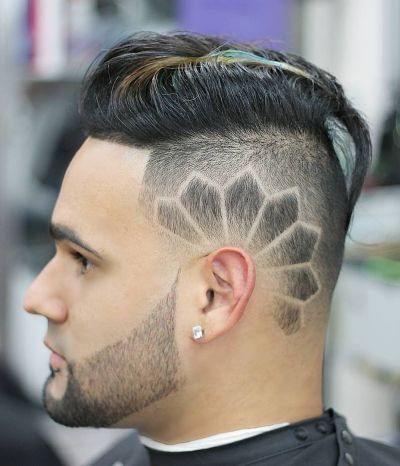 An undercut can also be enhanced with creative designs. In this case, it's a petal or glass-like shape around the ears.
57. Asian Medium Length Hairstyle for Men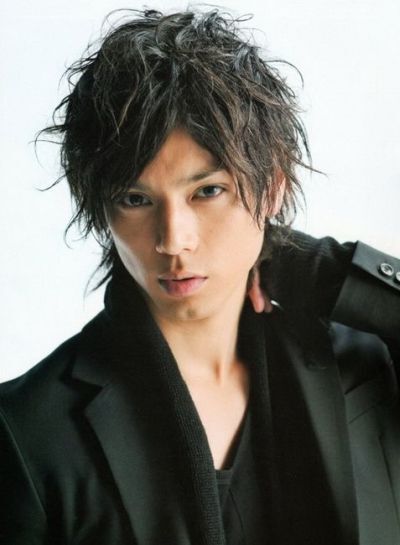 We can take a bit of lessons from the Japanese when it comes to medium length hairstyles for men. In this style, the hair is layered and messed up for a stylishly tousled look.
58. Blonde Straight Medium Hairstyle for Men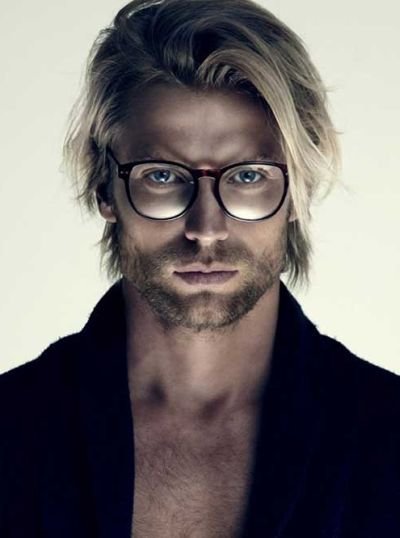 This hairstyle can work great with blondes because it looks so much like the famous Thor's, and that in itself is awesome.
59. Disconnected Fade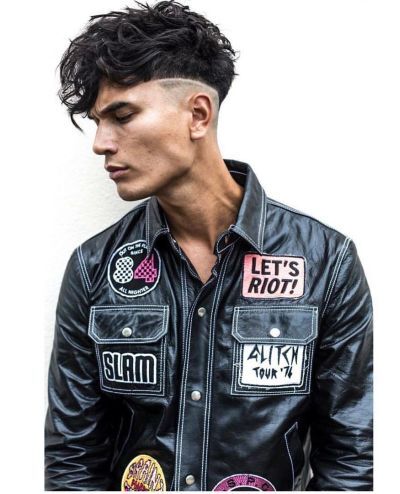 This is another creative take on the fade hairstyle. Instead of transitioning the hair from thin to thick with a fine gradient, this fade goes from thick straight to the thin with a disconnection line.
60. Long Bangs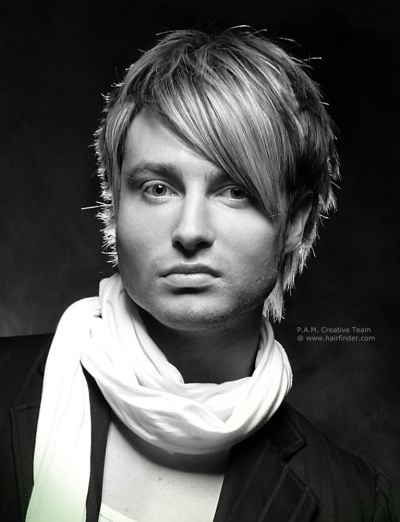 Men who can pull off long bangs usually pull off any style.
61. Medium Straight Hairstyle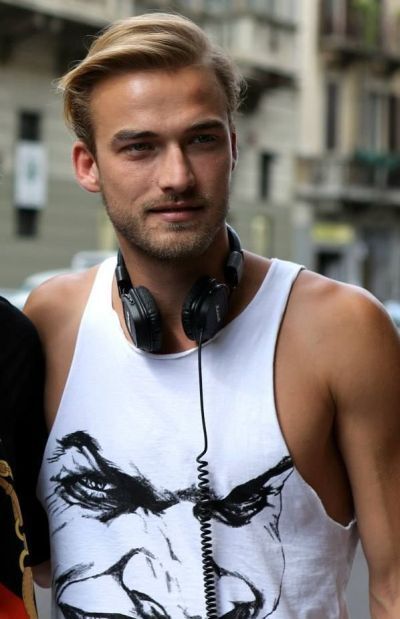 This hairstyle can help fussy young men keep their hair away from their eyes and face. It's a great way to bring out your facial features and to also make you look young and neat.
62. Shaggy Cut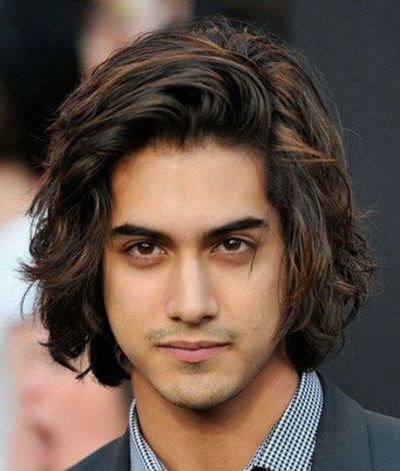 Many of us know that a shaggy haircut can make you ten times cuter. And that is proven with this example of the shaggy layered haircut.
63. Short Fades and Medium Length Curly Hairstyle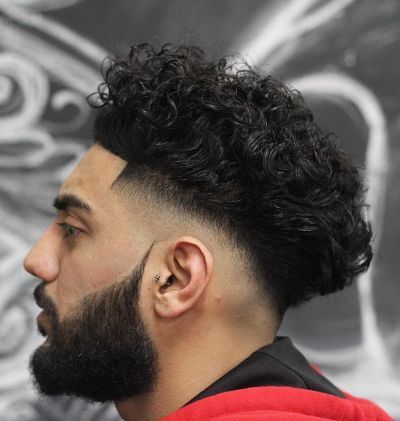 Another way to keep your curls in check is to surround it with a short undercut or fade style.
64. Choppy Textured Fade Haircut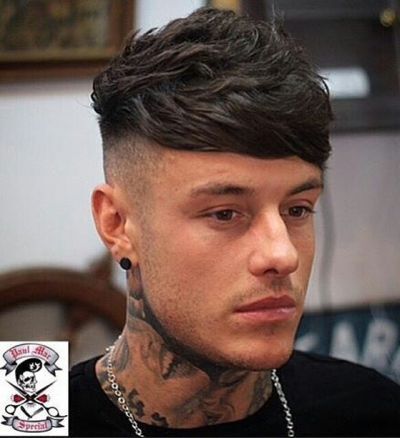 For men with thin and less dense hair, this medium length haircut can help you cover up some thin spots while also making your hair look thicker and more voluminous by adding height and texture.
65. Short and Messy Hairstyle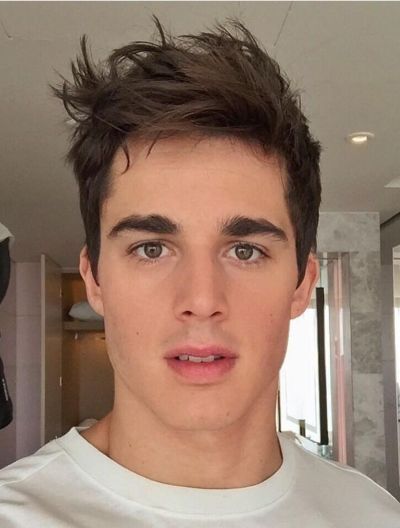 This particular hairstyle comes between neat and messy, with neatly trimmed sides but a carefully tousled top. It's short, simple, and sweet altogether. Perfect for young men with medium length hair.