51 Top Rihanna Hairstyles That Are Worth Trying For Every Girl
20. Long Brunette Curls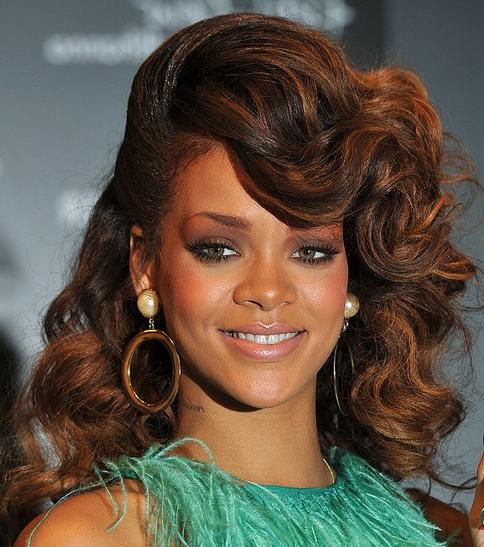 This side swept down hairstyle of the celebrity features bushy curls and she has given solid cinnamon red highlights to her chestnut brown hair for a livelier look.
21. Sweeping Fringe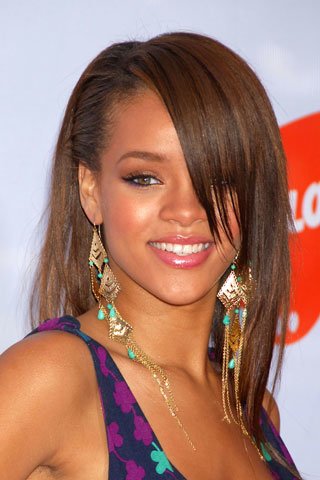 Rihanna is mostly seen wearing curls and waves, but for the 19th Annual Kid's Choice Awards, she preferred wearing super straight hair with a fringe that is side swept neatly.
22. Sultry Look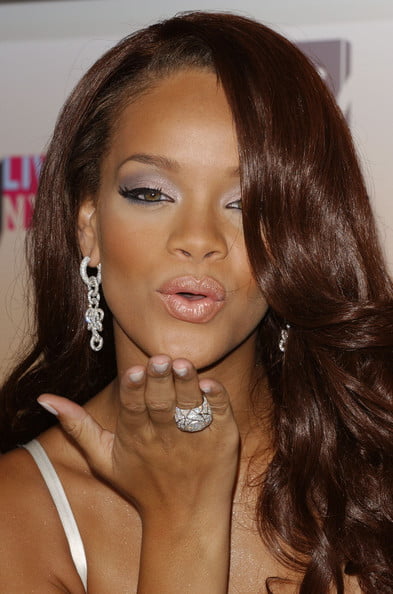 She boasts sultry looks at its best, check her blown-out flicked wavy hair that are dyed in mahogany hue.
23. Blonde Hair Dark Roots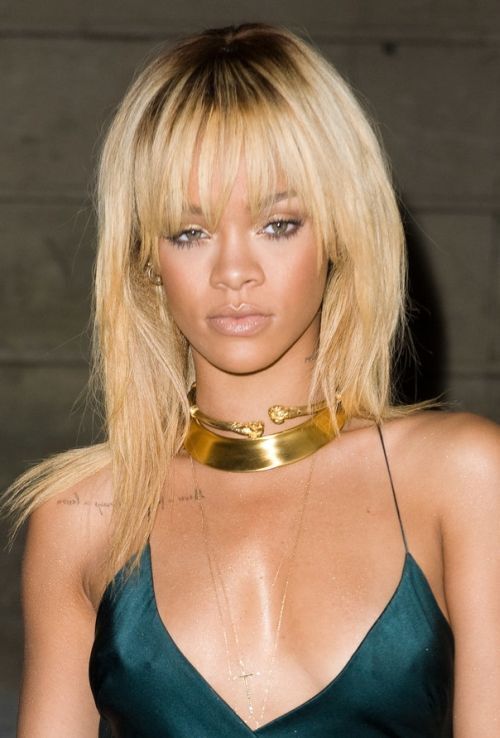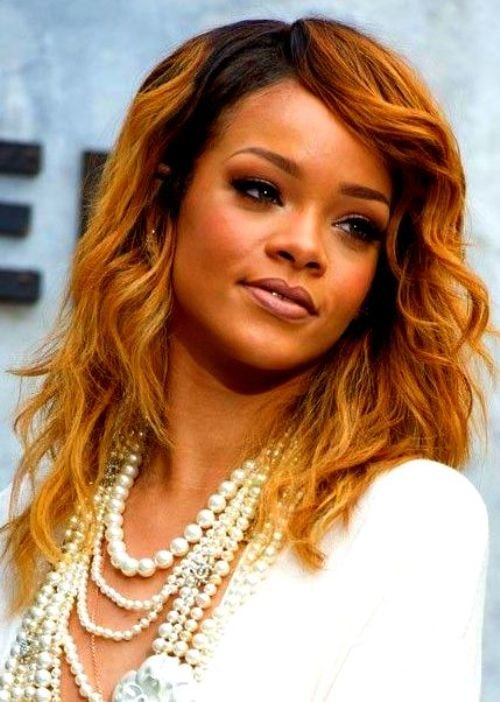 You can follow the super star's looks by wearing rusty blonde hair in loose waves. Keep the length of the haircut medium and add some texture before curling your hair.
24. Side Swept Up Do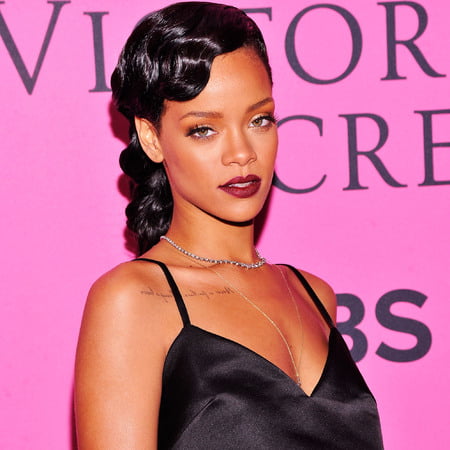 Victoria's Secret show is an event where all invitees try to look at their best and Rihanna's old school finger curls helped her creating a look that is undoubtedly spectacular.
25. Lovely Curls on the Back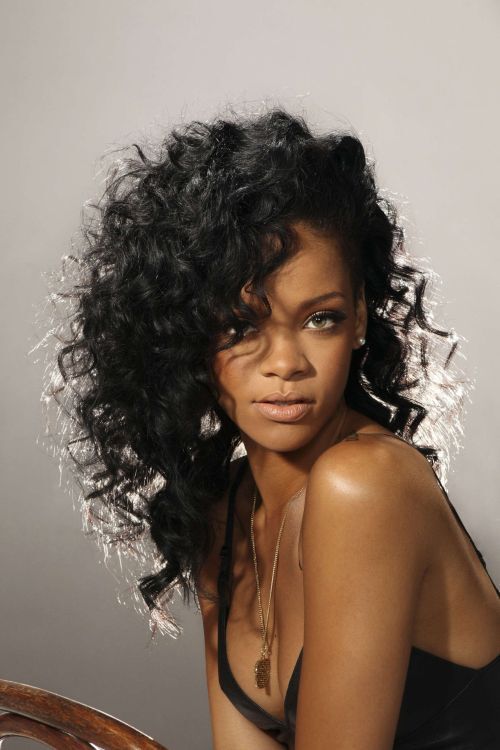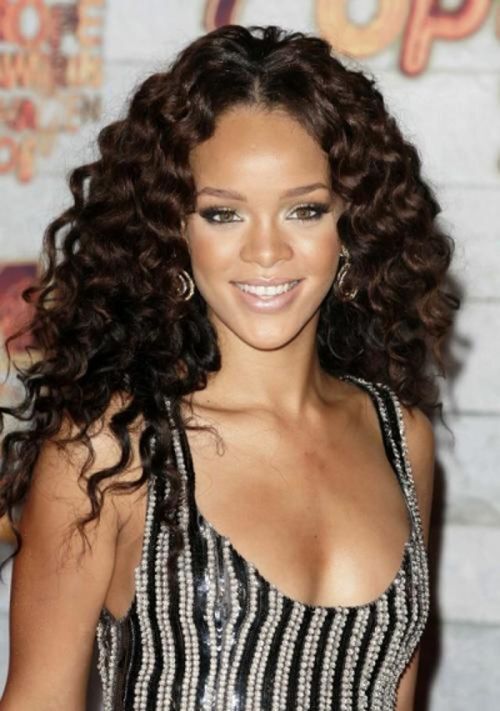 When curls in her hair look so fabulous from a back view, imagine how stunning they will look at the front.
26. Corkscrew Curls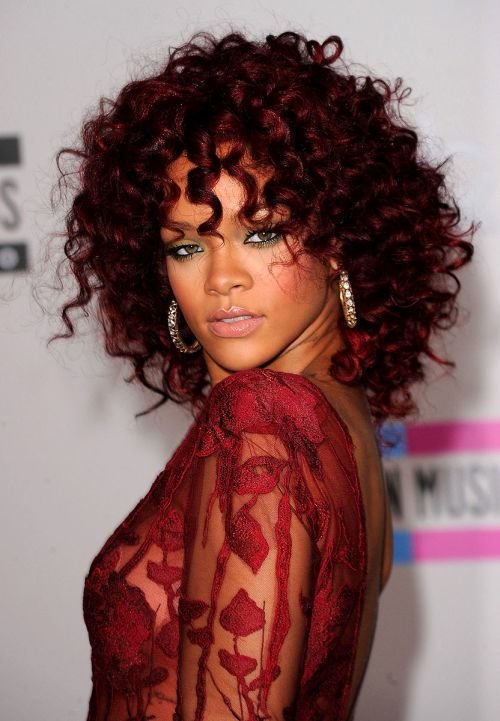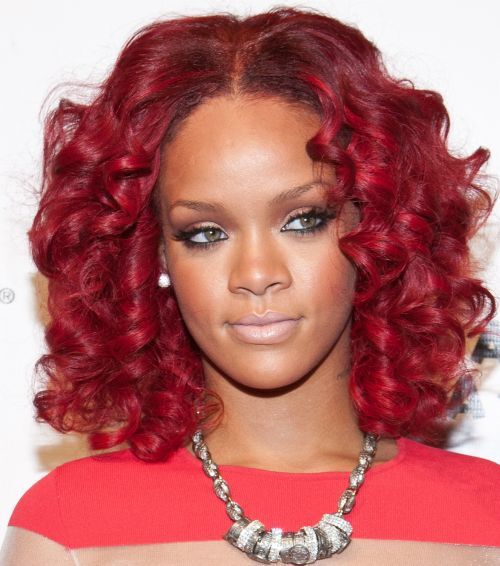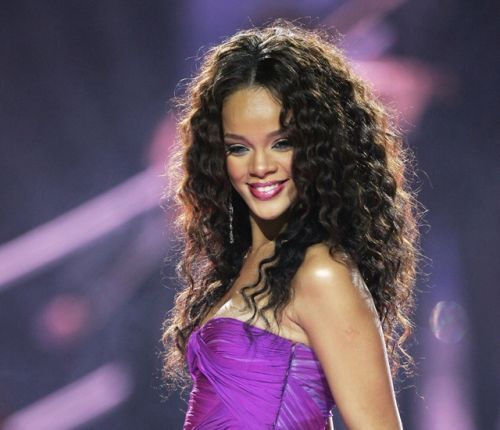 Rihanna knows ways to boost the volume of her hair when needed. Here she has lifted her corkscrew curls from the roots to achieve a fuller look.
27. Straight Hair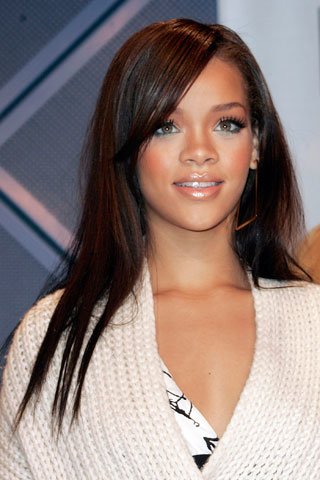 Although rarely, but she does wear straight hair like she chose to wear a simple side parted look for the Nobel Prize Press Conference in Oslo. Rihanna's straight hair hairstyles have been less popular than her curly bobs and Mohawks.
28. Sleek Long Bob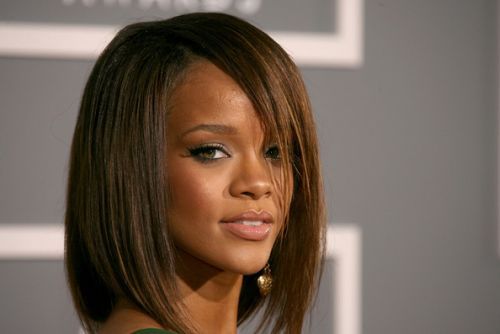 Do you like her polished sleek hair cut in a long bob with understated highlights that are barely noticeable.
29. Concave Bob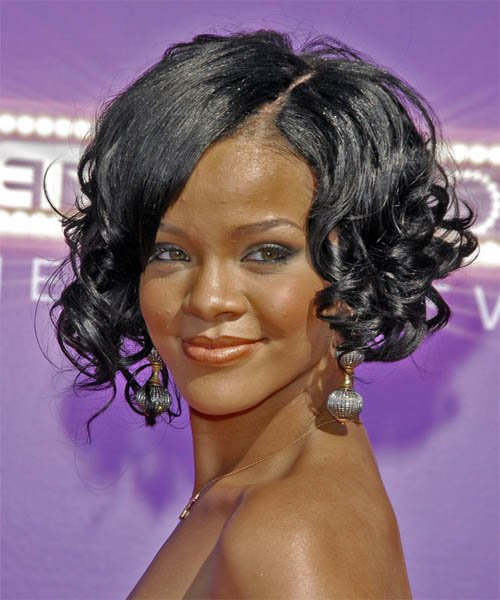 Sexy concave is styled so differently that it is hard to recognize what type of bob she has worn in this picture. She has kept the top a bit flat because it beautifully flatters her oblong face.
30. Side swept Mohawk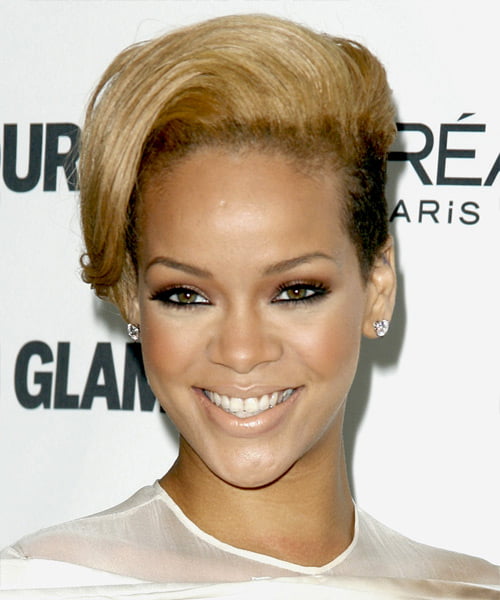 Another head turner hairstyle from the mega star! Top Rihanna hairstyles mostly feature a unique hue or styling technique that not everyone can come up with so easily.
13. Mohawk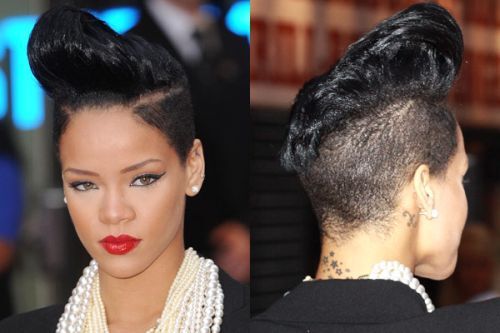 Here she has come up with a typical Mohawk that only the daring can wear. This hairstyle is a bit difficult to set because it needs both volume and height to be added.
23. Short Asymmetrical Cut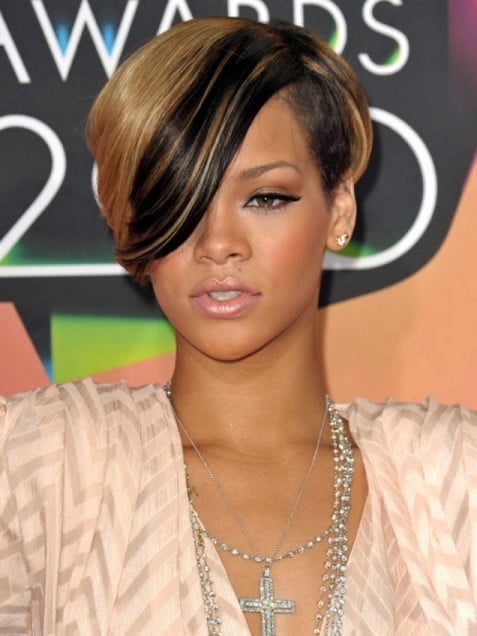 She has clipped the sides of her head to make this hairstyle a sure head turner. Rihanna's asymmetrical hairstyles are bold enough to be the center of attention.
33. Long Braided Hairstyle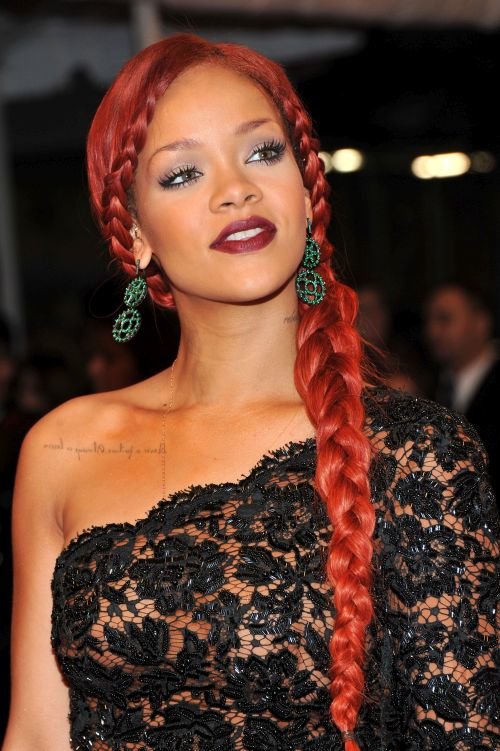 34. Bold Red Do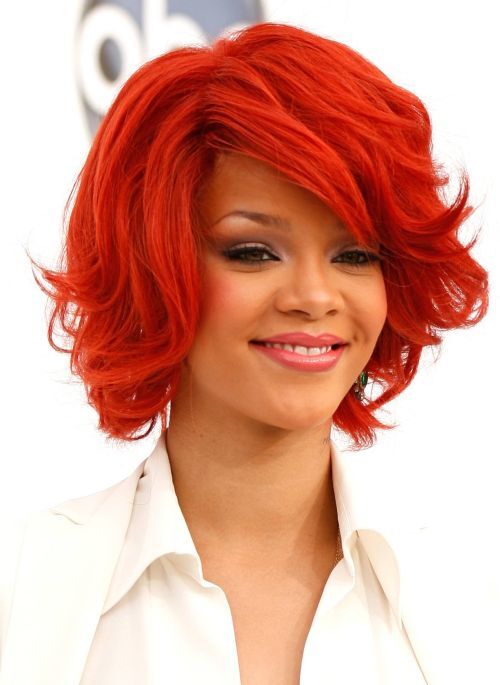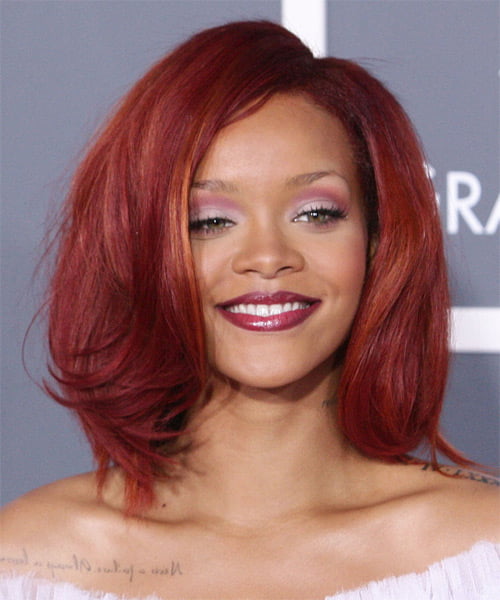 This hair do in red is smoothly blow dried accentuating the layers that are cut softly around the edges of this long bob to create a nice face framing for the lady.