52 Perfect Hairstyles and Hair Color for Hazel Eyes We All Love
Hazel eyes are perhaps one of the most common shades in the world. It is the color coffee, autumn, toffee, and earth; a truly warm and comforting color, and a truly beautiful color to have in your eyes.
If you have hazel eyes, then welcome to the club! In this article, we'll be giving you the best hairstyles and hair colors for hazel eyes to match the warmth and hue of your eyes and skin tones.
Best Hair Colors for Hazel Eyes and Fair Skin
Summer Blonde Crown Braid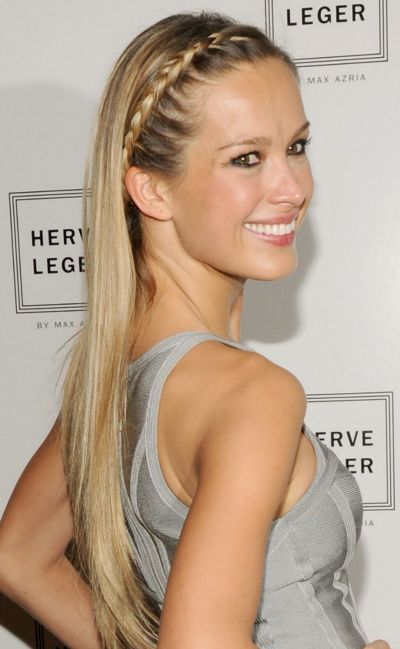 One thing you can try with your hazel eyes is to match its rich, coffee color with a lighter shade for your hair color—for example, a preppy shade of light beach blonde.
Auburn Hairstyle for Hazel Eyes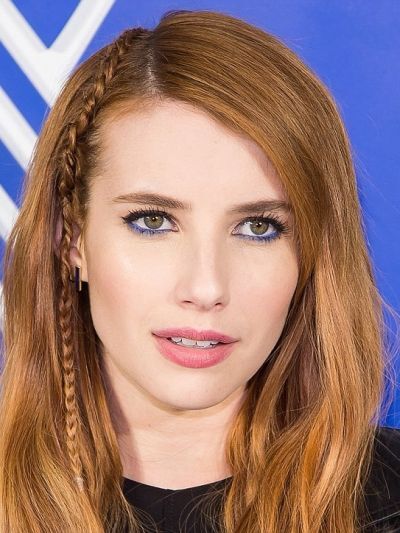 A darker shade that you can try for hazel-green eyes is an orangey brown hue of caramel brown hair. Somewhere in between brown and blonde, right? Make it more personal with a small side braid.
Blonde to Brown Balayage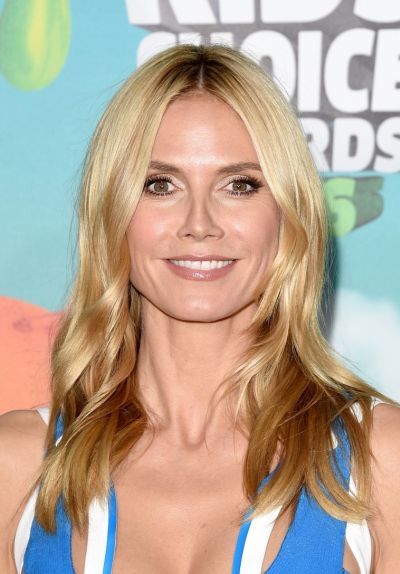 A hair shade that can keep you looking young and vibrant is a classic shade of golden blonde, just like what Heidi Klum is sporting. Hazel eyes will benefit very much from this shade and simple curled hairstyle.
Pastel Pink Hairstyle for Hazel Eyes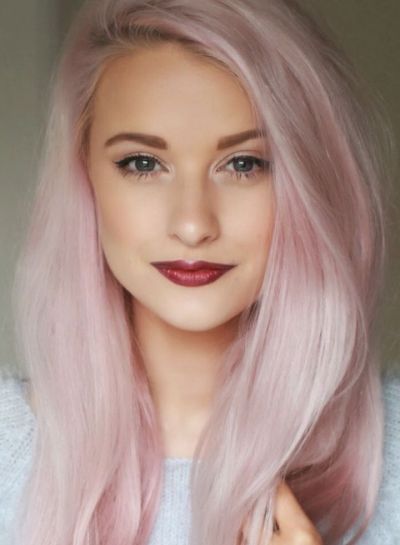 Make your dark brown eyes pop out more with a pastel hair color for long hair. With this hair color, you can have a lot of options: blue, pink, purple, and all the other popular pastel hues.
Related: best pink hair color ideas
Cherry Blonde Waves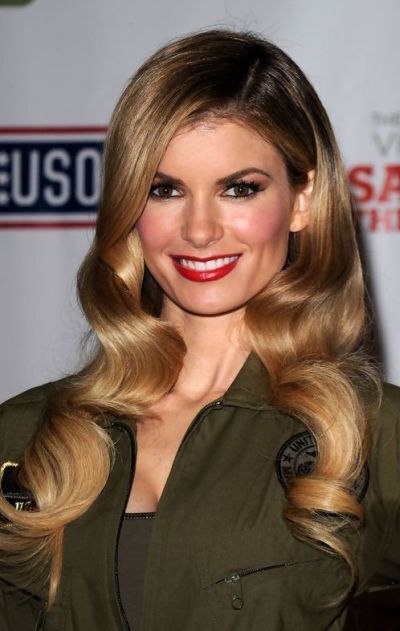 Miller features large, wavy locks and shade of caramel brown that also matches well with her deep hazel brown eyes. If you have similar eyes, why not go for this style to make your features bolder?
Reddish Brown Curls for Fair Skin and Hazel Eyes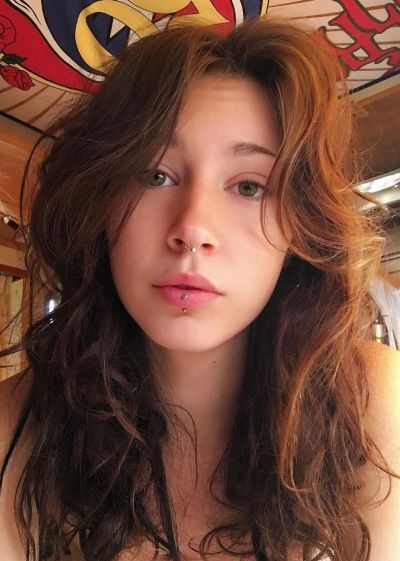 Bring out character in your natural curls and reddish brown hair with a stylish, disheveled look.
Blonde Crown Braid Updo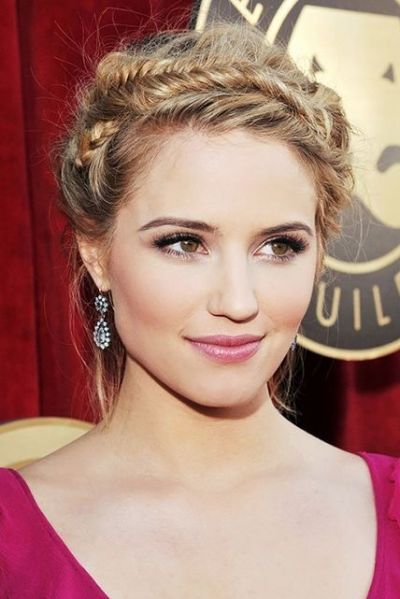 Whether you're going out on a date or attending a semi-formal event, a fishtail crownbraid will never fail you. For brown-eyed beauties, a golden honey color will also bring focus to your eyes.
Blonde to Dark Brown Ombre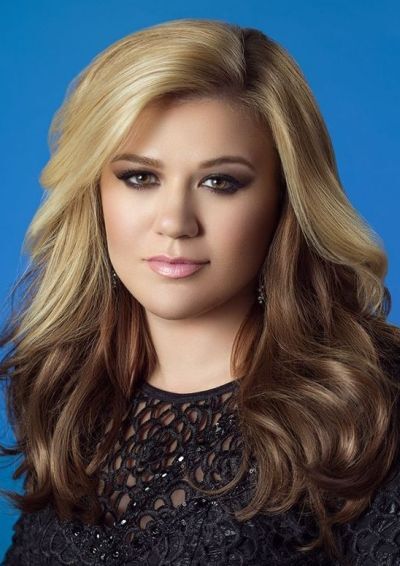 Achieve this singer's look by getting a blonde to brown ombre, something that will match your brown hazel eyes. It's also best if you make your hair look more voluminous with big, wavy curls.
Dark Brown Hair with Silver Blonde Highlights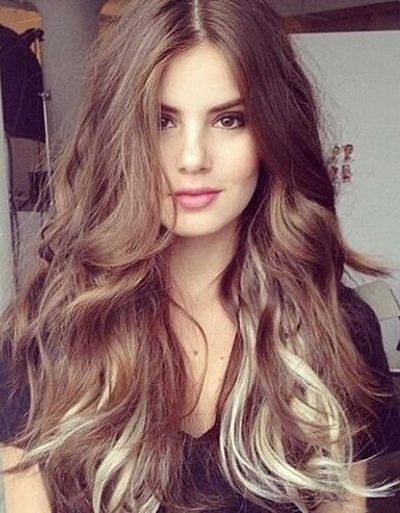 Make your face skinnier with messy, big curls and your hair more alive with a deep brown color with light blonde highlights at the bottom. Moreover, this hairstyle also matches greatly with hazel eyes.
Cute Hair Color Ideas for Hazel Eyes and Pale Skin
Short Platinum Blonde Bob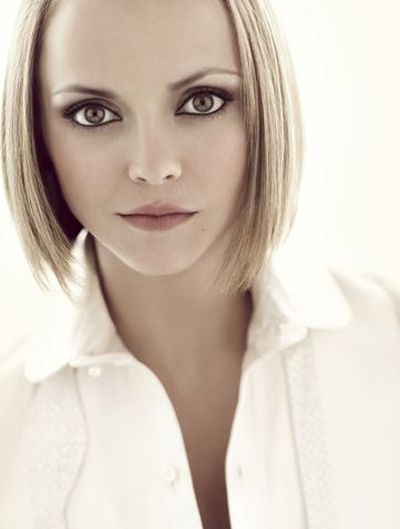 Pale skin and hazel eyes can clash, don't you think? But don't fret. The contrast is what makes you more beautiful! In this example, you can complement your pale skin with a blending shade of light blonde in a straight, short bob.
Oak Brown Hair Color for Pale Skin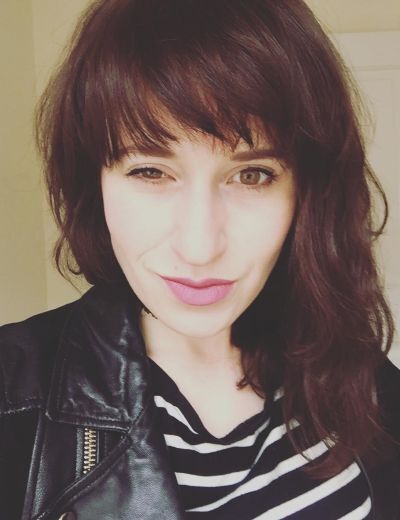 The general rule is that pale skin goes great with both light and dark shades. As such, this shade boasts a deep burgundy shade in a simple curly hairstyle, making the hazel color stand out more.
Platinum Blonde Hair Color for Hazel Eyes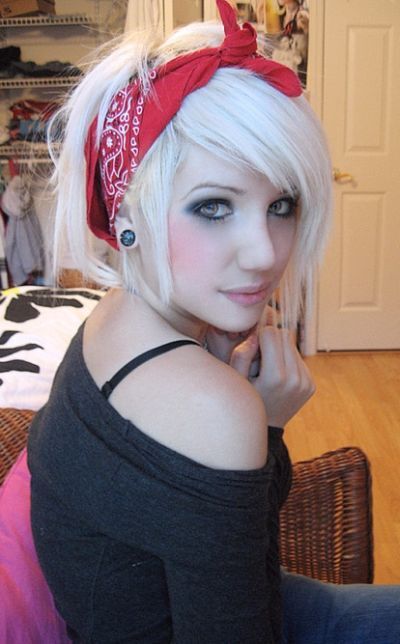 Pale skin and an even paler hair color can work wonders: as such, making you look like a porcelain doll. If you have hazel eyes, a bleach blonde hair color can also create a lot of contrast other than blending with your light skin tone.
Curly Dark Brunette Hairstyle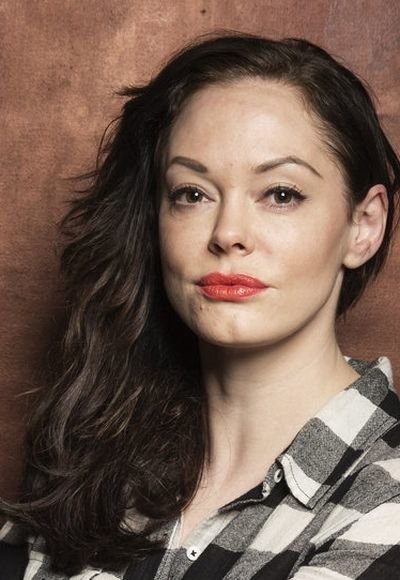 If you have pale-ish skin with hazel eyes that you'd like to emphasize with your hairstyle, try a voluminous curly style with a deep coffee brown color.
Electric Blue Ombre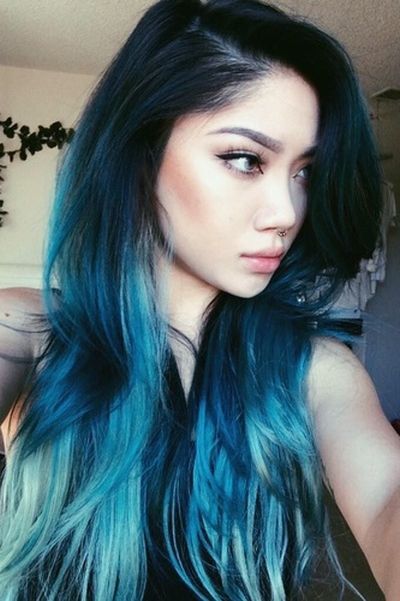 If you already have long, mermaid hair, take the extra step and color it a unique shade of electric blue to really match the color of the ocean. Not only does this hue go great with pale skin, it also contrasts beautifully and uniquely with your hazel orbs.
Coppery Brown Ringlets for Hazel Eyes
Large curly ringlets are still not going out of style and if you want to keep things simple and sophisticated, try this hairstyle to boost the color of your eyes.
Perfect Hair Color for Hazel Eyes and Tan Skin
Reddish Brown Hair for Tan Skin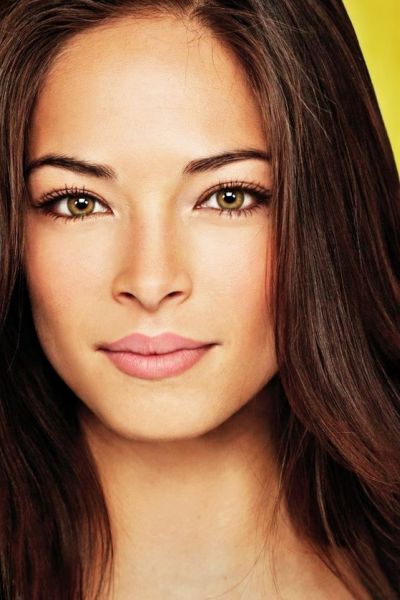 A light tan can go well with a deep chocolate brown color, as apparent in Kristin Kreuk's hairstyle. For girls with light hazel eyes, this hairstyle can give you the contrast you need to make your eyes pop.
Simple Medium Brown Curls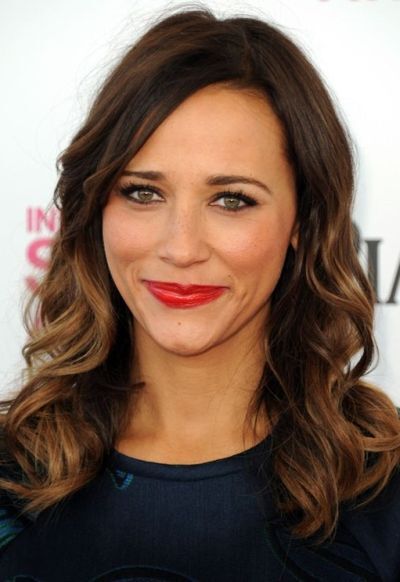 Simple curls with a deep brown to medium brown sombre hairstyle: the perfect classy combination for hazel eyes.
Blonde Fishtail Hairstyle with Gray Streaks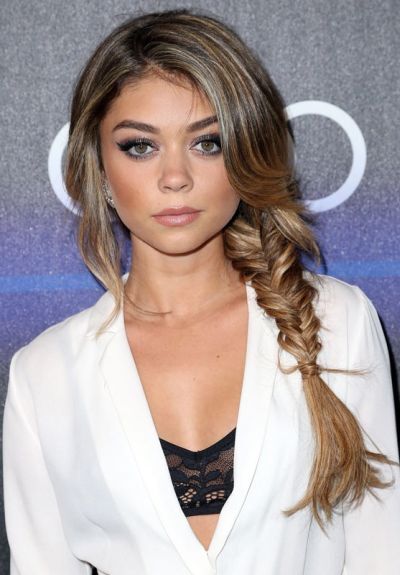 This starlet's hairstyle boasts grey and golden blonde highlights on contrasting dark brown hair. If you have similar tastes, have your hair colored as such and pull it into a fishtail braid as well.
Cool Hair Color for Hazel Eyes and Dark Skin or Black Women
Light Blonde Curls for Dark Skin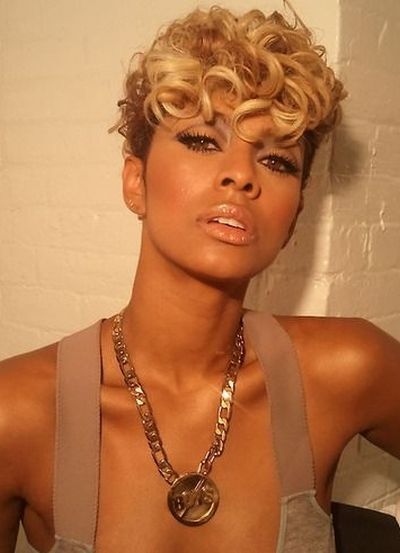 For darker skin tones, a bright blonde color can complement the golden brown quality of your skin. It won't make your brown eyes stand out a lot, but it will make it appear brighter.
Natural Black Cornrow Braids for Black Women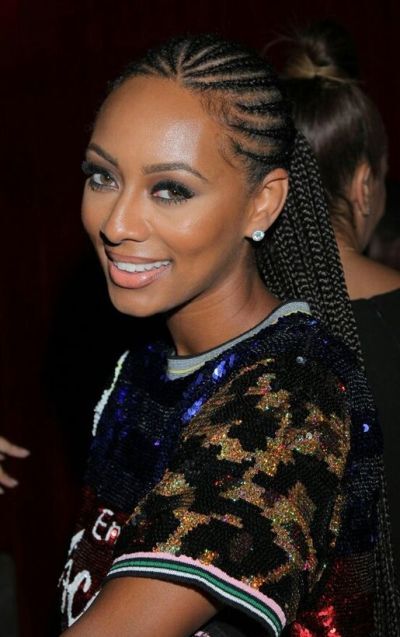 Another style inspiration from Keri Hilson is traditional cornrow braids with natural black hair. With this hairstyle, not only do you look all nautral and cool, your hazel eyes will be emphasized as well.
Storm Gray Hair Color for Dark Skin and Hazel Eyes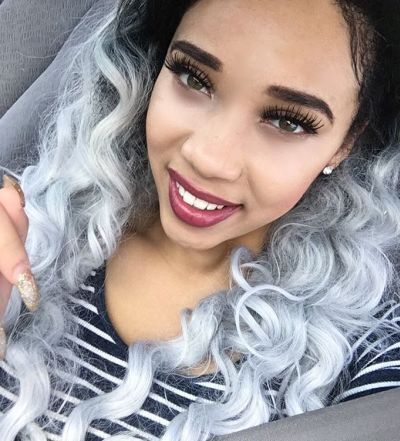 Dark skin is a great contrast for light hair colors. This example boasts a granny grey hair that creates a beautiful contrast to naturally dark skin, which also complements natural brown eyes.
Deep Blue Waves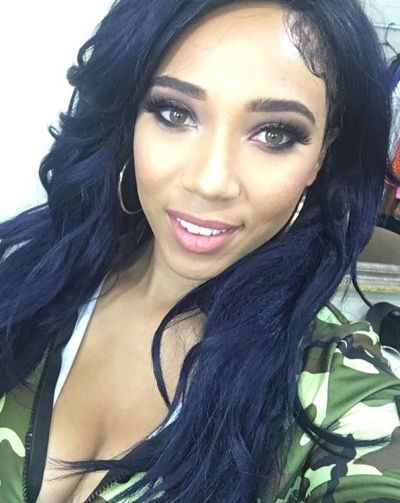 Dark skin and dark hair color is always a good idea and this photo proves it: make your long, wavy hair blend with your skin tone by coloring it a deep, almost unnoticeable shade of dark blue.
Fuschia Pink Highlights on Brown Hair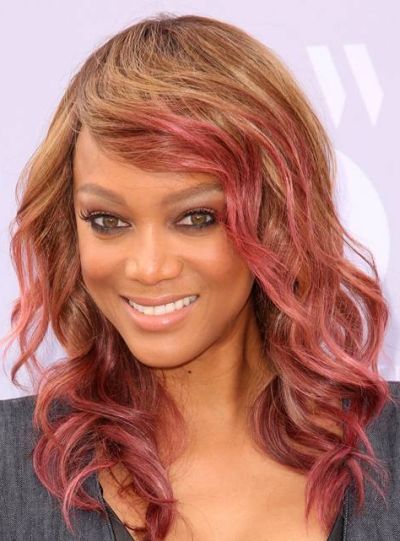 If you have dark skin and would like to try out a bit more of an unusual color, try a very subtle highlight of a red shade that would go well with your skin tone.
Vibrant Red Bob for Black Women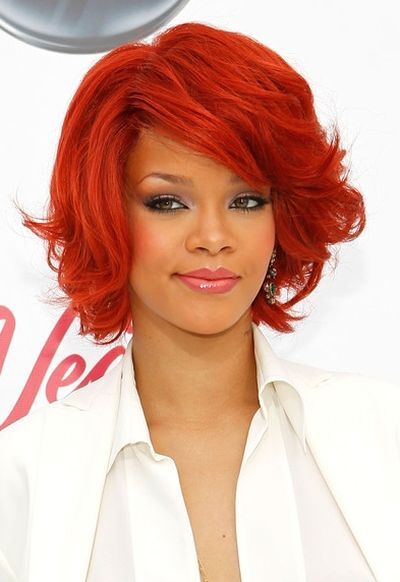 It is known that dark skin goes great with red hair, and that is right! If you have dark skin, try a shade of red that would match well with your skin tone, as well as bring out the natural brown in your eyes.
Strawberry Blonde Hair with Dark Roots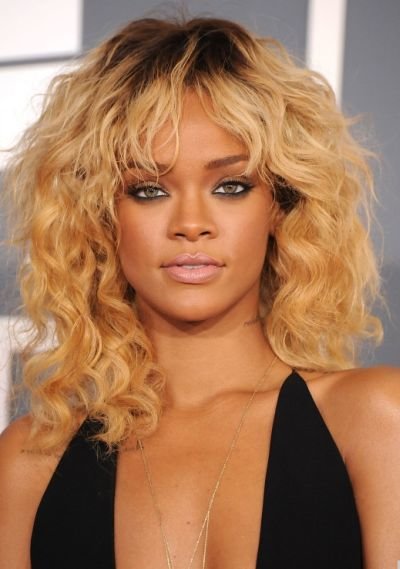 Dark skin and blonde hair go great; it's already tested and proven. A strawberry blonde shade is no exception, and will also complement natural hazel eyes and warm dark skin tone. Also, take a look at other hairstyles of Rihanna.
Best Hairstyles & Hair Colors for Women with Hazel Eyes and Light Skin
Neat and Natural Updo for Light Skin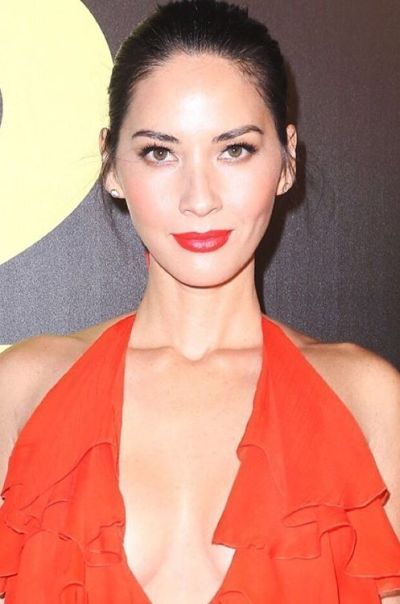 A simple, fail-safe way to look elegant and effort-free everyday without having to actually style your hair is a neat updo like this one.
Platinum Blonde Hair with Subtle Waves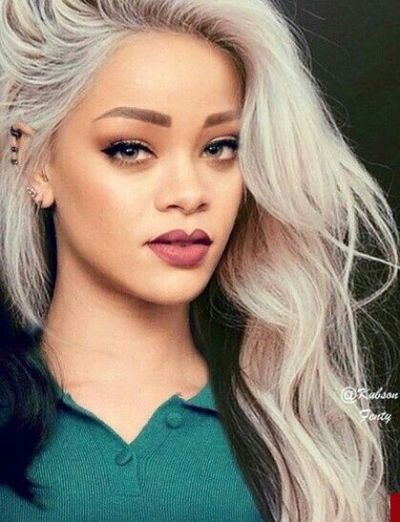 If you have lighter skin tone like Rihanna in this picture, go for a light hair color that's in trend nowadays: an ashen blonde shade. For all eye colors, especially hazel, this hair color can contrast well and give your eyes attention.
Reverse Purple and Lilac Ombre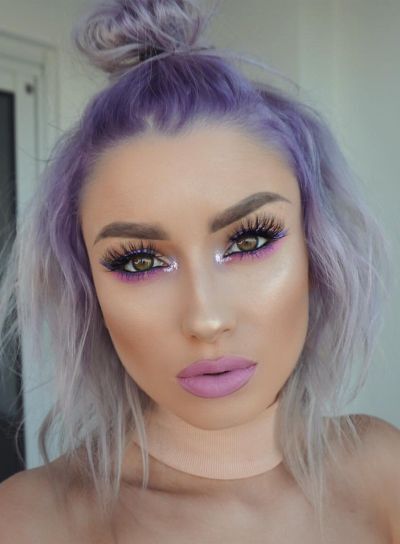 A unique and stylish way to color your hair is an ombre that has your hair going form dark purple to very light pastel lilac, in this short bob hairstyle with top knot. As you can see, it is a surefire way to bring out the brown in your hazel eyes.
Dark Brown Double Fishtail Braids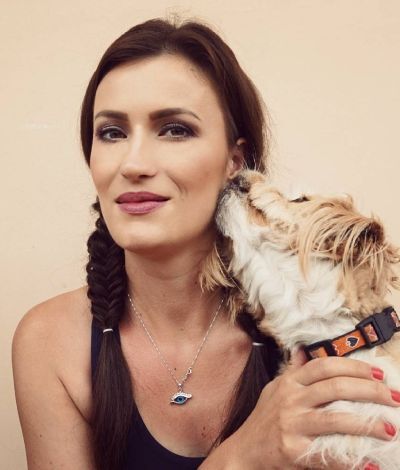 Brown eyes and brown hair go hand in hand for a classy, beautiful look. This hairstyle is a double fishtail pigtails with a natural chocolate brown hair color.
Simple and Natural Dark Brown Bob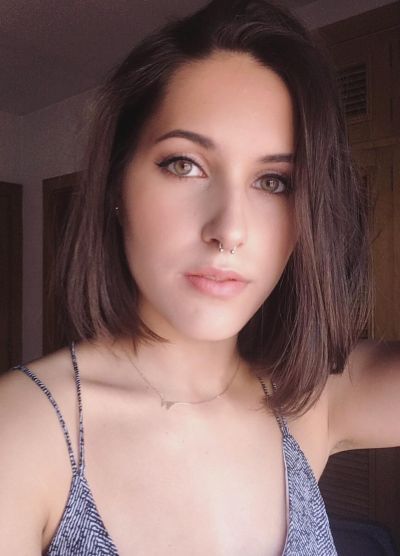 Greenish hazel eyes are sure a beauty to look at. Make them the center of attention on your face by framing it with a straight, short bob colored a natural dark brown hue.
Buttery Blonde Hairstyle for Hazel Eyes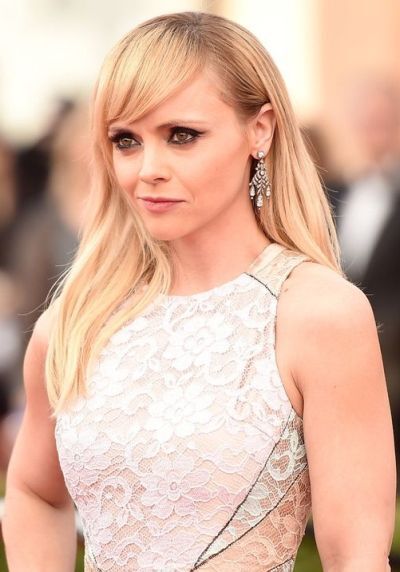 Hazel eyes look darker and fiercer with a lighter shade. For example, a preppy shade of blonde.
Edgy Violet Mohawk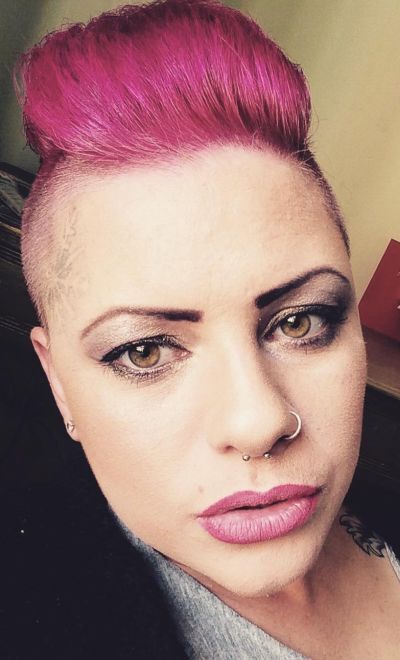 Unleash your inner spunk and edginess with a violet-colored Mohawk, another great way albeit unconventional, to bring out the charisma of your hazel brown eyes.
Goldilocks Blonde for Naturally Curly Hair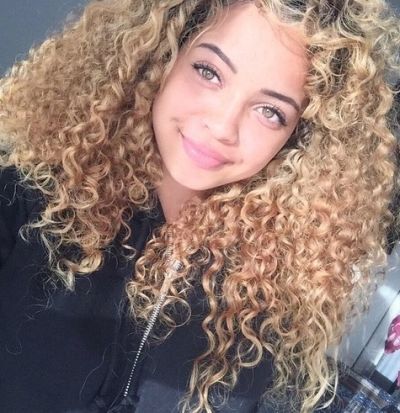 If you have naturally curly hair like this, try making it look a little different by dying it a medium shade of blonde. Doesn't only make you look like a modern day Goldilocks, the shade and style also brings out the color in your eyes.
Subtle Brown and Blonde Bob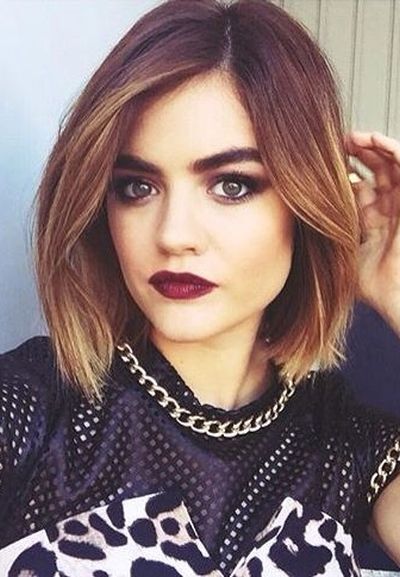 In this hairstyle, it is a simple short bob with a blend of brown and blonde all in one color. A great style to match with dark, edgy makeup and your hazel brown eyes.
Pushed Back Bob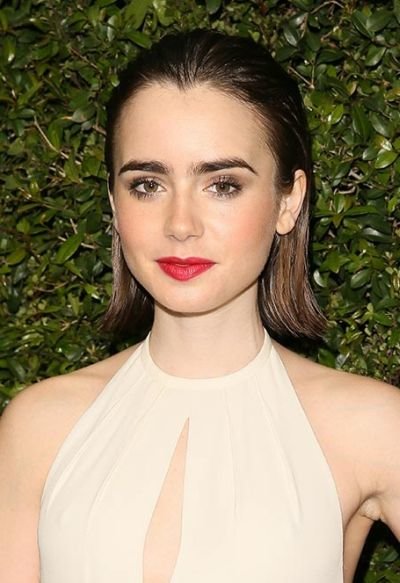 Be red carpet material with a pushed back bob hairstyle, a great way to focus attention on your face, especially your eyes. The natural-looking dark brown color also does the trick.
Coppery Brown Updo for Hazel Eyes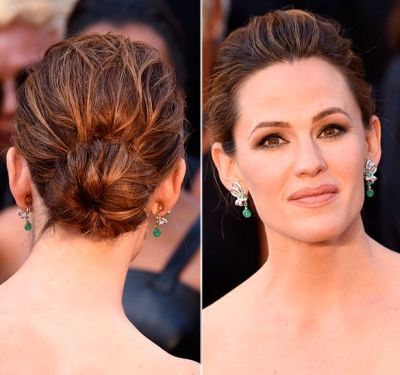 A sophisticated updo and a caramel brown hair color with blonde highlights can complement your hazel brown eyes. A perfect hairstyle for formal occasions.
Dark Brunette Top Knot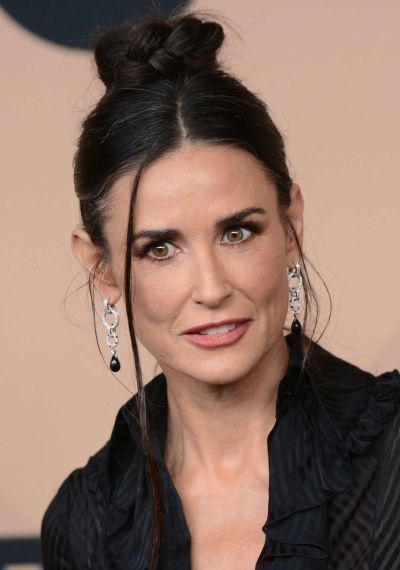 If you have a similar shade of light and bright hazel eyes, try a darker hair color like raven black or very dark brown to keep the contrast and make your eyes look even brighter.
Caramel Brunette for Light Skin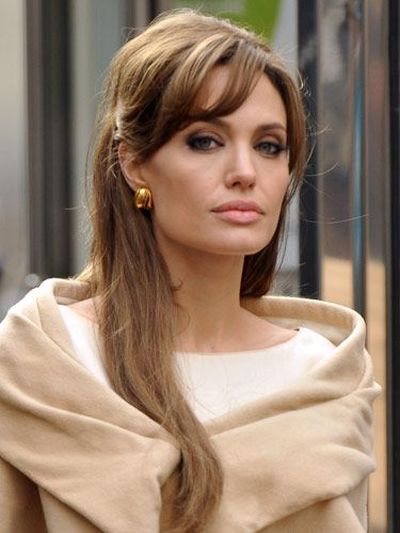 Jolie's charismatic brown eyes were made more vibrant with a complementary shade of medium coffee brown, as seen in this long, simple hairstyle.
Honey Blonde Curls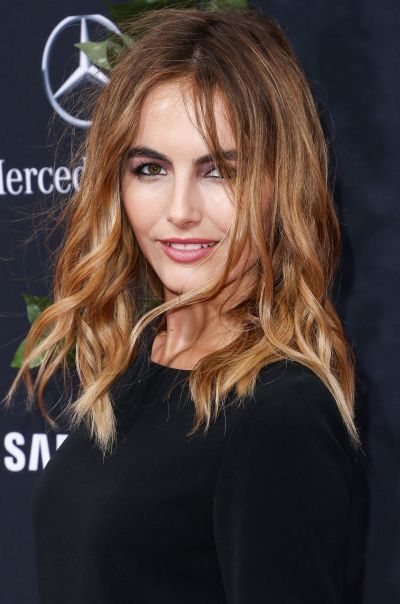 If you have dark brown eyes like this talented artist, try a medium brown-strawberry blonde shade that's almost the same color as your eyes to make them blend.
Gingery Blonde Hairstyle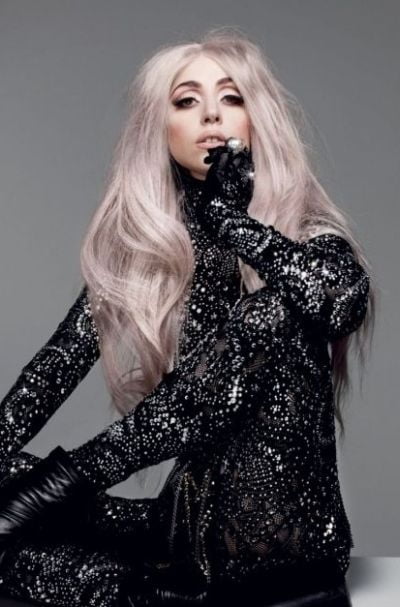 It's no secret that Lady Gaga is a fashion icon in more ways than one. If you have light skin tone and hazel eyes like her, try a ginger color for your hair to make yourself stand out.
Hairstyles and Hair Color Ideas for Hazel eyes, Warm Skin Tone
Cute and Formal Topknot Bun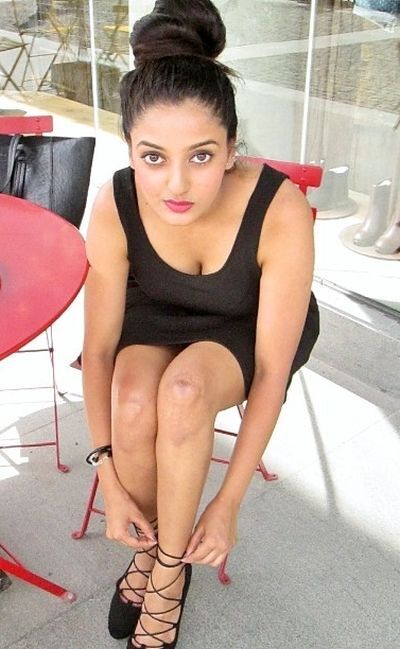 A warm skin tone can always do well with a natural dark hairstyle. In this example, hazel eyes are made more vibrant with a natural black hair color, pulled up into a big, classy top bun.
Platinum Blonde with Pink Ombre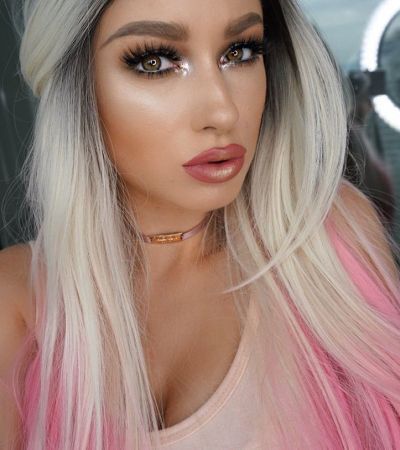 Another unique approach to making your eyes pop using hair colors is an ashen blonde to pink ombre. Definitely a unique hair color that won't clash with warm skin tones.
Natural Brunette Hairstyle for Warm Skin Tone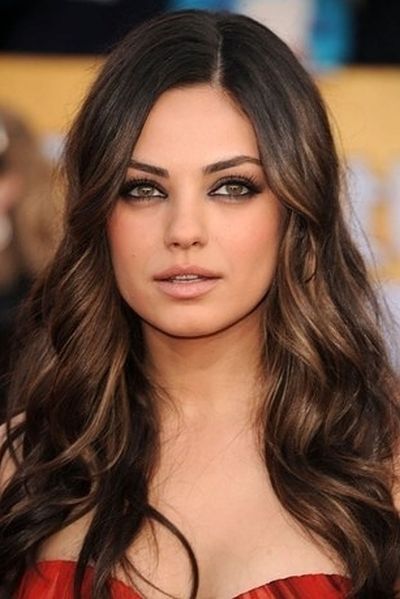 Warm skin, warm hair, and warm eyes. This trio is represented well by actress Mila Kunis. If you have the same characteristics as her and don't want to do much treatment to your hair, try a subtle brown babylights to start off.
Harley Quinn Pigtails with Pink Highlights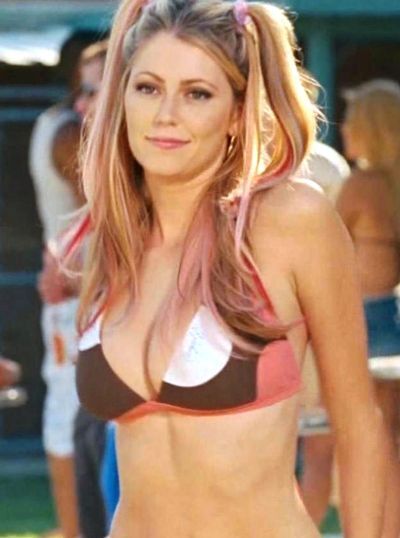 Bring out your inner playfulness and complement your hazel eye color at the same time with double pigtails, long blonde hair, and subtle pink highlights.
Subtle Blonde Updo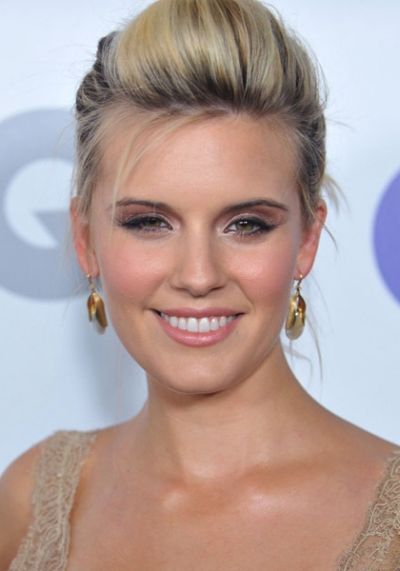 Grace's warm skin tone matches well with her olive hazel eyes. As such, golden blonde highlights also add to the look.
Boy-cut Hairstyle with Natural Blonde Highlights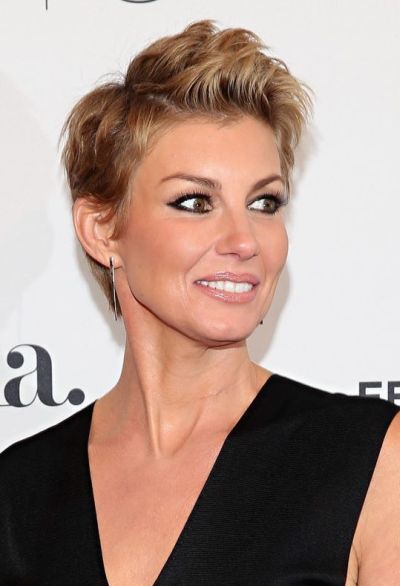 To look more mature but still edgy, try a short, boy-cut hairstyle with a traditional medium blonde color.
Pastel Lilac Asymmetrical Bob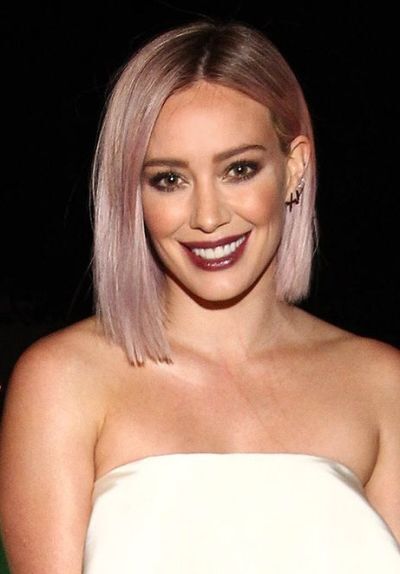 One shade that can also bring out the best in your brown eyes is a nice shade of pastel lilac. Make things simpler with a classic, short bob.
Deep Burgundy Hair Color for Warm Skin Tone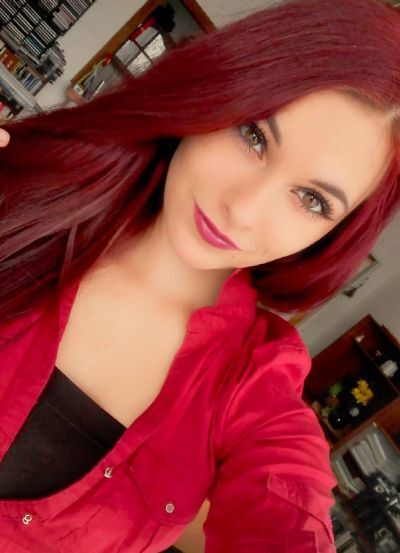 Warm skin tones can also do well with bright colors. In this hairstyle, a nice shade of crimson obviously brings out the beautiful color of hazel eyes.
Deep Brown Fishtail Braid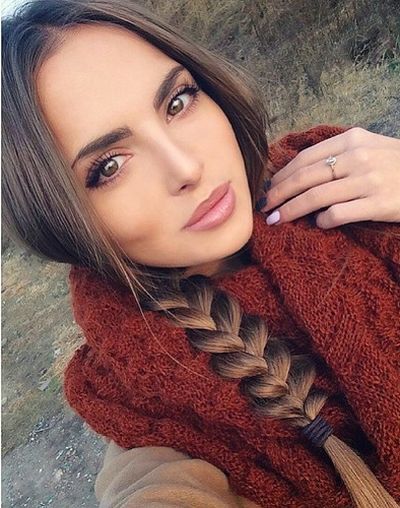 A warm glow can be complemented well with a dark brown fishtail braid. This hairstyle exudes simplicity and playfulness, while doing its job: to bring attention to your hazel brown eyes.
Sandy Blonde Hair Color in Big Waves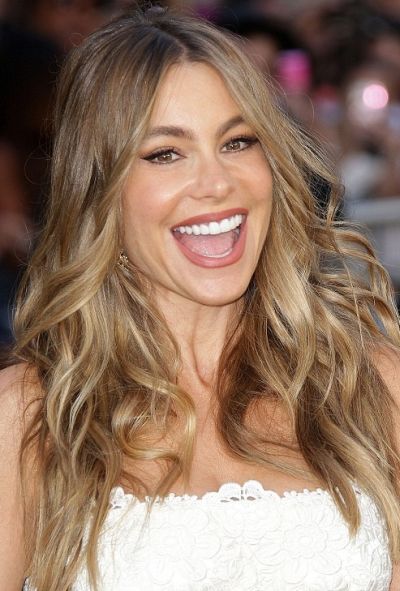 For exotic women with naturally warm skin tone and eye colors, try a shade of light blonde to blend with your skin tone and eyes.
Cool Hair Color for Hazel Eyes and Olive Skin Tone
Classy Deep Brown Vintage Cut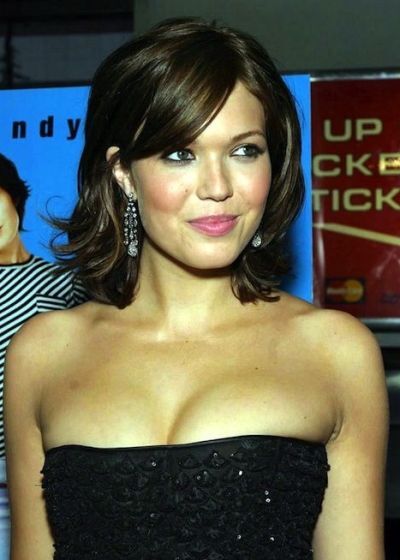 If you have an olive skin tone and hazel eyes, you may want to try darker colors to complement your look. In this example, a deep coffee brown color is added to a shoulder-length layered bob.
Bold Purple Hair Color for Hazel Eyes & Olive Skin Tone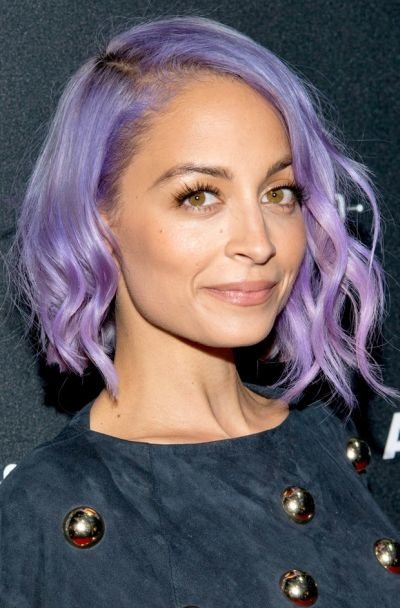 You may think that it's not a good idea to have unusual hair colors for olive skin tone, but Richie can prove you wrong. If you have hazel eyes and an olive skin tone, try a unique, unnatural shade that would make you stand out.