7. Back of Neck Tiny Tattoos
A small tattoo on the back of the neck is known to the owner, but only visible to others. It can be a completely secret location only to be revealed when desired. It's a way to show off your inner thoughts without showing your face. As such, you may find small tattoos with a very deep meaning on the back of the neck.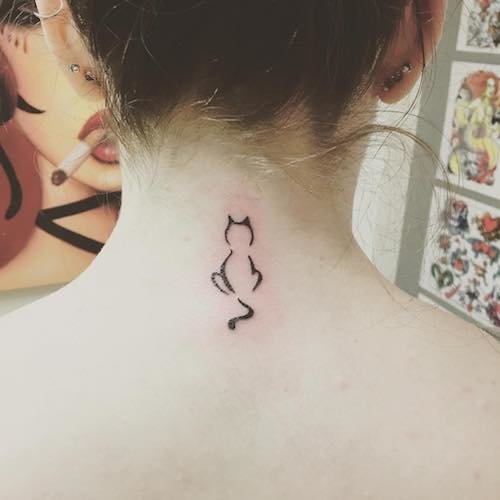 This artsy, small cat outline tiny tattoo reveals her love and dedication to her feline family.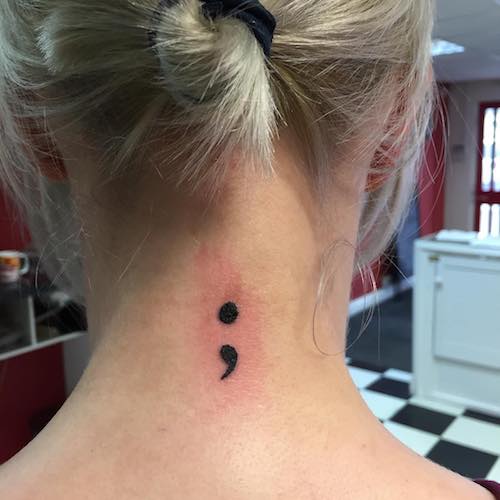 This tiny semicolon tattoo represents mental health issues and suicide prevention. It's part of a the Project Semicolon movement. They are a movement dedicated to presenting hope and love to those who are struggling with depression, suicide, addiction, and self-injury.
The meaning of a semicolon tattoo?  A semicolon is used when an author could've chosen to end their sentence, but chose not to. The author is you and the sentence is your life.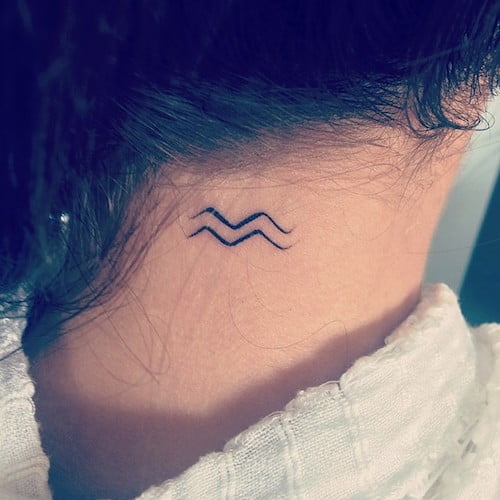 The back of neck, mini tattoo of waves represent one of the most powerful forces on Earth. The wave tattoo reminds us to ride the waves, rather than get caught up in the ups and downs of life.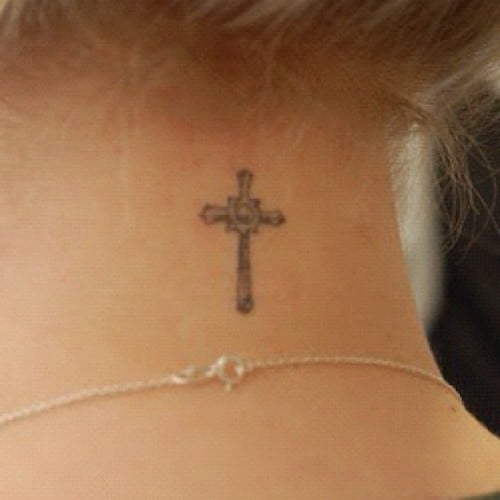 The back of neck tiny tattoo of a cross is a Christian religious symbol. A popular choice for those who have the faith.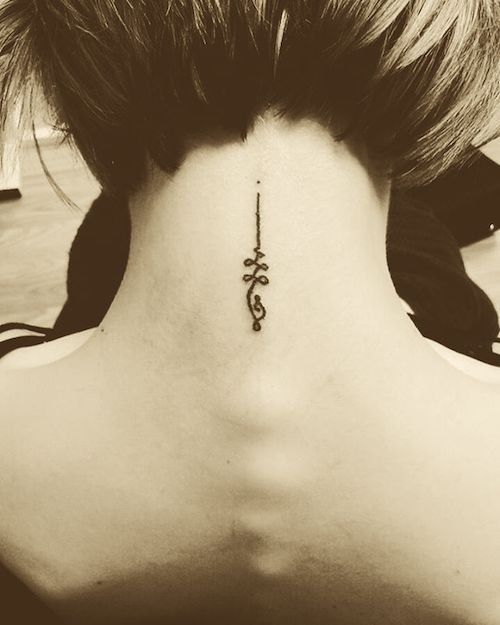 This back of neck, tiny tattoo is of a unalome. A unalome is a symbol of enlightenment. The zig-zag spirals are the wandering we go through in life, and the straight line is the path to enlightenment.
 
7. Side Boob Tiny Tattoos
Photos of women's sides exposing a sneak peek at side boobs are all the rage. Tiny side boob tattoos provide the icing on the cake. The intimate location of these mini tattoos give a more private and deeper meaning to them. Whether they are breast tattoos, on the side, or under the side, these awesomely sexy tiny tattoos make for an everlasting impression.
With a tiny tattoo on your side, you'll be sure to capture the looks of others passing by. Keep the tattoo meaning cryptic, and they'll be left staring and wondering. Let's take a gander at some of these magnificent side boob mini tattoo ideas.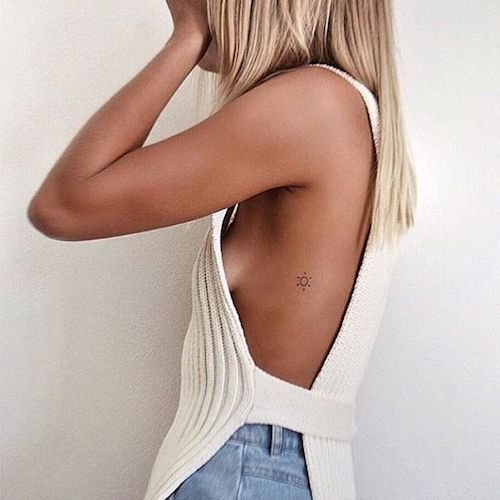 A sun tiny tattoo on the side of the body meaning someone with a positive attitude and sunny disposition. Someone who can bring the light and cheer up your blues.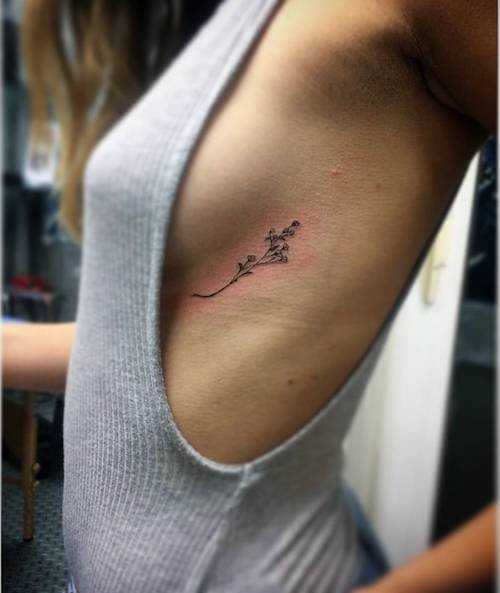 A side boob mini tattoo with flowers is a delicate reminder of our organic link with nature. The flower is a feminine symbol and when placed on the side boob, a very eye catching one.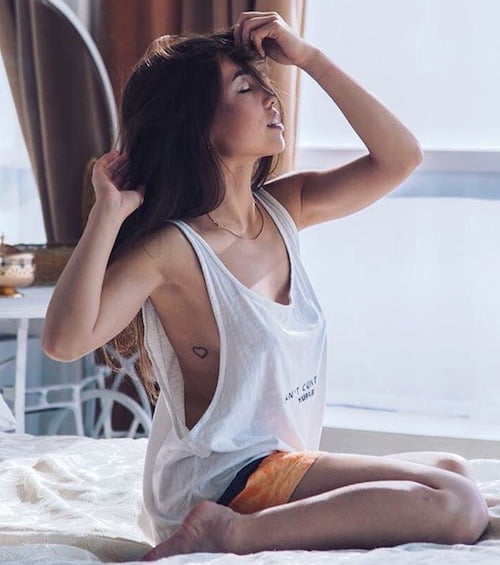 A heart shaped mini tattoo on the side of the body meaning you are getting close to my heart. An oversized tank top is a perfect way to showcase this side boob tattoo.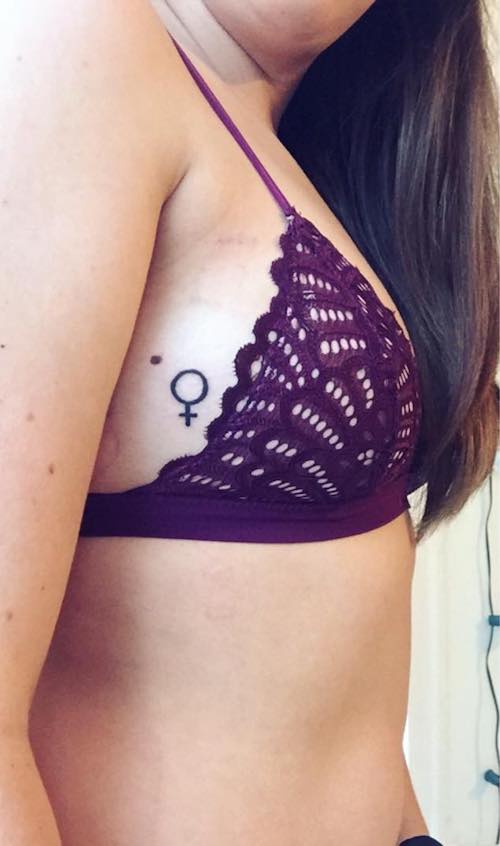 A tiny side boob tattoo of the female, Venus symbol. A playful reminder that you are viewing the female form.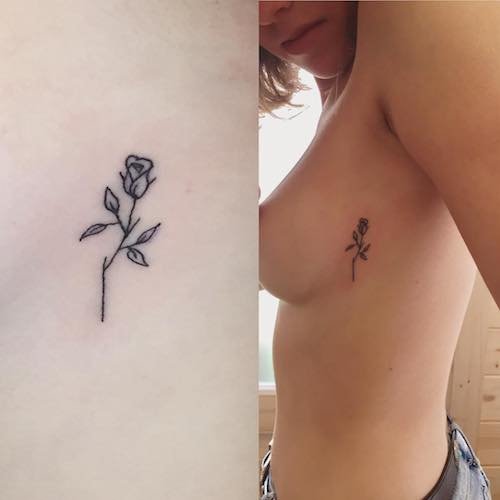 A single rose tiny side boob tattoo with a meaning to accent the female form. A sexy choice for someone who loves being female and doesn't mind showing that off.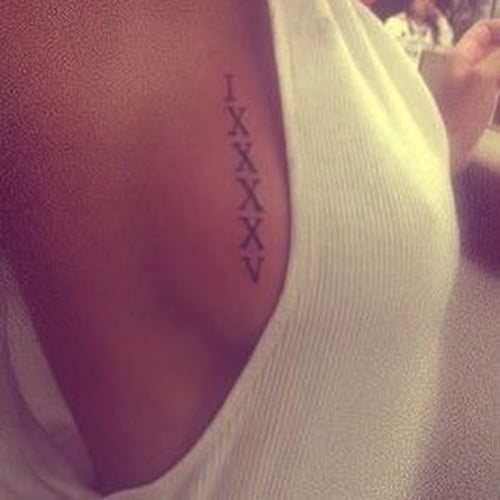 Roman numerals for a tiny side boob tattoo can reflect important dates, numbers, or in some cases may reveal the owner's lack of  comprehension.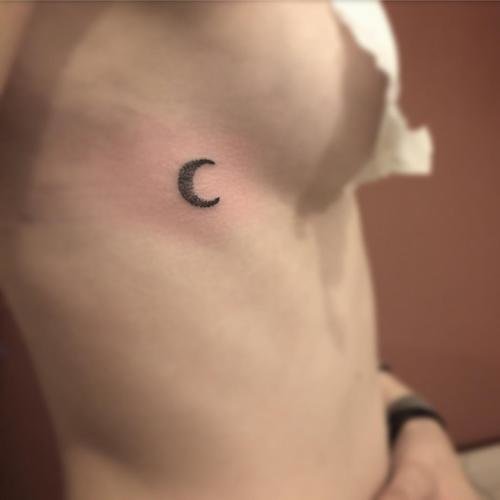 The meaning of a crescent moon mini side boob tattoo is a symbol of regeneration and the cycle of life. It can also mean the love of the night, the time when the moon is visible, for all the fertility and powers it provides.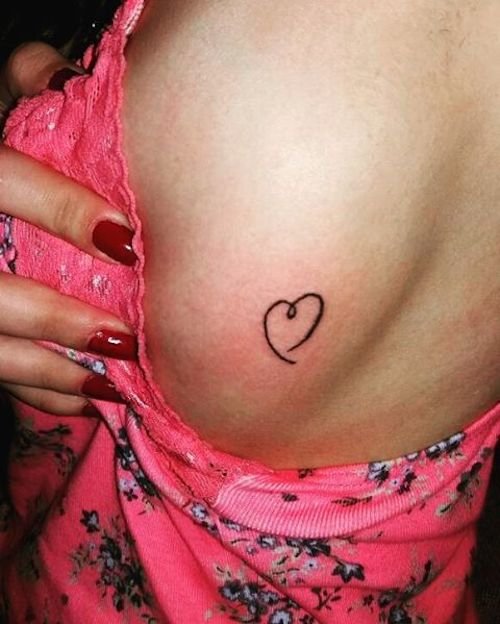 A simple heart tattoo on the side boob means love and passion. These hearts reveal a love for intimacy.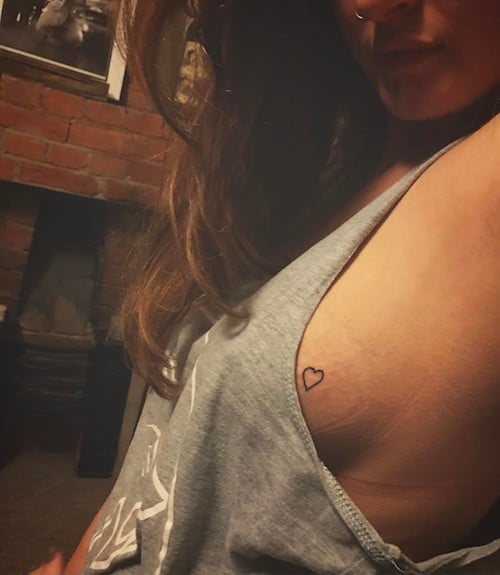 A tiny heart tattoo on the side boob is a subtle way to attract attention. It's small, understated, and unexpected. Flashing this tiny tattoo is a sure way to bring the energy level up a notch.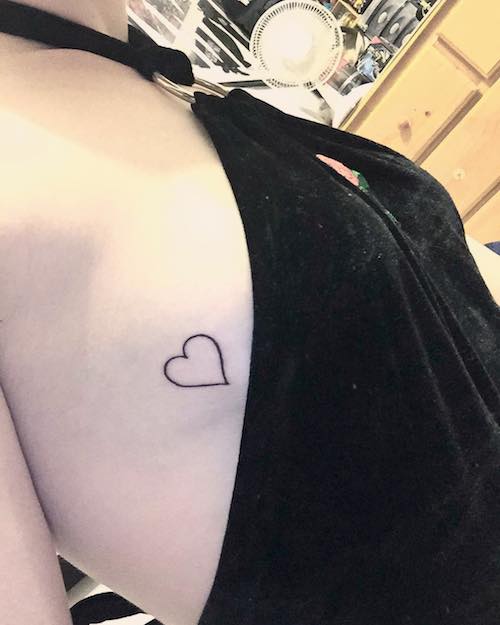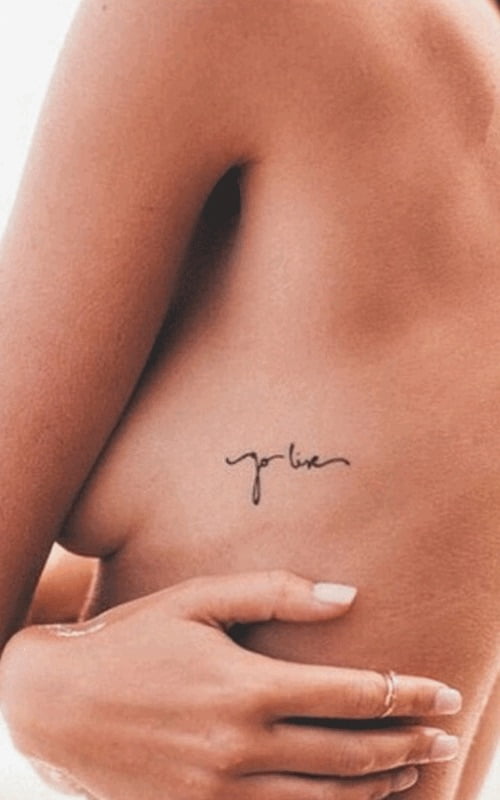 A tiny side boob tattoo with a message, "go live". It's a reminder to us to live our lives to the fullest. Don't get caught up in the day-to-day stresses of life. Take a break, and enjoy.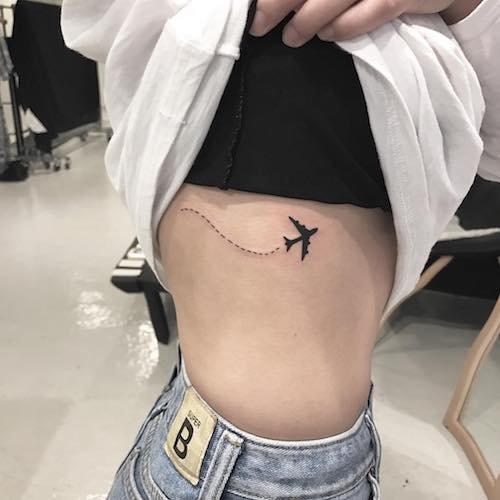 An airplane side boob mini tattoo means freedom. In some cases it means someone who loves to travel, but it can also mean someone who has come out from a dark place and feels free now.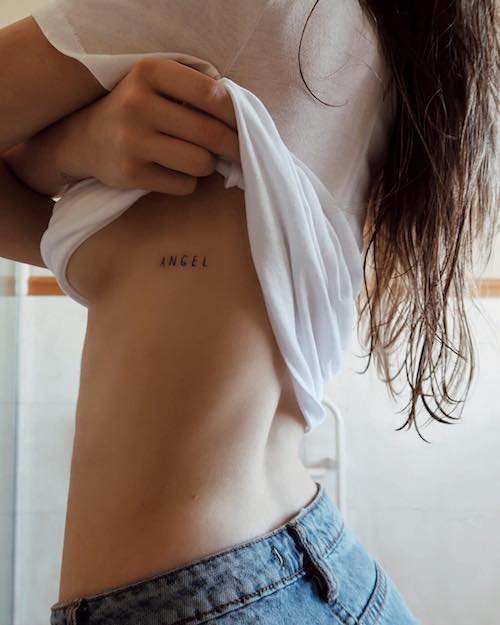 An angel side boob mini tattoo, can mean that she is your angel waiting to lift you to the heavens. Someone calm and happy and ready to take the journey with you.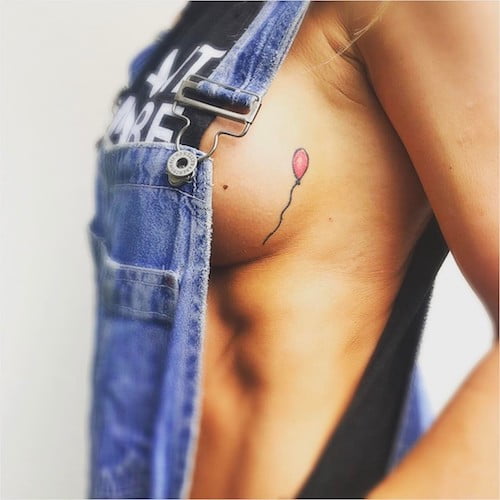 A helium balloon tiny side boob tattoo means an uplifted spirit. It's usually someone with an inspirational life story.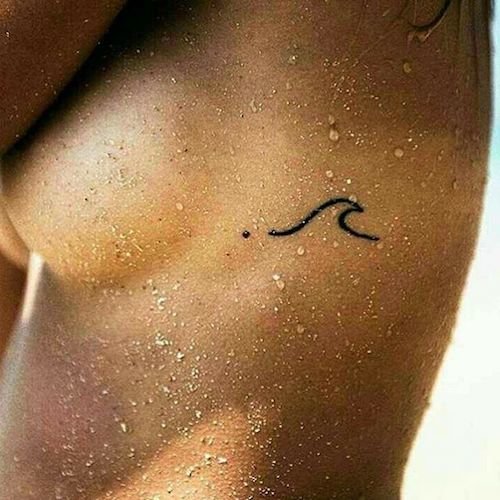 A wave side boob mini tattoo means a love of the ocean. Look for it on someone who loves the water, the beach, and sunny skies.
– – –
Whether you plan to get a mini tattoo or not, we hope that you have gained some insights into the micro tattoo trend. If you are thinking about getting your first tattoo, a tiny tattoo is the best way to test the waters. It is your choice to make as to how much meaning the tattoo design has for you. It could be very special to your heart or it could just be for fun.
If you've seen something you like here, or if you have other suggestions or ideas, let us know in the comment box below. We welcome your opinions.