Eyebrow Restoration Surgery – Cost and Procedure
Eyebrow surgery before and after
These days women can choose eyebrow restoration to permanently achieve fullness in their thinning brows whether it is natural, damaged, or part of the aging process. Eyebrow surgery has become increasingly popular because thin brows are no longer in style, everyone these days loves to wear darker eyebrows like Cara Delevingne or Lily Collins . Some women choose eyebrow restoration surgery because they have been over-plucking or waxing their eyebrows for years and now their hair refuse to grow back again to a fuller shape. Some of these women may have tried to get thicker eyebrows on their own without success.
For those not familiar with the process; eyebrow restoration surgery is an attempt to permanently customize and restore the look of one's eyebrows by transplant. When the surgery is successful, the new eyebrow becomes a permanent change in appearance.
Eyebrow Restoration Surgery Before and After: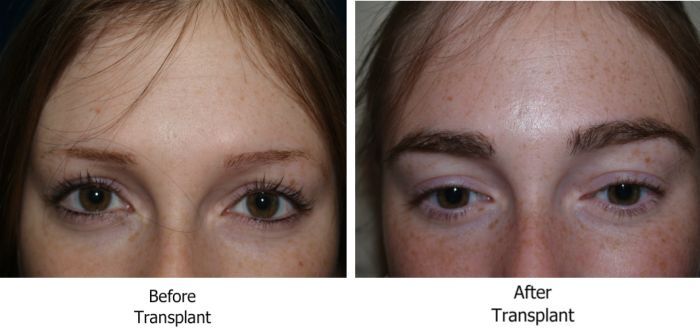 The eyebrow restoration procedure evolved as an attempt to help burn victims and others suffering an ailment that stops hair growth in the eyebrows. Over time, it gradually developed into an elective cosmetic transplant surgery that's become popular with a lot of people who seek to change the look of their thinning eyebrows.
There are people, especially women who fill the sparse areas of their eyebrows with pencils or powders in the hope to achieve a better appearance. Some of them take it so seriously that they spend a lot of time everyday on their eyebrows.
A permanent alternative to eyebrow restoration surgery are eyebrow tattoos. This is a less invasive solution where each hair is tattooed into place, but up close it becomes evident that the tattoo is not an actual hair.
With eyebrow restoration surgery, an actual hair follicle is transplanted, so when done properly, it becomes indistinguishable from the original eyebrow hair. For the eyebrow transplant surgery, most surgeons harvest hair from one's nape of the neck, legs, or arms.
Doctor Umar working in the Derm Hair Clinic in Los Angeles and Redondo Beach, California says that when we take hair from these areas, it turns the results of our surgery to be more natural as legs, arms, and nape hair resemble a person's eyebrows more than hair on his or her head. Doctor Umar adds that the procedure is a bit painstaking because we have to implant each hair separately and the eyebrow restoration procedure can take up to 2 hours to complete.
Eyebrow Transplant Procedure
Overall, the procedure is fairly simple but it requires the surgeons to be very meticulous and experienced to get precise and desired results. It involves administering local anesthesia to the patient, but requires no lengthy stay in the clinic or hospital. The anesthesia is administered to patients to spare them from any discomfort during the procedure. It also allows the surgeon to perform the procedure without any distractions from the patient, which leads to better results.
To achieve the most natural appearance, each implanted hair is placed flat against the skin, pointed in the same direction and very close to each other. The right position and direction of the implanted hair actually determines the level of success of the procedure. Most patients report that their eyebrows look larger and darker and they feel happy about the results.
Although it is not nearly as popular as it is with women, most clinics offer their eyebrow restoration surgery services for men as well.
Eyebrow Surgery Cost
The cost of eyebrow restoration is a point of pain for some patients because the procedure will cost between $3,000 to $6,000 with the final cost varying based on how much hair you want to be transplanted. It is a completely outpatient procedure so you don't have to be admitted to a hospital in order to get the procedure done. The cost of eyebrow restoration surgery will also vary according to the locality, surgeon's fee, facility charges, and anesthesia cost.
Typically, this kind of transplant is considered cosmetic surgery and the local health insurance plans won't cover it. In some cases, when eyebrow transplant is being performed as part of the treatment to an ailment or injury, then your health insurance plan may cover it; but again it is not necessary so you should first discuss it with your insurance company if you want to go that route.
Eyebrow Surgery Results
The transplanted eyebrow hair takes 8-12 months to regrow and becomes thicker over time. If the patient is still not satisfied with the fullness of her eyebrows, she may return to the surgeon to get additional hair grafts embedded into her eyebrows. In such cases, the patient has to pay the revision costs , although that is typically a fraction of the original cost of the procedure.
The revision cost also depends on the number of follicular units planned to be implanted into the brows. Usually one follicular unit will cost you $5-$8 when you repeat your eyebrow restoration procedure. Risks for an eyebrow restoration surgery include infection, numbness, blemishing, and dissatisfaction with the results.