47 Indian Bollywood Celebrities With Insane Twin Look-Alikes
A look-alike or a doppelganger is a person who resembles another in an uncanny and stark manner. Look-alikes are found everywhere, and it is said that every person has at least one doppelganger in the world. Whether these are long lost twins, siblings from another dimension, or pure coincidence, some on the list really do make you wonder.
Bollywood Look-Alikes
The theory becomes more interesting when you find a similarity between a popular icon, famous figure, or a Bollywood or Hollywood celebrity that can be instantly recognized. There are even cases where a Bollywood celebrity look alike is a Hollywood celebrity!
Join our unbelievable journey as we review photos of Indian celebrities and their look-alikes. Sometimes the look-alike is so strong that they could be twins!
Here is a list of our top Indian Bollywood Celebrities look alikes who have a striking resemblance with another icon.
Indian Celebrity Dopplegangers
Esha Gupta and Sara Loren look alike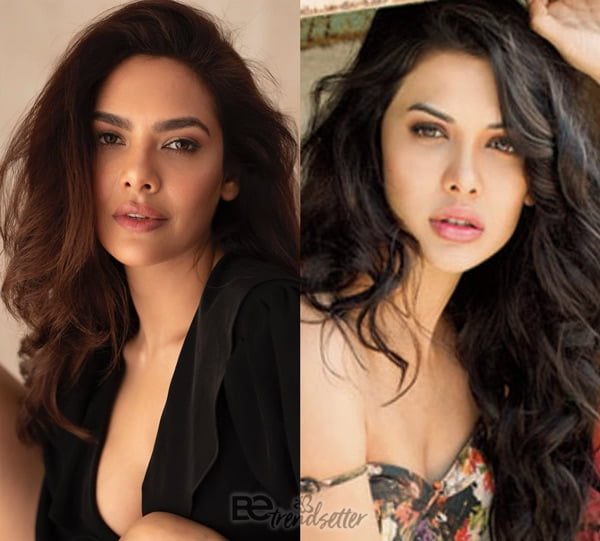 Famed Bollywood actress and model, Esha Gupta bears a striking resemblance to Pakistani actress and model Sara Loren (Mona Lizza Hussain). The are both the same age, born in 1985. Esha was born in New Delhi and placed third in Miss India 2007 and won Miss International in 2007. Her break out, debut Bollywood film was Jannat 2 for which she won a Filmfare Award for Best Female Debut in 2012.
Sara Loren was born and raised in Kuwait City. Sara's Lollywood debut was in Mahnoor in 2004, and her Bollywood debut was in the film Kajraare in 2010. She continues to work in both Lollywood and Bollywood films.
Anushka Sharma and Julia Michaels look alike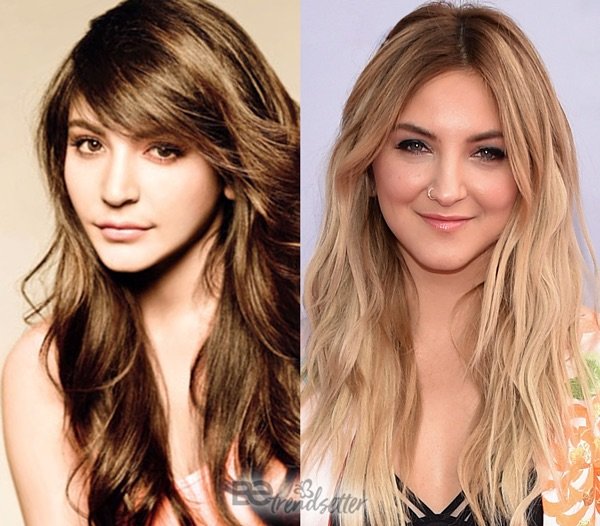 In February 2019, Twitter was set ablaze by a viral post comparing Anushka and Julia faces and how they look like twins. Bollywood celebrity Anushka Sharma is one of the highest paid actresses in India and has received several awards. She also made Forbes Asia's 30 under 30 list in 2018.
Julia Michaels is an American singer that released a single with Selena Gomez, titled Anxiety. She was nominated for a couple Grammy Awards in 2017.
Related: Anushka Sharma Plastic Surgery Disaster
Disha Patani and Penelope Cruz look alike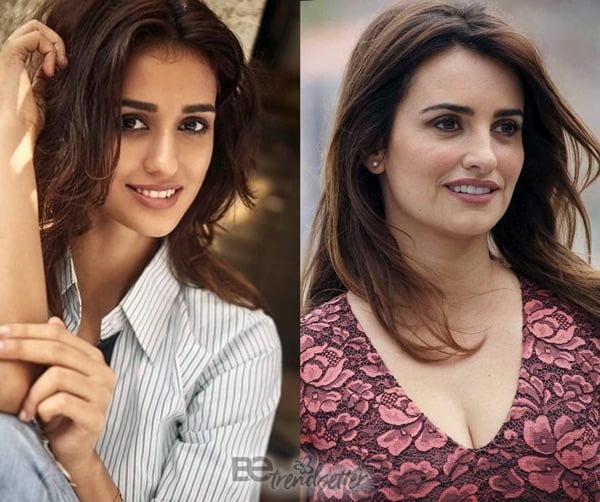 Disha Patani is an Indian actress and model who broke into the lime light with the 2016 film, M.S. Dhoni: The Untold Story. She's also done a movie with Kung Fu legend, Jackie Chan, Kung Fu Yoga.
Penelope Cruz is a Spanish actress and model that achieved recognition with Vanilla Sky with Tom Cruise. Penelope is about 20 years older than Disha, so this one could be more like mom and daughter or long lost sister, rather than twins.
Genelia D'Souza and Kristen Stewart look alike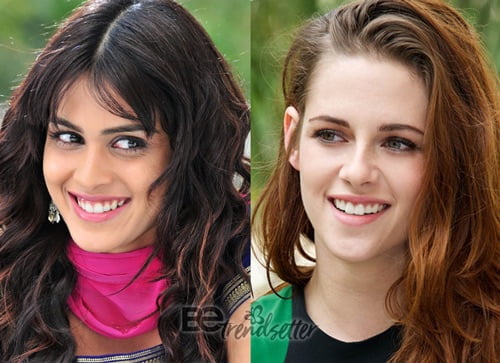 Indian film actress and model, Genelia D'Souza, starred in movies such as Urumi, Force, and Tere Naal Love Ho Gaya. Genelia looks like Kristen Stewart, the famed actress from the Twilight movie series. A big similarity is that Genelia shares Kristen Stewart's smile.
Neha Dhupia and Stephanie McMahon look alike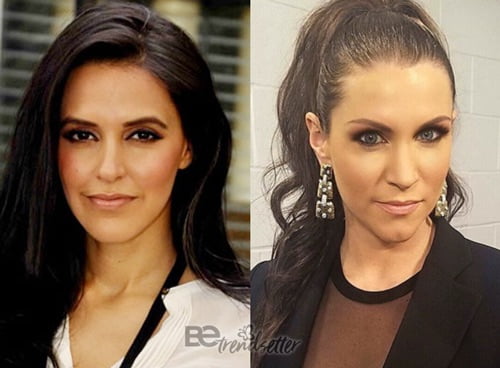 Neha Dhupia is an Indian actress and model who looks like Stephanie McMahon. Neha starred in the television series, Rajdhani, and won the Femina Miss India Universe pageant in 2002.
Stephanie McMahon Levesque, is the Chief Brand Officer for World Wrestling Entertainment (WWE). Does this mean we might someday see Neha Dhupia in the wrestling ring? Only time will tell!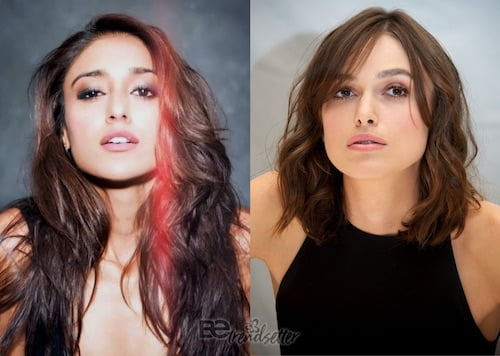 Ileana D'Cruz and Keira Knightley look alike


Hollywood actress Keira Knightley and Ileana D'Cruz look alike. Keira Knightly is a British actress from London who starred in such Hollywood blockbusters as Pirates of the Caribbean and Jack Ryan: Shadow Recruit. Keira Knightley looks like Ileana D'Cruz, a Telugu and Bollywood actress who starred in Happy Ending and Mubarakan. You'll find another Ileana D'Cruz look alike elsewhere on this list.
Related: Keira Knightley Plastic Surgery
Alia Bhatt and Ariana Grande look alike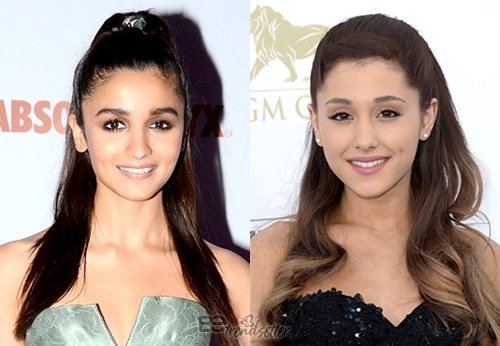 British film actress and Bollywood celebrity Alia Bhatt, starred in films such as Dear Zindagi, Udta Punjbab, and 2 States. Alia Bhatt looks like she could be a twin sister to Ariana Grande. Ariana Grande-Butera is a singer and Hollywood actress who played Cat Valentine in the Nickelodeon television series, Victorious, and the spin-off, Sam and Cat. Ariana music career discography includes Dangerous Woman and My Everything.
Related: Ariana Grande Plastic Surgery
Related: Alia Bhatt Net Worth
Dia Mirza and Heather Graham look alike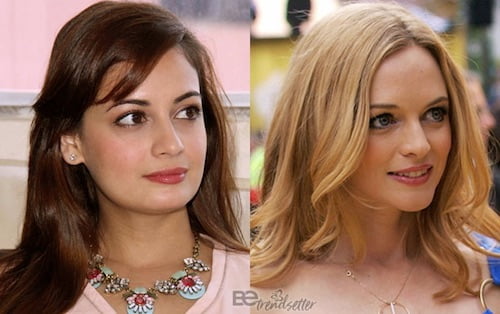 Bollywood actress, star of Love Breakups Zindagi, model, and Miss Asia Pacific 2000, Dia Mirza innocently resembles sexy Hollywood celebrity, Heather Graham. Heather played Felicity Shagwell in the blockbuster film, Austin Powers: The Spy Who Shagged Me.
Ranbir Kapoor and Ryan Gosling look alike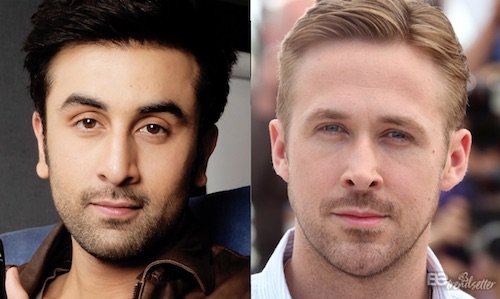 Ranbir Kapoor, an Indian actor and producer is a look alike for Ryan Gosling. Ryan is a Canadian actor and musician married to Eva Mendez. Check out the similar mouth and lips between these two.
Aishwara Rai and Deepika Padukone look alike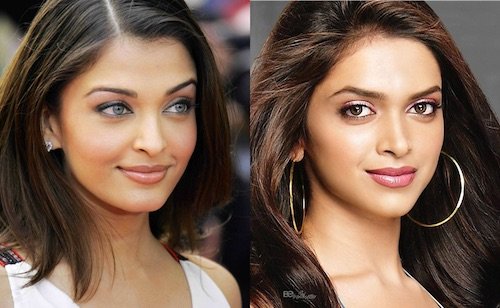 Sometimes Bollywood celebrities look alike and can be doppelgangers with other Bollywood stars. Bollywood actress, model, and Miss World 1994 winner, Aishwara Rai (Aishwara Rai Bachchan) has the same nose and facial features, and is a look alike for actress Deepika Padukone.
As you may know, men love Deepika Padukone. Also see, Deepika leaked pic, number 2.
Ram Kapoor and Shrek look alike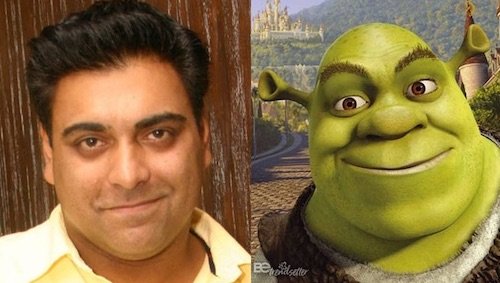 We are not kidding. Shrek, from the Disney movie of the same name, looks surprisingly like Ram Kapoor, known for the popular Hindi serial Bade Achchhe Lagte Hain.
Adele and Fiona look alike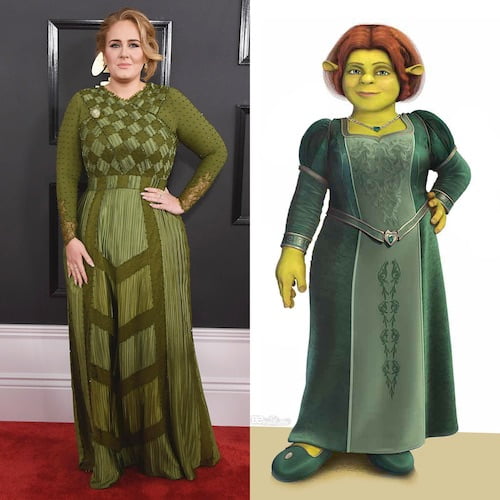 While we are on the subject of Shrek, we have a bonus look-alike for you. Do you think famous singer Adele look alike with Princess Fiona? They both look like princesses, and were featured on twitter under #fionagate.
Kriti Sanon and Sara Canning look alike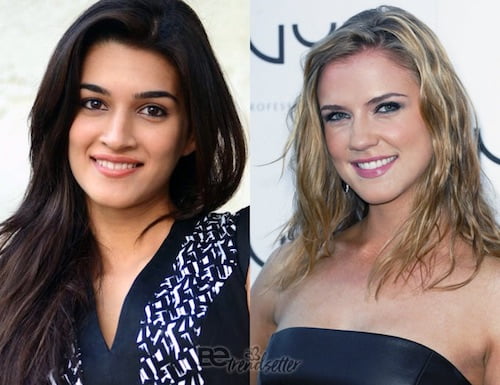 Kriti Sanon, a Bollywood actress starred in the romantic action drama, Heropanti. In 2015 she starred in Dilwale. Kriti Sanon look alike Sara Canning is a Canadian actress that starred in the television series, The Vampire Diaries.
Kareena Kapoor and Paris Hilton look alike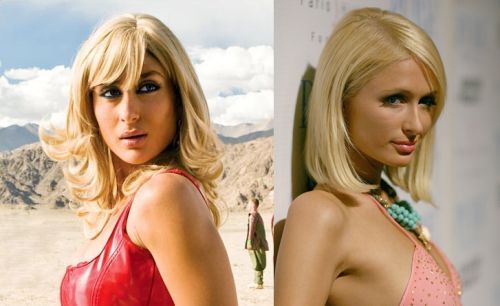 Kareena Kapoor launched her Bollywood career with Refugee and is counted as one of the most iconic Bollywood actresses in all lists with hits like Bodyguard, Jab We Met and Ra. One. The Kareena Kapoor look alike is Paris Hilton, and she looks remarkably similar to the famous model and socialite.
But can Kareena match all the Paris Hilton hairstyles? That's left to be seen.
Sophiya Chaudhary and Kim Kardashian look alike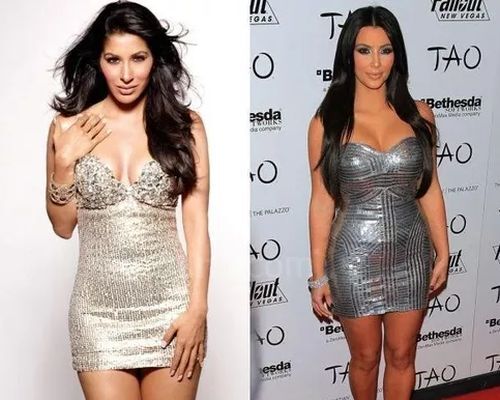 Sophiya Chaudhury is a British-Indian actress and singer, primarily remembered for her VJ roles on MTV and her appearances in films like Pyaar ke Side Effects and Shaadi No. 1. Sophiya looks like Kim Kardashian.
Aamir Khan and Tom Hanks look alike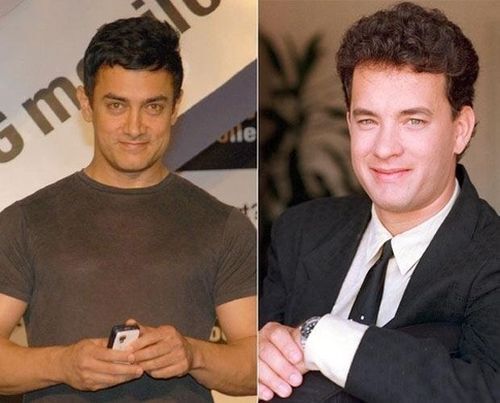 Tom Hanks is known for his roles in the iconic movies, Forrest Gump, Saving Private Ryan, and The Da Vinci Code. As you can see from the photo, Tom Hanks is strikingly similar to Aamir Khan in appearance.
Aishwarya Rai Bachchan and Sneha Ullal look alike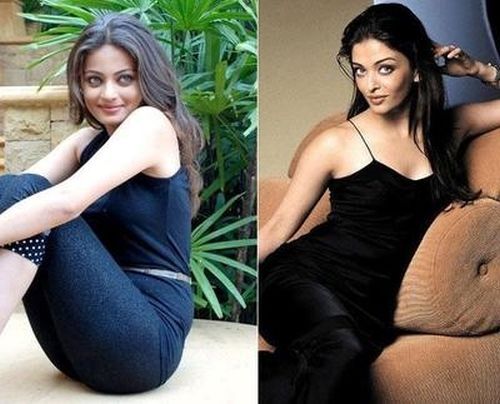 Probably one of the closest resemblances on this list, Sneha Ullal is almost a carbon copy of the former Miss Universe, Aishwarya Rai Bachchan and is mainly remembered for her role in the popular movie Lucky, opposite Salman Khan.
Deepika Padukone is another look alike for Aishwarya Rai, as you saw earlier in this list.
Akshay Kumar and Shawn Michaels look alike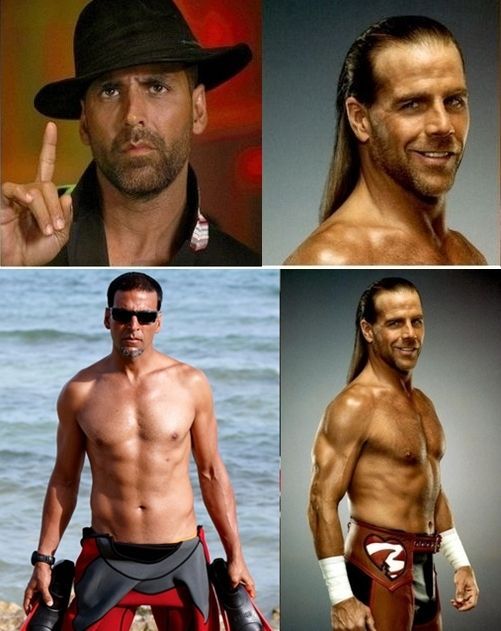 Michael Shawn Hickenbottom is one of the most well-known professional wrestlers, Shawn Michaels, and television presenter with an uncanny resemblance to his look alike, the desi daredevil, Akshay Kumar. By the way, Akshay Kumar is rich!